Before you can begin to sell, you will need to enter the products in your inventory into CommentSold.
CommentSold offers robust inventory management in addition to its powerful selling tools. While you can integrate CommentSold with Shopify to sync inventory, it is not necessary to use an outside platform in addition to CommentSold.
Watch the video below or read on to learn how to add products to CommentSold!
In this Article:
Adding Products
To begin adding products, visit the Products tab in your CommentSold dashboard. From here, click on the "Add Product" button at the top right of your screen.
On the Edit Product page, you will see quite a few fields that can be completed. You can fill out as much of this as you would like for each product, but the only required fields are Product Name, Cost, Retail Price, and SKU.
Pro Tip: While those are the only required fields, we strongly recommend you fill out as much complete data as possible. Be consistent in your naming conventions when it comes to product variants and make sure there are no typos when assigning Brands (supplier name) to products. The more accurate and complete data you provide here, the more accurate and complete the reports within CommentSold will be!
Now let's take a closer look at each section of the Edit Product screen. First, we have "General Info." You will need to choose a Product Name that will be displayed to your customers. Enter the Cost you paid for your product and the Retail Price you would like to charge to your customers.

Note: The eye icon next to some fields means that what you enter in those fields will not be visible to your customers.
If "Custom shipping price/product" is enabled in your Shipping settings, you can set a custom Shipping Price for the product. Next, you will create a product Description. If you would like to use the same Description for the webstore and your mobile app, check the Use for Online Store & App box. Otherwise, you can enter a Mobile App Description below.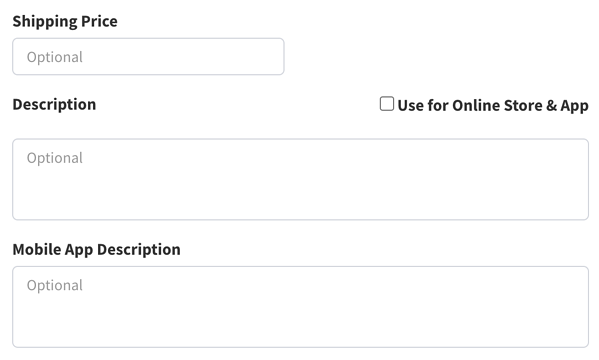 If there are any Notes you would like to add to this product for your internal use, that is the last field you will complete in the General Info section.

The next section is for "SKU/Brand Info." Enter your preferred SKU. We recommend that you avoid using dashes, spaces, or special characters when creating SKUs. After you have added a few products to CommentSold, you will see a suggested SKU here and can choose to use it. If you would like to store the information about the item's brand, you can enter the Brand and Brand Style # here. Storing this information allows for better reporting down the road.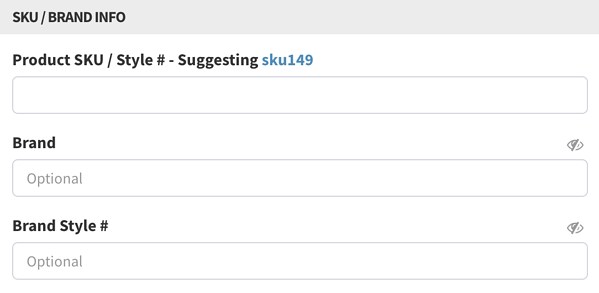 Note: We recommend no more than 50 characters for product names and SKUs, as it can cause issues with the system.
In the "Details" section, you can add the item variants—Size and Color. For these boxes, you can simply type the words you would like listed as an option for the item. If you would like to Charge taxes on this product, make sure this box is checked. If the item you are adding is currently in your inventory, check the Received Product box. If unchecked, orders containing this product will not have their status set to Processing. Once the item is in stock, you can return to the product page and check this box.
Note: If you have Avalara connected to CommentSold, you will see a Tax Code rather than the checkbox to charge taxes.

The setting Exclude this product from Automatic Product Videos from Live Sale in the Additional Options box is one we will address elsewhere in the product training. We recommend leaving it unchecked for now!
Choose the Collection or collections you would like to add this product to. If you have not yet created your collections, you can click "View all collections?" to do so.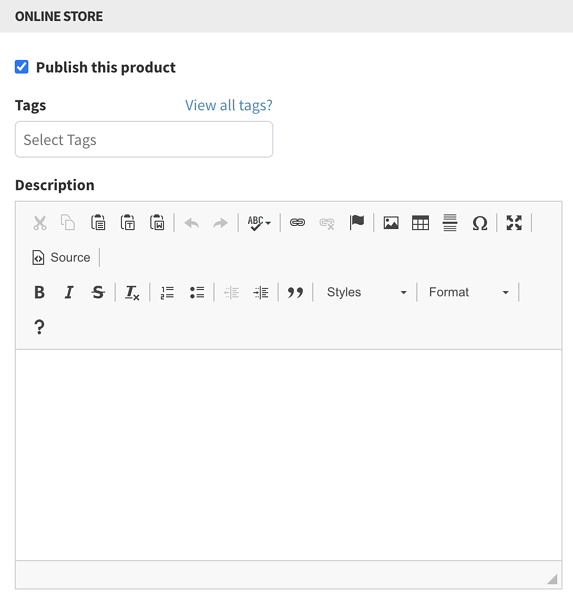 If you are using CommentSold's webstore, you will want to complete the "Online Store" section. Check the Publish this product box if you would like this item to be available for purchase now in the webstore. If you are not ready to list the item for sale just yet, leave this box unchecked and you can return to the Product page later to publish. If you did not opt to use the product Description you entered in the General Info section for your online store and app, you can enter an online store specific Description here.
The last section you will complete on this page is for Notifications. The Notification Title and Notification Body are what your customers will see when this product goes live in your app if they have push notifications enabled. This will also be the default text you see when posting the product to social media, although you can edit the text when posting.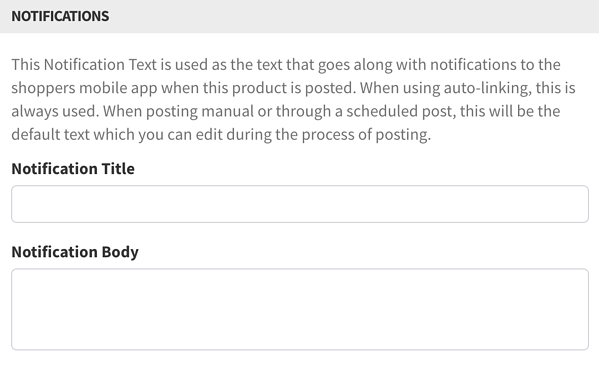 Once you have filled out all of the desired fields on this page, click the "Add Product" button on the top right. You will be taken to the Edit Images page. If you do not yet have photos of the product, you can come back to this later. If you have pictures you would like to use for the product listing, click the "Upload Images" button at the top right.
Select the images you would like to upload. If you are uploading multiple images, you can select which will be the main image by clicking on it. When selected, the image will have a green frame around it to indicate that it is the main image. You may click any image in this gallery to select it as the main image.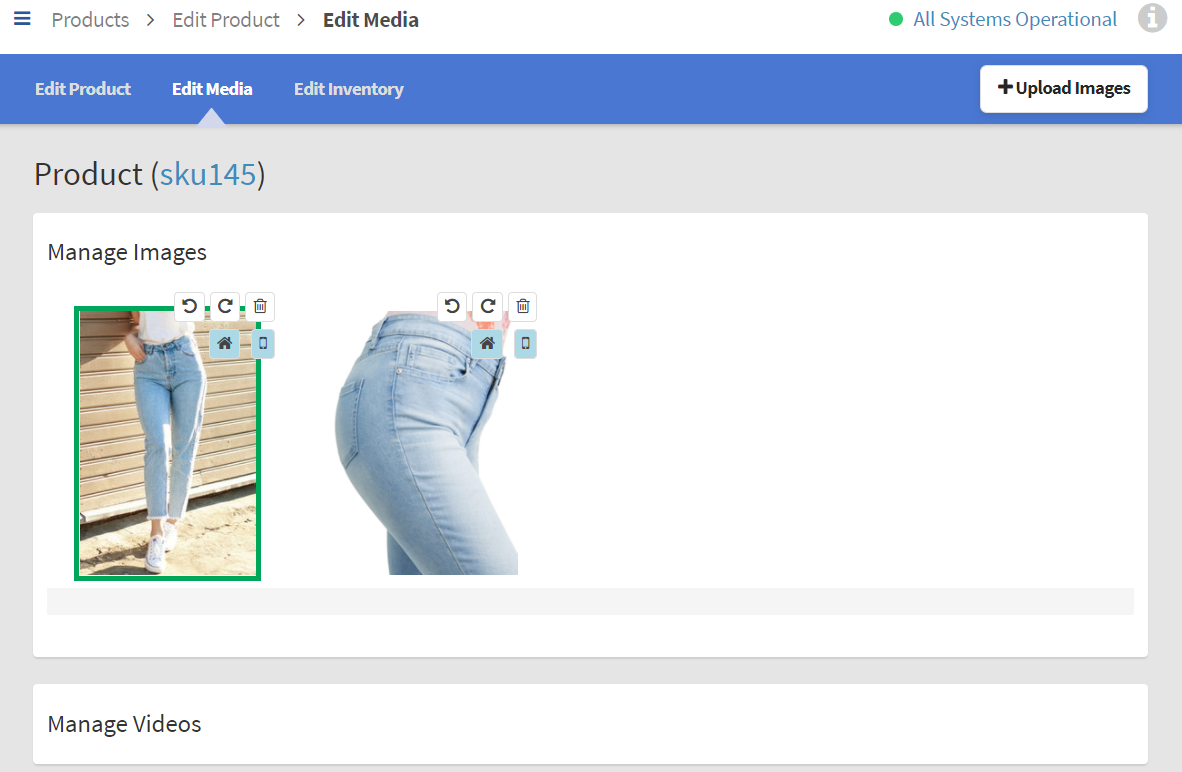 Note: In the screenshot above, the photo on the left is the main image (as indicated by the green border).
When you are done uploading your images, click on "Edit Inventory." Here you will see all of the size and color variants you entered on the Edit Product page. Forget to add one? You can click the + sign to add it here!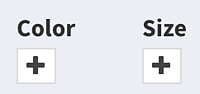 If you need to set the same quantity for all variants, you can click the + sign next to "Add/Remove Stock." This will bring up a popup that will allow you to update all rows at once.
To enter unique quantities for each row, click the + sign next to the variant you would like to edit.
On this page, you must also enter the Weight for each variant to assist with shipping. If you would like to add the Location where the item can be found in your warehouse, you can do so here.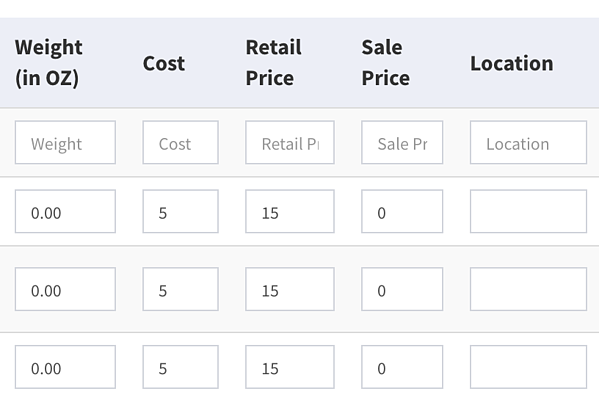 Your product has now been added to CommentSold! If you click on the Products tab in the left hand menu, you will see your newly added product. You can click "More" under the listed Quantity for a breakdown of quantity by variant.

If you ever need to edit the product, you can return to the Products tab and click the three dots on the right of the product row.
Adding New Product Variants
Let's say you've already added a product into CommentSold, but you've just ordered it in all new sizes and colors. What then?
Navigate to the Products tab and click the three dots to the right of the product you want to add new variants to. From the dropdown menu, select Inventory.
You'll be redirected to the Edit Inventory page, where you can add a new size or color.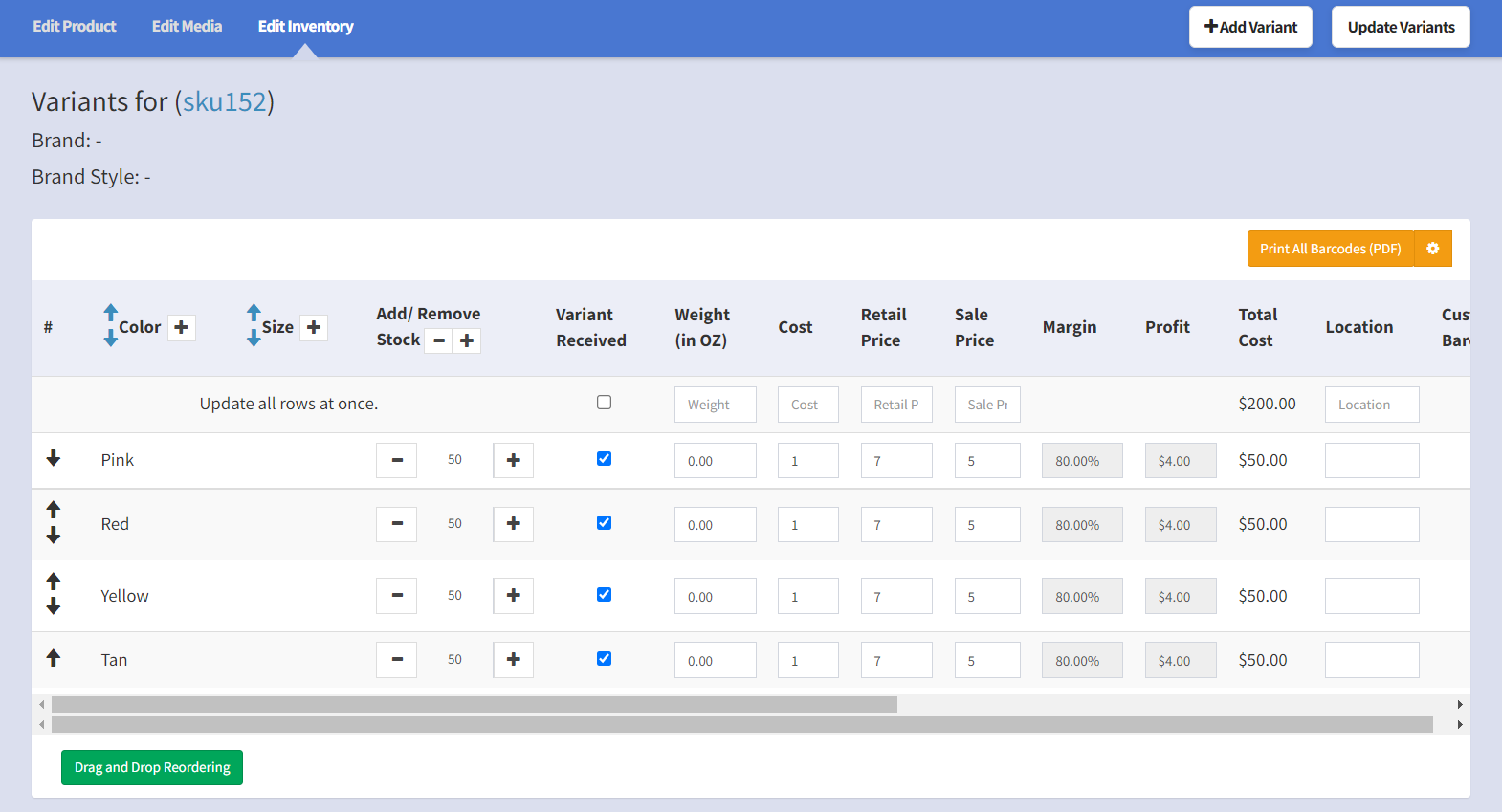 In the header, look for Size and Color columns. Click the + sign to add the new variant you want to include.

If you need to add both sizes and colors, start with colors, then enter your sizes. CommentSold will suggest a combination of sizes and colors once you've input both.
Optional:
After you've entered your Colors and Sizes, you may want to organize your variants so they're easier to work with. By clicking the up and down arrows next to either
Size
or
Color
, you can sort your variants by ascending or descending order. This works alphabetically or numerically.
If you want to change the order in which variants are listed yourself, click the green button for Drag and Drop Reordering from the bottom of the page. Drag each variant where you want, then click the green button at the bottom to Save Reordering.
Once you've entered your sizes and colors, you're ready to update quantities. You can update all quantities for all variants at once by clicking using the + and - symbols under the "Add/ Remove Stock" column.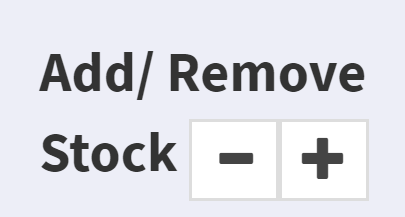 Or, you can update quantities for each individual variant by clicking the + and - symbols to the right of each.
Once you've done this, you can click Update Variants to save your work and start selling your new products right away. However, there are a few things we highly recommend you consider before you do.
Under the column labeled Variants Received, all checkboxes will be ticked by default. You will want to uncheck this if you plan on running a pre-order on any of your new variants. (You will need to come back later and check them as received when they arrive at intake.)
You might also consider updating other variables that will affect your business operations. For example, if your new product variant costs or weighs more than the others, make sure to update that now. If the new variants have a separate warehouse location than the others, you will want to update those fields too.
When you're done updating everything you need on the Edit Inventory page, click Update Variants to save your work. Then you can start adding any new product images you might have to show off the new product variants.

At the very top of the page, click Edit Media. Then upload your photos. Click any of the thumbnails to make it the primary image.
That's it! Now you're set to sell your new product variants!
When you're ready to archive, unpublish, or delete any of your products, please see this article for detailed instructions.