Waitlists can help you better understand your customers' interest and optimize re-ordering.
When a popular product sells out, why not use this as an opportunity? With waitlists, customers can express their interest in sold out items and help you determine what products to re-order. As a shop owner, here are all the ways you can manage waitlists and use them to your advantage.
This Article Covers:
Selecting Your Waitlist Settings
Before you begin utilizing the waitlist feature, you'll want to check a few settings within the Setup tab in CommentSold. Scroll down to the section for Shopping Cart and find the settings related to waitlists.
The first setting you should see is for Waitlist Variant Limit. Here you will enter the maximum number of a single variant that a customer can add to their waitlists. If you would only like a customer to be able to waitlist a single item in a specific size/color combination, you would enter "1" here. If you commonly have customers purchase a large number of specific variants, you may want to check the box to allow unlimited waitlisting of variants.

Next, you will see settings related to Waitlist Authorization. This is a powerful feature that allows customers to pre-authorize their payment method to be charged when a waitlisted item comes back in stock. Pre-authorizing will push a customer to the top of the waitlist. And when an item is back in stock, you'll have guaranteed sales from any pre-authorized customers!
To use this feature, you'll need to enable Waitlist Authorization. To allow for pre-authorized orders to be paid with store credit, enable Allow Store Credit on Waitlist Authorizations. You will also need to set a Waitlist Preauth Expiration. This is the length of time that an item will remain pre-authorized for a customer. Once this time has passed, a customer will still be on the waitlist for when the item is back in stock, but will not automatically be charged for it.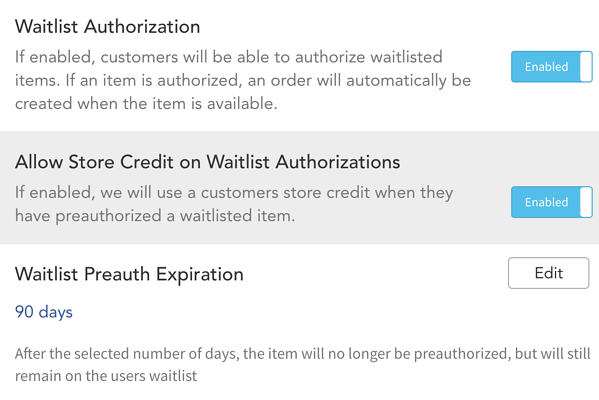 The final setting related to waitlists is for the waitlist shopping cart timer. If you typically use cart timers, you may want to extend the time allowed for waitlisted items. When an item comes back in stock, it's possible that the customer who had it waitlisted is not actively shopping. Extending the cart timer for these customers provides them more time to receive the notifications that the item is back in stock and pay to claim it.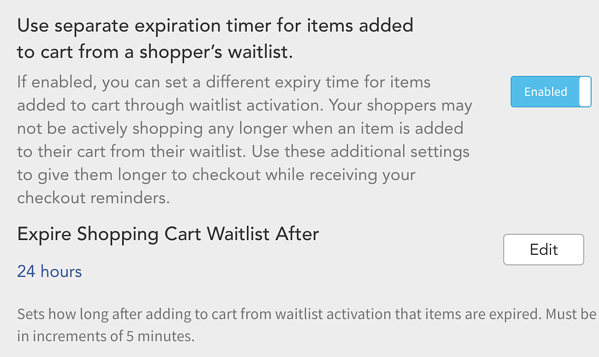 Now that your waitlist settings are in place, you may want to personalize the auto-replies for when customers have items added to waitlists. From within the Setup tab of your CommentSold dashboard, click on Templates. Review the messages related to waitlists on various channels. This is a good opportunity to promote waitlist pre-authorization (and the opportunity to be bumped to the front of the waitlist)!
Understanding the Waitlists Tab
The Waitlists tab in your CommentSold dashboard is where you will monitor your waitlisted items. Any items that customers have on their waitlists will appear in this tab.
The table on the Waitlists page is ordered by the number of Waitlists by default. Clicking on another column header (such as Pre-Authorized) will allow you to sort by different attributes.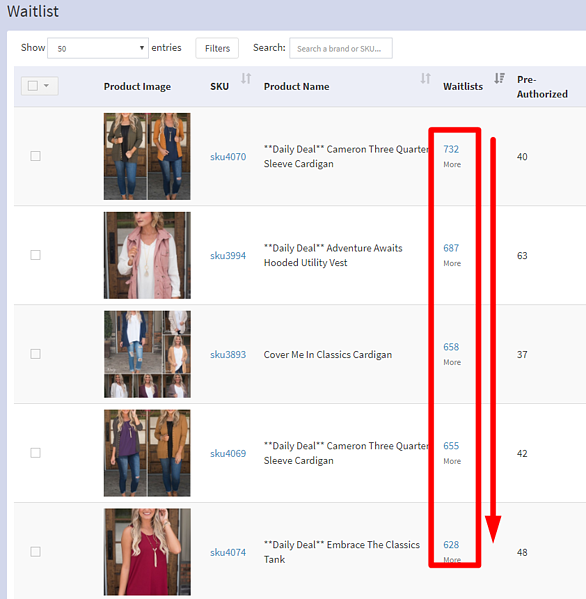 The Filters button allows you to search waitlisted items by Date Last Posted for sale and/or by Restock Status. The Hidden checkbox allows you to search specifically for items you have hidden from your Waitlists table (typically because you do not intend to reorder them).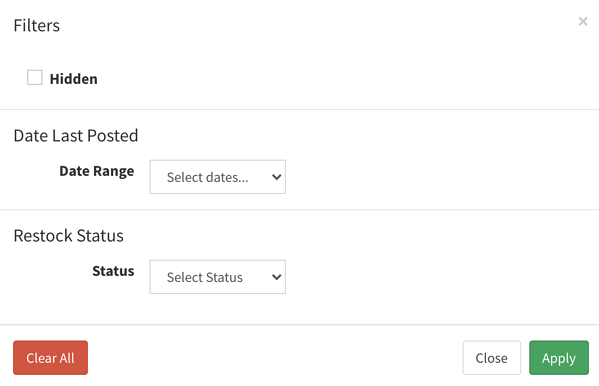 The Restock Status column on the Waitlists table will help you keep up with where you are in the restocking process with each item. You can easily set and change status in this column.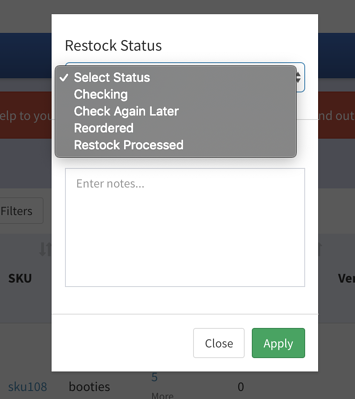 Let's take a closer look at each of these statuses.
Checking: In this stage, you have decided that you want to restock an item and have reached out to the vendor to check product availability.
Check Again Later: Perhaps a vendor replies that they are unable to fulfill a restock order for several weeks. Set the status to Check Again Later and add a note to remind yourself to follow up.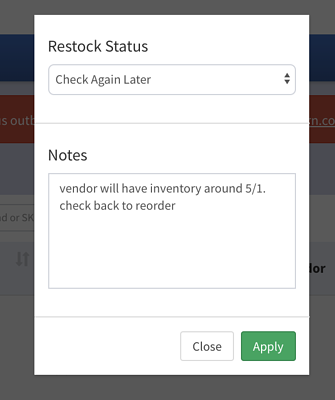 The notes you leave in this box will also show in the Notes section of the product.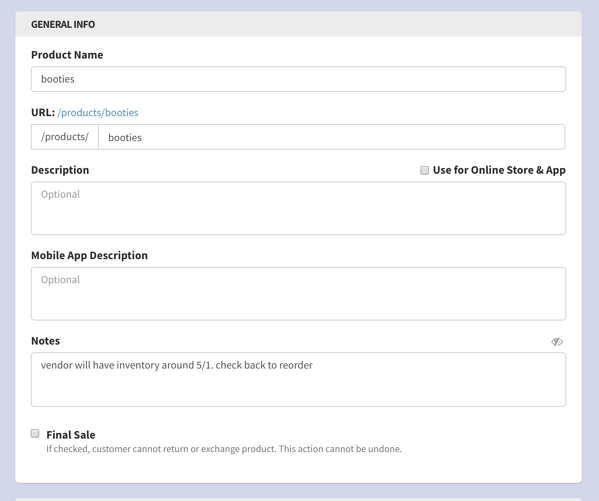 Reordered: Set a waitlisted product to this Restock Status when you have placed the reorder and are waiting to receive the items.
Restock Processed: Once your items have arrived and have been put into the system, their status can be set to Restock Processed. To eliminate any extra work for this step, there is an option to update this status when you are adding the inventory on the product page.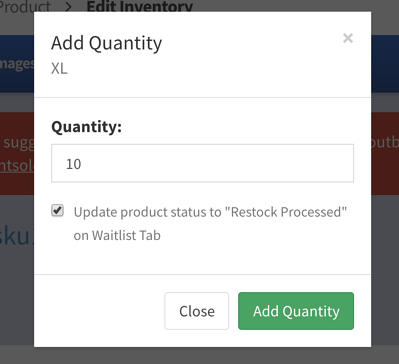 Notifying Waitlisted Customers About Restocks
In the Options column on the Waitlists table, you will be able to Email Waitlist. Because CommentSold automatically emails your customer once their waitlisted item has restocked, we recommend using the Email Waitlist option earlier in the process!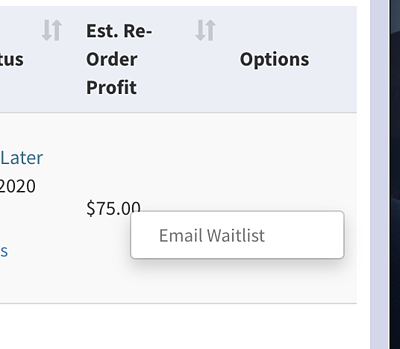 The email template is the perfect message to send as you are reordering with your vendor. It encourages customers to pre-authorize in anticipation of the restock, guaranteeing sales for you! If you would like to customize this message, you can do so. Note that you can include or exclude those who have already pre-authorized the waitlisted item!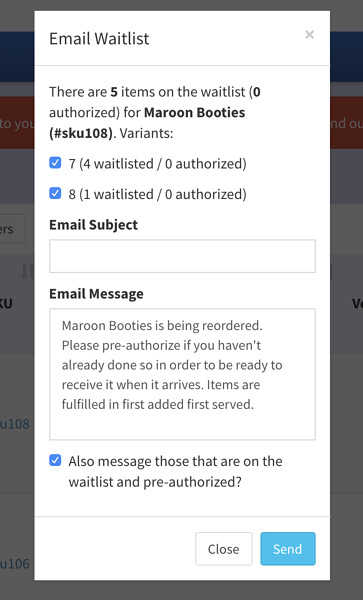 To view the specific customers who have a product waitlisted, visit the Edit Inventory section for that product (under the Products tab). Click the three dots to the right of the item and select Associated Waitlist.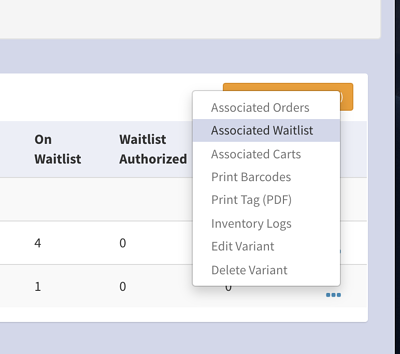 Determining When to Reorder
The Waitlists tab will help you to identify products that can be profitably reordered. We categorize reorders into two groups—high risk and low risk.
High risk restocks are those without many waitlists and/or waitlist pre-authorizations. For example, if a product has 2 customers on the waitlist but a reorder minimum of 6, this would be a high risk restock. You will have quantity remaining after the waitlisted customers have claimed their items, which is not ideal.
Low risk restocks are those with a high number of pre-authorizations. The customers have already committed to purchase the items, so restocking enough to cover the pre-authorized quantity is an easy call.
What about a product with a significant number of both pre-authorized and non pre-authorized waitlists? Ordering enough to cover the pre-authorizations is simple, but what about the non pre-authorized amount? We recommend reordering about half of the non pre-authorized amount, as some customers are likely to change their minds when the item comes back in stock. This will help you avoid having excess restock items in your inventory.
What do you do if you decide not to restock an item? Whether the risk is too high or the product is no longer available to be reordered, this is likely to happen from time to time. In these cases, you will want to Hide the products from your Waitlists tab.
Check the boxes next to products you would like to hide, and click Hide in the drop down menu.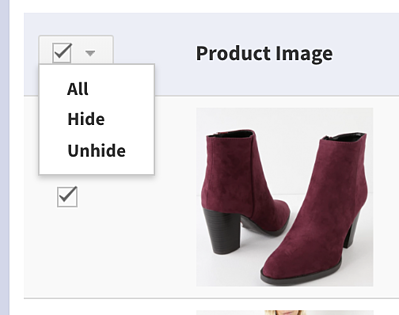 Hiding these products (rather than deleting the waitlists) will preserve the data, which you may want to review at a later date. For example, you may want to use the Added vs Waitlist information in the Reporting tab to determine how to order products in the future!
If you ever want to look at the products you have Hidden from your Waitlists table, you can do so by applying the "Hidden" filter.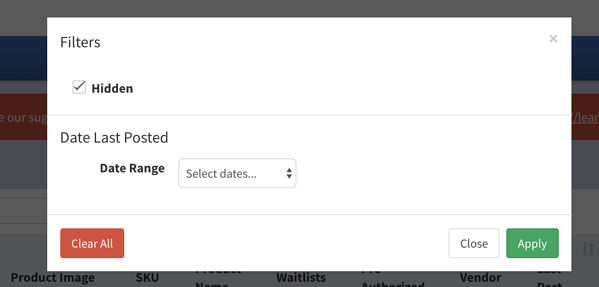 Clearing Waitlists
When it comes to clearing waitlists, you can either clear the waitlist for a product or you can clear waitlists tied to a customer's account.


Clearing Waitlists for Products
Waitlists will be cleared once a product is archived, but in the case that you do not want to archive the product, you can still clear the waitlist for it. This can be done from the Products tab or the Waitlists tab- whichever you prefer.

From either of these tabs, you will need to find the product you want to clear the waitlist for. Then, click the three dots across from it under the "Options" column. Click Clear Waitlist from the drop-down menu.

A popup will ask you to confirm the action. This action cannot be undone. If you're sure you want to clear the waitlist, click Confirm. You will receive a notification at the top of the page to let you know the waitlist has been successfully removed.



Clearing a Customer's Waitlists
While waitlists are exceptionally handy for shoppers, at times you may find that a customer is abusing them in an attempt to hoard products. You can remedy the problem by clearing waitlists associated with their account.


Navigate to the Customers tab and click on the name of the customer in question. This will take you to their Customer Details page.

Scroll down to the Waitlist section, and click the button to Remove All Items From Waitlists.



A popup will ask if you are sure you want to clear the items from that customer's waitlist. Click Delete Record to confirm.