CommentSold has purchased Avalara accounts for all its shops, simplifying sales tax for all 50 states!
Since the South Dakota v. Wayfair Supreme Court case in 2018, sales taxes for online retailers have gotten a bit more complicated.
CommentSold has purchased Avalara accounts for every shop using CommentSold. Avalara integrates with CommentSold to automatically calculate sales tax for orders from all 50 states. This information is stored for you to review/remit sales tax. This will also account for sales tax in returns! For an additional fee, Avalara will file and pay this sales tax for you, to each of the different states.
Note: While Avalara can help you collect and remit taxes, we recommend that you work with a tax professional as well. Neither Avalara nor CommentSold is qualified to give you advice on your taxes.
This Article Covers:
Creating an Avalara Account
In your CommentSold admin dashboard, click on the Setup tab. Then click Taxes.
Click the blue "Create New Avalara Account" button. Complete the form that pops up and click "Create Account." The page will refresh and you will see that the information in the Avalara section has been automatically completed.




Check your email for a message from Avalara. Click the link in the email to "Set your password." You will be taken to the Avalara website to enter a password.





Once you have chosen a password, log into the Avalara website. Your username will be your email address. This username and password will not match what is in your CommentSold dashboard. You do not need to update any information within CommentSold.
Your Avalara account is now created and connected to CommentSold!
Setting Up Avalara
Log in to your Avalara account. Visit the Settings page and click "Manage where you collect and remit tax." Your shop's city, county, and state will have automatically populated during the account creation process.
If you exceed the nexus threshold for any other state, you will see this in your main Avalara dashboard. State nexus laws dictate the level of economic activity (revenue, transactions, or both) over which a business is required to pay sales tax to that state. We recommend you check your Avalara account periodically, as you will need to manually add states to the "Manage where you collect and remit tax" section if you cross their thresholds.
Visit your CommentSold dashboard. Click the Setup tab and then Taxes. You will see a setting called "Set Avalara Default Product Tax Code." You can click the link to "Search Avalara Tax Codes" to determine what code is best suited for your business.
Make sure that "Record Transactions in AvaTax" is enabled. This will send transactions from CommentSold over to Avalara.
For more information on setup, visit Avalara's Help Center here.
Adding Tax Codes to Products
When adding products to CommentSold, you will need to include a tax code. The Default Product Tax Code you entered under Setup → Taxes will be automatically populated. However, if your product falls in a different category, you can enter the appropriate tax code on the Edit Product page.

If you are adding Avalara after you have existing products in your account, or if you need to update multiple product's tax codes for any reason, there is an option to bulk update.
Visit the Products tab in your CommentSold dashboard. Click the checkbox next to the products you need to update. Click the drop down arrow next to the checkbox and scroll down to "Update Avalara Tax Codes." You can then enter to tax code you would like to change these items to.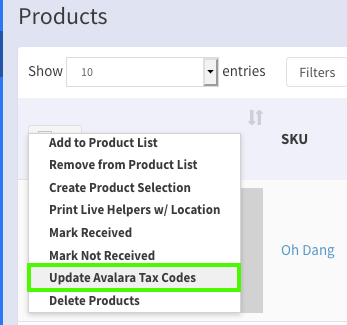 Viewing Transactions
Log in to your Avalara account. Click "Transactions" in the navigation bar. You will see all transactions sent from CommentSold to Avalara here.
We recommend you create a test transaction within your CommentSold account to confirm the connection.
Once you have confirmed that transactions are flowing into Avalara, you are good to go!