Product templates speed up the process of adding items to CommentSold.
Most businesses on CommentSold sell the same categories of products repeatedly, whether that's graphic tees or necklaces or throw pillows. Creating product templates for these commonly sold item categories will allow you to quickly enter new inventory into CommentSold.
Watch the video below or read on to learn more!
To create a product template, click on the Products tab of your CommentSold dashboard. Click the link at the top to "Add product template."

For this article, we will create a product template for graphic tees. You can complete as many of the fields as you would like to have pre-populated when adding new graphic tees. Perhaps your graphic tees are always purchased from the same vendor ("Brand") for $5 in sizes small, medium, and large, and sold for $15 each. The tax code in this case will be the same for all the tees sold, and we'll add all of them to the collection for Tees. This information can be entered into your template and will already be filled in for you when you add a new graphic tee using this template.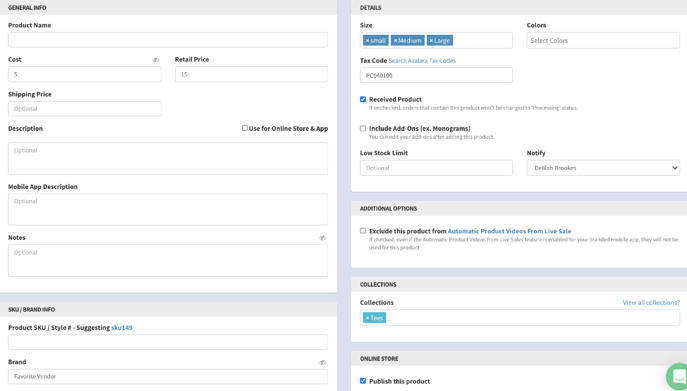 Typically, you will want to create a unique name, description, and SKU for each product you add. You can leave these fields blank and complete them when you are ready to add actual items.
Once you have a template created, you will see an option to "Add product using template" on the Products tab. Clicking this will display all of the available templates. You will also see the option to add a new template here.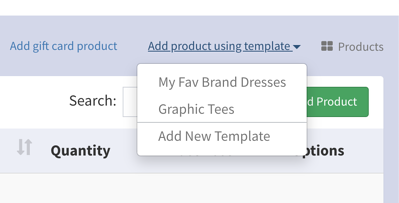 Select the template you'd like to use to add your product. You'll see that all of the information you entered when creating the template is pre-populating. Simply complete any additional fields you would like to include on the product listing and add images and inventory!
If at any point you would like to edit an existing template, you can click to "Add product using template" and select the template. You will see a button to Edit Template at the top left of the screen.