Allow shoppers to "shop the replay" on your CommentSold webstore and mobile app.
Live Replays give shoppers a way to access your live sales long after your livestreams have ended in your mobile app and webstore! Now, they can find a past live if they missed out when the sale was "live on the web" or "live in the app".
In CommentSold, you can set the Replays to autopublish to either channel once your live sales end or selectively add or remove them from the Live History tab.
Additionally, you can generate links that send users to a Live Replay at a specific point where a particular product has been featured. This link can then be shared with customers or used in product-centric ads across Facebook and Instagram.
This Article Covers:
How Live Replay Works
Overview
Though Live Replay will vary some between the webstore and mobile app, the basic functionality will be relatively the same for your shoppers. On both channels, shoppers can browse and shop through the video, just as they would with a sale that's broadcasted live.
Shoppers viewing a Live Replay will also see engagement (comments and reactions) appear at the time at which they were posted during the original live broadcast. However, inventory information will be up-to-date in real-time. Therefore, if an item or variant is sold out by the time they are watching the replay, it will appear with a strike-through to show that it is now unavailable.
On both the webstore and app, the "Replay" label is displayed in the top-left corner of the video as a clear reminder that customers are shopping a Replay, not an actual live sale.
Live Replays in the App

All Live Replays will show on the top of the home screen of your app under the subheading "Shop Previous Live Sales". Once clicked, shoppers can watch, browse, and shop the video as they would with a live in the app video.
Live Replays in the Webstore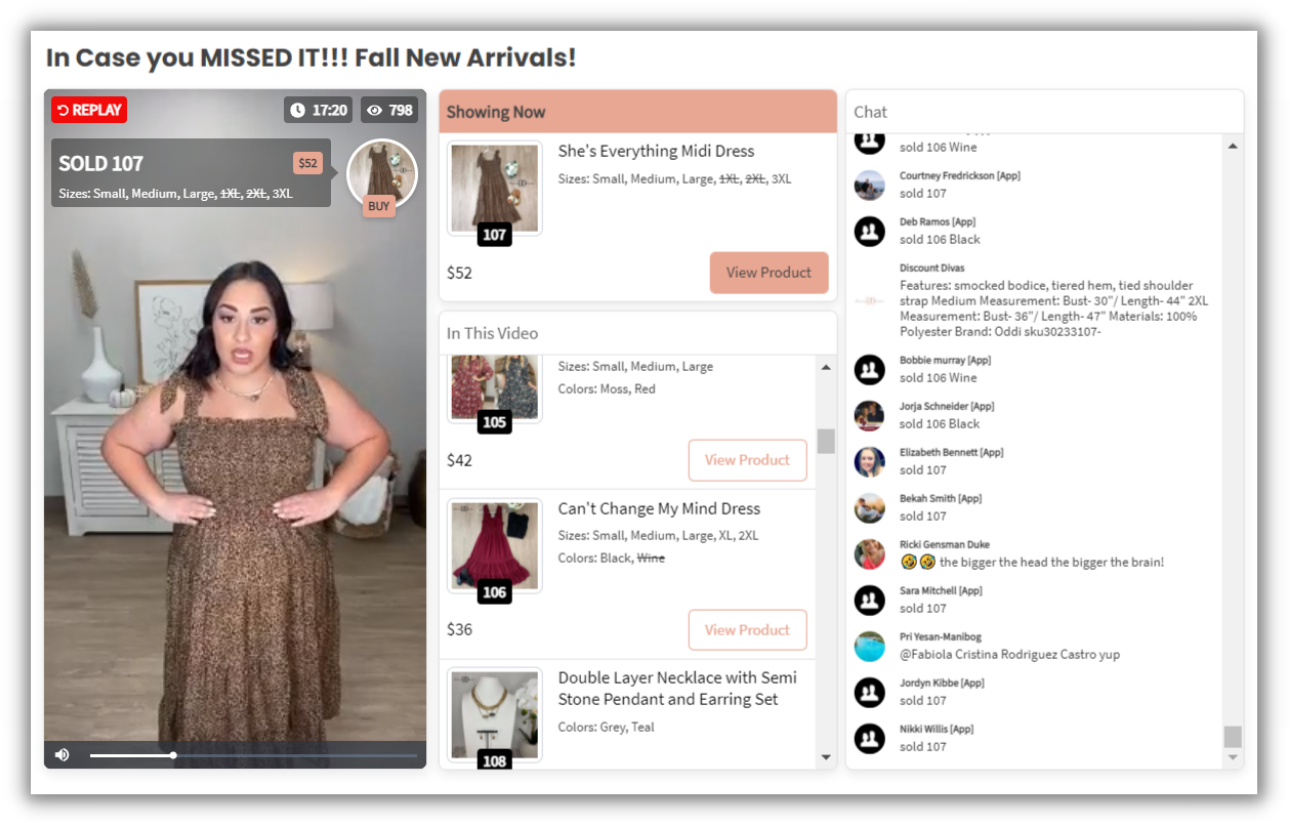 Once a shopper clicks into a webstore Live Replay, they can browse the watch the video, browse the product selection, and shop as they would live on the web.
Live Replays can be accessed in more than one place on your webstore, depending on how you set it up.

Live Replays on the Home Page
Live Replays published to your webstore will appear on your homepage. When a shopper clicks into a Live Replay from the home page, it will direct them to a page that is dedicated exclusively to watching and shopping that specific video. Shoppers can also click into the thumbnails featured below it to explore other Live Replays.
To adjust the Live Replays section on the homepage:
By default, all Live Replays will appear in a section placed at the bottom of your homepage. If you want to change this, navigate to the Webstore Design tab.
Look under "Home Page Sections" and find the Live Replays section. Drag the section up or down to position it anywhere you want on the homepage.
Once you're happy with how it looks in the preview, click Publish to publish changes.
Live Replays from your Live URL
Live Replays also appear on a your Live URL, a special URL that hosts your current live sales and Live Replays exclusively. This URL will contain your shop URL with /live added to the end. (I.e. yourshopname.com/live.)
If you are currently live, your live sale will appear on this page for uninterrupted shopping.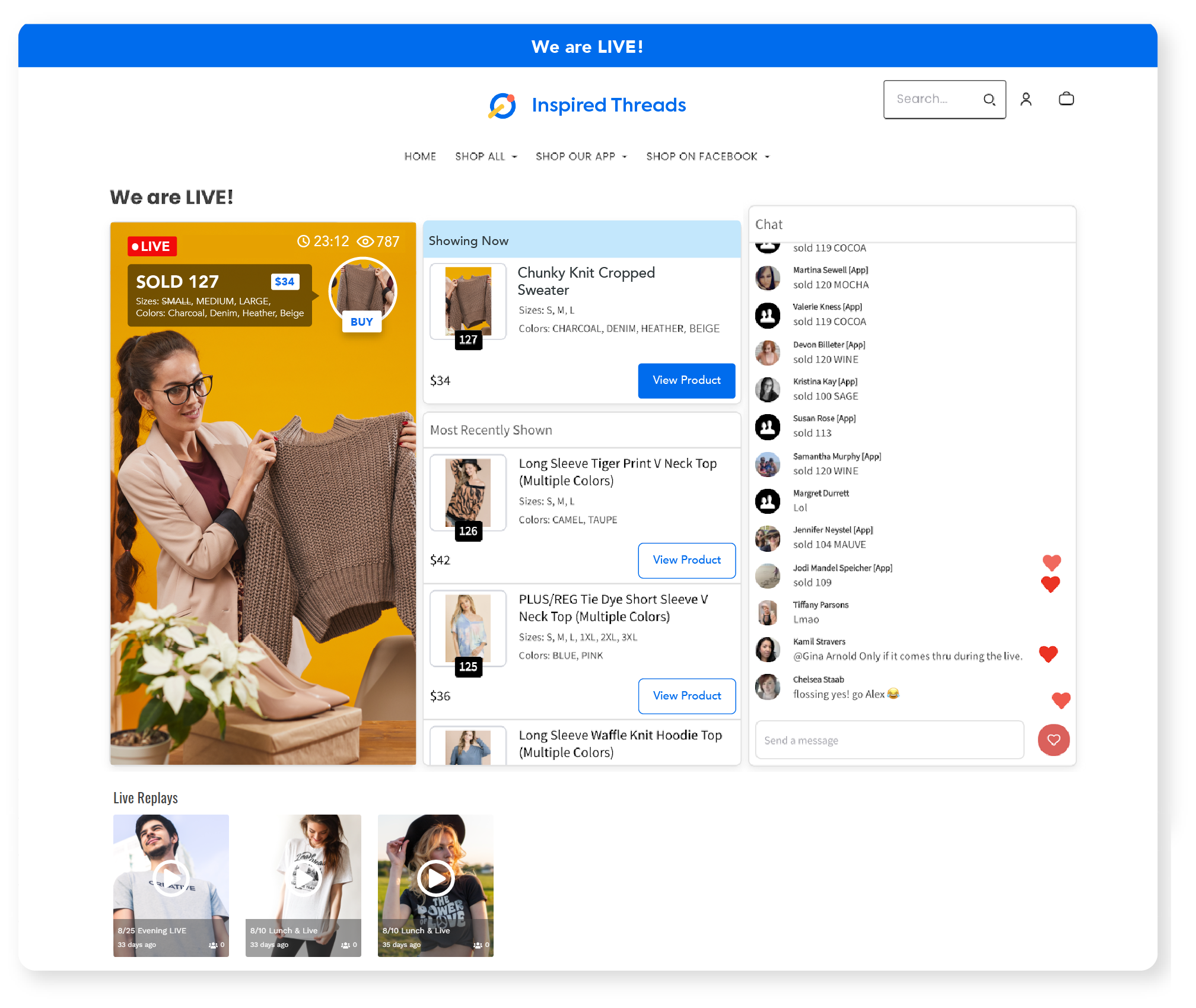 If you're not live, the latest Live Replay will start autoplaying. In either scenario, additional Live Replays published to the webstore will appear as thumbnails at the bottom of this page for shoppers to explore.
You can attach your live URL to your main menu if you want to give shoppers easy access to this page.

To make your Live URL accessible through the main menu:
Go to the Webstore Design tab then, click Navigation.

Under Add External Link, enter a descriptive Link Title. This is the title that appears on your main menu.
Under Live URL, all you need to type in is /live.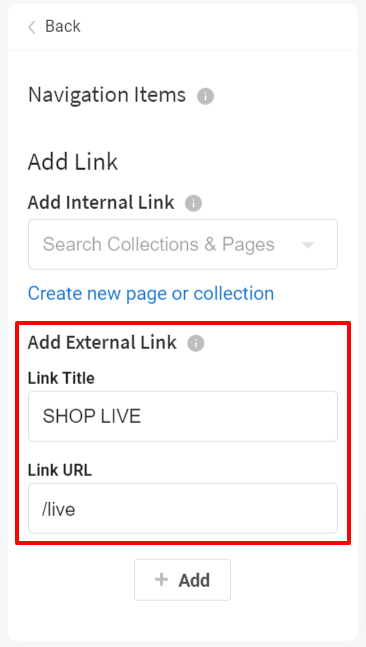 Click +Add when done. Your homepage preview will refresh to show changes to your menu. When you're happy with the way it looks, click Publish.
Managing Your Live Replays
The Live History tab is where you can manage all of your past live sales. From here, you will be able to select which past live sales appear as Live Replays on your webstore and/or mobile app. To access this page, click the Live tab, then click Live History.
Adding/Removing Live Replays
From Live History, find the sale you want to post to your mobile app and/or webstore.

Under the Show Replays column, check the boxes to make it appear as a Live Replay on the mobile app, the webstore, or both!
You can also uncheck these boxes to remove Live Replays after they've posted to either channel.
Changing the Name of Your Live Replay
You can also rename any of your past sales from Live History. Changing the name of a past live sale will change the name that appears on the Live Replay that is associated with it.
Under Options, click the three dots next to the sale you'd like to rename. From the popup, select rename and save changes.
Enabling Autoposting for Live Replays
Autoposting is a setting that will automatically publish your live sale as a Live Replay once your broadcast has ended. You can autopost Replays to both the mobile app and webstore, but you will have to enable this setting for either channel in separate places.

To enable autoposting for the webstore:
Go the Setup tab. Scroll down under "Selling Preferences" to find Autopost Live Replays to your Webstore and click to toggle on this setting.

To enable autoposting for the mobile app:
Go to Mobile App > Settings. Scroll down to "Live Replays" and toggle on the autopost setting.

Sharing Featured Products Links for Webstore Live Replays
To share a specific Replay at the time when a particular product is being shown:
Navigate to Live > Live History. Find the sale you want to share from the Live History table. Look for the checkbox next to Web to confirm it's been posted your Webstore, then click its name.

This will take you to the Live Statistics page for that sale. In the Featured Products table, find the product you want to share. Then click the arrow under its timestamp to copy the link to your clipboard.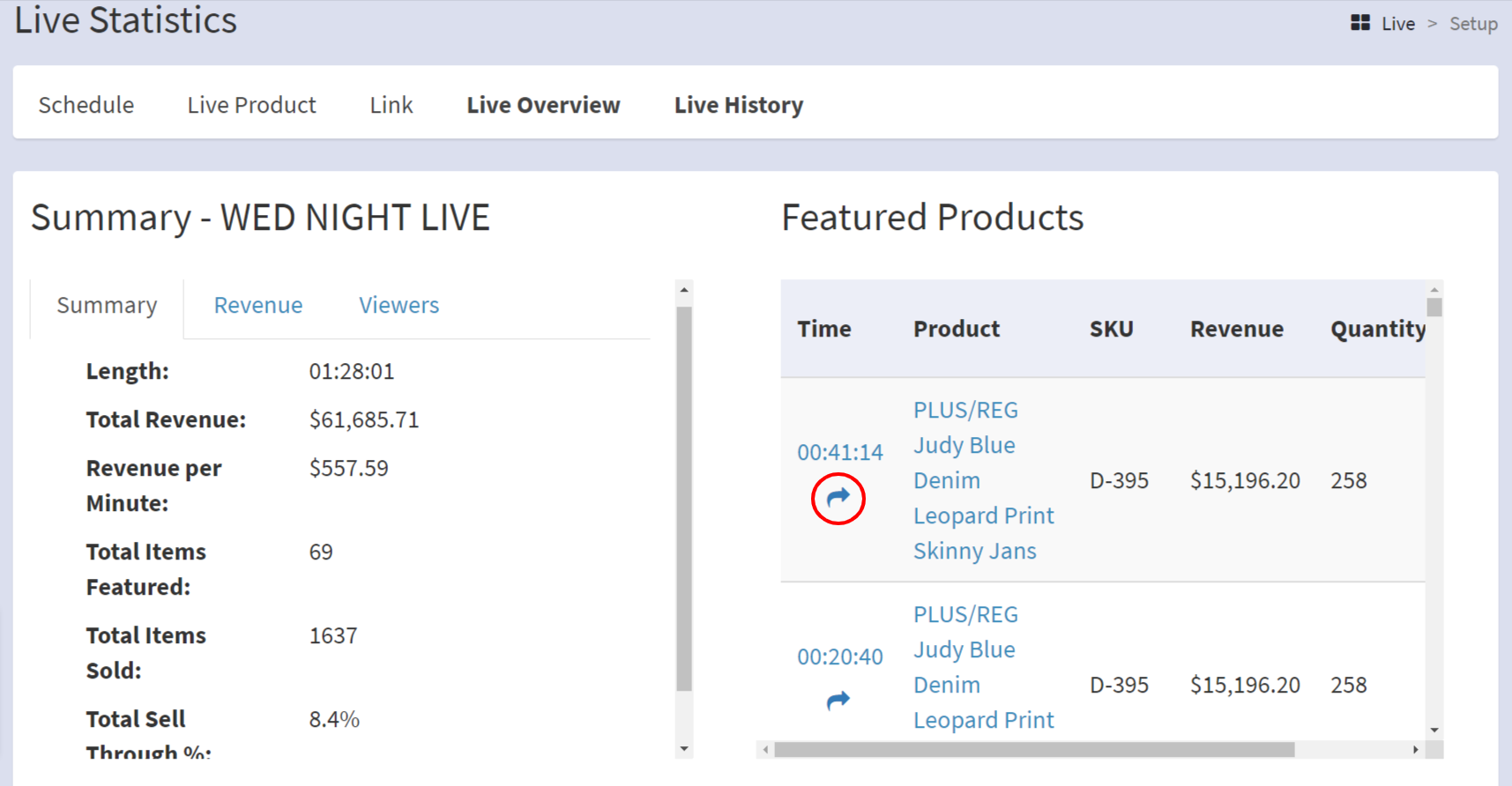 Now paste this link to wherever you want to share or advertise!
When users click this link, it will immediately direct them to that Live Replay at the exact timestamp in which the featured product is being shown.