Click on any of the images or GIFs in this article for a closer look.
Want to create a seamless pickup process for the USPS employee picking up orders? Read on to learn how.
If you generate and purchase shipping labels using CommentSold, then you have the option to create shipping manifests.
A shipping manifest features a master barcode that is inclusive of all packages in an outgoing shipment. Instead of a USPS employee scanning each individual package during pickup, the employee need only scan the shipping manifest barcode to accept all outgoing packages for shipment. This has the potential to significantly expedite your pickup process, especially during high-volume seasons.
You have the option to manually generate shipping manifests on those high-volume days, or have CommentSold automatically generate shipping manifests for your team. Auto-generation can be disabled at any time.
Enable Shipping Manifests
---
Before you can generate a shipping manifest, whether manually or automatically, you will need to enable the feature in CommentSold.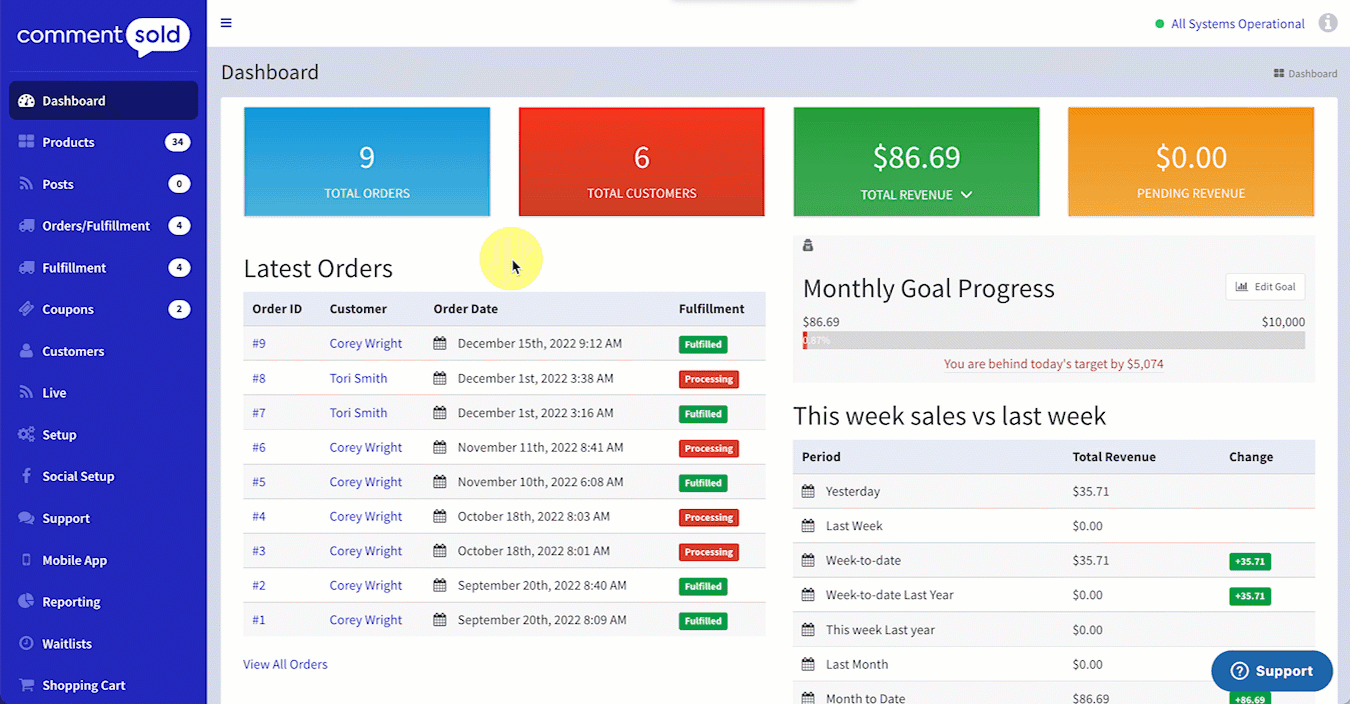 Select Setup in the side menu of your CommentSold dashboard.
Select Shipping from the options listed at the top of the page.
Scroll and locate the Shipping Manifest toggle at the bottom of the page.
Select this toggle so that it appears as Enabled.
Auto-generated manifests are enabled by default. You can learn more about automatic shipping manifests below.
Manually Generate a Shipping Manifest
---
You can manually generate a manifest at any time. The manifest will include all shipping labels that were generated that day and fulfilled up to the point of generation.
If you've already created a manifest that day, it will not include any already included in a previous manifest. You should print and keep the manifest and associated packages together to give to your postal worker at the same time.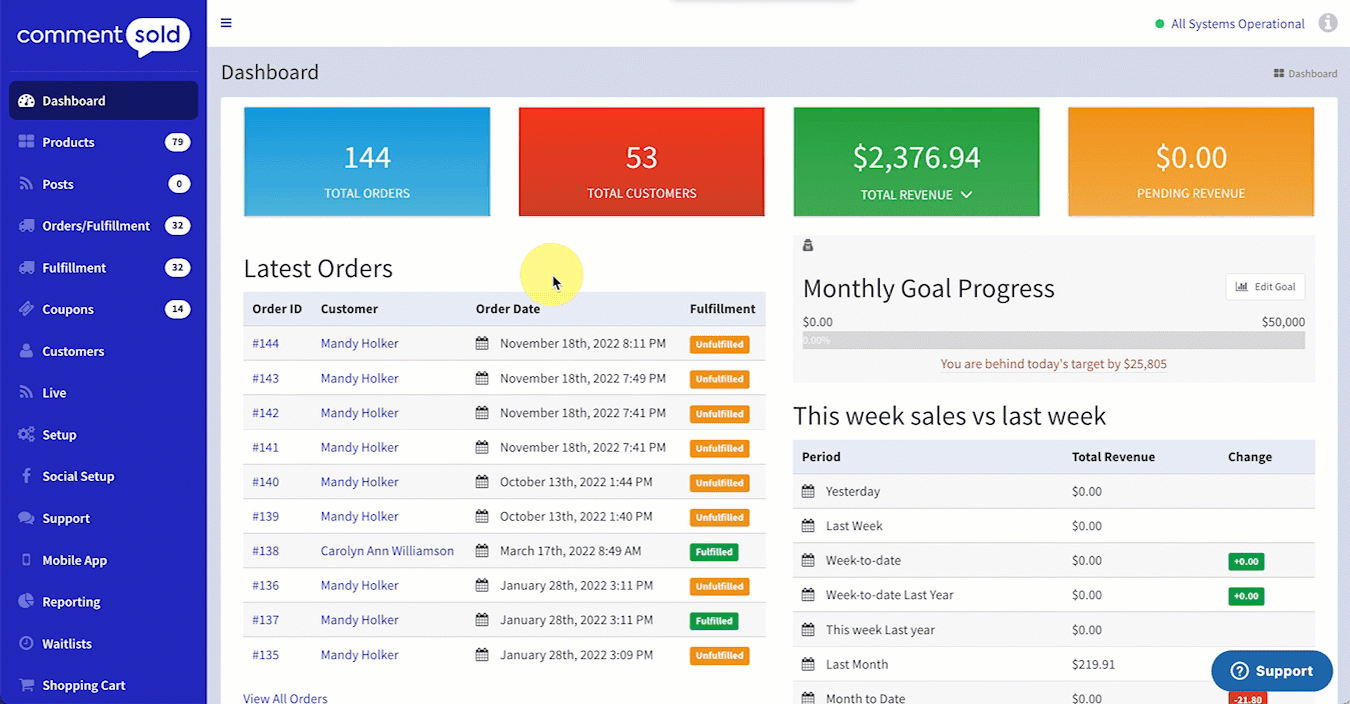 Select Orders/Fulfillment in the side menu of your CommentSold dashboard.
Process and print shipping labels for orders as you usually would.
Select Shipping Manifests in the top-right corner, above the order listing.
Select Create New Shipping Manifest. CommentSold will generate a manifest from fulfilled orders that include labels printed on the current day.
Select Print Manifest to view and print the shipping manifest and master barcode for the day.
If you manually generate multiple manifests throughout the day, make sure to provide all of them to the USPS employee performing the pickup. Remember, each manifest will include those labels generated since you printed the previous manifest.
Shipping both First Class and Priority packages? CommentSold will create a separate manifest for the current day for each. You must print both for your postal worker.
Disable Automatic Generation of Shipping Manifests
---
When Generate Daily Manifest After Hours is enabled, CommentSold will generate a manifest for all orders you printed shipping labels for that calendar day. This is because USPS requires that shipping manifests and associated labels be printed on the same calendar day.
By auto-generating manifests, CommentSold ensures you are able to use a valid shipping manifest for your orders.
Automatically generated manifests will also include unfulfilled orders. This allows you to fulfill the orders at a later time, but still include those orders on the shipping manifest.
If you wish to disable automatic shipping manifest generation, you can do so at any time using the steps outlined below.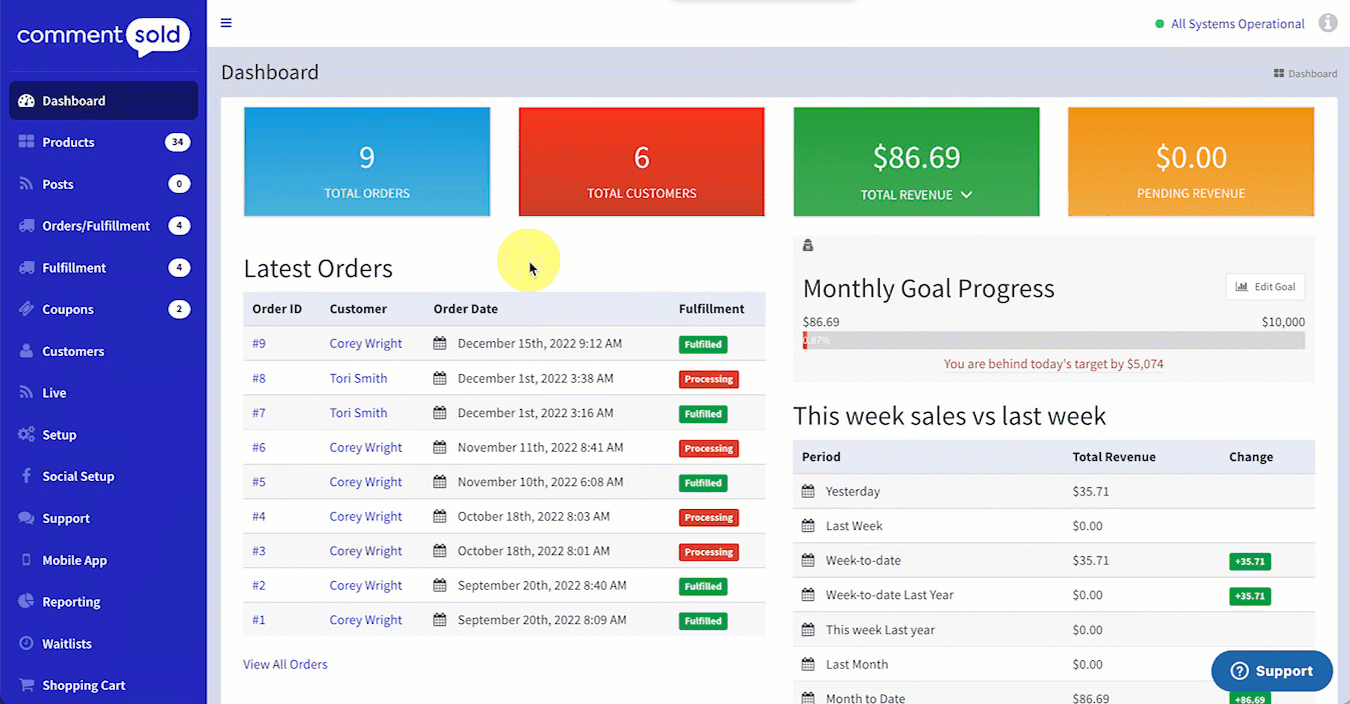 Select Setup in the side menu of your CommentSold dashboard.
Select Shipping from the options listed at the top of the page.
Scroll and locate the Generate Daily Manifest After Hours toggle at the bottom of the page.
Select this toggle so that it appears as Disabled.
Got Questions? We Have Answers
---
What if the USPS employee comes before we've fulfilled all of the labels?

No worries! Have your fulfillment team come to a stopping point and generate a new manifest. Keep this with the packages that it covers. You can generate another manifest for the remaining packages to be fulfilled that day at the end of the day. You can present that manifest to the USPS employee the following day.

I have some packages that were not fulfilled in time. What do I do with them?

Put them aside separately. Let the USPS employee know that those packages are not on the manifest and will need to be scanned individually by USPS.

What will the package's tracking status show once the manifest has been scanned by USPS?

After USPS scans your manifest, the tracking status should update to Accepted within the next 24 hours.
The tracking should also show Shipment Received, Package Acceptance Pending beneath the main status. This means that USPS has picked up the package, but it has yet to be processed at the Post Office or sorting facility.

How can I view which packages are included on a manifest?

Select the manifest you wish to view on your Shipping Manifest page

.

This will take you to the manifest details page. There you can view Date Created, Label Count, Order #, Order Cost, Tracking Number, and customer names and addresses for the packages included in the manifest.
Learn More
---