Learn how to create shipping manifests for labels created through CommentSold Shipping.
If you buy your shipping labels through CommentSold, you can create shipping manifests with just a few clicks in your CommentSold dashboard!
A shipping manifest is a document that features a master barcode representing all the packages in an outgoing shipment. Instead of scanning packages one-by-one, the postal worker can scan a single barcode to indicate that all packages have been accepted for shipment.
Note: Due to USPS guidelines, manifests must be generated on the same calendar day that your labels are created and marked as fulfilled.
This Article Covers:
Manually Generating Manifests
You can manually generate a manifest at any time. This manifest will include all of the labels that were generated that day and fulfilled up to that point. If you have already created a manifest that day, it will not include any already included in a previous manifest. You should print and keep the manifest and associated packages together to give to your postal worker at the same time.
Before you can generate manifests, you will need to enable this setting from within the Setup tab of your CommentSold dashboard. Click Shipping and enable "Shipping Manifests."
The standard way to generate manifests is from the Orders/Fulfillment tab in your CommentSold dashboard. When needed, multiple manifests can be generated for a given day.
To manually generate a manifest:
Bulk print labels and fulfill all orders as you typically do.
When you have fulfilled all of the labels, click the Orders/Fulfillment tab in your dashboard.
On the top of the page, click the Shipping Manifests button.




4. Click Create New Shipping Manifest. CommentSold will generate a manifest from fulfilled orders that include labels printed on the current day.



Note: If you are shipping both First Class and Priority packages, CommentSold will create a separate manifest for the current day for each. You must print both for your postal worker.
5. Click Print Manifest when you're ready to print. Make sure to print all manifests associated with packages being shipped, and provide them to your postal worker at one time!
Automatically Generated Manifests
Because USPS requires that the manifest and labels be generated within the same given day, but you may not have fulfilled all of the orders on that same day, we automatically generate a manifest for you every night to use when you do fulfill those orders.
Every night at 10 PM central, CommentSold will generate a manifest for orders with labels created that calendar day that are not already contained in a manifest. CommentSold does this to ensure that you are able to use shipping manifests for all your orders!
Automatically generated manifests are different from manually generated invoices, in that they will include unfulfilled orders. This allows you to fulfill the orders at a later time, but to still include those orders on shipping manifests! Remember that USPS requires that manifests are made on the same calendar day as the labels are created.
Auto-generated manifests are enabled by default. If you would not like this daily manifest to be automatically generated for you, you can disable this setting at any time.
To disable automatically generated manifests:
From your dashboard, click the Set Up tab. Click on the section for Shipping.
Scroll down to "Generate Daily Manifest, After Hours" and disable.



Frequently Asked Questions

What if the postman comes before we've fulfilled all of the labels?
No worries! Have your fulfillment team come to a stopping point and generate a new manifest. Keep this with the packages that it covers. You can generate another manifest for the remaining packages to be fulfilled that day.
I have some packages that were not fulfilled in time. What do I do with them?
Put them aside separately for your postal worker. Let the postal worker know that these packages are not on a manifest and will have to be manually received by the Post Office.
What will the package's tracking status show once the manifest has been scanned by USPS?
After USPS scans your manifest, the tracking status should update to "Accepted" within the next 24 hours.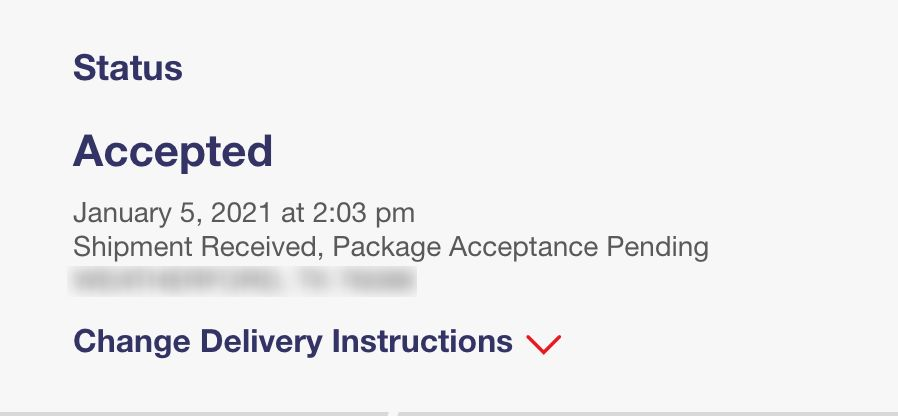 The tracking should also show "Shipment Received, Package Acceptance Pending." Don't be alarmed by this! This means that the USPS has picked up the package, but it has yet to be processed at the Post Office or sorting facility.
Note: Some shops have reported that when their local USPS scans a manifest it doesn't update the tracking status for each package. It will update when it is scanned during transit, so there may be a delay.
How can I view what's on a manifest?
From your dashboard, click the Orders/Fulfillment, then click the Shipping Manifests button on the top right.
Click on the manifest you would like to view from the shipping manifest list. This will take you to a page with all of the manifest's details. You can view Date Created, Label Count, Order #, Order Cost, Tracking Number, and customer names and addresses.