Mobile deep linking allows you and your customers to share URLs that direct to a product's mobile app location.
A deep link is a link that takes a person to a specific internal page rather than to the home page of a website. A mobile deep link directs to a specific location within a mobile app, such as to a product page. The benefit of deep linking with CommentSold shops is that it allows you to link directly to a product on your webstore or in your mobile app!
Where can I find a product's mobile deep link?
When a customer clicks the icon to share a product from within the mobile app, the link that it is shared will be a deep link to that product. If you would like to copy a product's mobile Deep Link, you can find it on the Edit Product page for that product.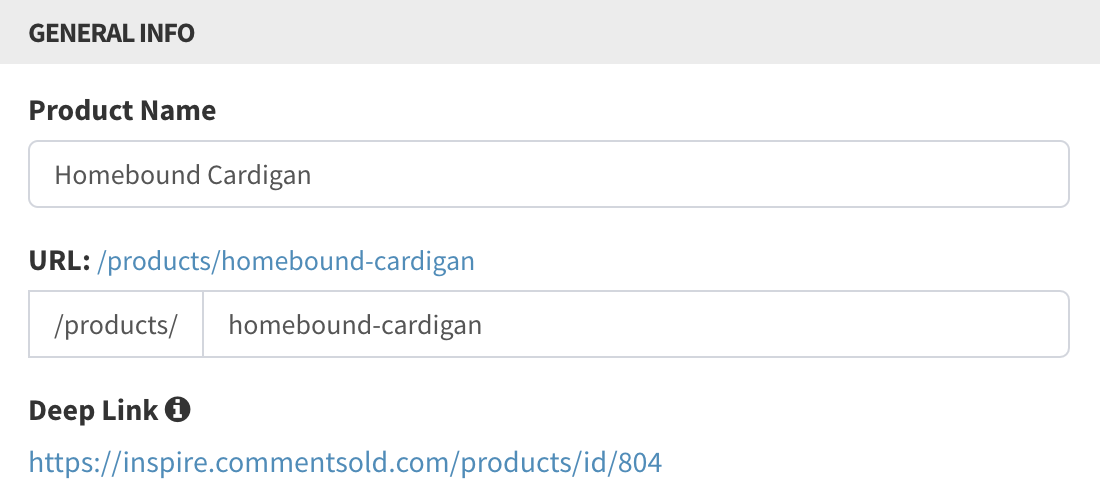 The URL will direct to the product's webstore page. The Deep Link will direct to the product's mobile app location when possible, and to the product's webstore page if it is not possible to link to the mobile app.
Note: Only a CommentSold shop's admin will be able to access a product's deep link URL from the Edit Product page.
Mobile deep links are especially helpful for paid advertising efforts! If you'd like a product to open within your mobile app for those who have your app downloaded, the Deep Link URL is the URL you will use.
Where will the mobile deep link URL take my customers?
The preferred destination for mobile deep links is within your mobile app. Clicking on a mobile deep link will take someone to the product in your mobile app if:
They have your mobile app downloaded
They are on the mobile device that has your app downloaded
They open the link from an app that works with mobile deep linking (which includes SMS, iMessage, and Safari)
They do not have a default for opening links that overrides the mobile deep linking (for example, setting your device to always open links in Chrome)
If all four of the above conditions are met, the mobile deep link will open the product in your mobile app. If not, the customer will be taken to the product in your webstore.
Do I have to use mobile deep links?
When customers share products from your app with their friends, these links are mobile deep links by default. However, you do not have to use mobile deep links yourself when you are sharing or advertising products.
There is no down side to using a mobile deep link, and we do recommend using them if you have a mobile app to encourage those with the app to shop there. But you do have the option to share the standard product URL, which will direct all shoppers to the product page in your webstore, whether or not they have the mobile app.