Use the Favorites report to learn more about the types of products that your shoppers are interested in.
The Favorites report shows all data associated with products that customers have "favorited" from your branded mobile app during a select date range.
Since favorites act as a wishlist of sorts, you can use this to determine which products your customers are showing a high level of interest in.
To access this report, click the Reporting tab, then click the Favorites section at the top of the page.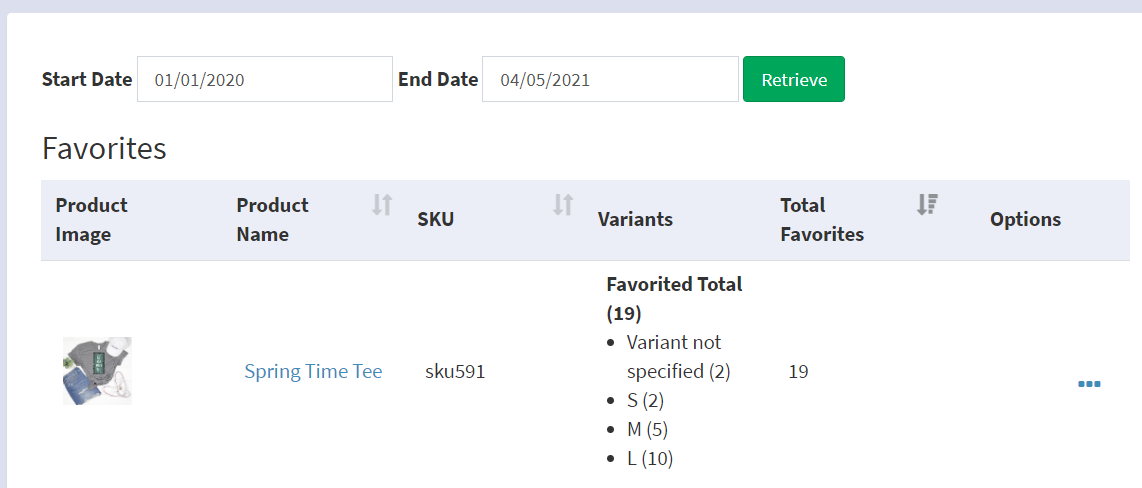 In this report, you'll find a list of products that customers have favorited during a set date range, along with these columns:
Product Image - Shows the thumbnail of the favorited product (if applicable).
Product Name - The name associated with the favorited product.
SKU - The SKU associated with the favorited product.
Variants - This column displays a breakdown of the # of times a product is favorited based on its variants (if applicable). Customers can favorite specific variants or none at all. When no variant is selected, this column will show the number of favorites for "Variant not specified."
Total Favorites - Displays the total # of favorites for that product and all of its variants.
Options - Clicking the three dots within this column gives you options for how to edit or post the associated product.


By default, the report will show favorites data based on the last few months. To generate a report for a specific date range, enter a start and end date, then click Retrieve.
Note: You can click the title of each column to sort the table by ascending or descending values.