The Mobile App tab in your CommentSold dashboard is where you will manage most aspects of your branded mobile app.
This article covers the settings and features you will have access to in the Mobile App tab after your app has launched.
In This Article:
Notifications & Notification Templates
In the Notifications section of your Mobile App tab, you can send one-off push notifications. In the Notification Templates section, you can set up automated push notifications for cart expiration reminders, win back offers, and more.


In the Notifications section, you can scroll down to view Push Logs. This is a summary of the push notifications you have sent.
To learn more about push notifications, check out this article.
Settings
In the Settings section of the Mobile App tab, you will be able to configure your app to create your desired customer experience.
General Settings
Display Quantity
The Limit Display Quantity setting allows you to create urgency to buy by displaying low quantity for the products in your app. When you enable this and enter a number, CommentSold will choose a random number between 1 and the number you enter to display for each product/variant's available quantity.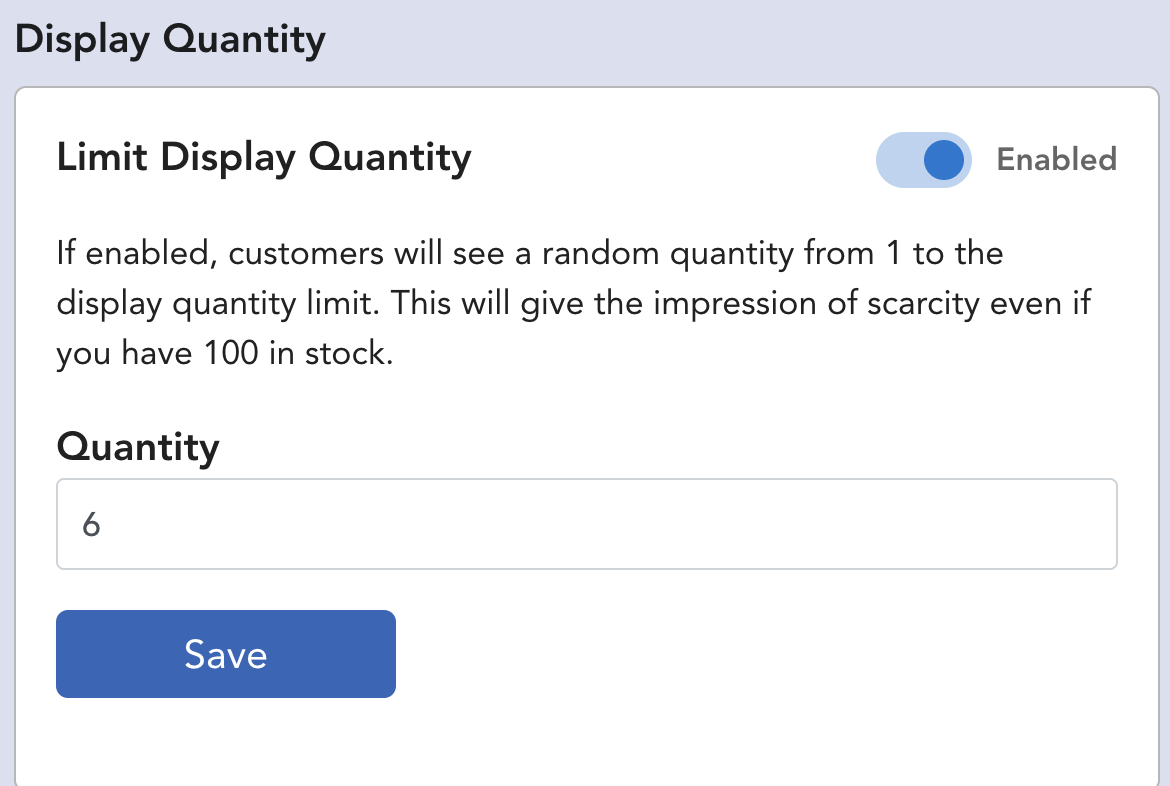 Autoplay Settings
In Autoplay Settings, you will determine if Shop The Look and Fit Videos start playing automatically for app users or if the user will need to press a play button to start the video.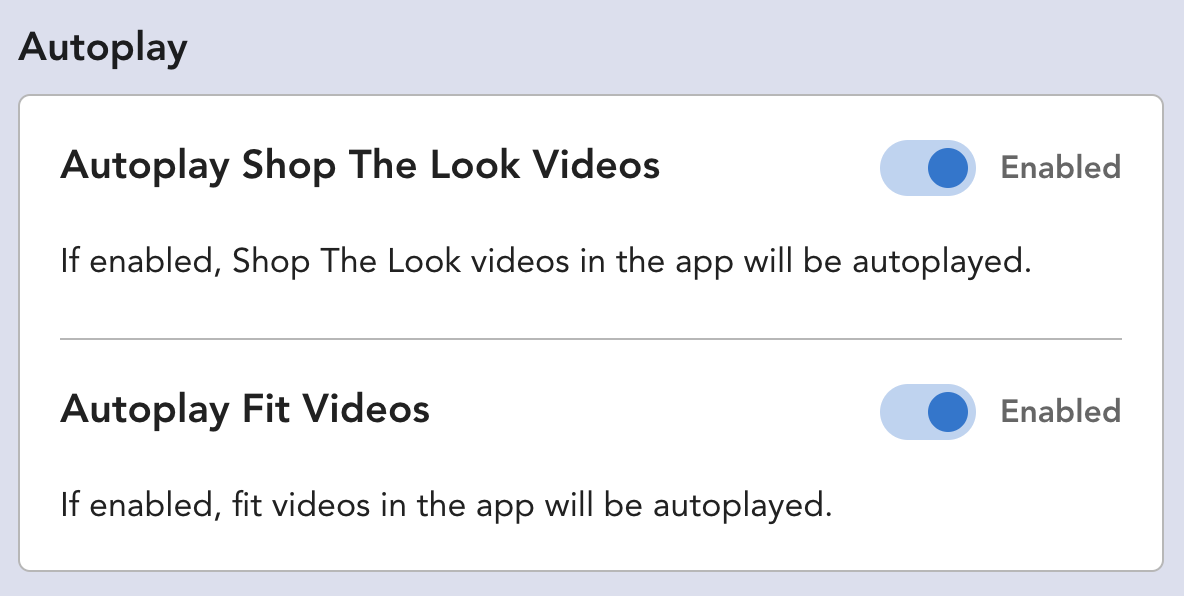 Shop the Look Settings
If you want all of your Shop The Look posts to be accessible to shoppers via your navigation menu, you can enable Add to Top Menu on App. You can also enter a Default Title for Shop The Look posts, and for the navigation menu item (if enabled).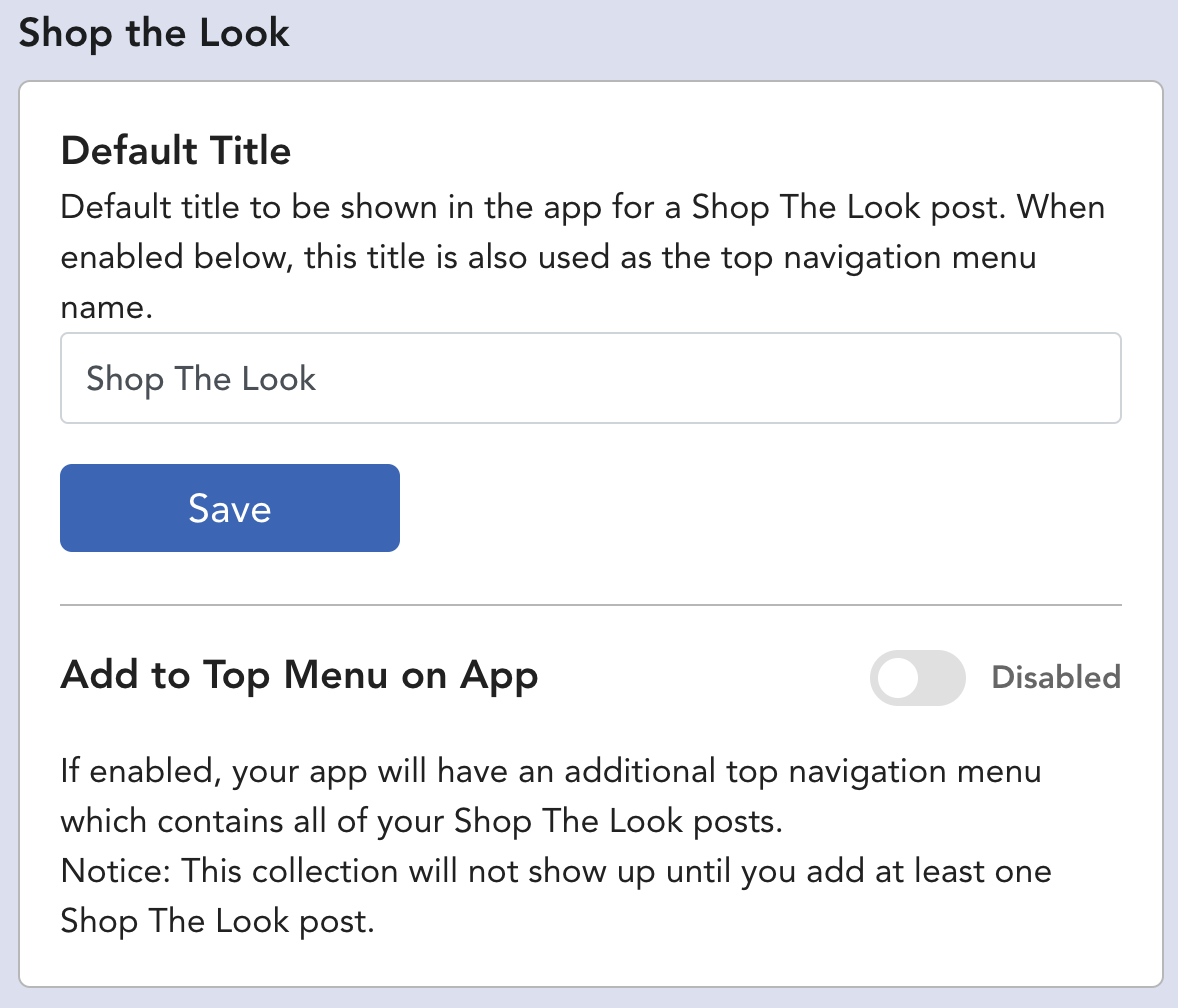 App Notification Banners
Enabling the App Notification Banner allows you to display a banner across of your app with a custom message. When enabled, you will see the options to make the banner Dismissable, to set a Start & Expiration Time (optional), and to enter the banner text as Notification Body.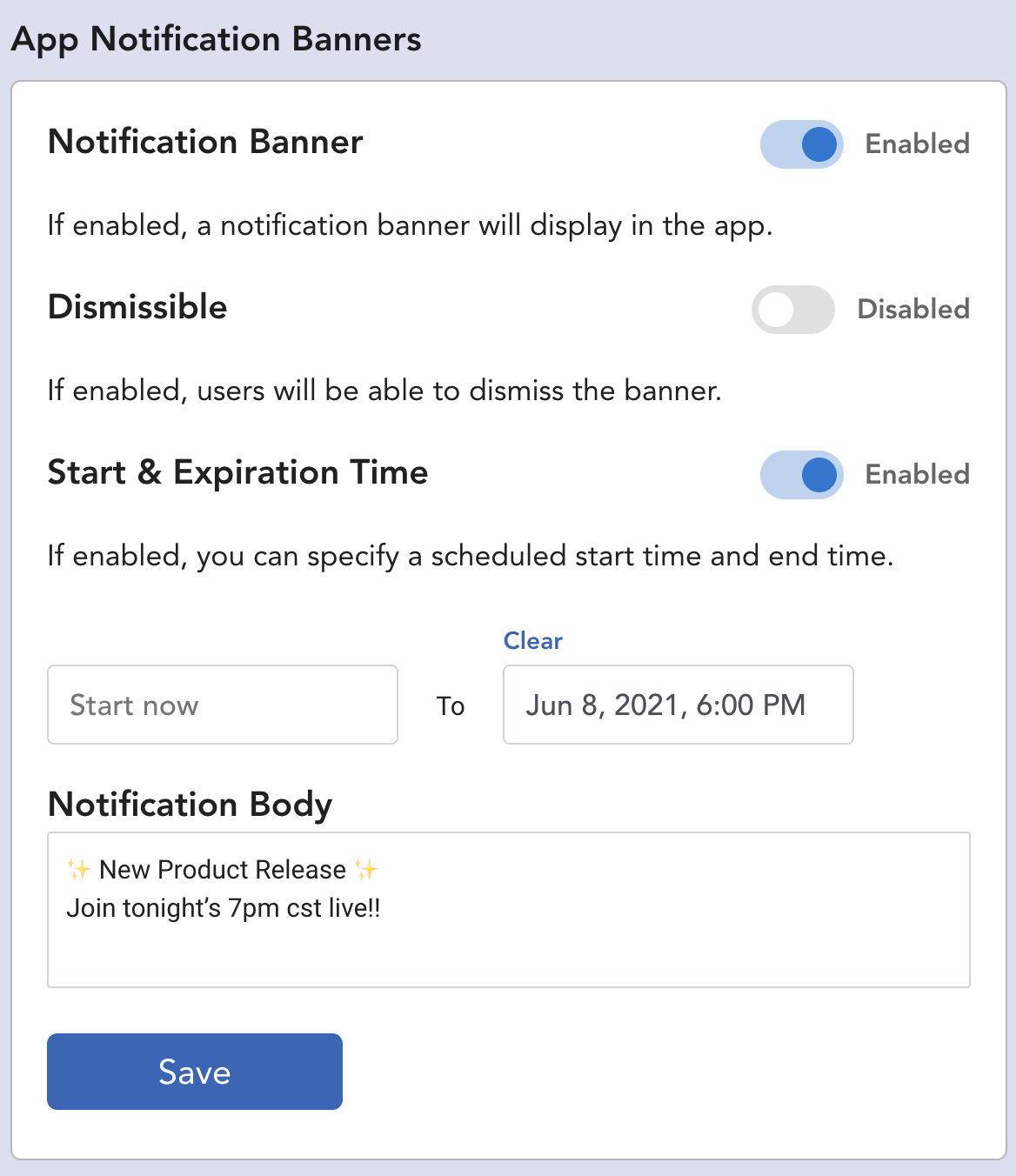 App Install Banners
If you are using the CommentSold webstore, we recommend enabling Display App Install Banners. This will display a banner to webstore visitors inviting them to download your mobile app.



Strikethrough & Badges
In this section, you can determine which of the following are active in your app:
Strikethrough of regular price when item is on sale
Waitlist badges
Sale badges
Low stock badges
You can see examples of the strikethrough text and of badges highlighted in the screenshot below.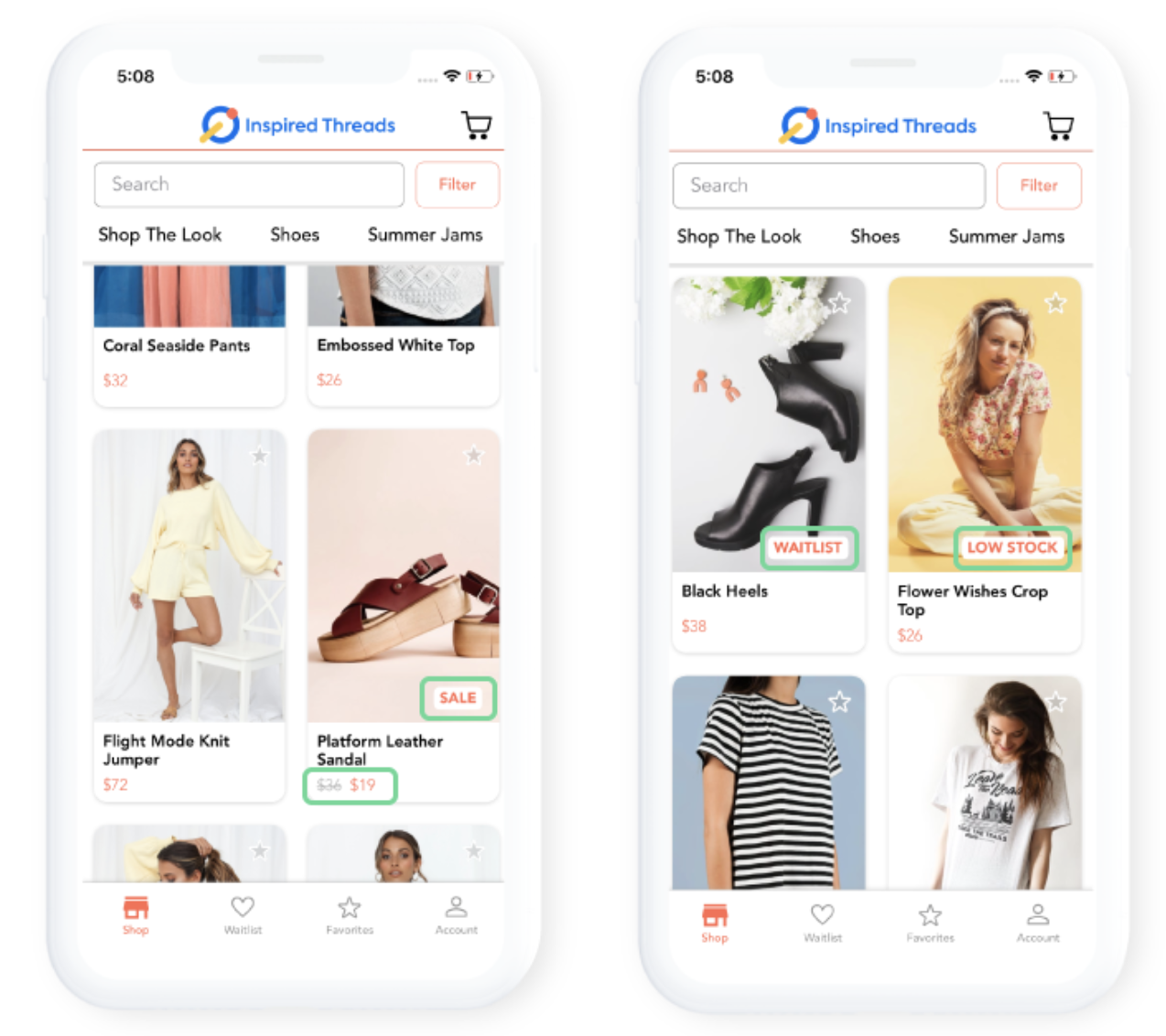 Enabling Strikethrough will show both the original price and sale price for products that you have on sale. The sale price is highlighted and the original price is shown with a strikethrough. Only products with the same retail price and sale price across all variants will display with the strikethrough.
The Waitlist badge will display on products when all variants are sold out. This badge shows in product feeds and favorites. Enabling this will allow your shoppers to focus on what you have in stock when browsing your app, while still allowing them to be added to the waitlist for items they really love.
The Sale badge will display on items with a sale price in the app's product feeds, favorites, and waitlists.
The Low Stock badge will display on products when the quantity across all of the variants drops below a certain (customizable) threshold. When this is enabled, you will be able to enter the Low Stock Quantity. The Low Stock badge will show on items when quantity across all variants is below this number. The Limit Display Quantity setting you entered before (if applicable) will not affect the badges.
When Favorites is enabled, shoppers will be able to create and manage a product list of their favorite items from your shop!

Live Sale Settings
In this section, you will be able to adjust settings related to sold comments, live replay, and live reactions.
Sold Comments
If you want "sold" comments to display on your live sale when app users cart items, enable Create "Sold" Comments When App Users Add Items to Their Carts.
If you would prefer for purchase events to pop up on your live sale feed rather than to create "sold" comments, enable Create On Screen Purchase Notifications Instead of Sold Comments.
If you would like shoppers to see a banner notifying them of when their carts will expire across the bottom of your mobile app, enable Cart Expiration Warning.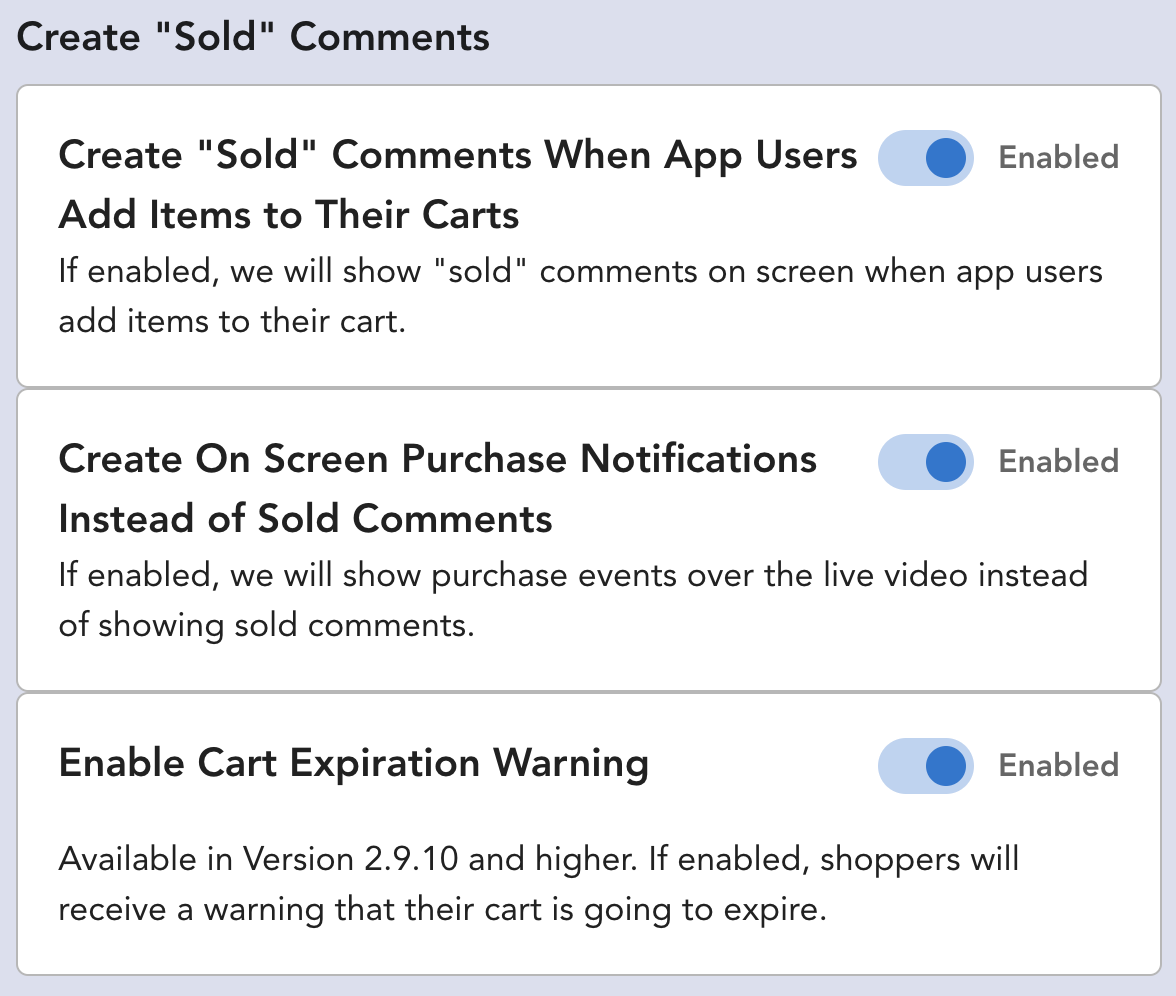 Live Replay
Live Replay is a feature that will automatically post previous live sales to your app as recorded videos. To have previous live sales post to your app as shoppable Live Replays (which we highly recommend!), enable Autopost New Live Sales. Learn more about Live Replay here.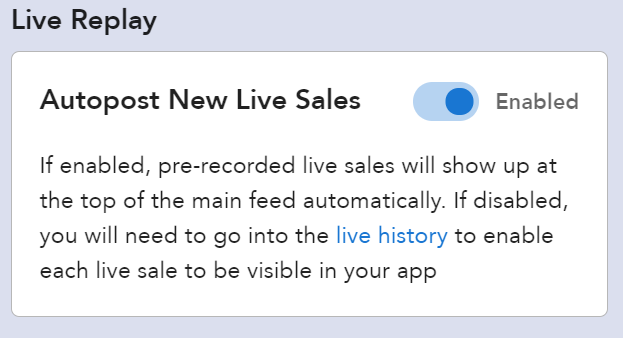 Live Reactions
If you choose, you can allow viewers to click on a heart icon to react to your live sale. This reaction is visible on the live sale to allow viewers. Enable Allow Reactions (hearts) During a Live and add your desired number of seconds between any individual shopper's reactions.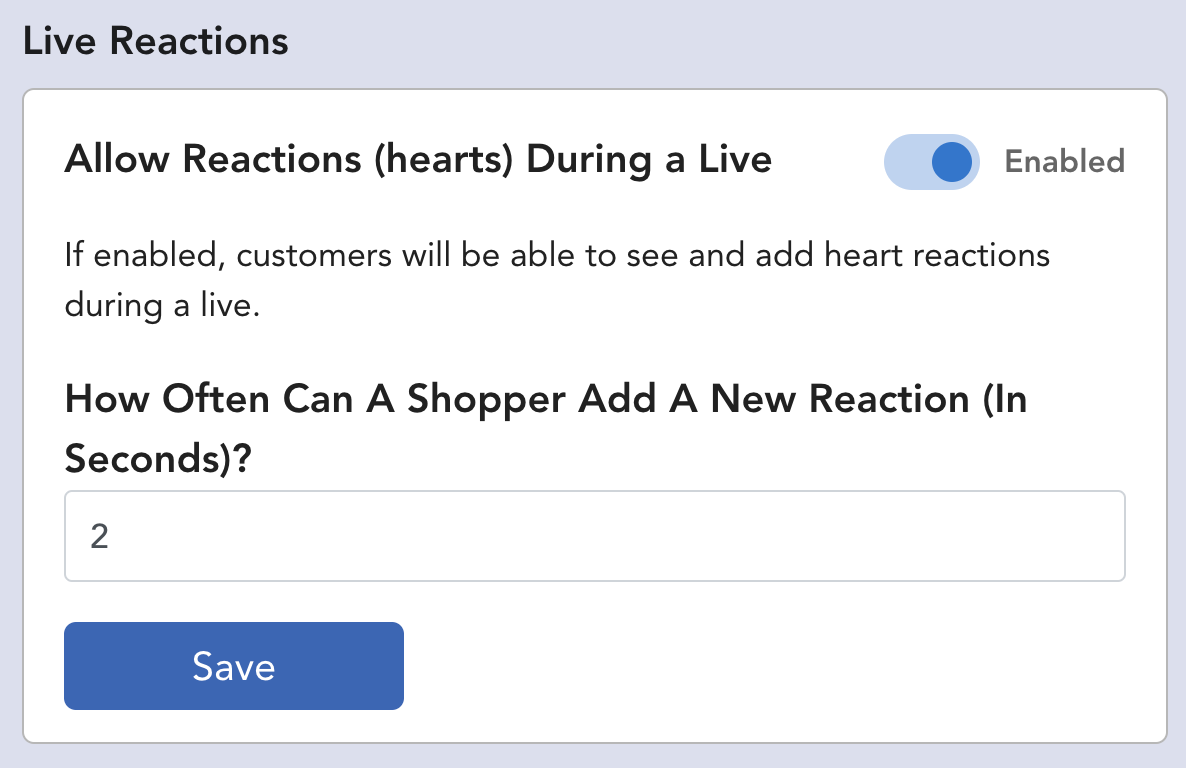 Facebook Analytics and Ad Tracking
In this section, you will see your App IDs for iOS Bundle ID, iOS Store ID, and Android Package. You will also see a box to enter your Facebook App ID. This will allow you to track your conversion events accurately.
Learn more about connecting your mobile app to Facebook here.
Integrations
Intercom Settings
If you would like to use Intercom for customer support, you can enter your Intercom App ID, Intercom iOS Key, and Intercom Android Key here. Learn more about setting up Intercom with CommentSold here.
Braintree Token
To accept PayPal in your mobile app, you will need to enter a Braintree Token in this section. If you had a PayPal account linked when you initially set up your mobile app, the token should have automatically populated for you. If you are adding or updating PayPal, you will need to manually enter the token. Learn more about adding PayPal as a payment gateway in your app here.
Look and Feel
The Look and Feel section is the customization hub. Here you will make changes to the visual components of your mobile app.
Customize Colors and Logo
You can make changes to the Tint Color and Background Color that you selected during your mobile app setup.
As a reminder, Tint Color applies to prices and navigation buttons.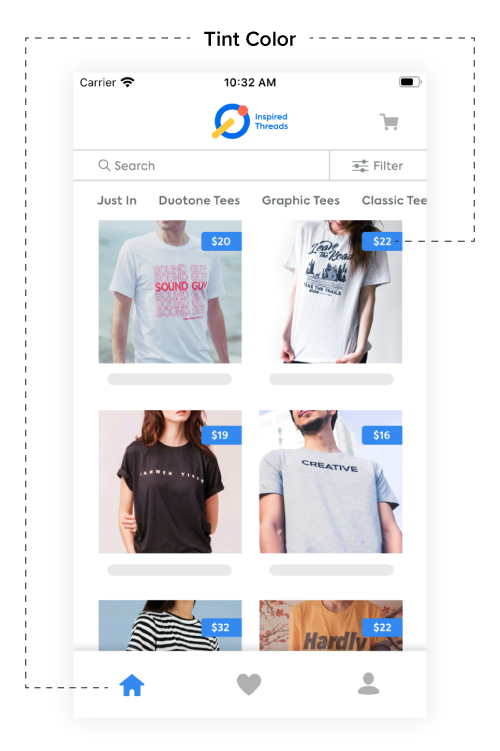 Background Color applies to the login button on the launch screen.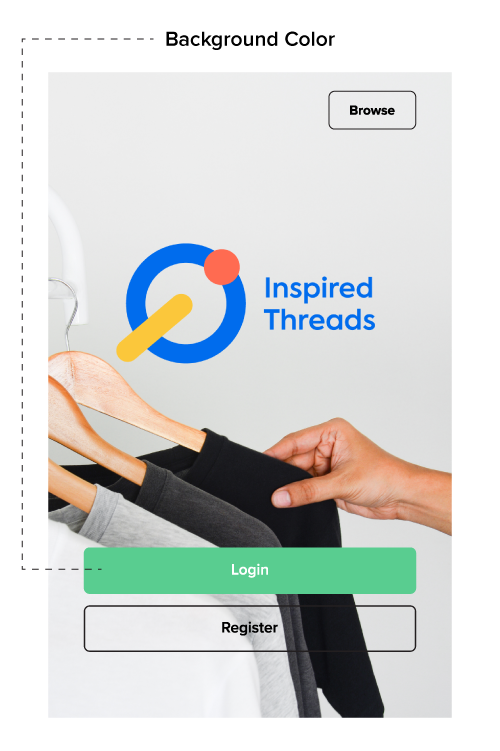 To change these colors, you will need to enter new hex codes in the Colors section or use the built-in color picker. Be sure to click the Save button when you are done!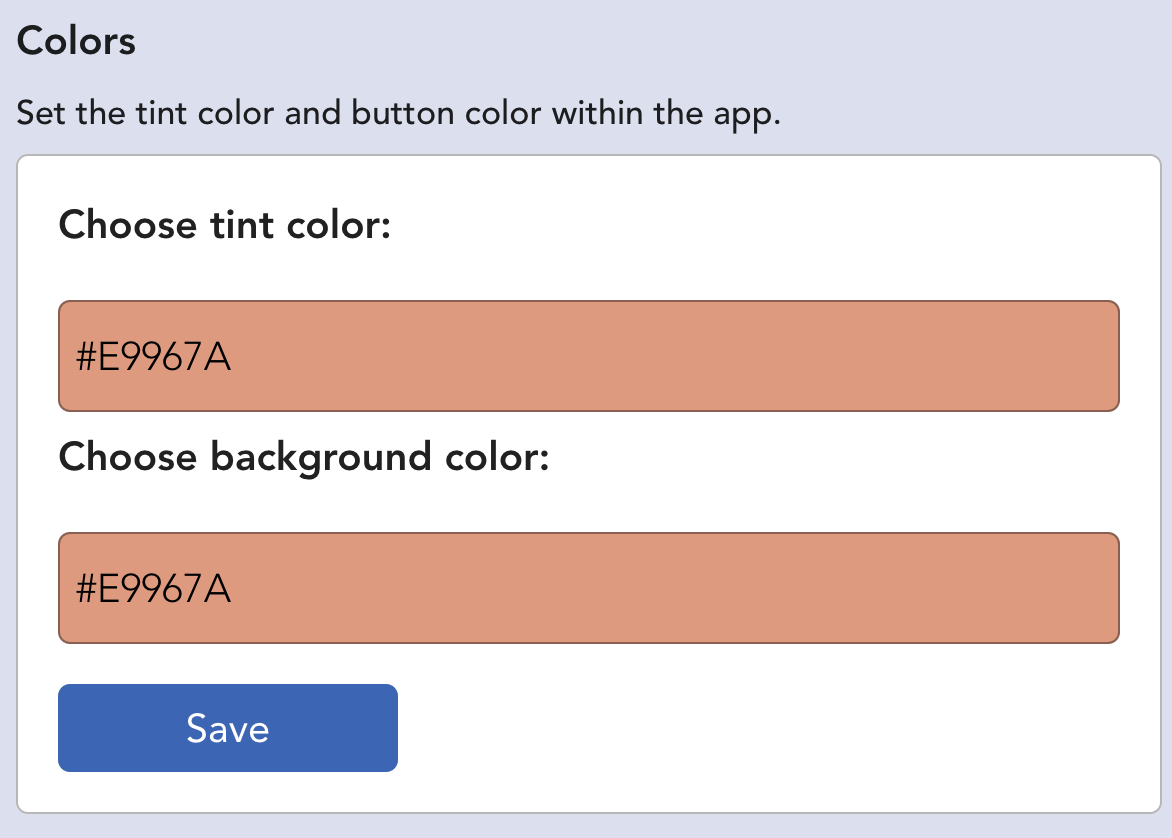 You can also upload a logo image to show at the top of your app by selecting "Add Logo" and choosing a file from your computer that meets the required dimensions shown.
If you want to upload a new logo, you will need to delete the existing one first. Then you can add a new one. Be sure that it also meets the size recommendations.
Size Filters
Under Size Filters, you have the ability to edit the sizes a shopper can use to filter products.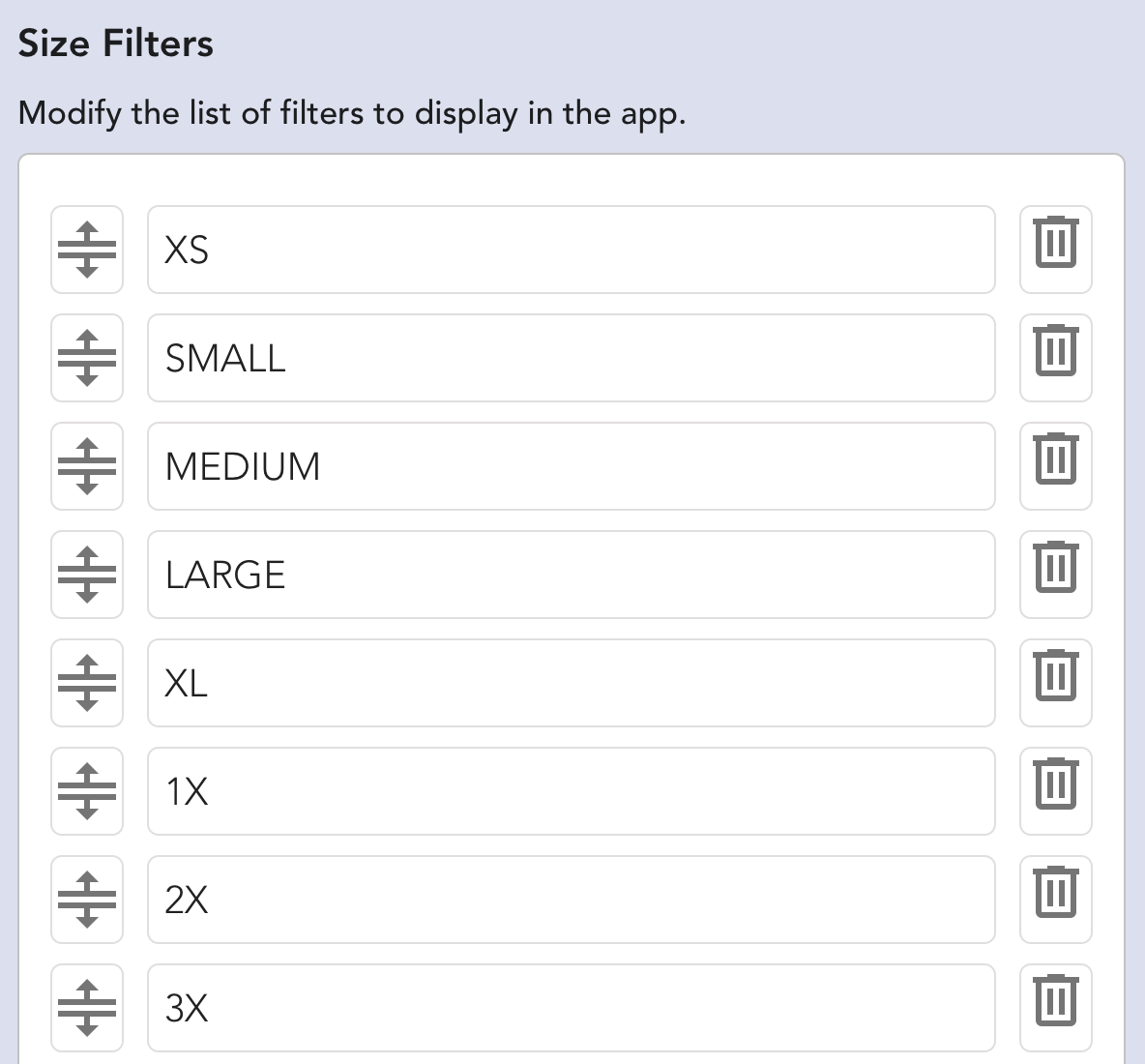 Drag and drop to reorder, click the trash can icon to delete a size, or scroll to the end of the list and click the button to Add Size.
Profile Links
Here you can make changes to the links that display in the profile section of your app.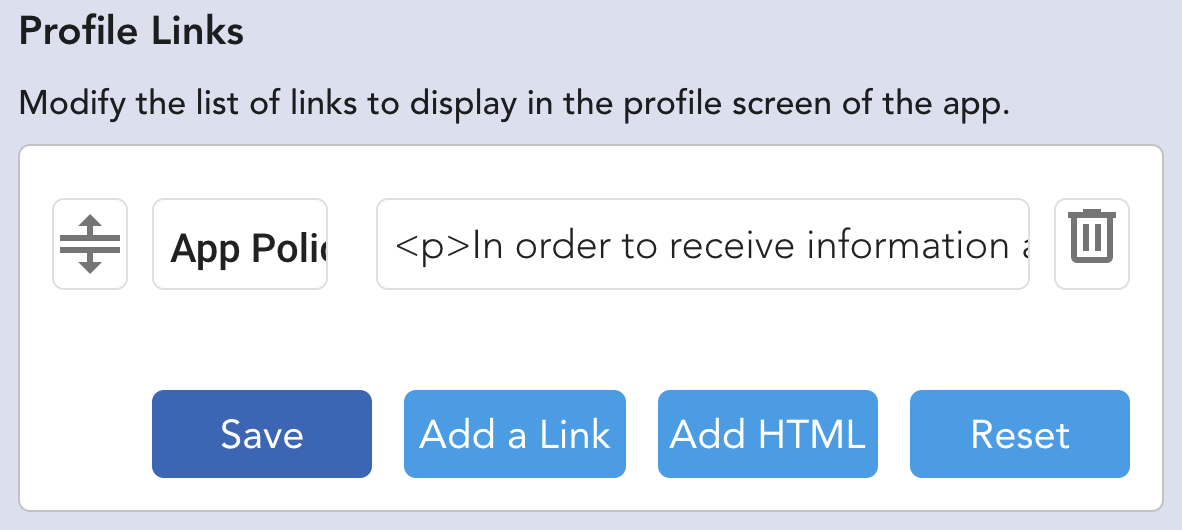 This is a good place to link any policies your shoppers should be aware of!