Social media platforms aren't the only place to sell live! Bring your brand-owned live sales to your webstore with Live on the Web!

Live on the Web allows you to bring an immersive live video shopping experience directly to your branded webstore.

With Live on the Web, you can:
Keep shoppers fully engaged through your branded online store

Allow shoppers to chat, browse products, and add-to-cart without leaving the video

Simulcast across your webstore, mobile app, and your Facebook page and groups
In addition, it unlocks your ability to publish Live Replays to your webstore. Live Replays allow customers to "shop the replay" even when you are not live on the web!

This Article Covers:
Requirements & Considerations
To sell Live on the Web, you'll need to use the latest version of the CommentSold Webstore.

If you're setting up a CommentSold Webstore for the first time, go to Setup > Shop and enable your Webstore. This will automatically put you on the new and improved version.


How to Go Live on the Web
When you're ready to broadcast your live sale to your webstore, you will need to do so by streaming through the CommentSold Broadcast app and by using the Live Overview to manage the stream.

In your CommentSold dashboard, click the Live tab, then click Live Overview. The Live Overview will quickly walk you through the first three steps of going live using the CS Broadcast App. For more detailed instructions, see our guide for live selling through CommentSold.

In Step 3 of the Live Overview, you will choose where to go live. Under "Stream Targets", Live on the Web will be selected by default. Be sure to select any other sales channels you want to stream to as well.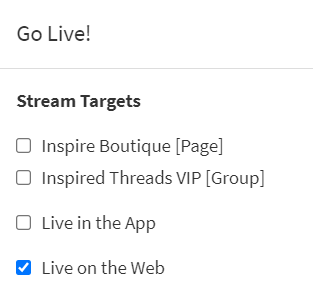 When you're ready, click Go Live to launch your live sale. After this step, you are live on the web!

When you are done selling, you will click End Live Sale at the top of the Live Overview. This will end your stream for all channels.

Shortly after your live sale has ended, you will be able to publish it as a Live Replay to your webstore from the Live History tab. Alternatively, you can autopublish all Live Sales as Live Replays once your livestreams end. Learn more about Live Replays and how to manage them here.
The Live on the Web Experience
When your shop is livestreaming to your webstore, your live sale will show at the very top of the homepage. All other pages will display a clickable banner alerting all who are on your website that you are currently live.
When clicked, the live alert banner will direct them to your shop's Live URL, a special URL that's solely dedicated to featuring your live sale content. This URL will contain your shop URL with /live added to the end. (I.e. yourshopname.com/live.)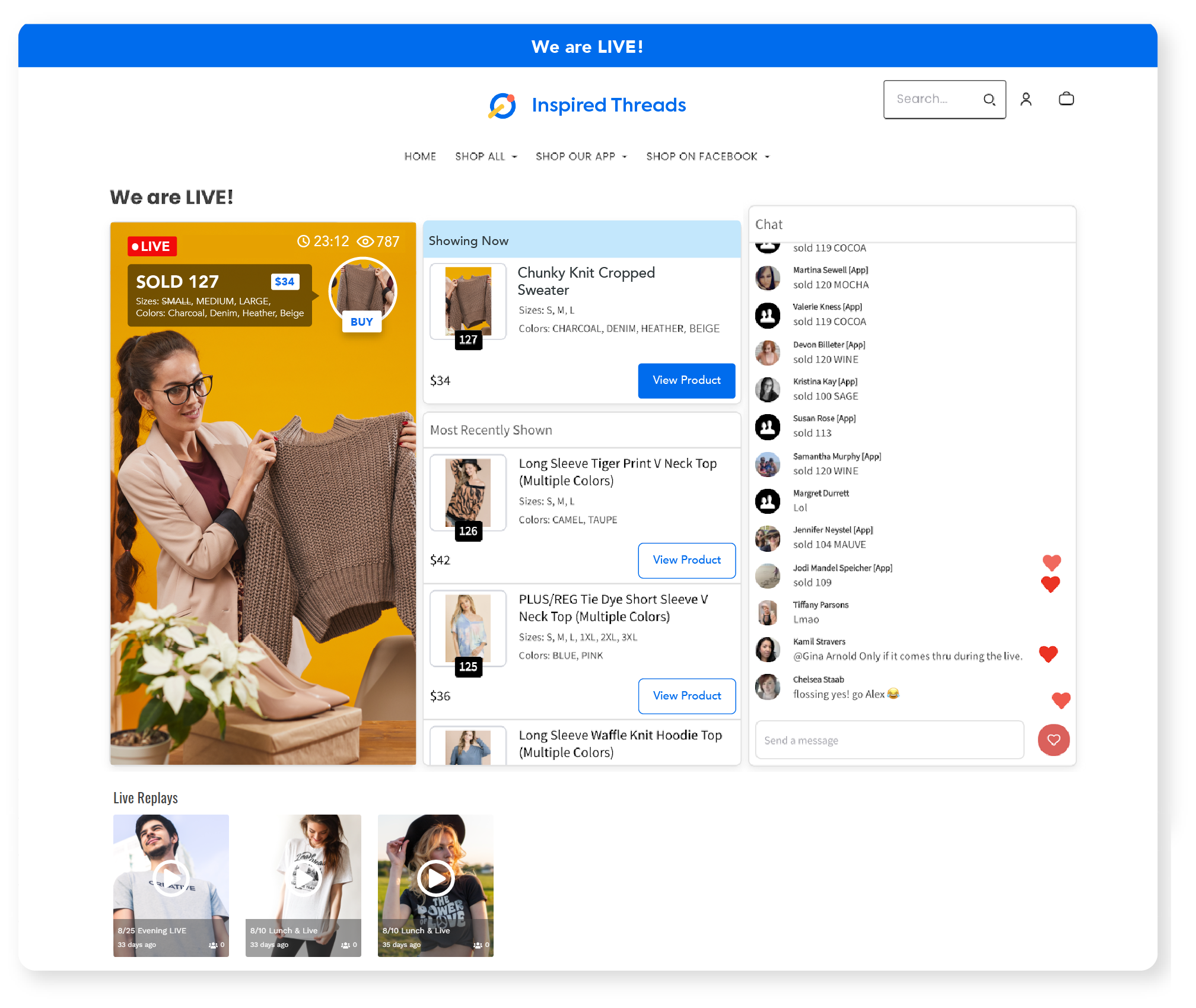 From the Live URL, shoppers can:

Expand the video to watch fullscreen

Chat with others and ask questions

React to the video with heart emojis

Browse all products, view product details, and add-to-cart without leaving the video

Click on the gallery of Live Replays at the bottom of the page to explore other past live sales (if they are published to the webstore)
Anyone who visits your site can watch your active live sale. At the bottom of the live video, they'll be prompted to login to interact with the chat.

When they're ready to check out, shoppers can choose the guest checkout option or log in to make a purchase under their registered account.
Making Your Lives Accessible from the Main Menu
You can attach your live URL to your main menu if you want to give shoppers easy access to this page.

When clicked, this page will look different depending on whether or not you are live.

If you are currently livestreaming, your live sale will be featured front and center on this page. If you're not currently live when a shopper clicks this link, it will autoplay your most recently published Live Replay in its place.

To make your Live URL accessible through the main menu:
Go to the Webstore Design tab then, click Navigation.

Under Add External Link, enter a descriptive Link Title. This is the hyperlink text that will appear on your main menu.
Under Live URL, all you need to type in is /live.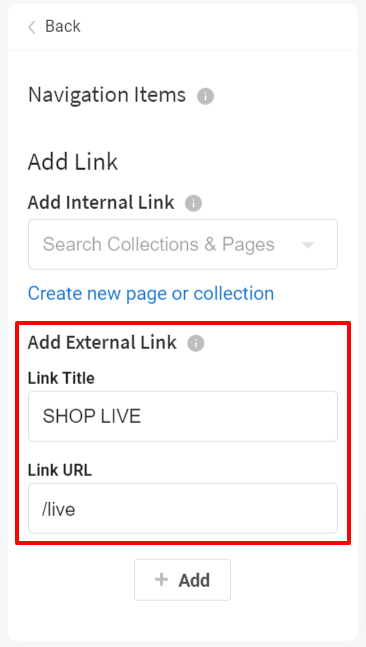 Click +Add when done. Your homepage preview will refresh to show changes to your menu. When you're happy with the way it looks, click Publish.

Now shoppers can access this link through your webstore's main menu!