Looking to run an up-and-coming sale? You can easily create, schedule, and manage your sales from your CommentSold dashboard in just a few clicks.
Once set up, scheduled sales will run wherever you sell with CommentSold-- whether that's Facebook, Instagram, Webstore, and/or your mobile app!


Note: If using Shopify, skip ahead to the Scheduled Sales & Shopify section to learn what to expect before you create your scheduled sale in CommentSold.
This Article Covers:
Creating a Scheduled Sale

1. You will begin by selecting products for your scheduled sale, so navigate to the Products tab to get started. From this page, you will be able to select individual products for your scheduled sale, or you can select one of your product selections. Instructions vary slightly between these two methods.
Selecting Individual Products for Your Scheduled Sale
To add products individually, you can either check the boxes next to each product that you want to add or bulk select all products shown on the current page by clicking the green checkbox at the top of the first column.

When you are done selecting products for your sale, click the green bulk action menu and select Create Scheduled Sale.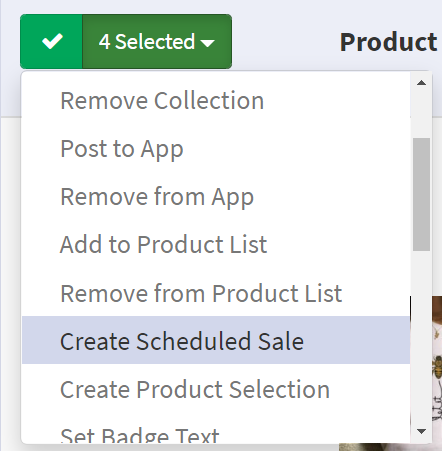 This will redirect you to a new page. Now you are ready to skip to step 2!
Adding a Product Selection to Your Scheduled Sale
From the Products tab, find the name of the product selection you'd like to add, then click the three dots across from it under "Options". From the drop-down, select Create Scheduled Sale from Selection.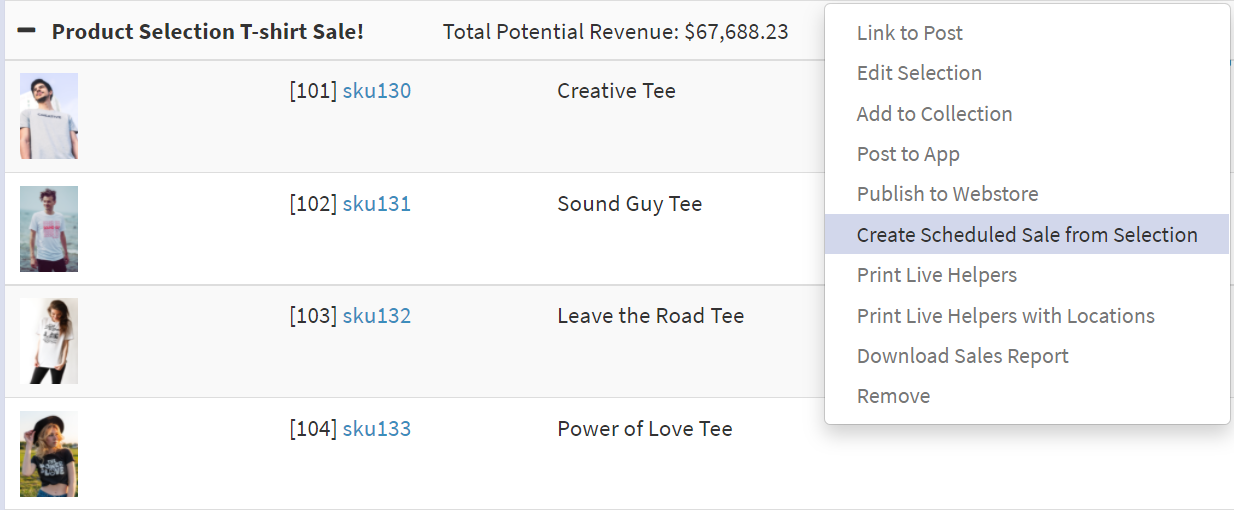 You will then be redirected to a new page to enter additional details and schedule your sale.
2. Enter the name of your sale. Make sure it's descriptive enough that it's easy for you and your team to find later.

3. Enter the start date and end dates/times to indicate when the sale will begin and end. If you want to run the sale for an extended period of time, you will not be required to add the end date.
Note:
Post times are contingent on the Shop Time Zone that you have set in the Setup tab.
4. Under "Price Change Rule" you will select the type of sale you'd like to run, then enter the discount to be applied.
Decrease by Percentage will subtract a set percentage from the selected products' retail price. You will enter the percentage discount into the Value field.




Decrease by Amount will subtract a set dollar amount from the selected products' retail price. You will enter the dollar amount you'd like to deduct from the retail price into the Value field.



Set Specific Amount will add a flat sale price to all selected products. I.e., if you want all items in this sale to be $10, enter 10 into the Value field.



5. (Optional) By default, the Rounding Rule is set to "Do Not Round". If you'd like to round your discounted prices, click the drop down arrow to select from the rounding options.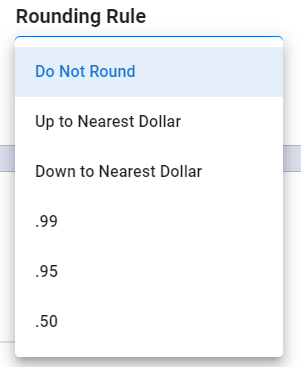 6. Under "Selected Products", you can review, remove, or add products to your sale.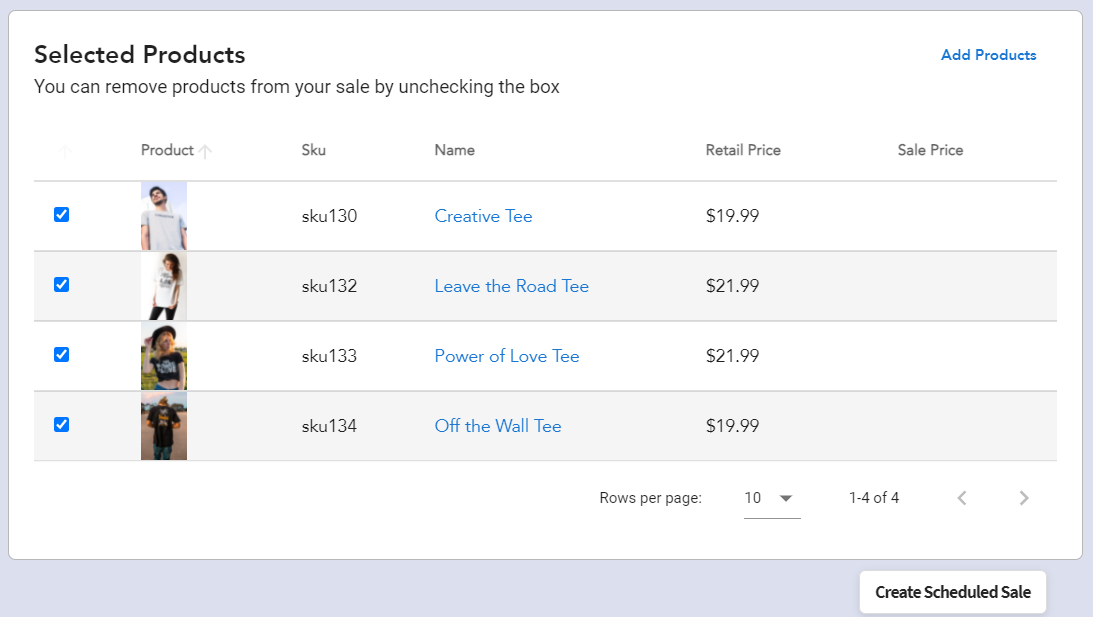 To remove a product, uncheck the box next to it. Click Add Products in the top right corner to add more products.
7. When you're done making changes, click Create Scheduled Sale. A banner notification will confirm that your scheduled sale has been created.
Managing Scheduled Sales
To view and manage your scheduled sales, navigate to the Products tab and click Price Adjustments from the top of the page.



You'll be directed automatically to the Scheduled Sales page. Here, you'll find a list of all your scheduled sales, their scheduling status, price changes, and other details. The Scheduled Sales page is also where you can edit, add, or cancel scheduled sales.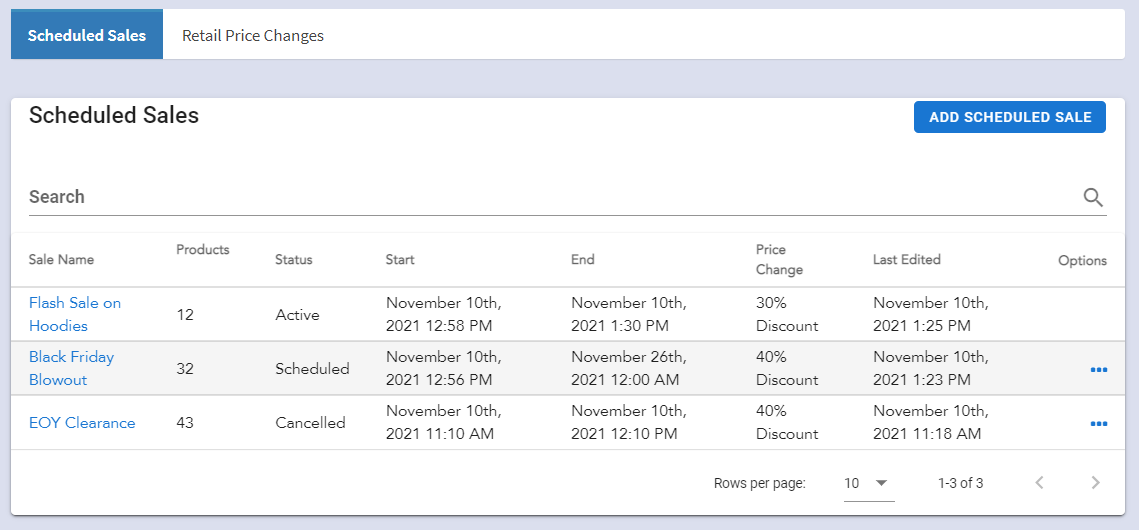 To add a scheduled sale from this page, click the Add Scheduled Sale button at the top right.
To make edits or cancel a sale, click on the name of the sale from the list of your Scheduled Sales. You will be redirected to a page where you can edit the name, change scheduling or pricing details, add or remove products, or cancel the sale altogether.
As a reminder, scheduled post times are based on the Shop Time Zone that you've set in the Setup tab.
If you are editing your sale, click Updated Scheduled Sale to save any changes you've made. To cancel the sale, click the Cancel Sale button at the bottom of the page.
Once you've successfully completed the update or cancellation, you will see a confirmation banner at the top of the page.
Deleting a sale can only be done if the sale is scheduled in the future or if it has been canceled. If you'd like to delete a scheduled or canceled sale, find its name from the Scheduled Sales list. Then, under "Options", click the three dots, and select Delete.


You can also delete a scheduled or canceled sale by clicking on its name from the list, then clicking the Delete Sale button at the bottom of the page. After confirming that you want to permanently delete it, a notification will let you know that it's been successfully removed.
Scheduled Sales & Shopify
If your inventory is connected to Shopify, you can still use the scheduled sales feature in CommentSold. However, there are some points to consider before you get started.
Price changes made in CommentSold will not sync to your Shopify inventory so you will not see them reflected there. However, you'll notice that your orders will reflect the discounted prices of sale items if you're managing orders in Shopify. This may cause confusion for you or your employees if they are unaware of this discrepancy.
That said, there are some instances where using scheduled sales in CommentSold in conjunction with Shopify is a distinct advantage. This is useful for:
Allowing the strikethrough discounts to be displayed on your mobile app, which requires a sale price to be applied to your products in CommentSold. This is automatically done through the scheduled sales feature.

Encouraging shoppers to make purchases on CommentSold-specific sales channels since scheduled sales will be exclusive to those. These channels can include your Facebook Page & Groups, Instagram, and/or your mobile app.

For shops that are using Shopify exclusively for drop-shipping purposes, this creates an easier method to apply bulk discounts instead of having to manually apply them through Shopify.
Use these pros and cons to determine if using scheduled sales with Shopify is right for your business.