Announcing our biggest mobile app update ever!
So many huge features in this release ❤️🔥❤️
Killer new feature: Live Replay allows shopping of previous live sales!
… and more!
Reminder: Masks Cannot Be Sold in the App
Due to serious restrictions from the Apple and Google Play Stores, they are requiring that all face masks and Covid-19 related items be removed from your app immediately, and not posted again.
Failure to remove these items can result in Apple/Google removing your app permanently from their store.
Since live sales can also now potentially be saved onto your app, we recommend that you refrain from selling Covid-19 related items on lives within the app, as to completely avoid any risk.
We understand that this is terribly inconvenient, and appreciate your cooperation.
Shop the Live Replay
Sell more from your live sales with Live Replay on your mobile app! App shoppers can now shop previous live sales, almost as if they were there.
Live sales now show up like stories at the top of your app. Shoppers can scroll through previous live sales and tap to shop the pre-recorded Live Replay.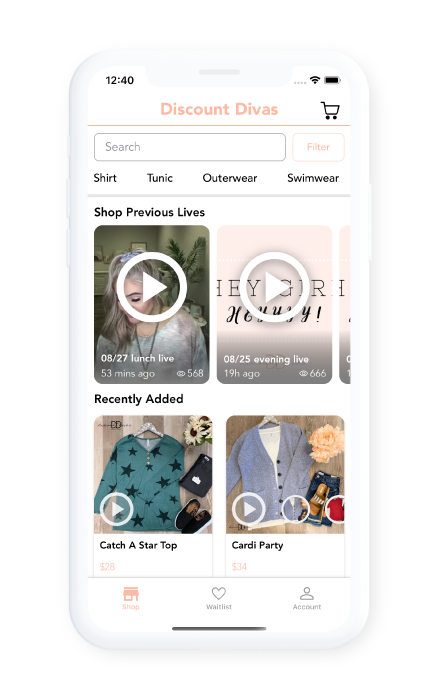 While watching the video, the shopping experience will look much like a live sale. Shoppers get an overlay, will be able to see comments and reactions as they happened, and tap up top to buy a product. All inventory information is up-to-date while they are watching so they have the information they need to purchase.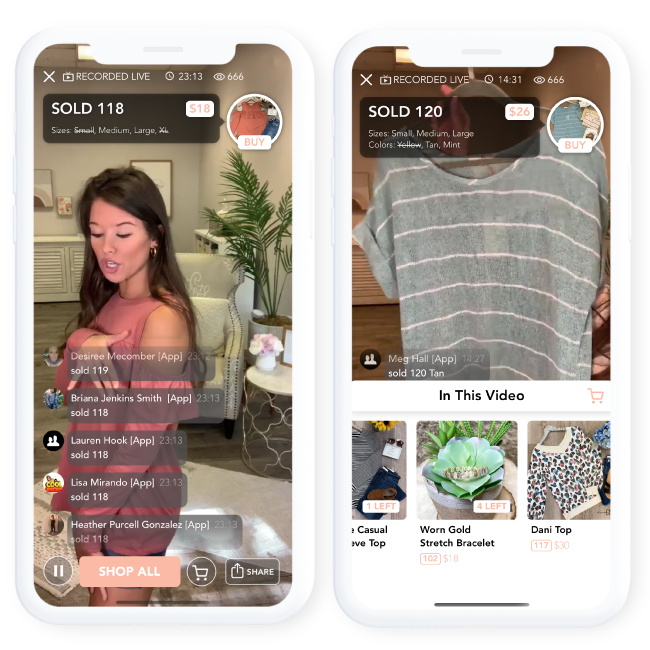 They can also tap SHOP ALL to browse all the products, tell which are low in stock or sold out, and dive in to shop any of them. Taping a product will jump to the portion in your live sale when that product was featured.
Check out the documentation for more information!
Half Height Checkout without Leaving the Video!
Shoppers will be able to checkout with a half height checkout while still watching the video! If you sell out of an item, they can add it to their waitlist and even pre-authorize the purchase without leaving the live sale! Even better, half-height checkout is on both Live in the App and Live Replay!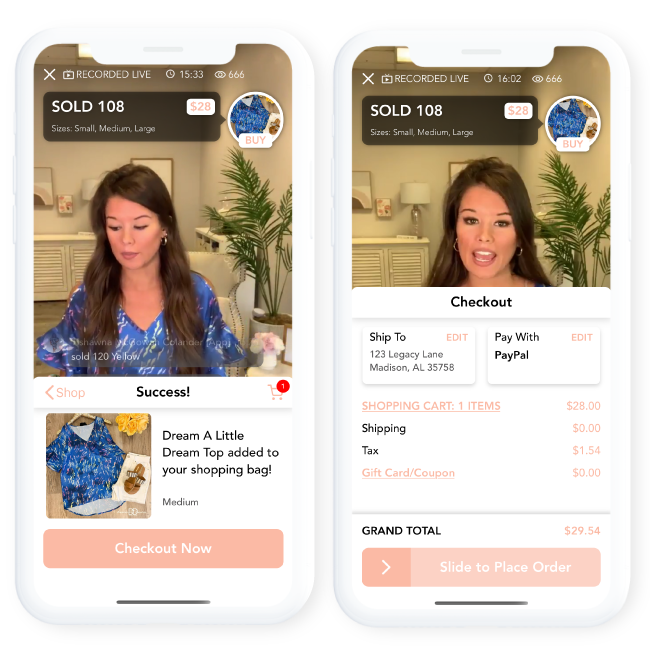 Automatic Product Videos for Products Featured in Live Sales
You can get more videos for your products with less work. When enabled, you'll get product demonstration videos automatically by using the segment of your live sale when you were featuring that product!
When you feature a product in a live sale, we automatically save that video with the product. Without having to do any additional work, when your shoppers see that product in your main feed or a collection, we let them know that a video is available, just as if you had uploaded a product video. They can watch this video along with the product photos.
If you upload your own videos, they will take precedence over the automatic ones!
Check out the documentation for more information.
Improved Shopping Experience for Live in the App
We've made design improvements to the shopping experience for Live in the App, also! The Live in the App experience has an updated overlay, half-height checkout and pre-authorization, improved shopping tray, and sharing button, matching Live Replay.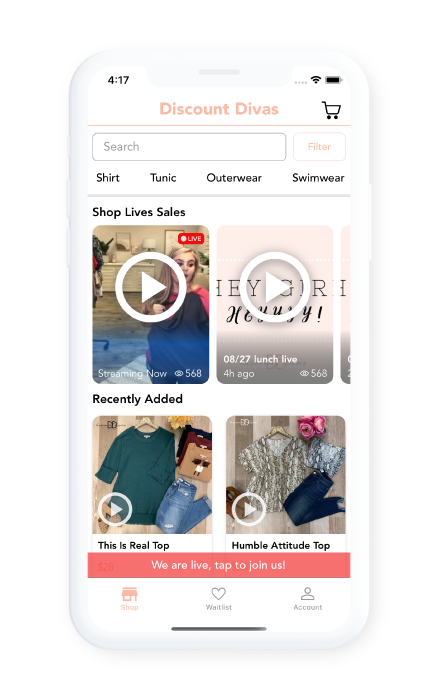 Shoppers will be able to use the new half-height checkout during a live sale to checkout without ever leaving the live sale!
Sharing of Live Events
Shoppers can now share live events with their friends and family by clicking a share button. They can select other apps on their phone or copy to clipboard to get a link to share anywhere they like.
This feature works with the referral feature for that viral boost! If you have sharing enabled, the text that is shared includes the referral details and a referral code!
The ability to share products is coming soon.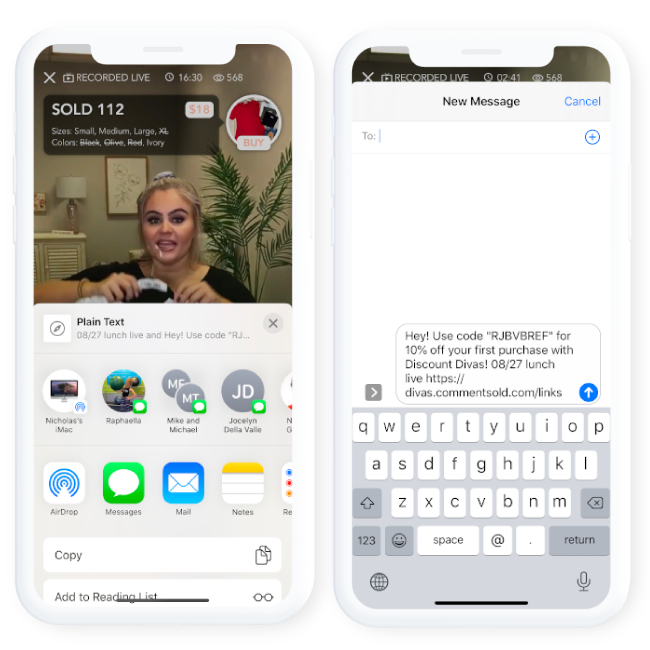 Sharing From Account
Shoppers are also able to go to their Account by clicking on the person icon and they will be able to share a link to your shop from there. If you have referral enabled, they will find Share and Earn Credit and when tapped, the text shared will include the shopper's referral code.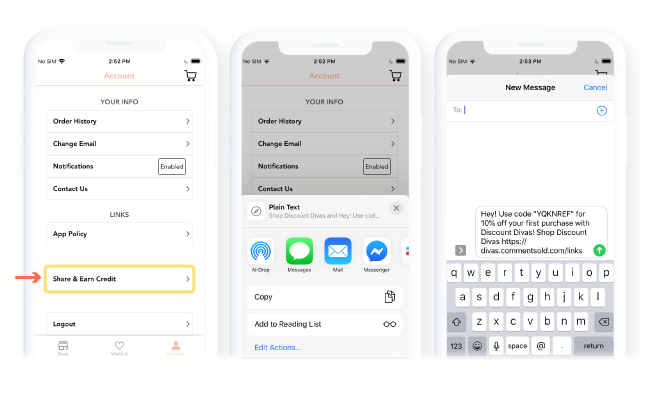 Update Your App Colors and Background
The Mobile App tab in the CommentSold Admin Dashboard will now allow you to configure many aspects of your app, including your color and background! You will not have to wait for a new custom build of your app for the update.

Mobile App Banners
You can now configure a notification banner to show all of your app shoppers from the Mobile App tab. You can choose if you want the banner to always appear or if a shopper can dismiss it by tapping it.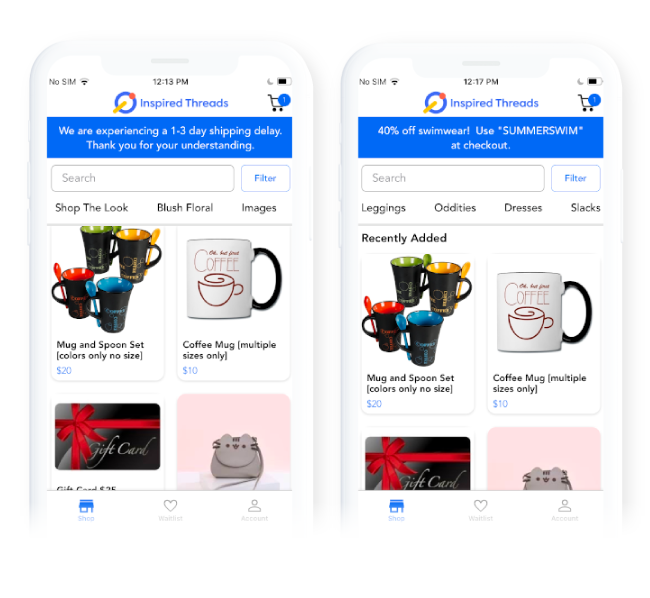 Tap to Jump to Product Details - Everywhere in the App!
Shoppers can click on a product just about anywhere to jump to that product's details -- from their Shopping Cart, the Waitlist, or Order History. This makes ordering more or re-ordering even easier.
Shoppers Can Browse all Product Images on Products in a Live
Previously, shoppers would only see the first primary product image while shopping in a live sale. Shoppers can now view all of the product images in the half-height screen without leaving the live sale.
First Paid First Served Shopping Cart is Clearer
We recently released a First Paid First Served mode. In that mode, items are no longer reserved while in shopping carts and shoppers must check out to claim them. In this mode, the shopping cart timer is replaced with "item not reserved" and a note to checkout to claim and purchase the items ahead of other shoppers.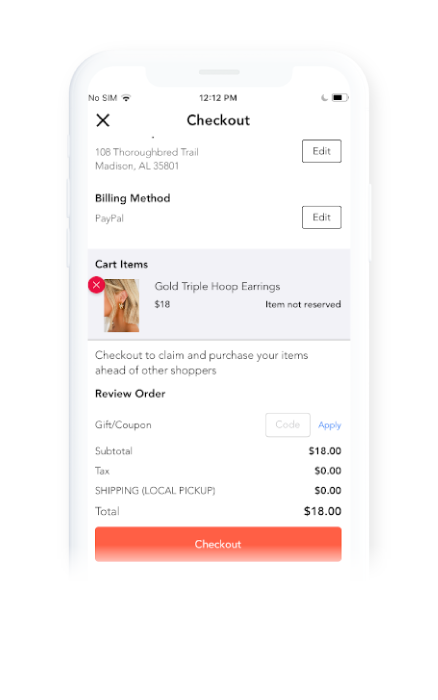 Additional Facebook Event Tracking
Starting with the 2.4.0 version of the mobile apps, we added Facebook Ad Event Tracking. This allows you to run Facebook Ads to drive particular events for conversion through your Facebook ad campaigns. This release adds to the information for view events.

Facebook event tracking now includes:
Event for viewing a product's details during a Live Replay
Event for viewing a product's details from a shopping cart
Event for viewing a product's details during a waitlist
Event for viewing a product's details during order history
Added value for view events to improve the ability to see your return on ad spend
Check out the documentation for more information about using Facebook Ads with CommentSold.
Fixed an issue when selecting a size and color combination that doesn't exist
Let's say that there is a product available that does not have every size available for every color, perhaps not available in plus sizes for every color. Previously, if the shopper selected a color, we'd list all the sizes that the product comes in even if that color was not available in that size. We'd show a waitlist button, but when tapped the shopper couldn't add it to their waitlist. Now we properly show which sizes are available after selecting a color. The same is true for selecting a size when a color is not available for a given size.