Announcing your Branded Mobile App 2.7 !
This release may just be your Favorite ⭐⭐⭐⭐⭐!
Introducing: Favorites!
With Favorites, shoppers can easily curate a list of products they're interested in and shop from that list anytime - all without tying up inventory! As the merchant, you will be able to see which products are the most favorited and email all of the shoppers who have favorited any particular product.
With the Favorites feature enabled, shoppers will see a new star menu at the bottom of the app to view their list of Favorited items. A new star icon will appear at the top right corner of products in every part of the app. Shoppers can simply tap the star to add/remove products from their list!
Shoppers can favorite a product from the feed, while looking at a product's details, and from a live sale (Live in the App) or Live Replay.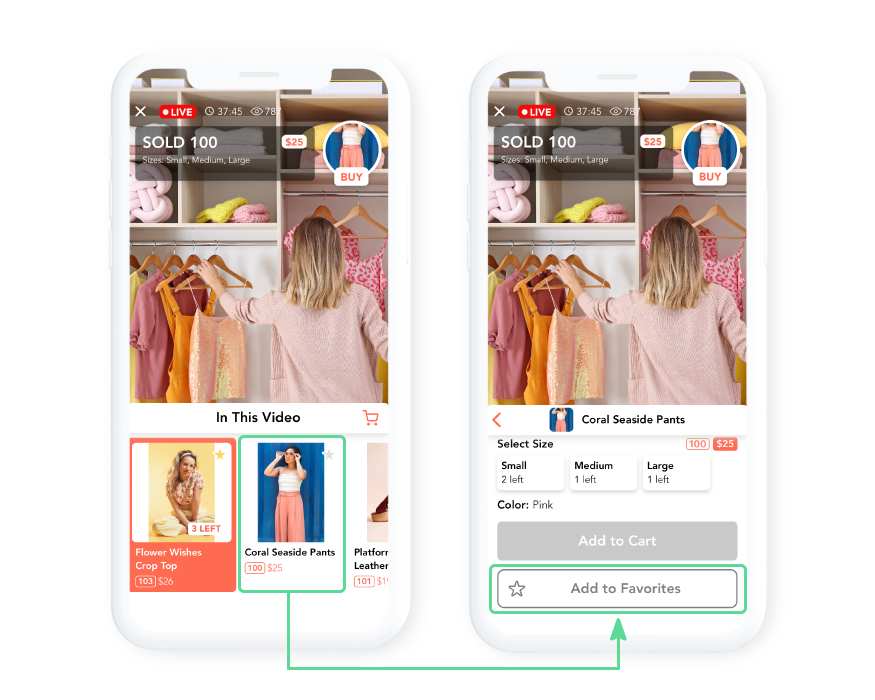 Discover how you can enable Favorites and leverage the tools we've built just for you in this in this helpful guide!
Read More About How You Can Leverage Favorites Here
Sale Prices and Badges on the Product Feed
The product feed prices now clearly show when products are on sale. When a product is on sale, the original price is shown with a strikethrough and the sale price is highlighted.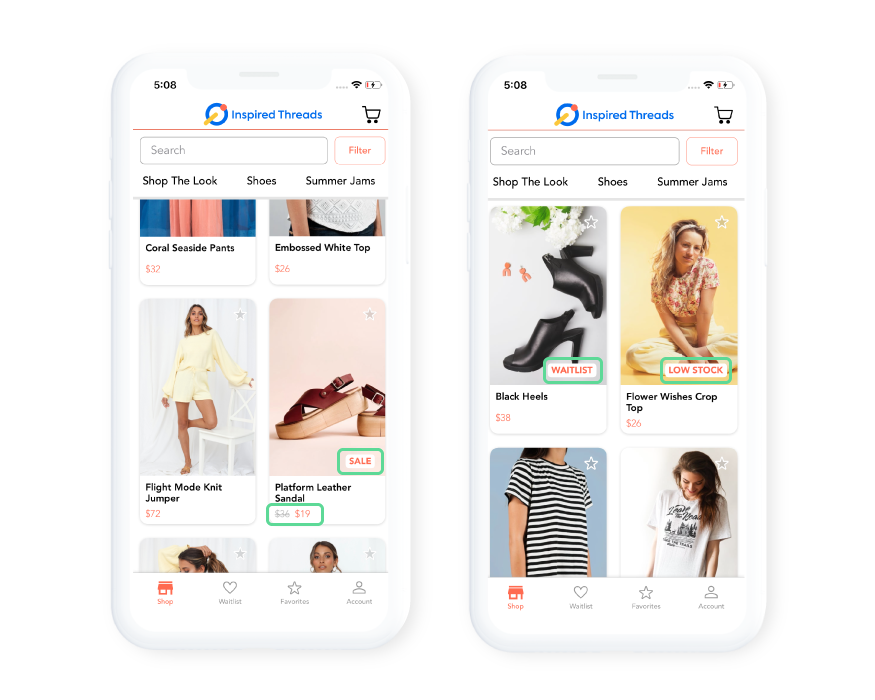 Products now have badges to help drive a sense of urgency to purchase! You can turn each one on or off in the Mobile tab in your dashboard.
You can enable the SALE price to highlight your sale prices, which pairs nicely with the new strikethrough on prices.
WAITLIST is displayed when all variants for a product are sold out. This allows any new shoppers that you drive to the app to focus on what you have in stock for their first purchases.
LOW STOCK is displayed when the quantity across all the variants drops below a threshold that you can configure. This badge is based on your inventory quantity across all variants for that product. The Limit Display Quantity setting will not impact this badge.
Product Sharing with Links Directly to Products
Products can now be shared from the mobile app! Share from other apps on your phone directly or copy and paste to share any way that you like. If the person you are sharing with has the app, tapping will open the app and take you right to that product.
Tap share, select how you want to send it, and pick whom to share it with.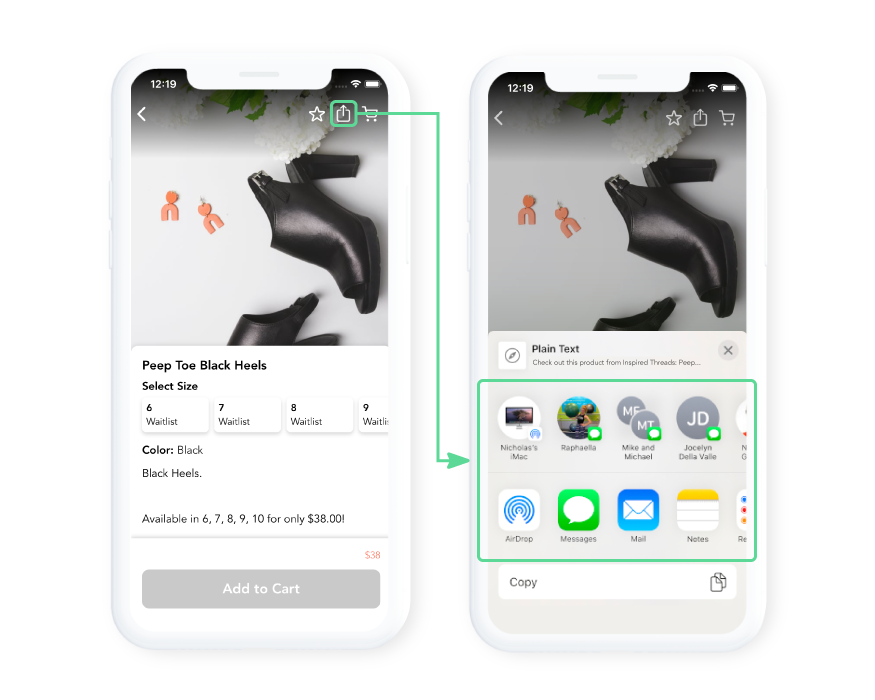 If the person who gets the link has the app installed, tapping the link will open the app directly to that product so they can check it out and purchase it! This is referred to as "deep linking," and is a powerful sharing tool.
If they don't have the app installed, the link will take them directly to that product on the web, where they can check it out and purchase it. As long as you have the App Install Banners enabled, anyone viewing the product on your webstore will get a banner to drive them to install your app.
But wait--there's more! Do you use the Referral Program? The text that will be shared will include the referral code and details.
Deep Linking for Live Sales and Live Replay Too!
Sharing for Live Sales and Live Replay has been updated with deep linking also. When shoppers share a Live Sale or Live Replay to recipients with the app installed, it will open the app right to that Live Sale.
Comment Replies in Live Sales
Shoppers can now tap on a comment to reply to other users or the shop! Tapping a comment will fill in the name of the person who wrote the comment so that you can now compose the reply to them. When the shopper receives the comment, the comment will be highlighted to let them know that reply was just for them. When a shopper is mentioned in a reply, that comment is highlighted.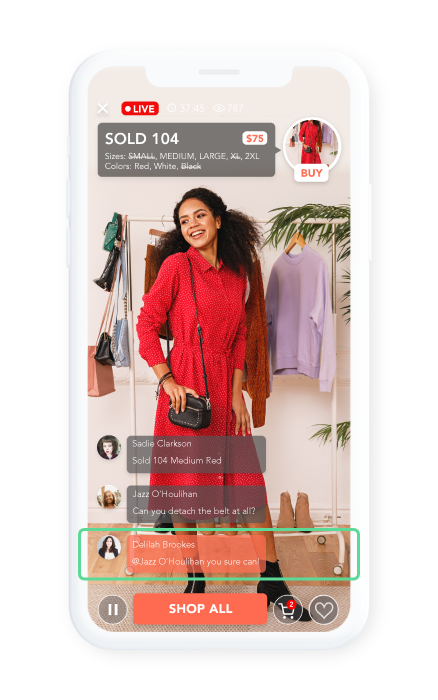 This feature pairs well with features coming in the new Live Overview Dashboard. In the coming update, you will be able to reply directly to shoppers as your shop. When you reply to them, your comments will be highlighted.
Clearer Filter Interface
It is now much clearer if you have any active filters and which ones. Each active filter will have a chip at the top of the feed that you can click to delete and remove that filter.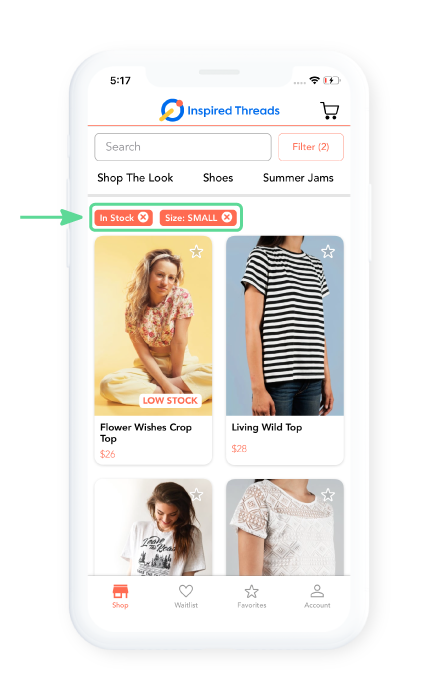 Bugs Fixed
We also fixed several bugs in this release. A few notable ones are below.
Hiding Comments on Live Replay
Shoppers can now swipe to hide comments on Live Replay as they could on Live In the App.
Free Shipping Timer on Half Height Checkout
Added the missing free shipping timer to the half-height checkout on Live in the App and Live Replays. It was still on the main full height checkout.
Clearing the Overlay on Live Replay
Clearing the overlay now works on Live Replay. Previously it only worked on Live in the App.
Shop Badge Counter Now Reliably Goes Away
The badge on the Shop button which shows the number of items in a shoppers' cart during a Live in the App would sometimes still be present after you check out. It no longer hangs out longer than it should.