Display suggested questions to break the ice with users who engage with your shop's DMs for the first time.
Instagram ice breakers allow you to suggest up to 4 pre-set questions to shoppers who enter your shop's DMs for the first time. From here, they can tap to send any of your suggested questions to begin a conversation with your business. Upon selecting a question, the canned response will be messaged to them in the form of an automatic reply.
Ice breakers are fully customizable so you can use unique questions and responses to lead the conversation in any direction you'd like! As a bonus, they are a great area to include important links, such as your webstore URL, mobile app deep links, Facebook group URL, etc.


Note:
Before you get started with ice breakers, your Instagram business account must be connected to CommentSold. If you're already set up to sell with CommentSold and Instagram, you've already performed these steps. If not, see our guide on Connecting to Instagram.
How Instagram Ice Breakers Work
Once set up, Instagram users can either enter your shop's DMs by clicking the Message button in your shop's profile or by opening a direct message with you through their personal inbox.
If they have never direct messaged your business before, your ice breaker(s) will automatically appear as a tappable option in the DM. Once they tap one of the listed questions, your shop will instantly provide them with an automated response.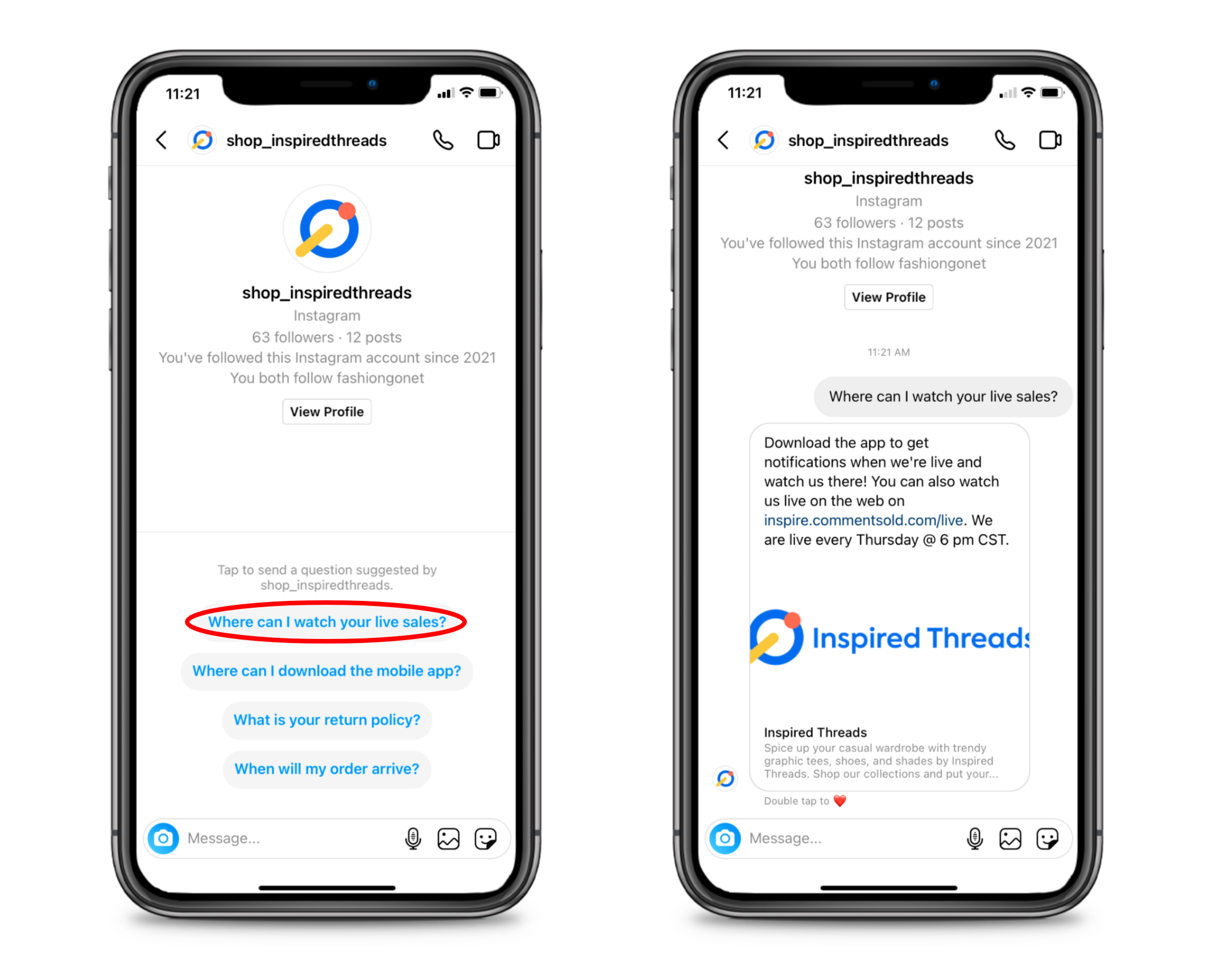 A few things to note about the way ice breakers work:
Ice breakers will only appear in DMs viewed through the Instagram app. Ice breakers will not be visible for users who engage with you through Instagram on desktop.




Ice breakers are hidden once a user engages with your business's DMs. For this reason, some shops may choose to limit their ice breakers to their single, most valuable question and answer.




Setting up Instagram Ice Breakers
From your CommentSold dashboard, click Social Setup, then click Instagram. Now scroll down to the section labeled Ice Breakers.
You may enter a maximum of 4 questions and answers here. Feel free to include links to direct shoppers where they need to go!

Once you are happy with your questions and responses, click the button to Set Ice Breakers. Now your questions and answers will appear in your shop's DMs!