Click on any of the images or GIFs in this article for a closer look.
This just in! We have extended 0% credit card fees on CommentSold POS transactions through the end of 2024! Happy Selling!
Want to launch CommentSold POS in your brick-and-mortar store, pop-up events, or road shows? Let's get it set up!
CommentSold's POS is a must-have for simplifying the purchase and fulfillment process. When you process an order through your POS, it appears in your CommentSold dashboard as an order fulfilled via local pickup. Inventory automatically updates as it would with purchases made through your mobile app and a shopper's account page!
Note:
CommentSold POS is only available for retailers using CS Payments. Learn how to set up CS Payments
here
.
Get Your CommentSold POS Gear Ready
---
To use CommentSold POS, you'll need the necessary equipment. View the list below for requirements and product recommendations.
CS Payments. Make sure your business is live with CS Payments before you move forward with purchasing equipment. CommentSold POS is only available for retailers who use CS Payments.
Apple iPad. At this time, CommentSold POS is only compatible with specific iPad tablets. Expand the below drop-down to see a list of compatible models and where to locate your device's model number.



Expand to view compatible iPad models

You can locate your device's model number on the back of your iPad.

Any iPad 2020 or newer with a 10"+ screen should be compatible. Those models are:

iPad Pro 12.9-inch (5th generation) - Models A2378, A2461, A2379
iPad Pro 11-inch (3rd generation) - Models A2377, A2459, A2301
iPad Pro 12.9-inch (4th generation) - Models A2229, A2069, A2232
iPad Pro 11-inch (2nd generation) - Models A2228, A2068, A2230
iPad Air (5th generation) - Models A2588, A2589, A2591
iPad Air (4th generation) - Models A2316, A2324, A2325, A2072
iPad (9th generation) - Models A2602, A2604, A2603
iPad (8th generation) - Models A2270, A2428, A2429, A2430

CommentSold POS app. If you plan to use multiple iPads as a POS, you'll need to download and install the app on each device. You can download the app from the Apple App Store here. You can also scan this QR code:

Card reader. CommentSold will provide you with a card reader! Request your POS card reader here.
Receipt printer. CommentSold POS supports the Star Micronics TSP143III USB and Star Micronics TSP100III Bluetooth receipt printers. We recommend the USB printer as the Bluetooth printer can be difficult to locate for purchase.
Barcode scanner (optional). Easily scan products customers wish to purchase using a barcode scanner. We recommend the Inateck Bluetooth Barcode Scanner.
Grant Your App Location Permissions
---
When you log into the CommentSold POS app for the first time, the app will prompt you to grant it location permissions.
You will need to give the app full permission for your Bluetooth devices (e.g., card reader, receipt printer, and barcode scanner) to work. Tap Allow While Using App to grant these permissions.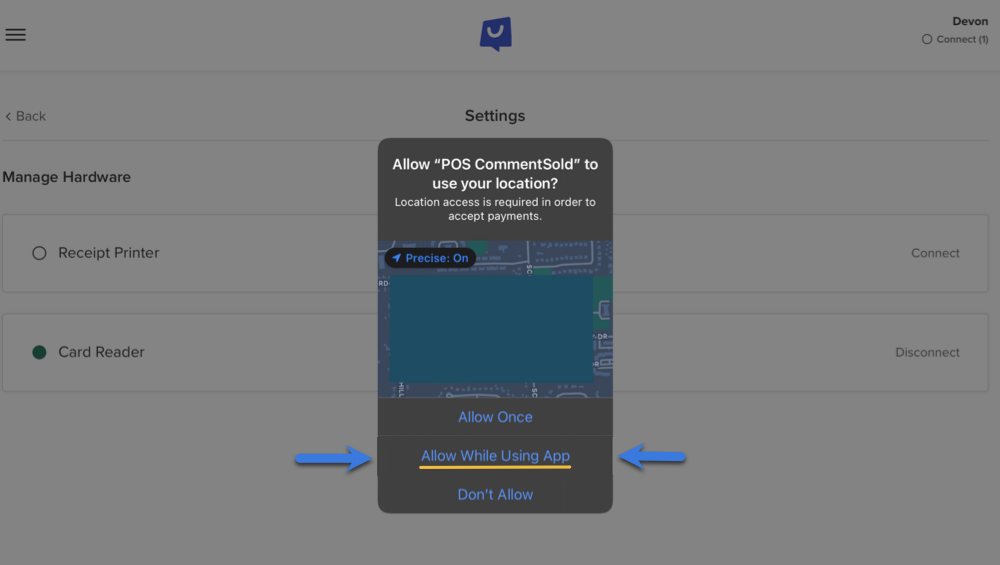 Connect Your POS Hardware
---
You can connect your receipt printer, barcode scanner, and card reader in the app's Settings tab. If you use Bluetooth devices, ensure you've enabled Bluetooth on your iPad.
Tap the menu icon in the top-left corner of the app.
Tap Settings.
You will need to connect each device individually. See the below steps for setting up each device.
Ensure your card reader is fully charged.
Tap Card Reader, then tap Connect.
Your card reader will require an update the first time you connect it to your CommentSold POS app. This update can take up to 10 minutes. The Setting page will reload once the update finishes. Learn more about setting up your card reader here.
Verify that the connection status appears green in the top-right corner—this means the card reader is ready to go.
Before connecting the printer in the app, ensure you've paired it in the Bluetooth section of your iPad Settings.
In the CommentSold POS app, tap Receipt Printer and tap your printer in the pop-up.

Use the above barcodes to put the Inateck scanner in iOS pairing mode.
Open the Settings menu on your iPad and tap Bluetooth.
Locate the barcode scanner at the bottom of the list. The name should be similar to BCST-1234-HID.
Tap the scanner name to pair.
To test your pairing, open the Notes app on your iPad.
Scan a product barcode using your scanner. If text appears in the Notes app, then your scanner is connected and ready to scan.
What's Next?
---