Click on any of the images or GIFs in this article for a closer look.
In this article, you'll learn:

How to connect your custom domain in CommentSold.

How to update DNS records for your domain registrar.

How to verify your custom domain with Facebook.
About Custom Domains
---
A custom domain is a uniquely branded web address that someone can enter in the address bar of their web browser to visit a particular site.
When you connect your custom domain in CommentSold, you can direct shoppers to your website (i.e., myshop.com) rather than your CommentSold web address (i.e., myshop.commentsold.com).
How a Custom Domain Benefits Your Shop
---
A custom domain helps your shop create a strong online brand presence.
A custom domain makes it easier for people to find your shop via Google and other search engines.
Having a custom domain allows you to advertise on Facebook and Instagram.
Purchase a Custom Domain
---
If you do not already own a domain you would like to connect to CommentSold, you will first need to purchase one. You can purchase a domain through several reputable domain registrars.
In this article, we cover the process for connecting a domain purchased via GoDaddy. If your domain was purchased through another provider, the steps for connecting to CommentSold will be very similar.
You can find a list of other popular domain registrars and links for updating DNS those records at the bottom of this article.
Enter Your Custom Domain in CommentSold
---
Once you have purchased your custom domain, you can proceed with entering the domain within CommentSold.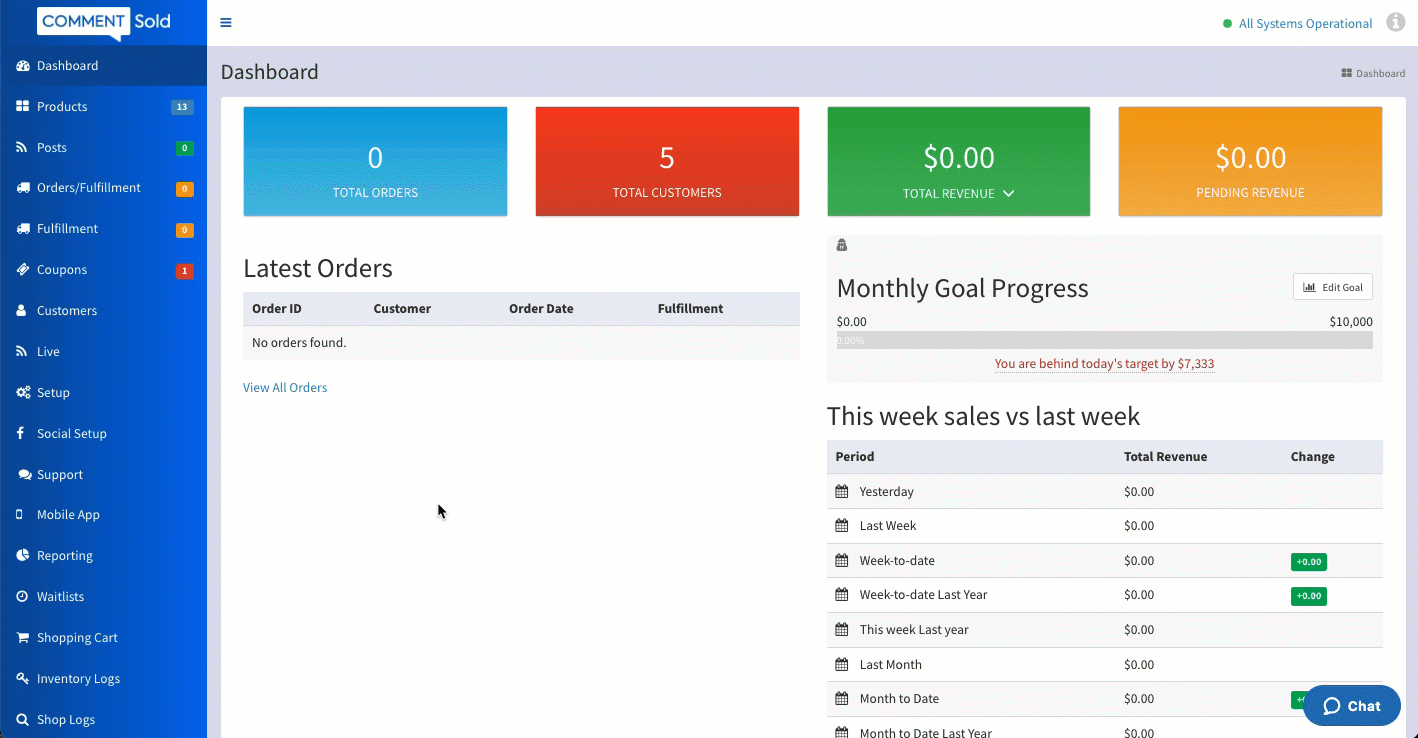 Select Setup in the side menu of your CommentSold dashboard.
Select Custom Domain from the options listed at the top of the page.
Enter your domain address in the Set custom domain field (e.g., myshop.com). You do not need to enter www at the beginning of the domain.
Select the Set button.
Once you enter and set your custom domain, CommentSold will display a list of A and CNAME records that you will update in your domain registrar (e.g., GoDaddy, Square Space, etc.). Don't worry—we walk you through this step next!
Update DNS Records in Your Domain Registrar
---
Updating the DNS records in your domain registrar is a straightforward process. We have broken this part into different steps, which you can follow by selecting the tabs below.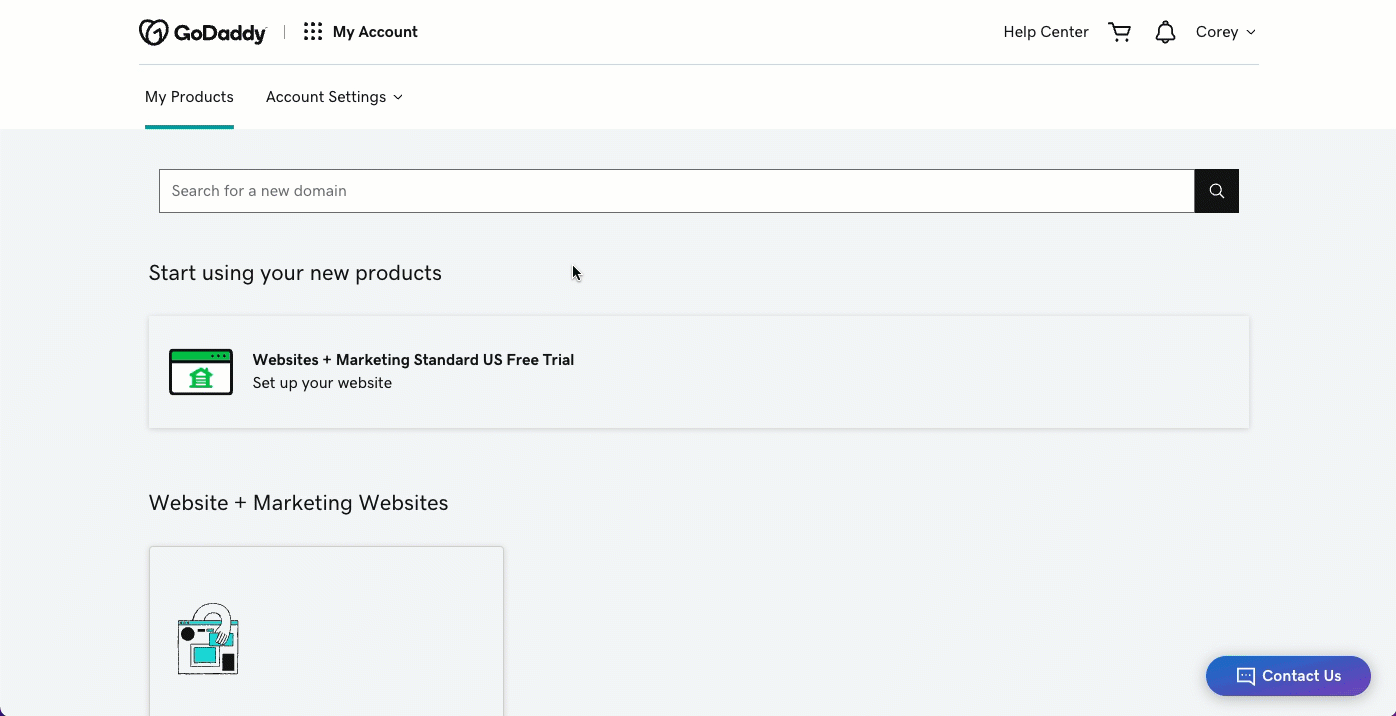 In a separate tab, log in to your GoDaddy account.
Select My Account and the top of the page, then select Domains.
Select the DNS drop-down in the top menu, and then select Manage Zones.
Enter your custom shop domain in the field provided and select Search.
Under the DNS Records section, you will need to add the A Records as listed in CommentSold.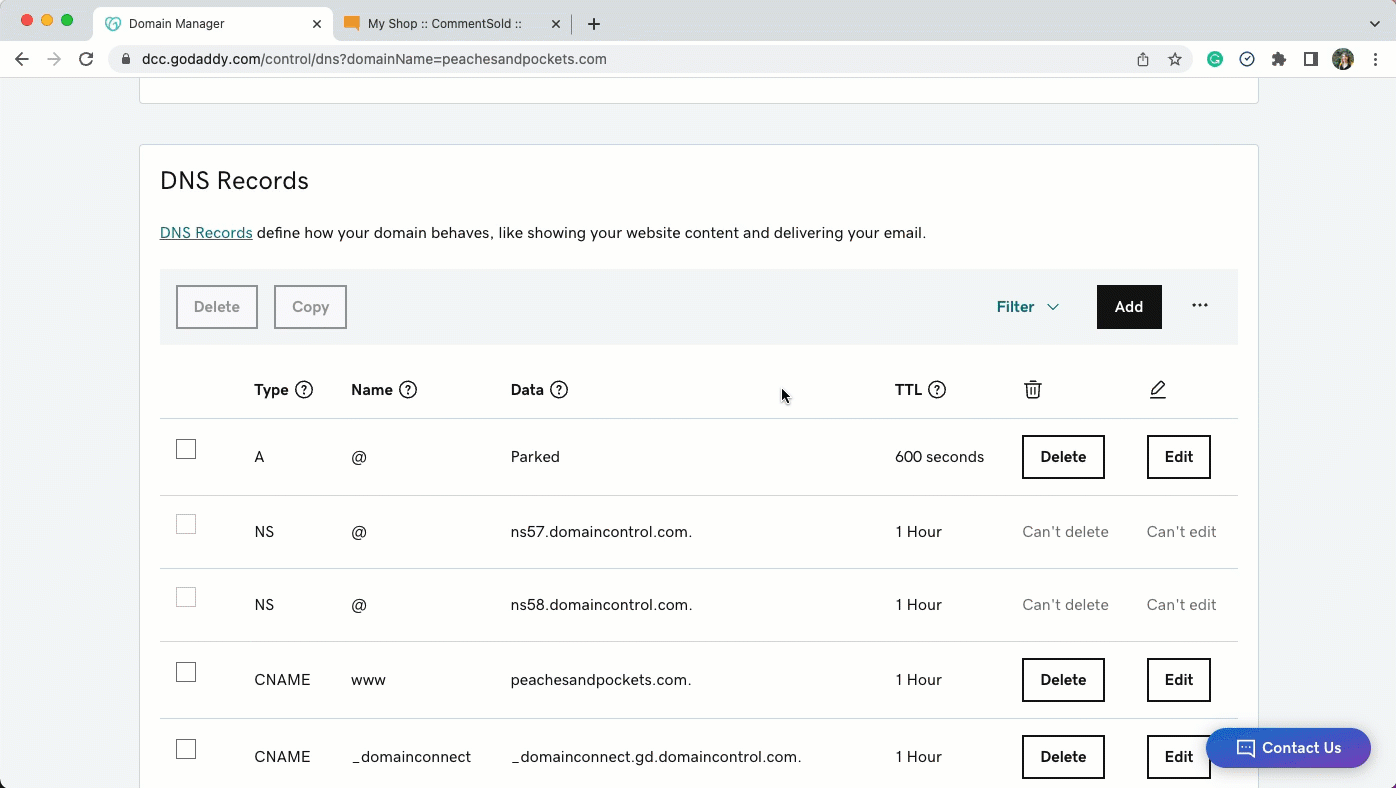 First, delete any existing A Records in GoDaddy by selecting the Delete button to the far right of the record row.
Navigate back to your CommentSold tab and copy the first A Record listed.
In GoDaddy, Select the Add button on the far right of the DNS Records section.
Complete the new fields as follows:

Type: Select A from the drop-down.
Name: Enter the @ symbol.
Value: Paste the A Record you copied from CommentSold.
TTL: Select 1 Hour from the drop-down.

Select Add Record.
Repeat Steps 2-5 for the remaining A Records listed in CommentSold.
Your last step here will be editing the CNAME Record to reflect what is listed in CommentSold.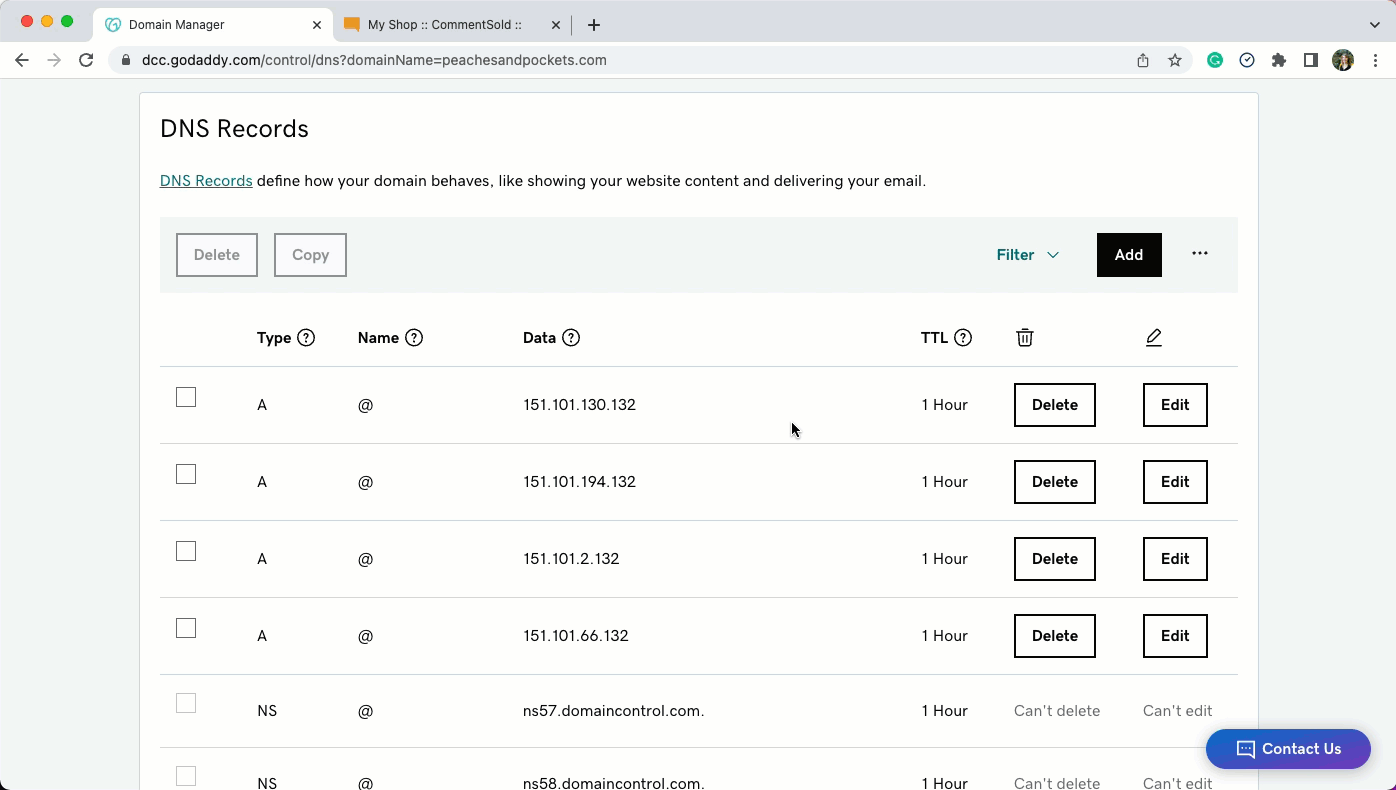 Navigate to your CommentSold tab.
Locate and copy the CNAME Record listed.
In GoDaddy, locate the CNAME record named www and select the Edit button to the far right of the row.
In the Value field, delete the prior name and paste the CNAME record you copied from CommentSold.
Select Save.
Note: Per GoDaddy, it can take up to 48 hours for a new domain to take full effect after you've updated the DNS records. You may need need to wait this amount of time before you proceed with the remainder of your custom domain setup.
Verify Your Domain in CommentSold
---
Once you have updated the A and CNAME Records in GoDaddy (or your preferred domain registrar), you can verify your domain connection in CommentSold.

Select the green Verify bottom at the bottom of the page.
The verification process can take several minutes.

If you receive the error "Unable to verify domain. Please check the request records. It may take a few minutes to update," then we recommend you wait 5-10 minutes before selecting the Verify button again.

Once verified, CommentSold will issue a certificate. This might be immediate, but in some cases, it might take 5-10 minutes. If that is the case, wait the recommended time before selecting the green Complete button.
Your custom domain is now verified and ready for use with CommentSold. Shoppers who visit your domain address will now be directed to where your shop URL would take them (either to your webstore or to their account page, depending on your shop settings).
Instructions for Updating DNS Records for Other Domains
---
The steps outlined in this article walk through how to add a custom domain for GoDaddy. Below, we've gathered links to other popular domain registrars that outline the process for updating DNS records (both A and CNAME records).
Expand to View Links
| | |
| --- | --- |
| Network Solutions | |
| Dotster | |
| Google Domains | |
| BlueHost | |
| Wix | |
| Square Space | |
| Square Online | |
Learn More
---