The CommentSold referral program rewards your customers for sharing your shop with their friends.
Word of mouth marketing is the most trusted and effective of all marketing channels. By setting up a referral program, you can quickly grow your customer base by word of mouth, all while rewarding customers for their part in sharing your business.
This Article Covers:
How The Referral Program Works
Upon launching your Referral Program, each of your existing customers will be given a unique coupon code that they can share anywhere. When this code is shared, it will also include a link to your shop, and a message to let new shoppers know how to claim the discount.
Note: Only brand new customers can claim this discount code. It will not work for any existing accounts in your shop's customer records.
For every sale made with a referrer's code, the referrer will earn a portion of the sale as an Account Credit. This incentivizes existing customers to share your business and new customers to complete a first-time purchase with you!
When you activate your Referral Program you will get to customize it using these settings:
1. Sharing destination. This is the link that will be included with the referral code. You get to decide where to send new customers to claim their discount. The Sharing Destination can include any of your active sales channels connected to CommentSold.
2. New customer reward. This will determine the discount new customers will receive upon making their first-time purchase. Choose between a flat price coupon or a percentage off.

3. Referrer Reward. This will determine the share of revenue will you give to referrers as Account Credit once a new customer uses their code to make their first purchase. Choose between a percentage or a flat dollar reward per referral.


Setting Up Your Referral Program
To begin, visit the Setup tab in your CommentSold dashboard and click Sharing and Referral Program.
You will first select the Sharing Destination. The destination you choose will be where new shoppers are sent when they click on a referral link. This can be any of your active sales channels, which can include your Facebook page, Facebook group, Instagram, webstore, account page, or mobile app.
From the drop-down menu, choose the sales channel you'd like to assign as the Sharing Destination.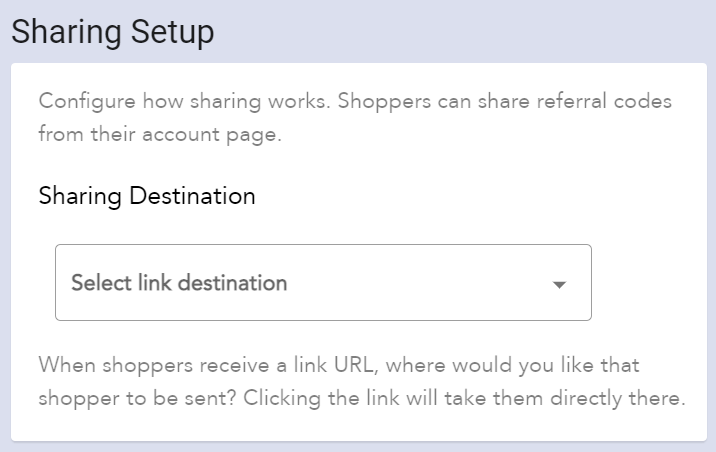 If your Sharing Destination is your CommentSold mobile app, you will be able to customize the message template for the referral program in the next step (optional).


Note: When the Shopping Destination is set to Mobile app and a user clicks that link, it will take them to the iOS App Store or Google Play Store, depending on the device they are on, to download the app. If the system cannot detect what device they are on, or they are on a laptop, it will display a page directing them to visit the App Store or Google Play Store.
Next, you will click the toggle to enable the Referral Program.

A pop up will appear, asking you to set rewards for both the referrer and the new customer they are referring.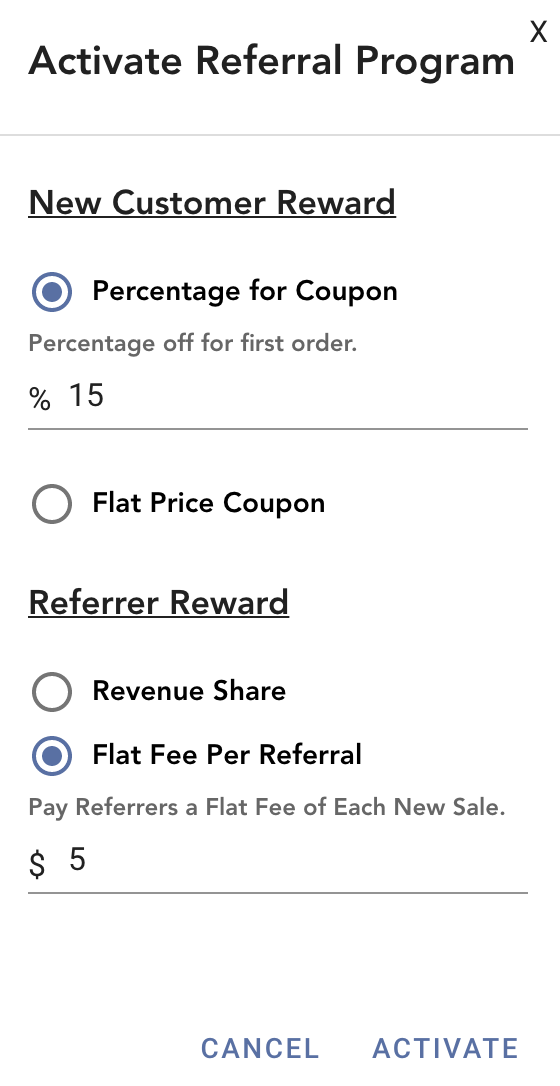 Under New Customer Reward, you can select either a Percentage for Coupon or Flat Price Coupon and enter the the desired discount amount. This is a discount that a new customer will get when purchasing for the first time through a referral link.
Under Referrer Reward, you can select Revenue Share or Flat Fee Per Referral. This is what the person who referred will get when a new customer purchases using their code.
Revenue Share gives a percentage of the new customer's first order to the referrer as account credit. This percentage is calculated from the subtotal of the new customer's cart minus the new customer reward.
Flat Fee Per Referral will give a specified dollar amount in account credit when a new customer uses their referral code.
Click Activate. Once this is done, customers will be able to see their referral code from their account page.
Note: A customer's referral code cannot be viewed through the mobile app, but referral codes can be used in the mobile app!
Referral Program Reporting
Basic reporting on your referral program will be shown on the Sharing and Referral Program screen once the program is activated.
High level data points are shown in the first table, helping you to understand at a glance the impact of your referral program. You can use this information over time to test different offers to new customers and referrers, or to test different Sharing Destinations!

Next, you will see a more detailed view that includes each customer acquired from your referral program. Click on each of the column headers to sort by that attribute. Perhaps you'll want to sort by your shop's Referrers and give a special thank you to those who are bringing you lots of business!

You will be able to view the history of account credits granted to referrers on the referrer's Customer Details page. First, click the Customers tab in your CommentSold dashboard. Then click the three dots to the right of any customer and select "Customer Details." You will see any referral credit added in the Store Credit Balance Movement table.

Referral Coupon Exclusions
Referral coupons can be almost used for anything in your store, with a few exceptions. Referral program coupons will not work for:
Gift Cards
Customers whose addresses match existing customers' addresses in your CommentSold account
A user who is not a first time buyer
In any of these cases, a generic error will be shown to the user.

Note: On mobile apps, the New Customer Reward will be applied to a new user's cart even if their address matches the referrer's, but the referrer will not be paid the Referrer Reward.
If the referral program has been disabled, a customer attempting to redeem a code will see an error message noting that the program is not active.

The Customer's Point of View
Now let's take a look at what customers will see when participating in the referral program.
When the program is enabled, the customer's account page shows a new link called Refer & Earn Credit.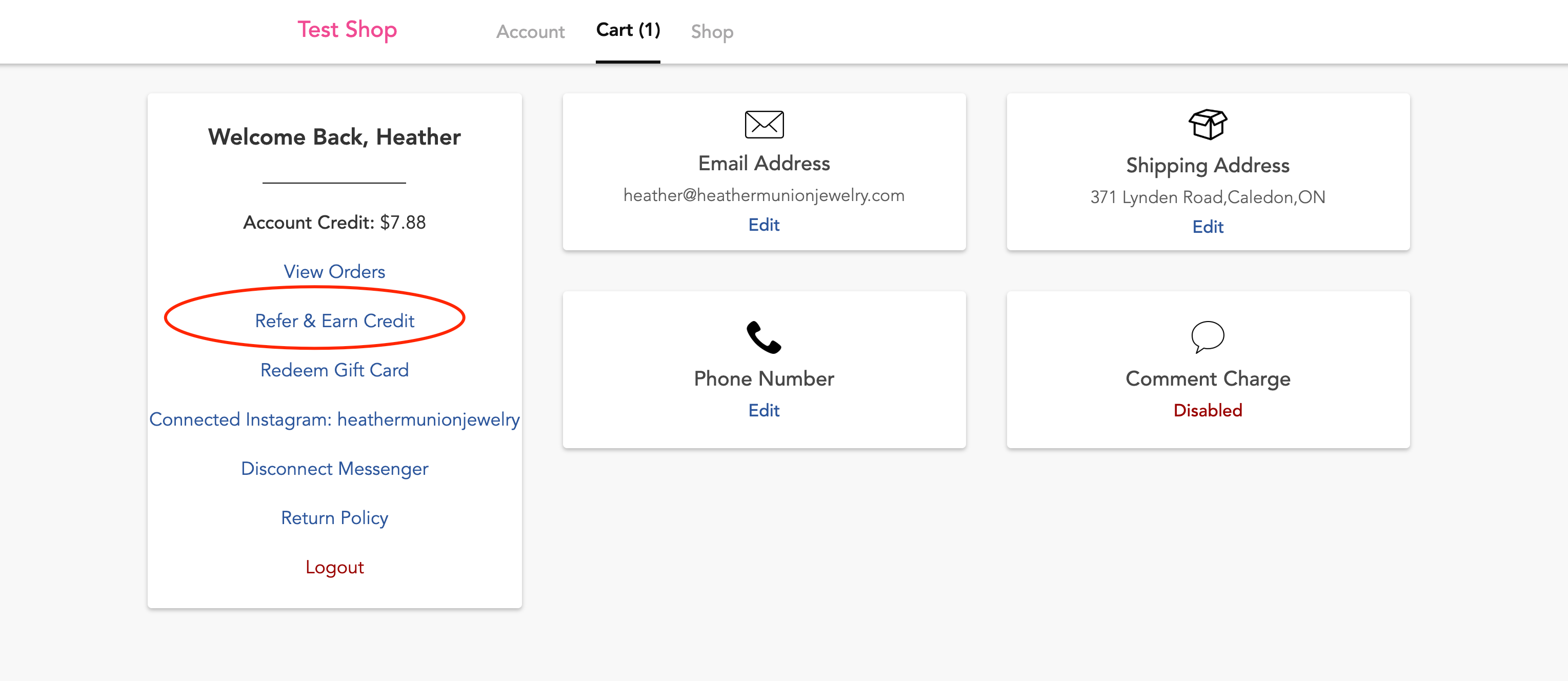 When your customers click this link, they will see their referral code and information about the New Customer Reward and Referrer Reward.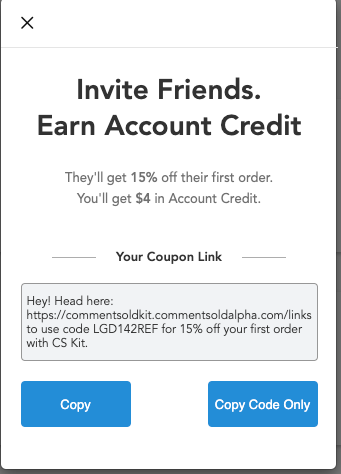 Referral codes are unique to each referrer and will end with either "REF" or "REFERRAL."
When combining accounts, the referral code for the account you are merging from will be kept unless that account does not have a referral code. In that case, we take the referral code from the other customer account being combined. If a customer is deleted from your system, their referral code is no longer valid.
When a new customer uses a referrer's code, the referrer will receive an email notice of new account credit.