Click on any of the images or GIFs in this article for a closer look.
Did you know merchants generate an average of 67% of their total revenue through their branded mobile app? Read on to learn how to get a mobile app of your own!
With CommentSold, you can create and launch a branded mobile app for your business. This makes it easier than ever for your shoppers to browse, cart, and purchase products from their phones. You can go live on your mobile app!
Step 1: Create an Apple Developer Account
---
We walk through how to create an Apple Developer Account here.
To create an Apple Developer Account, you will first need:
A DUNS Number. You can apply for a DUNS number or look up your DUNS number here. It can take up to 30 days to receive your DUNS number.
An iPhone or an iPad with Touch ID, Face ID, or a passcode enabled, or a Mac with Touch ID or a password enabled. You must use the same device for the entire enrollment process.
An Apple ID with two-factor authentication turned on. Your Apple ID information must be valid and up to date — including, but not limited to, your first name (given name), last name (family name), address, phone number, trusted phone number, and trusted devices.
The latest version of the Apple Developer app installed on your device.
Important! Creating an Apple Developer Account can take up to 30 days. Apple has its own enrollment and review process for developer accounts that happens separately from the mobile app creation process outlined in this article. You will need to complete the entire Apple Developer Account enrollment process before you can create your mobile app.
Step 2: Enter Your App Name
---
Mobile apps require an app name. By default, CommentSold will populate the shop name entered on the Shop tab of your Setup page.
We recommend you provide alternate app names in the event the default name is already taken.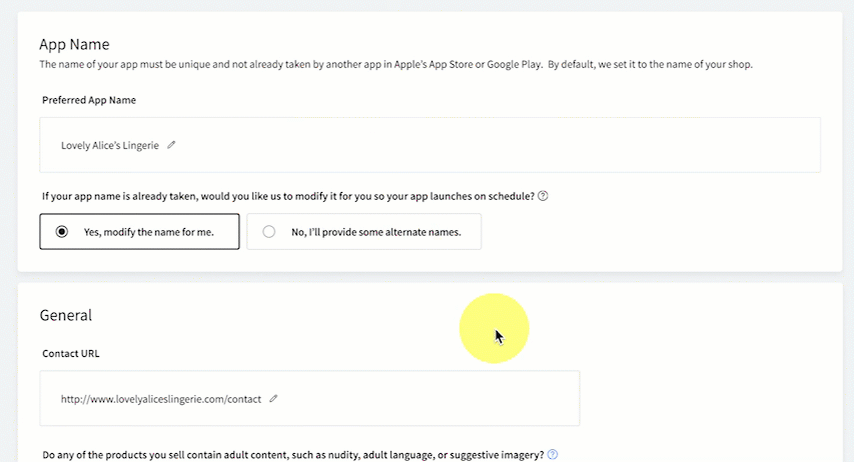 Select Mobile App in the side menu of your CommentSold dashboard.
Review your default app name in the Preferred App Name field. Select the pencil icon if you wish to make changes to the name.
In the event your app name is taken, choose how you wish to submit alternate names:

Yes, modify the name for me. If selected, CommentSold will choose an alternate name for you. Names will reflect the originally submitted name (i.e. if Peaches & Pockets is taken, we will submit Peaches & Pockets Boutique.
No, I'll provide some alternate names. If selected, you can enter alternate app names in the field provided. Select Add Alternate App Name to add an additional field.
Step 3: Enter Contact Information
---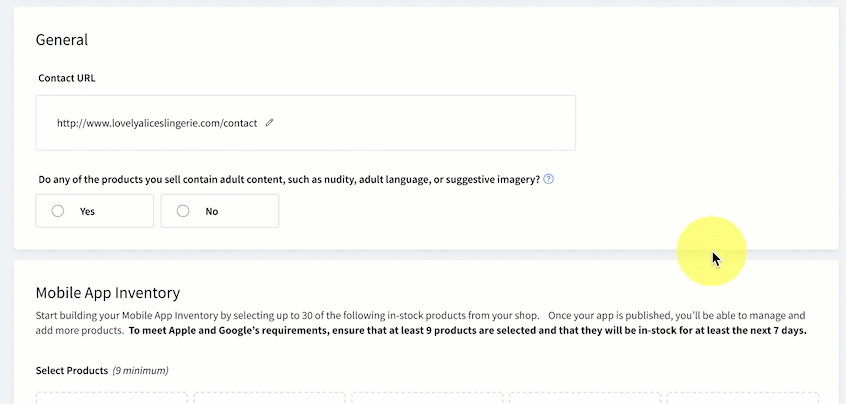 Enter the URL for your website's contact page in the Contact URL field. If you do not have a contact page, you can create a webstore page that contains your contact information.
Indicate whether your business sells products that would be considered adult content by using the Yes or No buttons.

If Yes, you will need to ensure that the products uploaded to your mobile app for this enrollment process are free of adult content (e.g. nudity, adult language, suggestive imagery, etc.).
Step 4: Upload Mobile App Inventory
---
Before you can submit your app to the App Store and Google Play Store for review, you will need to publish, at minimum, nine (9) products to your app. This allows reviewers to get a full sense of the purpose and content of the app so they can approve it. Learn how to post products to your mobile app here.
Note: If your business sells products that are considered adult content, ensure the products you upload for review are free of this content (e.g. nudity, adult language, suggestive imagery, etc.).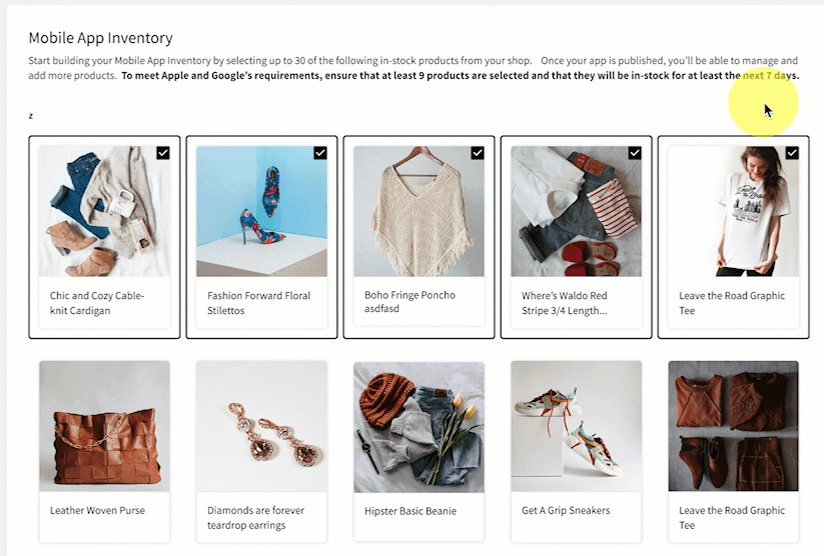 CommentSold will display up to 30 products; however, you only need to select nine products. Select a product tile to include that product in the app review process, or deselect to exclude it.
Remember this is just for the review process–you can post more products to sell on your mobile app once it has been approved.
Note: It's important that products submitted as part of the review process remain in stock for 7 days. Please only submit products that will have stock.
Step 5: Choose Your Design Elements
---
You can choose to auto-generate an app design element or upload designs you've already created.
Primary Color. Enter the hex code or use the color slider to select your primary color. Your primary color will highlight certain elements such as navigation tabs, prices, and buttons.
Secondary Color. Enter the hex code or use the color slider to select your secondary color. Your secondary color will appear on your login button
Icon Design. Select the refresh icon to load available icon designs.
Icon Initials. Select the pencil icon to enter the initials you wish to feature in your app icon. Maximum 3 characters.
Note: Pure white (#FFFFFF) as a color will be automatically rejected. Additionally, you should avoid near-white or off-white colors. Choose colors that will make it easy for shoppers to see and read white text.
You can drag and drop an image into the field provided or select Choose File to locate and upload a file from your device.
Launch Screen. Launch screen images typically consist of easy-to-view images of inventory, pleasant backgrounds, or a familiar model. This image briefly appears every time the app loads on a shopper's mobile device.

Required Size: Minimum of 1000px x 1600px (WxH) for best quality.
Required File Type: PNG
Don't have a launch screen image yet? We created this template to help get you started. It meets the recommended sizing requirements and provides guides to help you visualize where the logo and registration/login buttons will be located.

App Icon. We recommend that you use your brand's logo as your app icon.

Required Size: Minimum of 1024px x 1024px(WxH) for best quality.
Required File Type: PNG
Step 6: Enter Your Apple Developer Information
---
Last, you will need to enter information associated with your Organization Apple Developer Account. Learn how to create your Organization Apple Developer Account here.

Apple Account Name. Enter the Team Name listed in your Apple Developer account (including all spacing, punctuation, capitalization, etc.). We recommend copying and pasting your Team Name in this field.
You'll need to invite CommentSold to your Apple Developer Account. Expand the below drop-down to learn how.
Step 7: Invite CommentSold to Your Mobile App
---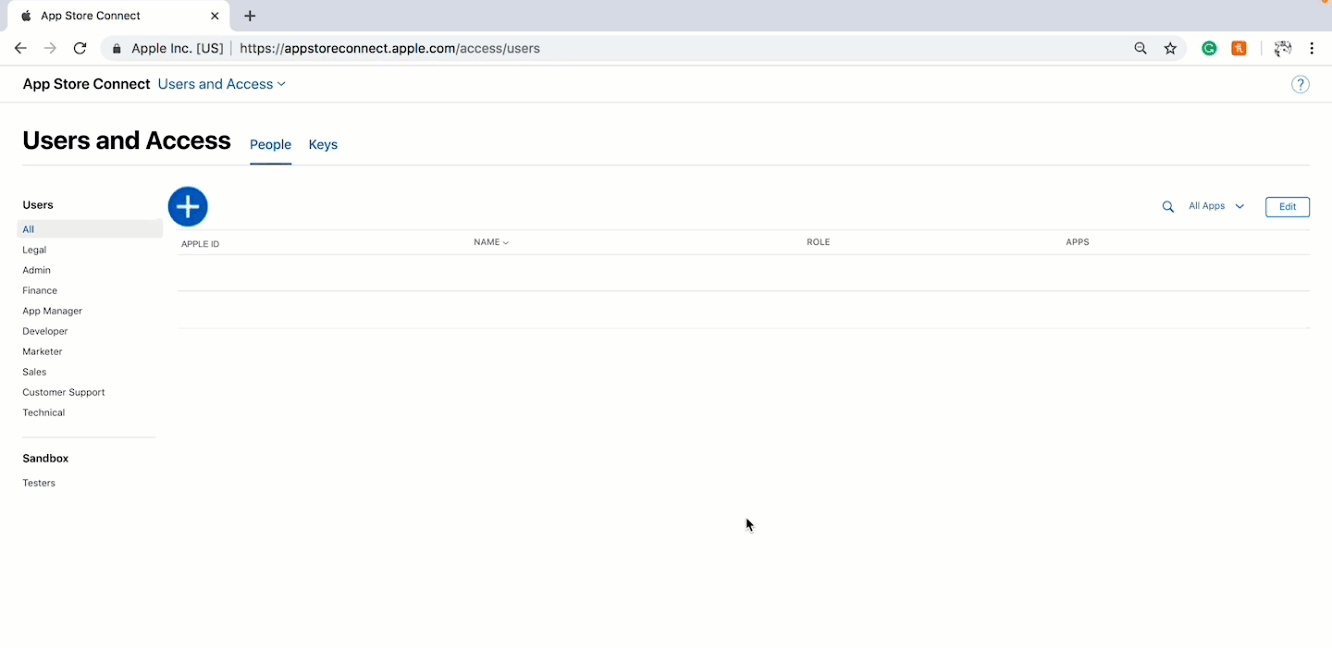 Log into your Apple Developer Account.
On the Users and Access page, select the plus sign icon (+) in the top-left corner of the page.
Complete the following fields on the New User pop-up:

First Name: Enter Mobile.
Last Name: Enter Team.
Email: Enter mobile.iota@commentsold.com in this field.
Roles: Admin
Under Additional Resources, please ensure Certificates, Profiles and Identifiers has been selected. It should also appear grayed out.

Select Invite in the bottom-right corner of the pop-up.
Learn More
---