Click on any of the images or GIFs in this article for a closer look.
In this article, you'll learn:

How to set up your Instagram live connection.
How to verify your broadcast on Instagram.

How to broadcast your live sale on your business's Instagram account.
About Going Live on Instagram
---
Instagram is a popular photo-sharing app that can help retailers grow brand awareness by sharing their brand personality and products with followers and people exploring their feed.
With Instagram, retailers like you can promote your products in a friendly, authentic way. You can interact with existing followers, target new followers, and convert those followers into loyal customers.
In addition to posting items on your Instagram feed and stories, you can now broadcast your live sale feed to your business's Instagram account, allowing a new group of shoppers to watch, comment, and purchase items from your business.
How Going Live on Instagram Benefits Your Business
---
Allow shoppers to cart items via comments and check out via their Instagram DMs.
Reach new shoppers with an interactive shopping experience.
Before You Go Live
---
Ensure you've completed each of these steps in order before you attempt going live on Instagram for the first time:
Best Practices for Going Live on Instagram
---
When going live on Instagram, there are some best practices to keep your business account in good standing with Instagram and reduce the potential for being locked out of your account.
Enable two-factor authentication for the account.
Keep your live sale streams free of spam and/or abusive content.
Ensure live sale streams do not violate copyright policy.
Maintain a high level of trust with Instagram (e.g., no recent account lockouts, blocks from other users, frequent password changes, etc.).
When your business goes live, refrain from interacting with your Instagram account on a mobile device. Scrolling your feed or navigating the app using your business account can cause the live feed to end abruptly.
Step 1: Set Up Your Instagram Live Connection
---
You'll need to set up your Instagram live connection in your CommentSold dashboard before you can go live on Instagram.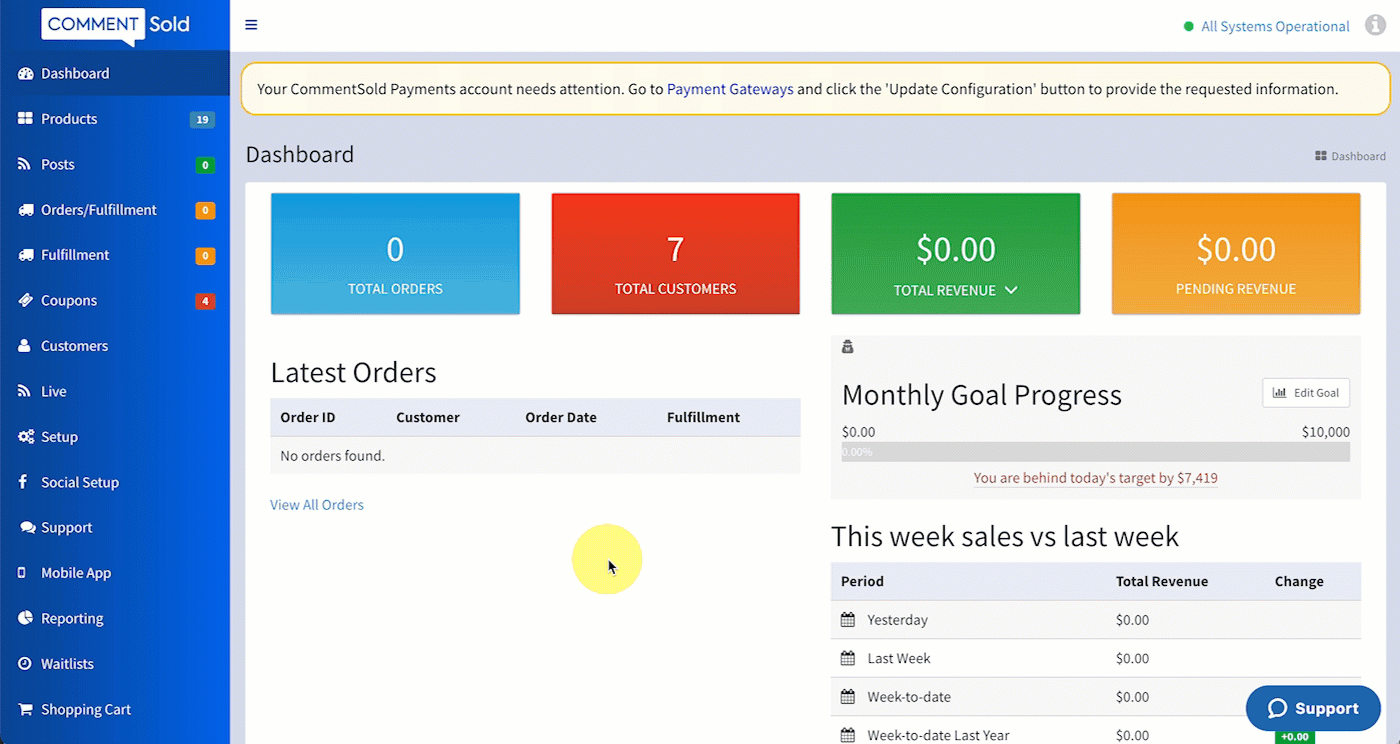 Select Social Setup in the side menu of your CommentSold dashboard.
Select Instagram from the options listed at the top of the page.
Locate and select the Connect Instagram Live button at the bottom of the page.
You'll be redirected to the Instagram live connection login page. Enter your Instagram account Username and Password.
Select the reCAPTCHA I'm not a robot checkbox.
Select Login.
You'll be redirected back to CommentSold where you should see an Instagram Live Connected! confirmation message at the top of the page.
Step 2: Verify Instagram Live Connection Login Activity
---
When you set up your Instagram live connection in CommentSold, it creates a login activity in your Instagram account.
Since Instagram takes login activity seriously, it's important to let Instagram know you approve of this login by verifying it in your Instagram settings. This helps prevent Instagram from locking your account due to suspicious login activity.
Check your email! Once you set up your Instagram live connection, Instagram might send a verification email to the email address associated with your business's Instagram account. If you receive this email, select It was me to let Instagram know the activity is authorized.
Navigate to your business's Instagram profile by tapping your user icon in the bottom-right corner of the screen.
Tap Settings.
Tap Security.
Tap Login Activity.
Locate the most recent login activity and tap It Was Me beneath the map image.
Tap Confirm in the pop-up.
What if the location isn't where my business is located? The Instagram live connection uses a network of proxy servers that can have IP addresses (i.e., cities and/or states) that do not match your business's location. In this case, we recommend you look at the location's time stamp to verify the recent activity is your business.
Step 3: Go Live on Instagram
---
Once you set up your Instagram live connection in CommentSold, you can proceed with going live on Instagram.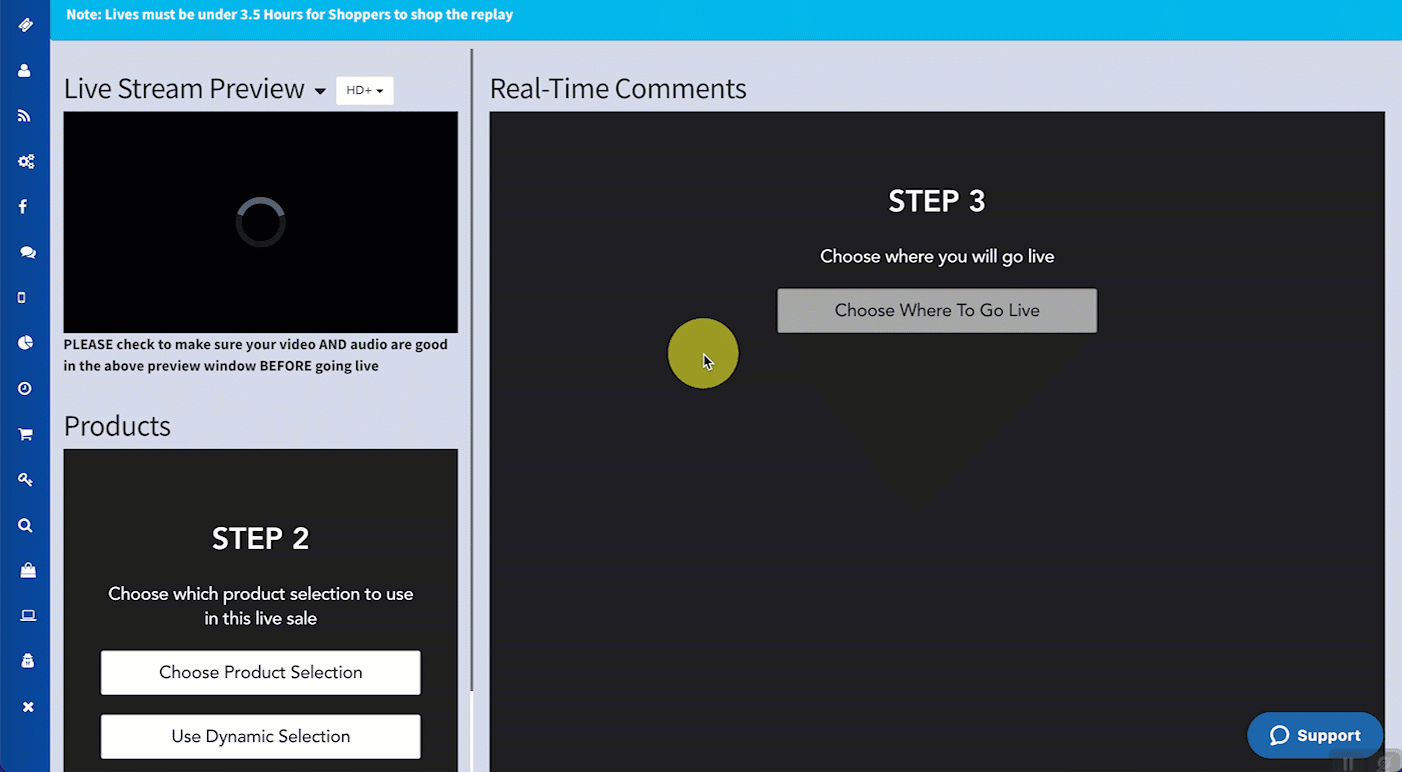 Complete Step 1 and Step 2 on your Live Overview page as you usually would.
On Step 3, select Choose Where to Go Live.
Select Go Live Normally.
In the Stream Targets section, select Instagram Live.
Select Go Live in the bottom-right corner of the pop-up.
Congratulations—you are now live on your Instagram account! Shoppers can watch your live and comment just as they would if watching the live sale on your Facebook page or group.
Note: While you may have some shopper overlap between your social networks, you'll likely have Instagram shoppers who are new to the live sale experience. We encourage you to spend some time at the top of your live sale going over the comment to cart and checkout process and have your behind-the-scenes team on standby to answer any questions in the comments.
Don't forget processing times.
Once a live sale ends, CommentSold will need to process the video before you can add it as a Live Replay. Processing times average out to half the length of the live sale. For example, if your live sale was 60 minutes, then the video would take 30 minutes to process. You can view video processing statuses
here
.
What Your Shoppers Experience
---
Shoppers can navigate to your live sale by tapping your business's LIVE logo at the top of their Instagram feed or from your business's Instagram account page.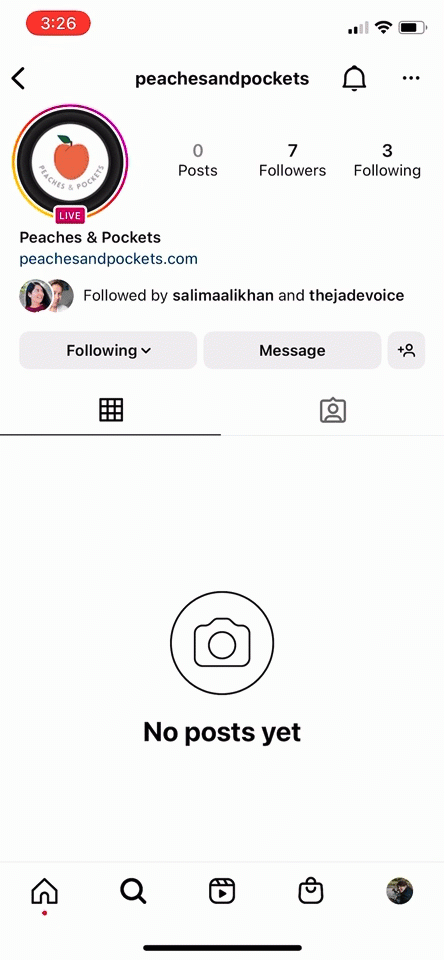 When shoppers comment SOLD for an item (e.g., SOLD 101 XL pink), they will receive an Instagram DM from your business linking them to their cart. If enabled, they can tap on the DM notification, or navigate to their DMs to view the message.
If a shopper comments to cart multiple items throughout the live sale, they can select Pay Now on the most recent DM from your business to view their full cart and check out.
Learn More
---