Click on any of the images or GIFs in this article for a closer look.
Need to cash out on the weekend, holiday, or right away? Now you can with CS Payments!
With CS Payments Instant Payouts, you can instantly request and send CommentSold funds to a supported debit card. You can request instant payouts any day or time, including weekends and holidays, and funds typically appear in the associated bank account within an hour.
To request a CS Payments Instant Payout, you must have:
Processed payments with CS Payments for more than 30 days.
Generated $1,000 in gross merchandise value (GMV).
Instant Payouts are subject to a 1% fee. For example, if you request $1,000, your payout will include a $10.00 fee. This means you will withdraw $1,010.
Retailers can request up to $1,000 a day but available funds will depend on the amount in their CommentSold account.
A note about payout timing: Our standard CS Payments payout works on a one-day rolling schedule. Every day, between 6-8 PM CST, we process the payout for the rolling day. Those funds then appear in your account within 24-48 hours.
However, if you wish to request an instant payout for the rolling day, we recommend you do so before 6-8 PM CST to avoid a double payout. Double payouts automatically resolve themselves within a day via a correction in the amount of the payout.
We are working on a solution that will eliminate accidental double payouts.
Request an Instant Payout
---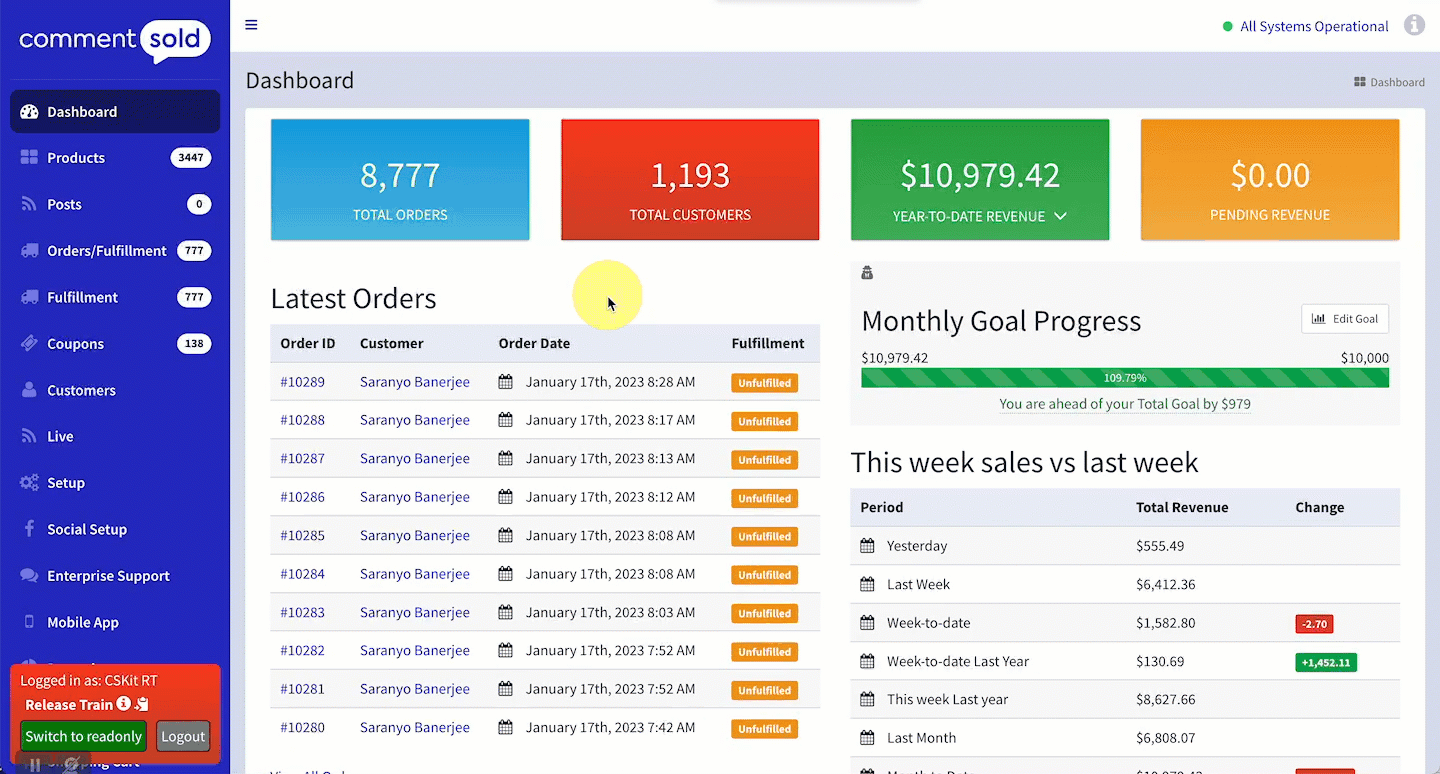 Select Setup in the side menu of your CommentSold dashboard.
Select CommentSold Payments from the options listed at the top of the page.
Select Get Paid Instantly in the top-right corner of the page.
Choose your payment option:

Add Debit Card. Add a new debit card. You will enter the card details and CommentSold will verify whether the debit card supports Instant Payouts. If it does not, you'll be prompted to enter a new card.
Select Debit Card. Select a previously saved debit card. A list will display the card type (e.g., VISA, MasterCard, etc.) and the last four digits of the card.

Select Save and Continue.
Use the slider to adjust the amount in the Instant Payout field. Your Fees automatically calculate and will display beneath the Instant Payout field.
Select Submit Payout.
Confirm your payout amount (less the fee) by selecting Payout.
Learn More
---