Interested in selling on TikTok?
TikTok is a unique live selling opportunity that is unlike other social media platforms. If you haven't already, we
highly recommend
you
read this article
where we outline some of the requirements and characteristics of selling on TikTok.
Need to fulfill your TikTok orders? You can do so right from your CommentSold Orders page! Read on to learn more.
Tik Tok
With the CommentSold + TikTok integration, all TikTok orders will flow through to your CommentSold Orders page where you can fulfill the orders just as you would orders placed via your website and mobile app.
Below we walk through how to identify TikTok orders on your Orders page and must-know information about TikTok's shipping requirements (SLAs).
Identify TikTok Orders on Your Orders Page
---
When you log into CommentSold (or navigate to your dashboard), you'll see a banner at the top of the page alerting you to any new TikTok orders needing fulfillment.

You can jump straight to your Orders page by selecting the Manage Orders link within the banner.
On your Orders page, you'll see badges within each TikTok order that alert you to the status of that order. For example, if the order is Awaiting Shipment or has been Canceled. Hovering over the badge will give additional context to canceled orders.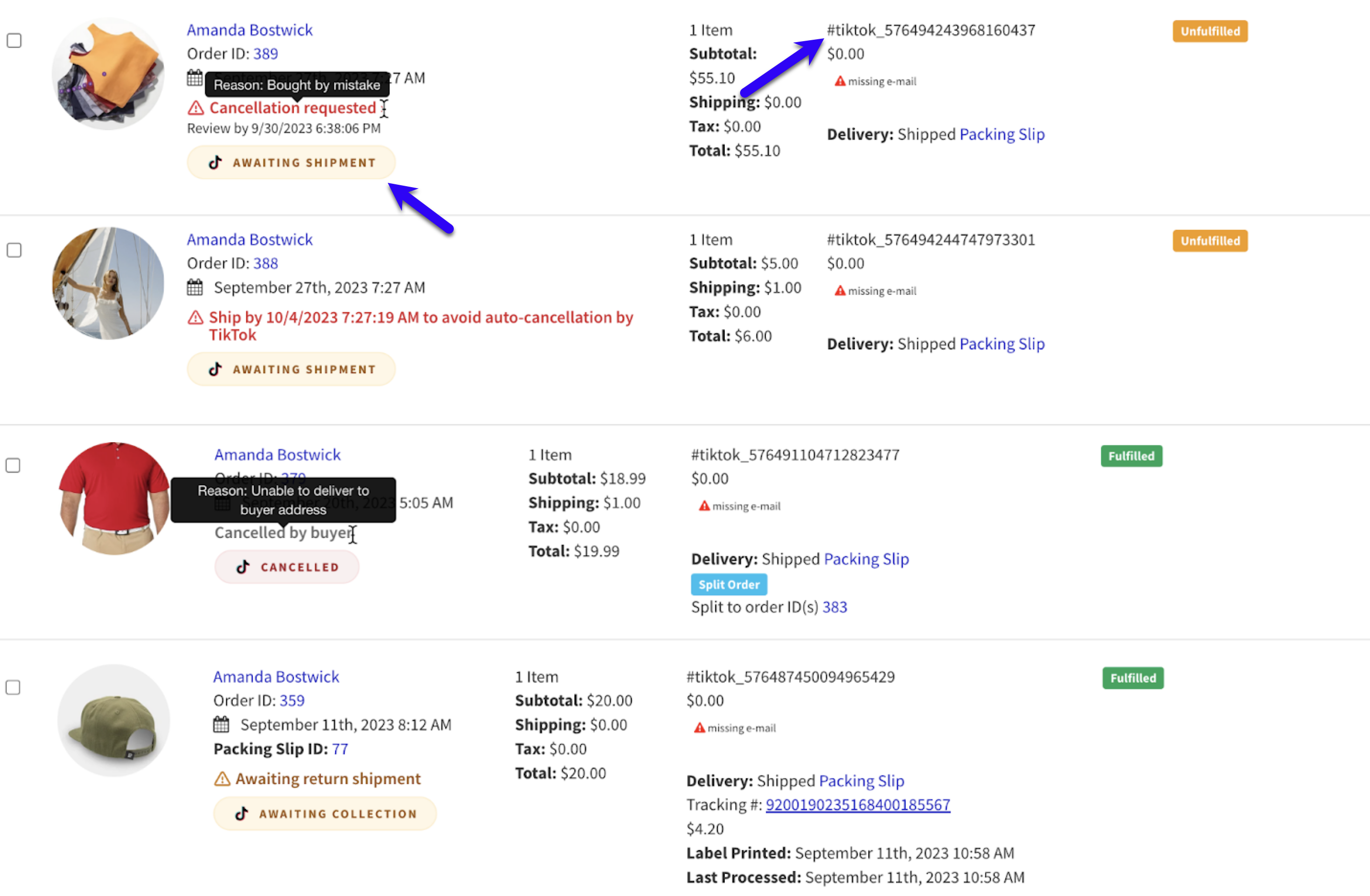 A note on TikTok's Shoppers Remorse window: TikTok allows customers to cancel an order within 1 hour of placing the order. CommentSold will alert you to orders still within the 1-hour remorse window and will prevent you from fulfilling the order until that 1-hour window passes.
Shipping Requirements for TikTok Orders
---
You must ship out TikTok orders within 3 Business Days. If you ship out TikTok orders after 3 business days, your TikTok Seller Score may be impacted.
If an order is not shipped out within 5 business days, then the customer can cancel their order in TikTok using the option "Order was Not Shipped on Time" and receive a refund.
Fulfillment status and tracking information will sync from CommentSold to TikTok Seller Center.
Got Questions? We've Got Answers
---
How soon do I have to ship TikTok orders?

TikTok orders must be shipped within 3 business days of the customer placing the order.

Can I combine TikTok orders?

Yes! CommentSold will combine any TikTok orders for a customer just as it would orders placed via your mobile app and website.

What if a customer cancels their order?

Customers can only cancel their order during TikTok's 1-hour remorse period.
Once a cancellation request is received, you have 24 hours to confirm and process the refund. If it is not confirmed or processed within 24 hours, TikTok will automatically approve it & issue a refund. Learn more about issuing refunds here.