Whether you want to offer BOGO, a $ off discount, a % off discount, or free shipping, CommentSold makes coupon creation a breeze.
In this article, we'll cover how to create, customize, and manage coupons of every type in CommentSold.
Note: If you're connected to Shopify, please consider the following. While CommentSold will sync some coupons over from Shopify, BOGO and collection-specific coupons created in Shopify are not supported by CommentSold.
This Article Covers:
Creating Coupons
When you create coupons in CommentSold, you'll be able to customize them in several ways. We'll walk you through how this is done.
Click on the Coupons tab of your dashboard.
Click on the green Add Coupon button to the top right. You will then see all of the options available to you for customizing your coupon.




Select what channel(s) you would like your coupon to apply to. Your options here are All Channels, Only App, Only Facebook, and Only Instagram. If you select Only App, you will see the option to make the coupon applicable only for a customer's first purchase in the app.





Enter a Coupon Code Name. This is the code that shoppers will enter to receive the discount. The Coupon Code Name cannot include spaces.
Select a Coupon Type from the drop down list. This can be BOGO, Percentage Off, Flat Amount Off, or Free Shipping. Selecting one of these options will open additional fields to be completed, based on the type of coupon.




Set which Collections, Products, and/or Product Selections the coupon will apply to. You may also choose to exclude specific collections from your coupon. Enter the desired discount amount (for Percentage Off or Flat Amount Off coupon types).
Enter a coupon Description. This is for your internal use, and is visible next to the code on the Coupons tab.
Keep Unlimited usage? checked if you do not want to set a limit on the number of redemptions your coupon can have. If you would like to set a max number of redemptions, uncheck this box and enter the desired maximum in the box that appears.




Set a start and end date for the coupon, if desired. The coupon code will not be valid before the start date, and will expire after the end date. Leave these blank if you would like them to be valid immediately and indefinitely.
If you would like the coupon to be single user per customer, check the box Only used once per customer?
If you would only like the coupon to be valid on a customer's earliest orders, check Coupon for new users? A box will appear, allowing you to set the number of days after account creation that a customer can use this coupon.




If you would like to create a coupon that is exclusive to your VIP users, check the box next to Coupon for VIP users only? This requires you to enable "Highlight VIP Customers" setting on the Setup tab if you haven't already.
Once enabled, the dollar amount that qualifies your customer as a VIP will show under this option. (See the example below- This shop has their VIP dollar amount set to $300.) If they have qualified as a VIP customer in the past 30 days since the date they attempted to use the coupon, they will be eligible for its use.


To set a minimum purchase requirement for the coupon, check the box for This coupon requires a minimum purchase and enter a minimum purchase amount.




Once all fields are completed, click the Add Coupon button at the bottom right to finish!
Note:
For BOGO sales, you will enter the discount percentage that will be deducted from the second item. For BOGO free offers, you will enter 100%. The discount will be taken from the less expensive item(s). Coupons cannot be applied to Split Pay or Gift Card items.
If you are a Shopify user and sync your coupons from Shopify, we do not support Shopify BOGO coupons. You will need to create BOGO coupons in CommentSold.
A shopper's cart can include both items that a discount applies to and items that are excluded from discounts, and discounts will only apply to the appropriate items. Discounts apply to the subtotal prior to taxes and shipping.
Viewing & Editing Your Coupons
Once you have created one or more coupons, you will be able to view them within the Coupons tab of your CommentSold dashboard.

Here you can see all of the coupon codes you have created, along with the basic details. This is where having entered a Description when creating each code comes in handy!
If you want to make changes to a coupon, you will need to confirm that it is active first. In the image above, you can see that the first two codes are currently active, as no start or expiration date was entered. The third code ("BOGO40") is inactive, as the start date is in the future. Expired codes will also show as Inactive.
To edit an existing coupon, click the three dots to the right of the coupon and click Edit. (You can also remove a coupon or view the orders that have used a particular coupon from this drop down.)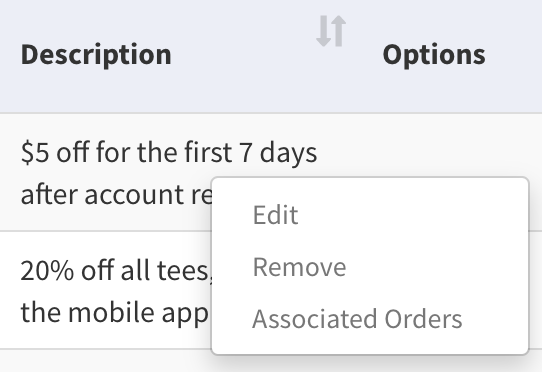 Shopping with Coupons
A shopper's cart can include both items that a discount applies to and items that are excluded from discounts, and discounts will only apply to the appropriate items. For BOGO coupons, the discount will apply to the less expensive item(s). Discounts apply to the subtotal prior to taxes and shipping.

As you can see in the image above, the shopper has added two items to their cart and entered coupon BOGOALL during checkout. This coupon offers shoppers BOGO 40% off across all of the shop's products, so it applies to both carted items.
The higher-priced product is charged to the shopper at full price ($54), and the discount is taken from the lower-priced item (40% off $25, so a discount of $10).
Shoppers will only be able to enter one coupon code per transaction.