CommentSold's Secondary Offer feature helps to increase Average Order Value and improve inventory sell-through.
When the Secondary Offer feature is enabled, CommentSold will display an additional item for sale during checkout on the webstore. The item will meet the criteria you set for the feature, and can be offered at a discount. This is an upsell feature that can help to capture additional revenue while shoppers are already purchasing items from you!
This Article Covers:
Setting Up Secondary Offer
To enable Secondary Offer, visit the Setup tab of your CommentSold admin dashboard. Under Selling Preferences, scroll down to the Secondary Offer section.
Enable Secondary Offer to view all of the options available.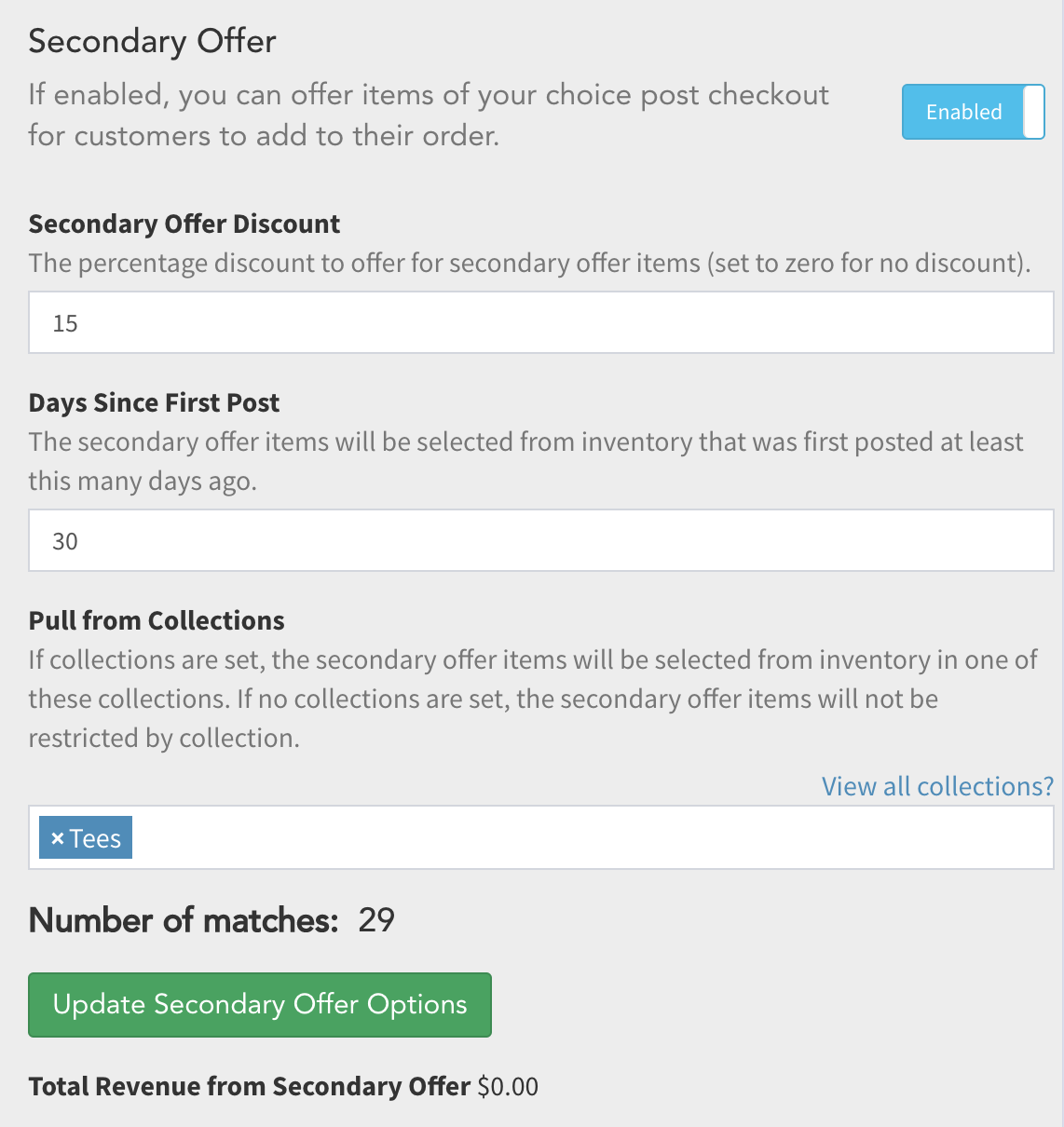 The Secondary Offer Discount allows you to set a discount that will be applied only to the offered item.
The number you enter for Days Since First Post ensures that only items posted at least this many days ago will be offered. This prevents newly posted items from being displayed and discounted!
Under Pull from Collections, you can enter the specific collections you would like to include in Secondary Offers. In the image above, the collection Tees has been selected. If no collections are entered here, items from any collection may be displayed to customers as Secondary Offers.


After completing this section, click the green Update Secondary Offer Options button. The Number of matches will update with the number of products that meet the selected criteria.
In addition to the settings you have chosen, the Secondary Offer will also:
Be something the customer has never before purchased
Be an item that is not currently in the customer's cart
Be either a one size item or a size that the customer has previously ordered
NOT be a mystery item
Secondary Offer from a Shopper's Point of View
At this time, Secondary Offers will only appear to shoppers checking out on webstore. If enabled, shoppers will see a prompt similar to the one below when they click to pay.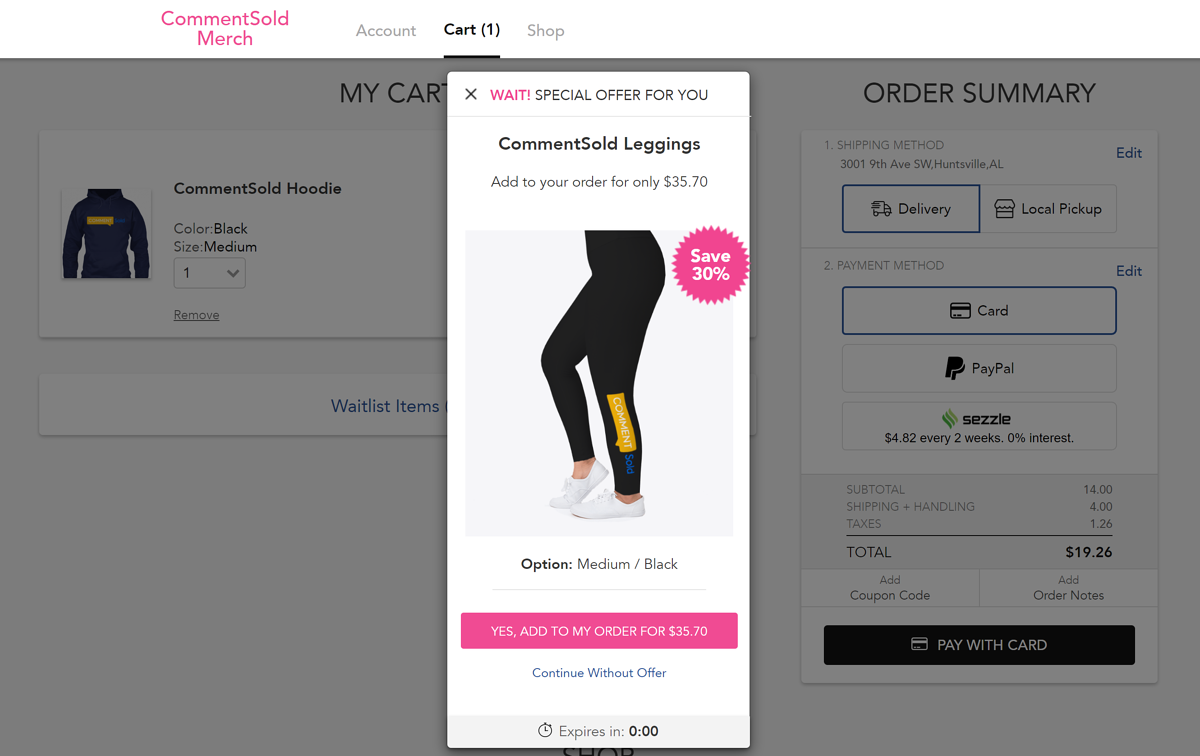 Note: This prompt will only display if there is at least one qualifying item, and if the shopper is not paying with account credit.
If the shopper decides to purchase the displayed item, it only takes one click to do so. If they click Continue Without Offer, or click the X at the top of the page, they will be returned to the checkout with no additional steps.
Reporting on Secondary Offer
You may have noticed the Total Revenue from Secondary Offer line during the Secondary Offer during setup. You can get a quick look at revenue that secondary offers have generated throughout all time there, but there is much more data available in the Secondary Offers section of the Reporting tab.

Secondary Offer FAQs
Q: What if I only want to offer one item as a Secondary Offer?
A: You can easily do this by putting the item into its own Collection!
Q: How does the system know what size to recommend?
A: The system looks at previous orders to determine the size to offer.
Q: Are there any payment methods that Secondary Offer does not work with?
A: Secondary Offer does not work with Account Credit, but works with any other payment method.
Q: If the customer has a coupon attached to their order, does that coupon also apply to the Secondary Offer item?
A: No, it does not. As you have already set a Secondary Offer discount, any further discounts will not be applied.