Loyalty programs are one of the easiest and most cost-effective ways to grow a business, and it's very simple to create your own in CommentSold. Once set up, your shoppers will earn "cash-back" in the form of account credit for every purchase.
This Article Covers:


Setting up the Loyalty Program
To get started, navigate to the Setup tab and enable the loyalty program. Next, you will enter the percentage you'd like your customers to earn on each purchase.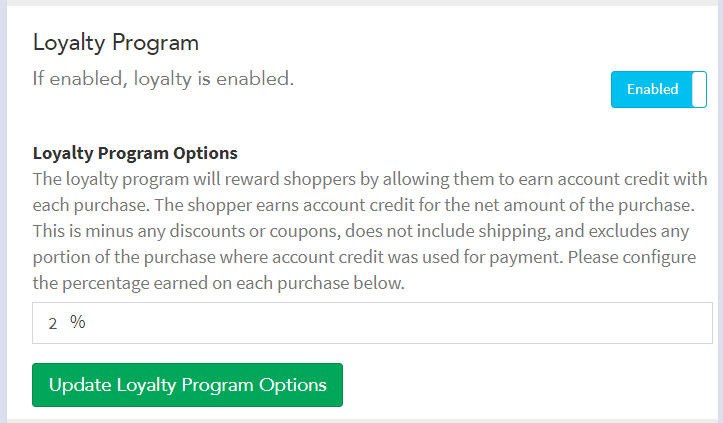 Once you've set your percentage, click the "Update Loyalty Program Options" button. That's it! Now your customers can start earning right away!


Loyalty Program Inclusions & Exclusions
To calculate earnings for an order, CommentSold will multiply each order's subtotal by your set percentage after it deducts the following:
Applied sales tax

The cost of shipping

Any applied coupons or discounts, with the exception of secondary offers

Any portion of the payment that was made with account credits or gift cards
None of these will count towards earning store credit.
Customers will earn loyalty credit on the purchase of gift cards, but they do not earn credit when gift cards are used.
Secondary offers are the only discount that will count towards earning loyalty credits.
Customers will also earn rewards on waitlist authorized orders and comment charge orders.
Reporting for Your Loyalty Program
Once loyalty credits are earned, you can view your customers' earnings from the Customers tab.

To view earnings for an individual customer, click their name from this list.
In their account page, you will be able to view the Balance Movement for that customer. This details loyalty rewards, credits added, and credits subtracted.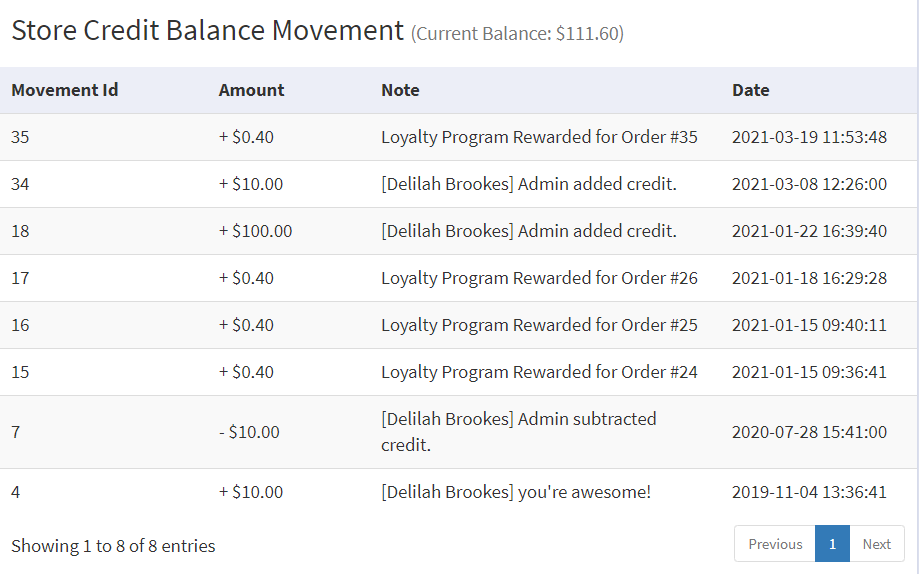 Refunds & Retractions
When processing a return for an item that a shopper previously earned loyalty on, CommentSold will retract those earnings.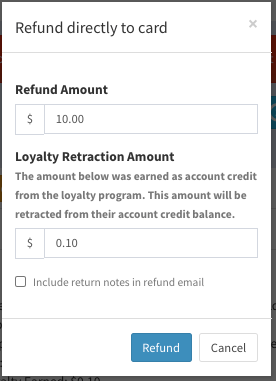 When you process a return for an item with loyalty earned and choose to refund the customer's credit card, CommentSold will display the amount to be refunded as well as the loyalty retraction amount.
The Loyalty Retracted will show on the order, like so:

The Loyalty Retraction will be shown as "Loyalty credit retraction" in the Customer's Balance Movement:

Please note that if you choose to refund the customer with store credit, there is no need for loyalty retractions. Shoppers will still have earned those original loyalty credits, which they will use to spend on alternative items. Shoppers will not earn additional loyalty credits when they spend with store credits. They will only earn loyalty credits with each new payment.
The Customer's Point of View
After every purchase, your customer will receive a "Loyalty Reward Earned! 🎉" email. This details the amount recently earned.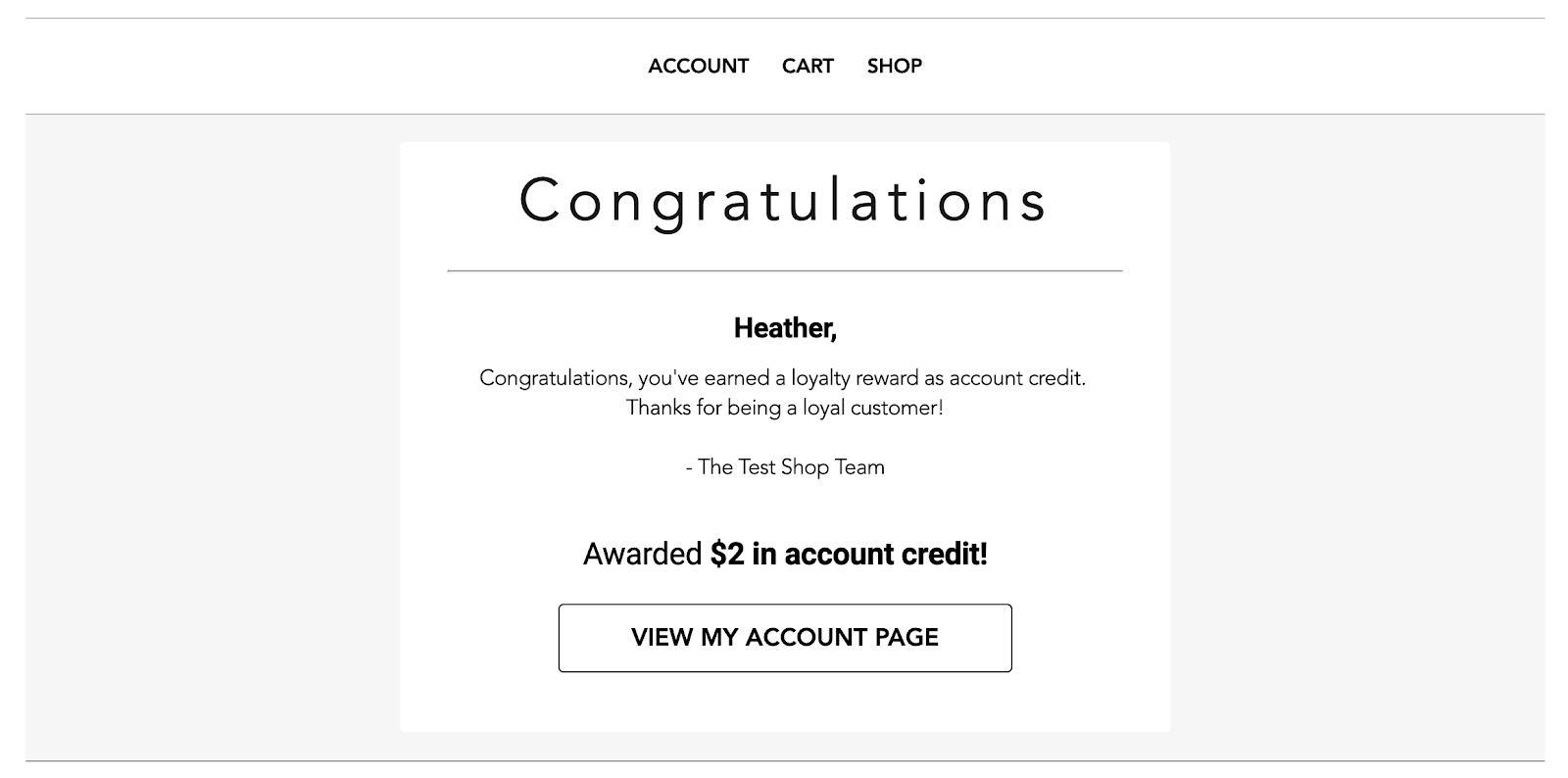 If the customer clicks on the View My Account Page button, they will be taken to their account page where they can see all current account credits.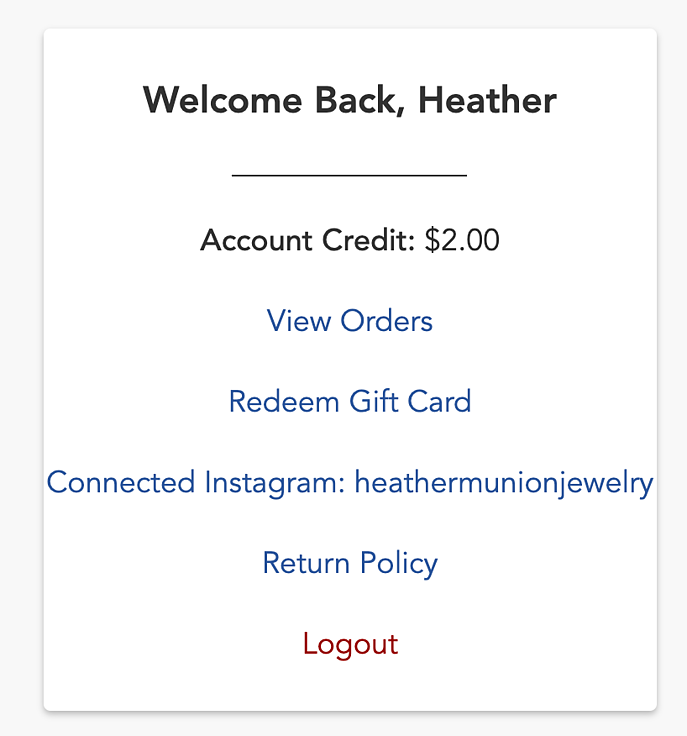 That's all there is to it! If you have any questions, please come see us in chat support! Now get out there and reward those loyal customers!