CommentSold offers basic import/export functionality for copying products from one CommentSold account to another.
The current version of this feature was developed to allow for wholesalers using CommentSold to easily "send" products to retailers wanting to go live at market.
Note: While it is possible to import products from an external source, the CSV format must match CommentSold's format exactly in order for the import to be successful.
Watch the video below or read on to learn how to use this feature!
Exporting Products to CSV
To export a product or multiple products to CSV, visit the Products tab in your CommentSold dashboard.
Check the boxes next to the items you would like to export, or check the box in the table header to select all products shown on that page. You can apply filters or perform a search to locate specific items.
Once you have selected all of the items you would like to export, click the green Bulk Action menu. Scroll down to select Export Products to CSV from the drop down.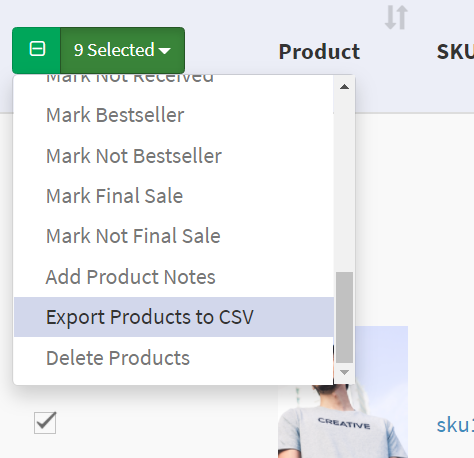 You will be taken to a page that shows all Completed Exports. Here you will see the export you have just created, along with any others you have exported previously. Click on the file to download it to your device.
If you ever need to access a previous export, visit the Products tab and click the link to View Export Files, located just above the button to Add Product.

Note: When exporting from a wholesaler account, keep in mind that Inventory Price and Inventory Quantity will be those of the wholesaler, and not of the retailer who may be importing the products. CommentSold is working on simplifying this for future versions!
Importing Products from CSV
If you have a CSV of products that was exported from a CommentSold account, importing will be very straightforward. If not, you will first need to format the file. We recommend that you export a product to CSV and use this CSV file as a template.
The fields that are required for all CSV imports are:
Product SKU / Style #
Product Name
Inventory Price
Inventory Quantity
Product Best Selling
The headings for these columns in the CSV must match what is listed above exactly for the import to be successful. The import will also fail if any one of these fields is not included in the CSV.
If you are importing a CSV from another CommentSold account—and if images have been uploaded for the products you are importing—the images will be uploaded to your account along with the products. If you are importing a CSV you have manually created or formatted, you will need to add URLs to publicly hosted images to the Product Images column.
When your file is ready for import, visit the Products tab in your CommentSold dashboard. Click the link for Import Product CSV.
A pop up will appear prompting you to upload your CSV. Click Choose File, select the CSV from your computer, and click the green button to Import.

If you receive an error upon upload, it may be due to one of two common reasons:
Invalid CSV Format—If you see this error message, the CSV file you are attempting to import does not match the format required by CommentSold for import. You will need to reformat your CSV and re-upload.
Invalid data—If there are issues with specific rows in your CSV, CommentSold will skip those rows. For the first 10 errors in a single CSV, CommentSold will note the row #, field, and issue.
If a duplicate SKU is detected, CommentSold will add a prefix to the SKU and display this as a Warning message.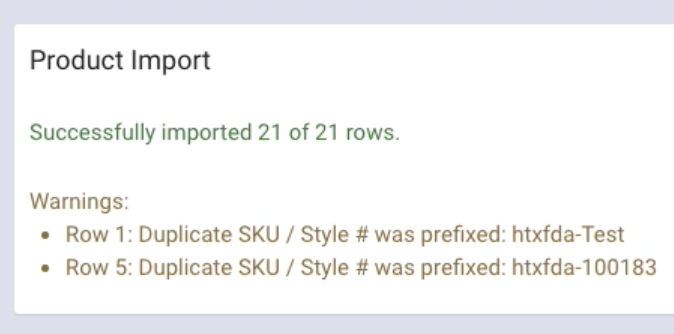 The prefixes added will be identical, allowing for you to easily search for these products and create unique SKUs for them on the Products tab.