Once you create a product Catalog for Facebook, you can connect it to paid ads and use it for product tagging across Facebook and Instagram.
To create a Catalog, you'll need to add products in Facebook Business Manager. Fortunately, this is a relatively simple process.
In your CommentSold dashboard is a link that will seamlessly integrate your products into your Catalog and keep it synchronized to your inventory in CommentSold. All you need to do is provide this URL during a one-time setup. In this article, we will show you how this is done.
Before You Begin
To set up your product catalog in Business Manager:

1. Log into Business Manager and navigate to the Commerce Manager page. Scroll down to find Catalogs, then click the button to Add Catalog.

2. Select Ecommerce as your Catalog Type and click Next.
3. Next, you'll configure your settings. For your Upload Method, select Upload Product Info.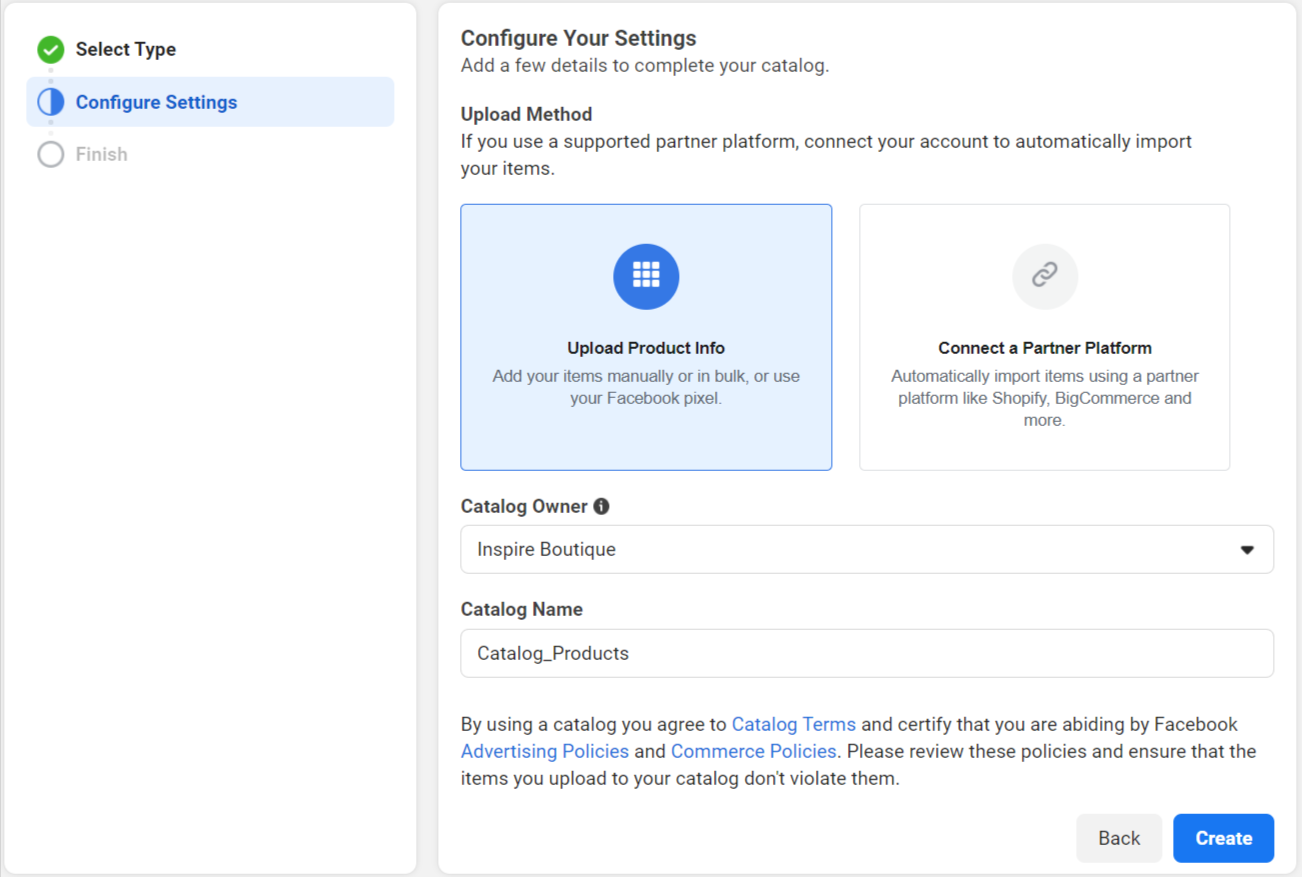 4. Under Catalog Owner, make sure your business account is selected, then add a Catalog Name (optional). Click Create when done.


5. Click View Catalog to move to the next step.


6. Now that your catalog is created, you will need to link the CommentSold catalog URL to it in order to upload your products. Click Add Items to get started.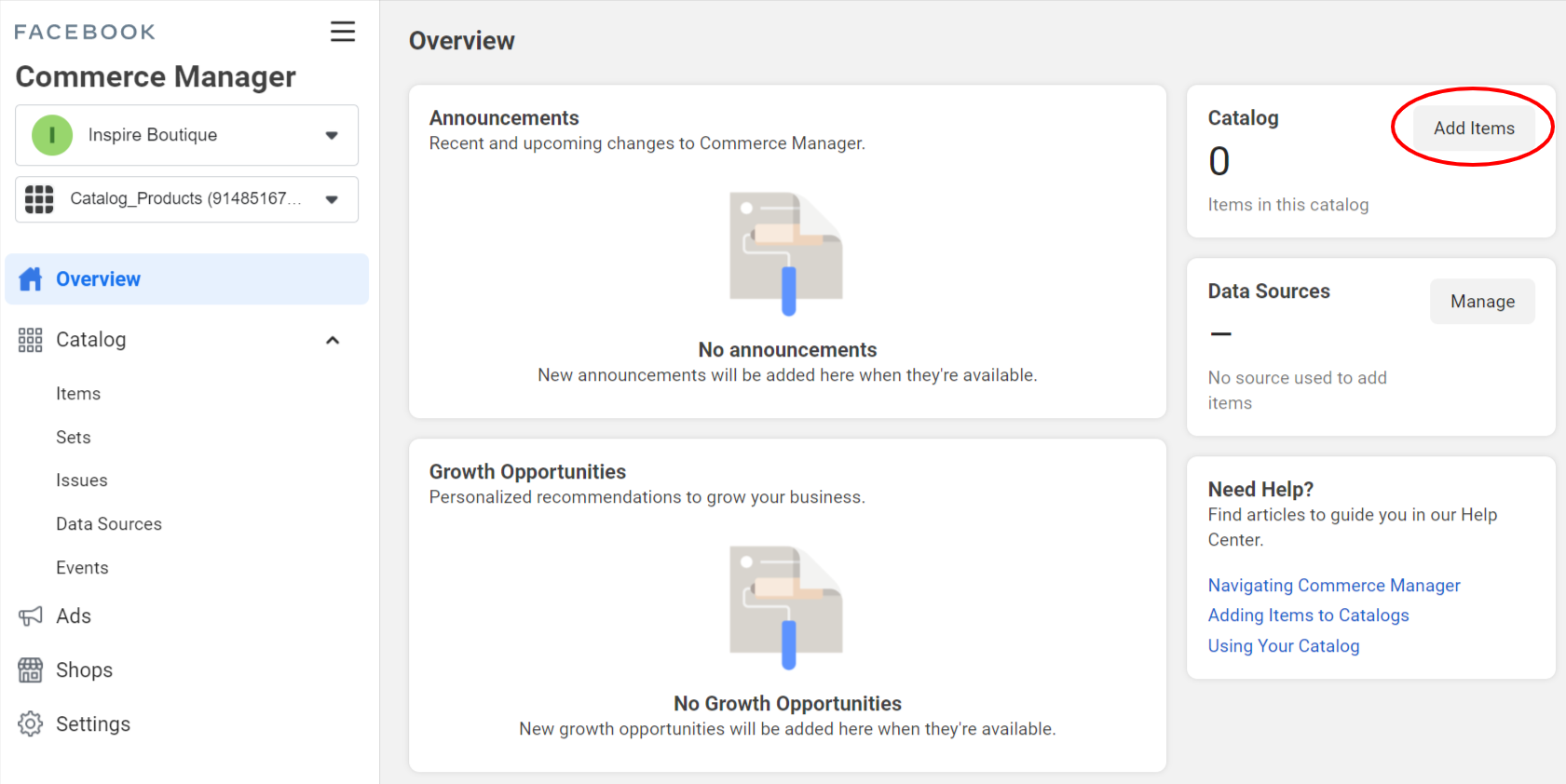 7. From the available options for adding items, select Data Feed.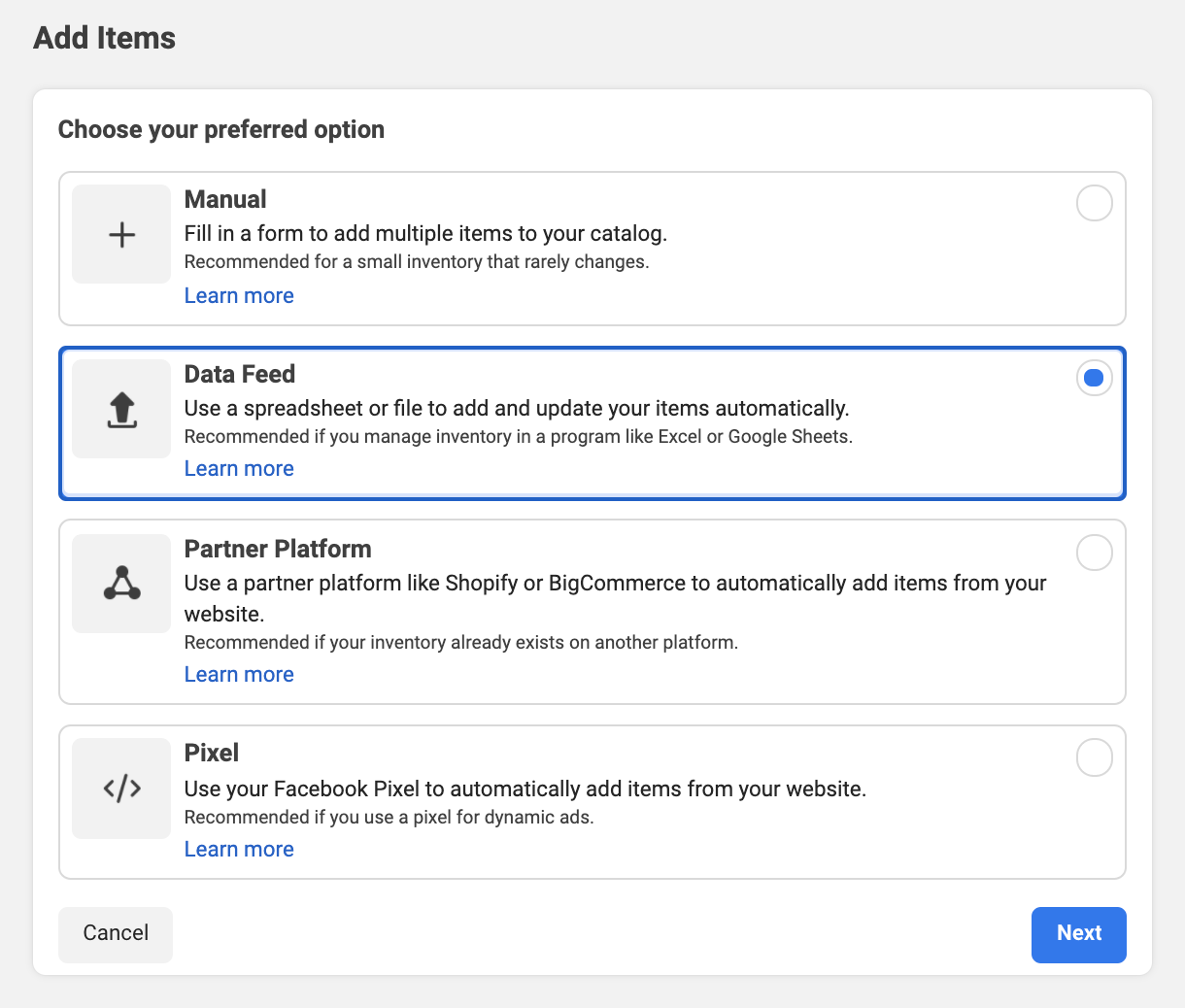 8. When asked to choose an Upload Option, select Scheduled feed and click Next.
9. Next, you will be asked for the URL for your catalog feed. Open a new window and log into your CommentSold account to grab this.
From your dashboard, navigate to Webstore Content > Preferences. (If you do not see the Webstore Content tab, you will need to go to Classic Webstore > Preferences.)
Scroll down to Facebook Catalog URL - Link to Webstore; copy this URL.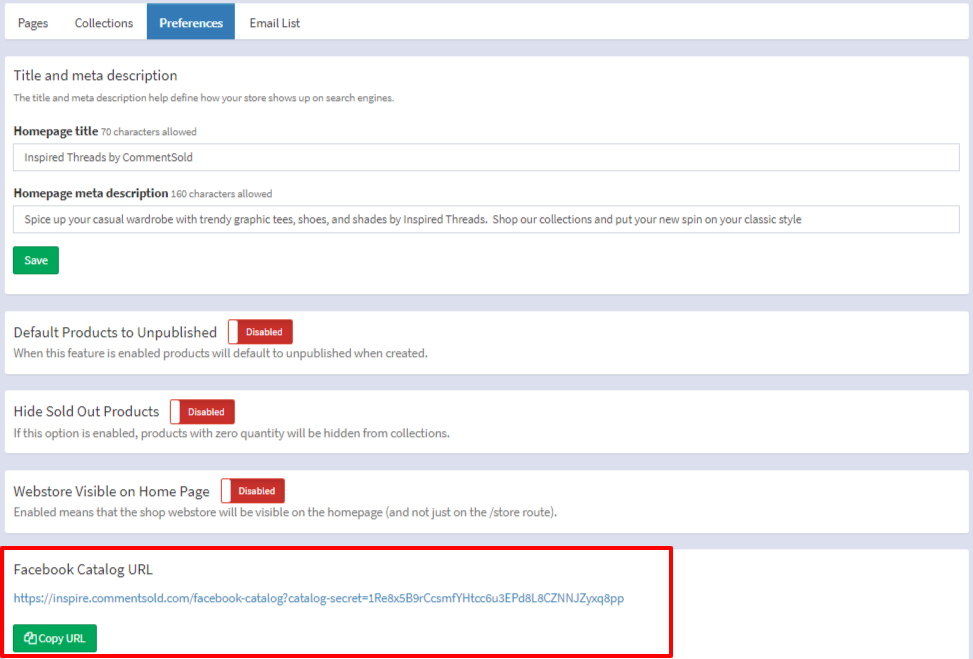 Note: If you do not have a webstore set up, you can enable it in the Setup tab of your CommentSold dashboard.
10. Switch back to Commerce Manager and paste the Catalog URL here. You do not need to enter login details. Click Next.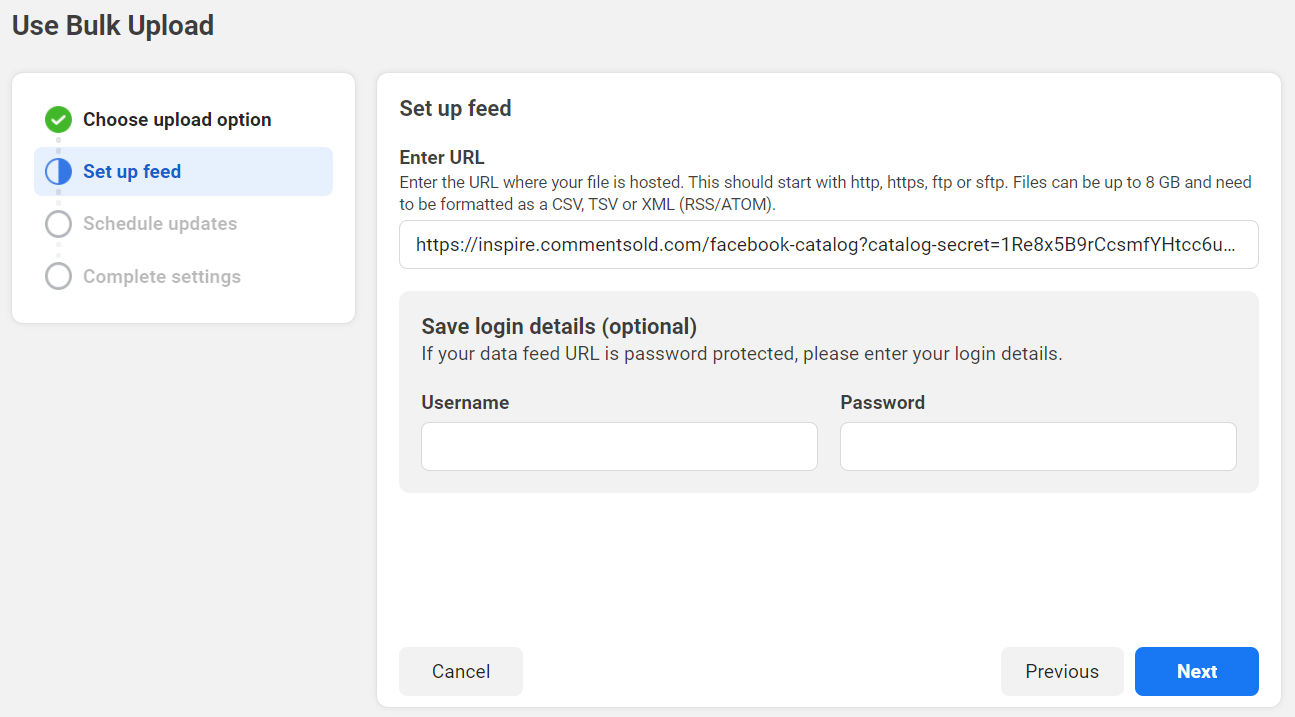 11. Now you will select how often you would like your inventory to be updated in your Facebook catalog. We recommend Hourly or Daily updates. Leave Add automatic updates enabled to keep the catalog synced in real-time.
12. Complete settings by naming your data source and setting the default currency. Then click Upload.
Now Facebook will begin loading your catalog! You can view the upload progress from the current screen.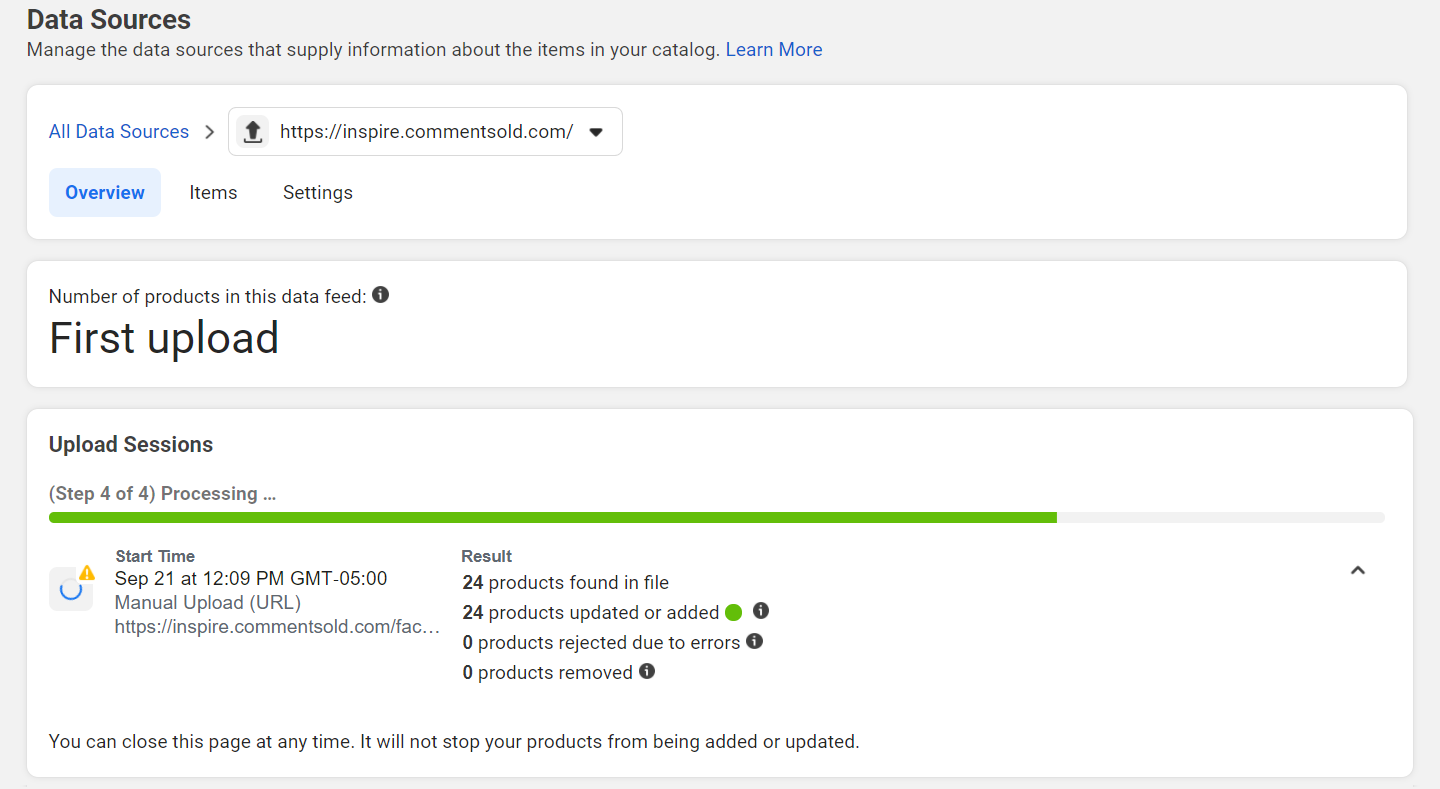 When it is complete, you will be able to connect your catalog to advertisements or use it in product tagging! See Facebook Ads with CommentSold to learn more about ads and how to run them.