An Apple Developer Account is required in order to have a mobile app on iOS devices. Learn how to create one with this article.
This article will walk you through the necessary considerations and step-by-step instructions for creating an Apple Developer Account.
This Article Covers:
Understanding Company Requirements
CommentSold is only able to work with Apple Developer accounts registered as a Company, not those registered as an Individual or Sole Proprietor. If you operate as a sole proprietorship and wish to form an LLC to register your Apple Developer account as a Company, here is a resource that can help you with that process.
Note: If you already created an Apple Developer account as an Individual/Sole Proprietor in the past, you will need to convert it to a Company/Organization account before starting the mobile app process. See our guide for Converting Your Apple Developer Account to a Company Account.
Gathering Necessary Information for Your Apple Developer Account
Once you have your LLC, you will need to gather the following information to register your Apple Developer Account under your Company:
DUNS number
Apple ID with two-factor authentication
A website
A business email address


Acquiring Your DUNS Number
A DUNS number is a unique nine-digit number that identifies business entities on a location-specific basis. Assigned and maintained by Dun & Bradstreet (D&B), the DUNS number is widely used as a standard business identifier.
In order to sign up for an Apple developer account as a Company, you must first register for a DUNS number using your Company's Legal Name (cannot be under an individual).
Acquiring a DUNs number can take anywhere from a few days to a few weeks, so we recommend that you do this as the first step in the process.

Click here to go to the Dun & Bradstreet website, where you can register for your DUNs number. If you think you may already have a DUNs number, you can also visit this site to look it up there.


Setting up Two-factor Authentication for Your Apple ID
Next, you will need to create a new Apple ID, if you do not already have one. You can do this here. If you already have an Apple ID, you can simply use it!
You will also need to have two-factor authentication enabled on your Apple ID. You can click here to read more about two-factor authentication and to get it set up.


Acquiring a Website
This is a requirement for getting an Apple developer account. Don't have a website? Oh, wait! Yes, you do! You can use your CommentSold Webstore for this! You can enable the webstore and find the URL for it under the Setup tab.

Acquiring a Business Email
A business email address is another requirement for getting an Apple developer account. Apple will not accept a Gmail, Hotmail, Yahoo, AOL, etc. email address for registration. We recommend using G Suite or Outlook.
Applying for Your Apple Developer Account
Now that you have all of the necessary pieces together, you can apply for your Apple developer account! To begin the process of creating your account, go to https://developer.apple.com/programs/
You can watch the video guide you through the next steps or read on for written instructions.

From https://developer.apple.com/programs/, click on the blue button on the top right of your screen that says "Enroll."

The next page will tell you what you need to enroll. After you've reviewed, click the button that says "Start your Enrollment."

From here, you will be required to log in to your account using your Apple ID. Once you log in, you will see the option to choose how you develop apps. You will select the "Company/Organization" option and click continue.
You must enroll as a Company/Organization for CommentSold to create and manage your app.
If you have already created an Individual account, it must be converted to a Company/Organization account before we can proceed.

When you select this option, the website will tell you all of the requirements necessary to complete the process.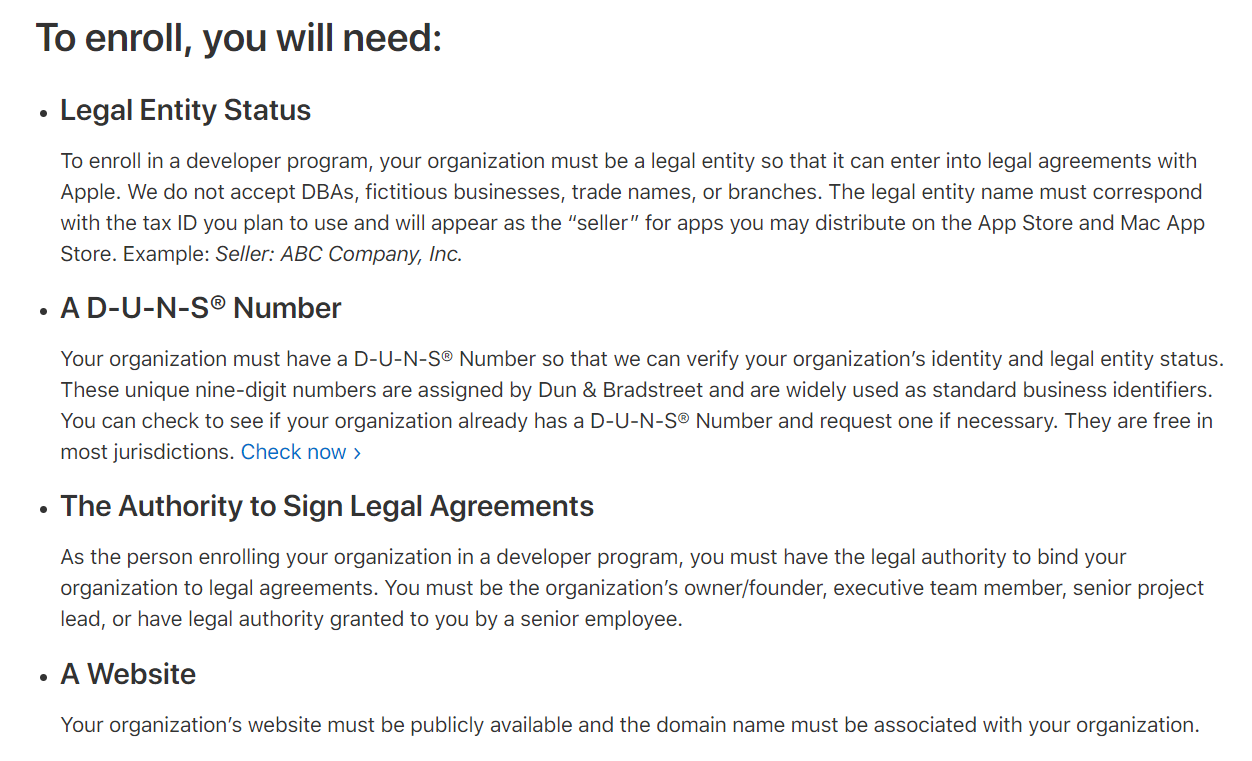 After you have reviewed this, click "Continue".
Next, you will be asked to confirm that you have the authority to sign legal agreements. This is where you will enter your business email address.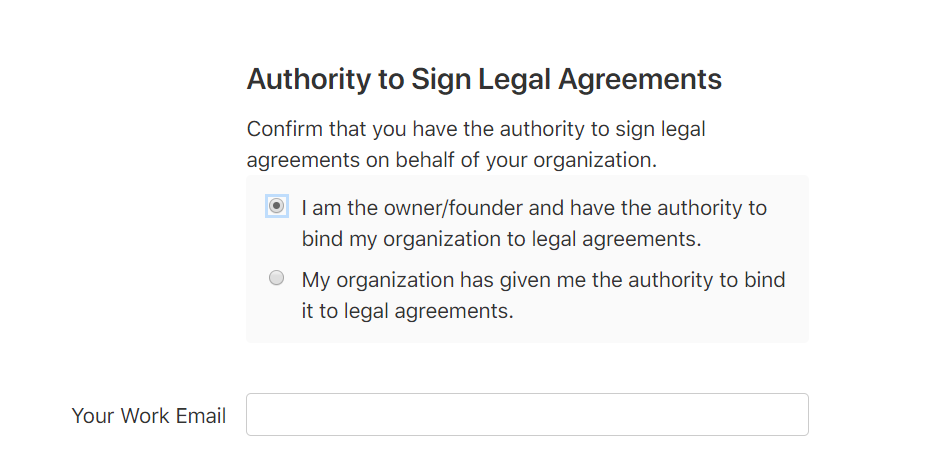 Then, you will need to fill out your organization information. It is important to make sure you reference your DUNS Number paperwork from D&B when filling this out. Your Legal Entity name must match EXACTLY what D&B has on file, or you will get an error.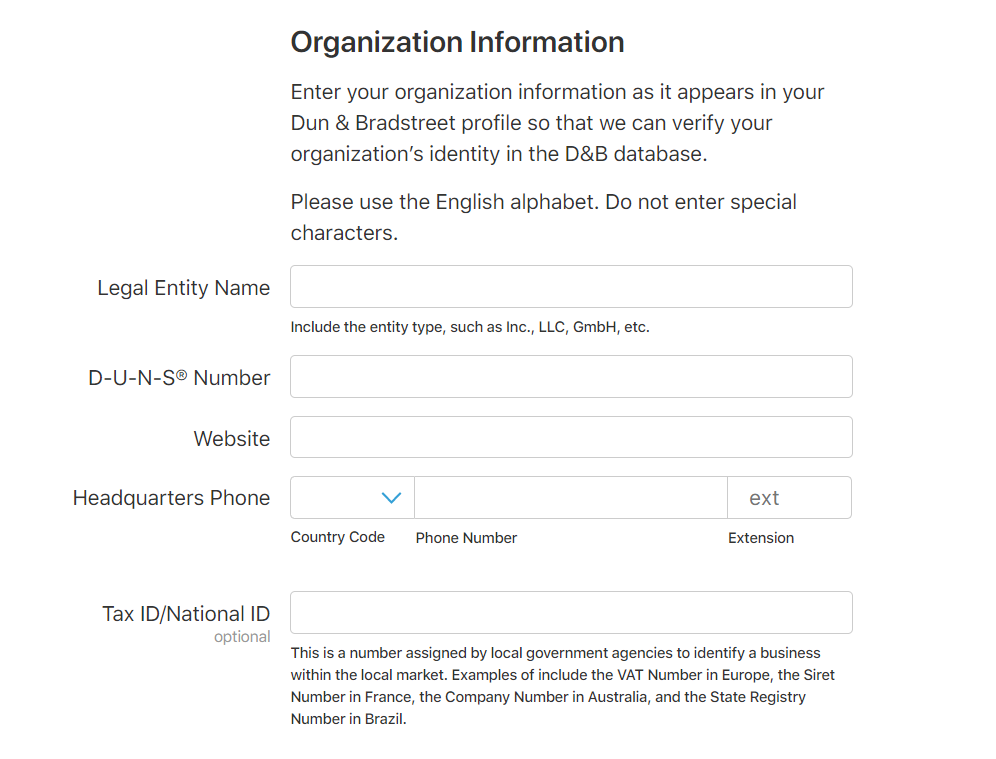 On the next page, you will see a summary of all the information you just entered. After you confirm that all of your info is correct, you can place your order.

After you place your order, you will receive an email confirmation.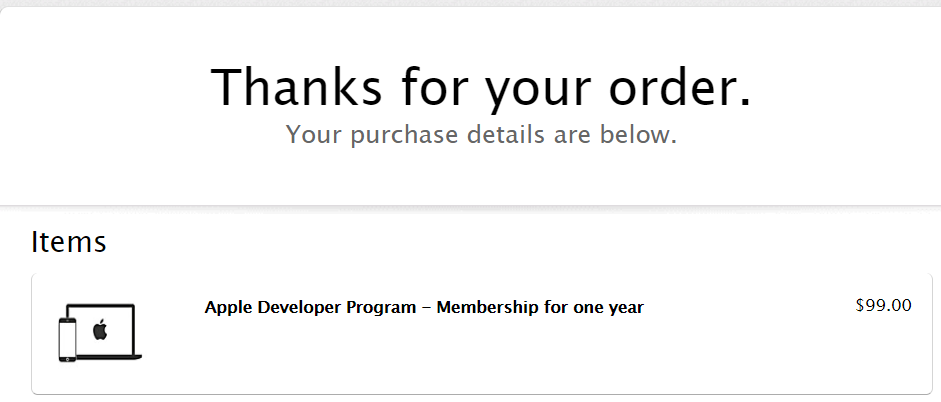 When you log in to your Apple developer account, it might still say that your enrollment is processing. That is okay! It generally takes a few hours to fully process. When the account is available for use, you may submit the information from your new Apple Developer Account to CommentSold through the Mobile App tab of your admin dashboard.