Dropship Beta is here! We're thrilled to announce the launch of our Dropship program. We're working hard to improve this experience and are adding exciting new suppliers weekly. We ask for your patience and feedback as this program continues to evolve.
Ready to offer your shoppers new and exciting products using our dropship program? Read on to learn how to order your product samples!
With CommentSold Dropship, you can partner with nationally-recognized brands to offer your shoppers new and existing products. You will need to request samples for the products you wish to feature and sell in your live sales and shoppable social posts.
When you request a product sample, the following happens:
CommentSold will copy the product details, images, and information into a new product record on your Products page.
You'll be given a specific amount of inventory units (e.g., 30 scarves, 12 candles, 40 t-shirts, etc.) to sell, also known as your allocation quantity.
Your allocation window will begin. This is the 3-week window where you can sell the product in live sales and shoppable social posts.
What happens to the unsold allocation? After your allocation window ends, any unsold allocation will go back to the supplier.
Order a Product Sample
---
You can request samples you wish to feature in your live sales and social posts. At this time, you will need to pay for these samples.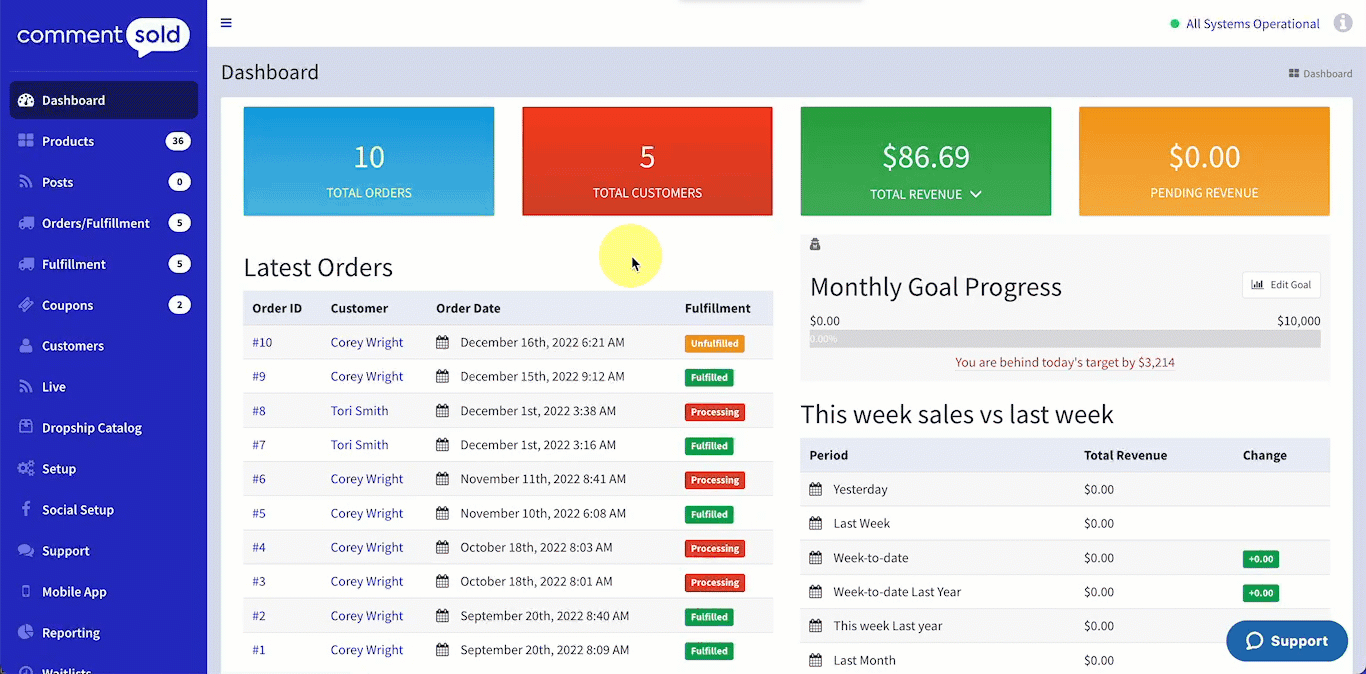 Select Dropship Catalog in the side menu of your CommentSold dashboard.
Hover over a product you wish to sell and select View.
In the Select Your Samples section on the right side of the product details page, select + Add Sample.

If the product has variants available (e.g., size and color), retailers will need to add the specific variants they wish to receive to their cart.
You can request multiple variants in your sample. Select Add Another Sample to do so.

Select Add Samples to My Cart

To remove a sample, select the X to the far right of the sample box.

A summary of your shopping cart will appear on the right side of the page. Close out of the summary to continue adding samples, or select Complete Order to submit your sample request.

To remove a sample from your shopping cart, select the trashcan icon on the far right of the sample product row.

Confirm your contact information and select Continue to Shipping.
Review and confirm your shipping details and select Continue to Payment.
Select your desired payment method, then select Pay Now.
Once you submit a product sample request, CommentSold adds the products included in the request to your inventory. Products remain unpublished until you publish them to your webstore.
How do returns work with dropshipping?
Return policies for both sample
and
customer purchases will vary by supplier. Please chat with our CommentSold Support Team if you have questions about the return policy for a specific supplier. Select the blue
Support
icon in the bottom-right corner for your
CommentSold dashboard
to start a chat.
Learn More
---