Interested in selling on TikTok?
TikTok is a unique live selling opportunity that is unlike other social media platforms. If you haven't already, we
highly recommend
you
read this article
, where we outline some of the requirements and characteristics of selling on TikTok.
Have a product you wish to remove from TikTok or prevent from syncing? Read on to learn how!
Tik Tok
After your initial TikTok product sync, all newly created products will automatically sync to TikTok if they have all the required information.
If you wish to exclude a product from TikTok, you can indicate so on the product record. You can also choose to exclude products you have already synced to TikTok. If previously synced, selecting the Exclude from TikTok checkbox will deactivate the product in TikTok. This allows you to retain the history and analytics associated with the product but will not make the product available for purchase.
Will the product still exist in the TikTok Seller Center? You will not lose the product information or historical data in the TikTok Seller Center. Customers will still see the number of products purchased and links to tagged posts will remain in place. Should you choose to later reactivate/re-sync that product in TikTok, it will not create a duplicate listing in CommentSold and TikTok.
Exclude a Product From TikTok
---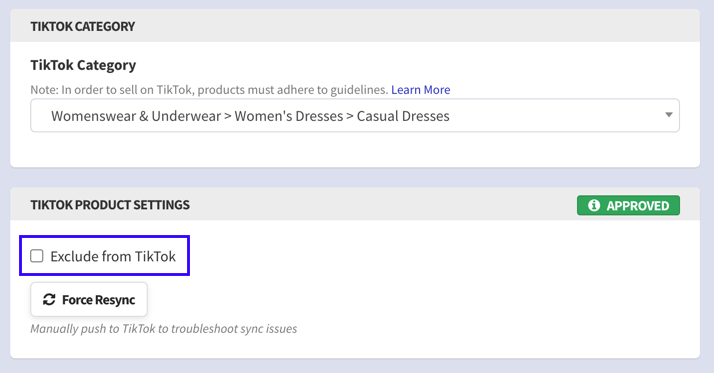 Select Products in the side menu of your CommentSold dashboard.
Locate the product you wish to sync and select the Product Name.
Scroll and locate the TikTok Product Settings section in the bottom-left corner of the Edit Product page.
Select the Exclude from TikTok checkbox.
Once selected, you should see a blue Excluded banner in the top-right corner of the section.

Learn More
---