Interested in selling on TikTok?
TikTok is a unique live selling opportunity that is unlike other social media platforms. If you haven't already, we
highly recommend
you
read this article
where we outline some of the requirements and characteristics of selling on TikTok.
Eager to sell beauty, personal care, and/or packaged foods on TikTok? You'll need to upload the required documentation to ensure approval from TikTok!
Tik Tok
TikTok requires that business upload documentation for products belonging to restricted categories within TikTok.
These product categories include:
Beauty and personal care
Packaged food and beverage
Pet food
Electronics
The restricted product categories listed below are still "invite-only." This means shops must receive permission from TikTok to sell products in these categories:
Diamonds, gems, and precious stones/metals
Children's products
"Surprise" products (e.g., mystery boxes, surprise trading card packs, etc.)
Need more information?
TikTok maintains and regularly updates product guidelines to ensure that products sold to TikTok viewers meet US legislative and regulatory requirements for product safety and labeling. You can learn more about TikTok Restricted and Unsupported Product guidelines
here
.
Required Documentation
---
The two most popular product categories that require documentation are beauty/personal care and packaged food and beverage. We list the required documentation below. You can find requirements for additional product categories here.
Product Category
Example Products
Required Documentation
Beauty and personal care



Skincare and lotions
Cosmetic products

Copy of the complete product packaging and label

Beauty and personal care products with drugs/medicinal claims

Sunscreens
Anti-dandruff shampoo
Anticavity toothpaste such as "fluoride" toothpaste
Sun-tanning preparations intended to protect against sunburn
Antiperspirant deodorants

Proof of pre-market approval by the FDA or a copy of the relevant FDA monograph, if applicable
Copy of the drug facts label printed on the package

Packaged food and beverage

Beverages (non-alcoholic), biscuits, snacks, crisps, chocolate, sweets, dry baking ingredients, pasta, noodles, jam, honey, spreads, oils, vinegar, salad dressings, cereal, muesli, and nutritional supplements

Proof of a valid FDA registration
Complete set of images of the product's packaging and labeling, including any information provided on the package
Upload Required Product Documentation
---
You will upload documentation on the Edit Media page of a product record. This is the page where you upload images of your product when you are adding a product to CommentSold.
You can upload the following file types: .PNG, .JPG, .JPEG, and .PDF. Products must have at least one (1) image or PDF displaying the requested information. You can upload multiple files, if needed, to account for the required information.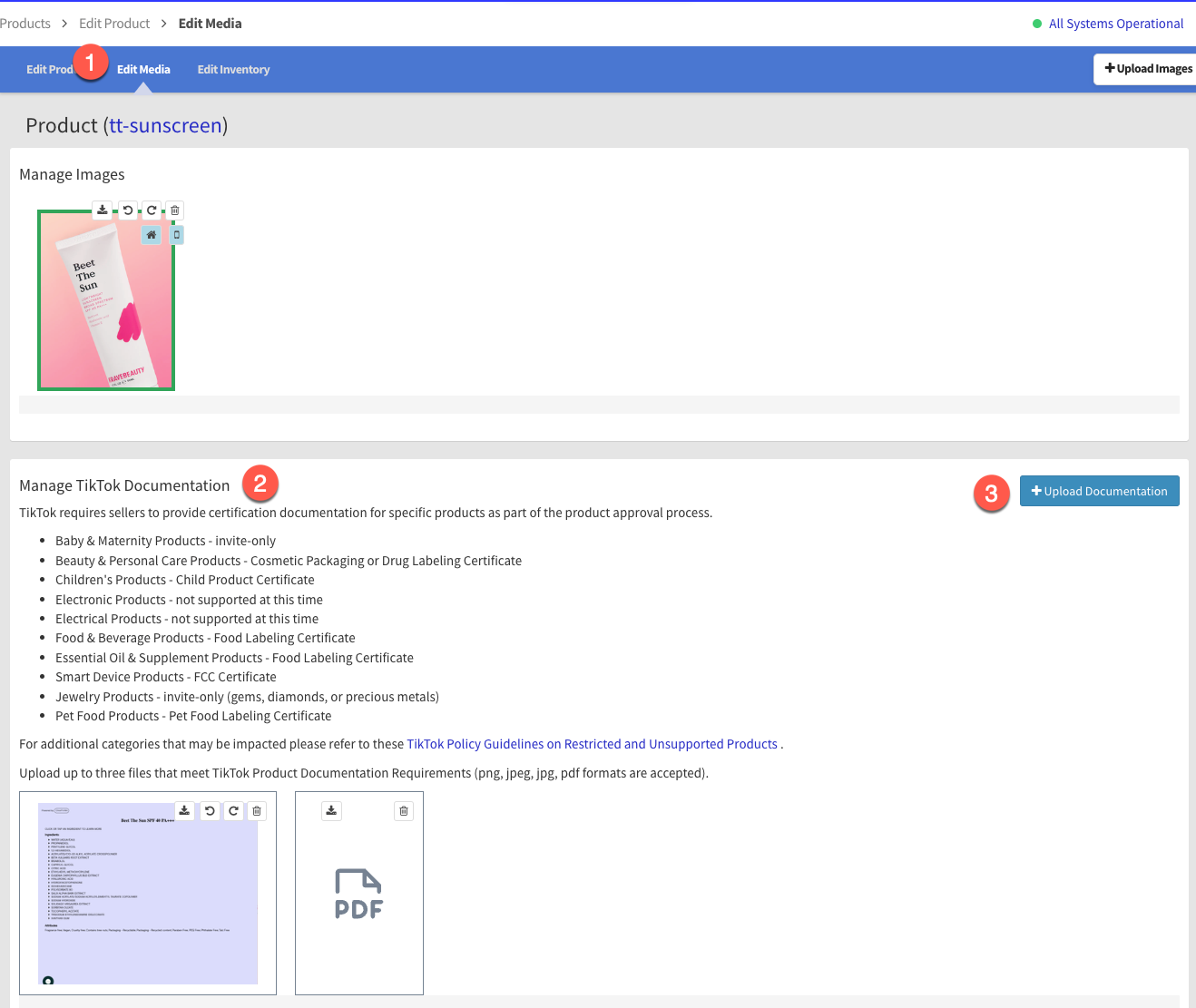 Navigate to the Edit Media tab of the product record.
Locate the Manage TikTok Documentation section and select Upload Documentation on the right side of the page.
Choose the file(s) you wish to upload from your device.

Accepted file types are .PNG, .JPG, .JPEG, and .PDF

Complete the remainder of the product.
Once uploaded, the documentation will appear at the bottom of the page. You can use the icons in the top-right corner of the image tile to manage the file. Options include Download and Delete.
Learn More
---