The first step to setting up your CommentSold account is completing the section for shop information.
To begin, click on the Setup tab of your CommentSold dashboard. You will be taken to the Shop section. Under My Shop, you will see that your Shop URL has been populated with the URL you selected during sign-up. This URL is where your customers are directed to register for an account with your shop and, after registration, directed to their account page, where they can view and pay for items in their shopping cart.

Next, you will want to set your Shop Name. This should be the full name of your business, as you would like it displayed to your shoppers.
CommentSold offers a webstore to allow your shoppers the option to purchase from a website in addition to shopping on social media and your mobile app. If you would like to host your webstore with CommentSold, you can click to Enable Webstore here.
If you do enable the webstore, you will see a new option called Webstore Visible on Home Page. If enabled, your shop URL will take visitors to your webstore rather than to the account page to register and checkout. We recommend you leave the webstore disabled until you fully set up your CommentSold account.
Next, select the Timezone in which your shop is located. Be aware that the timezone will dictate sales scheduling and other time-sensitive features.
For Shop Description, enter a short, 1-2 sentence description of your store. This will appear to your customers on your shop URL, so choose something that is representative of your brand!
Next up is your Shipping Address. Every field in this section is required. If you would like your shop's name to be listed as the sender on your shipping labels, you will need to enter it in the From Name as well as the Company Name field.
The last setting in the My Shop section is Checkout Notification Banner. Any text you enter here will appear to shoppers on their account page. This section can be used to announce shipping delays, or any other information your shoppers should know prior to checking out.
The next section is for your Selling Preferences.
If you would like your customers to be able to leave you notes during the checkout process, enable Order Notes.
If you want email notifications sent to you or specific team members when a product is low in stock, enable Low Stock Notifications. You will be able to edit the low stock limit and notification recipient on individual product pages. If you want to receive notifications when each variant of a product is low in stock, enable Low Stock Per Variant.

The next setting is for First Paid First Served. When enabled, carted items will not be reserved for a customer. The first customer to pay for an item will receive it. We recommend leaving this disabled until you're a bit further into the setup process.
Enabling Same Product Description will default the box to use the same description for the online store and app to checked when adding new products.
If you would like to offer gift cards in your shop, enable Gift Cards. You will be able to create the specific denominations of gift cards you would like to offer later.
Next is the Sold Keyword. While shoppers can always comment "sold" to purchase from a live stream or social post, you can also create a second word that can be used to make purchases. Keep in mind that using a word that is too generic may cause issues if a customer uses the word in a comment unintentionally.
With Highlight VIP Customers enabled, your top customers will be easy to recognize during your live sales. Customers who met the spend level entered here in the last 30 days will have a VIP label on their comments in your Live Overview. This will make it easy for you to see when they are engaging with your live sales and give them a special shout out!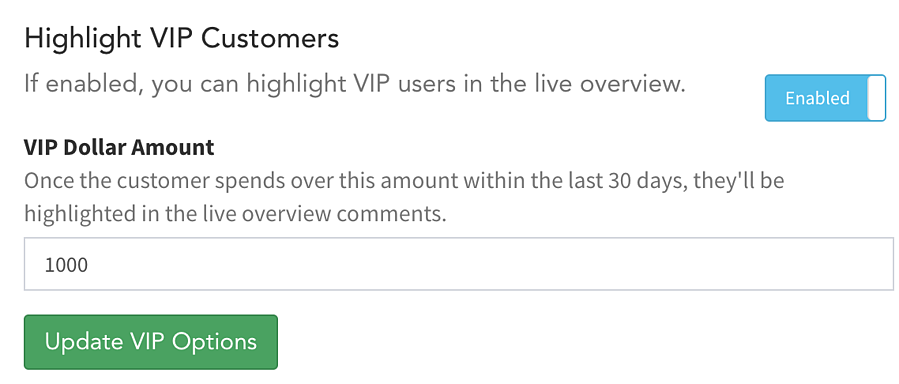 The Live Viewer Multiplier is an optional setting that can increase the number of total viewers that show in your live sale overlay. Total viewers refers to all viewers between your social media and your mobile app. CommentSold's tests have shown that displaying higher viewer counts (even when the actual number of viewers is smaller) is associated with stronger performance from live sales. If you do not want to use the Live Viewer Multiplier, keep it set to "1."
Note: The Live Viewer Multiplier setting will not change the Facebook viewer count, only the Total Viewers shown on your live sale overlay. This setting does not affect the actual number of viewers watching your live sale.
Next, you can enable a Loyalty Program with a single click! The CommentSold loyalty program allows your shoppers to earn a percent of each purchase back as account credit. You can set this percentage here.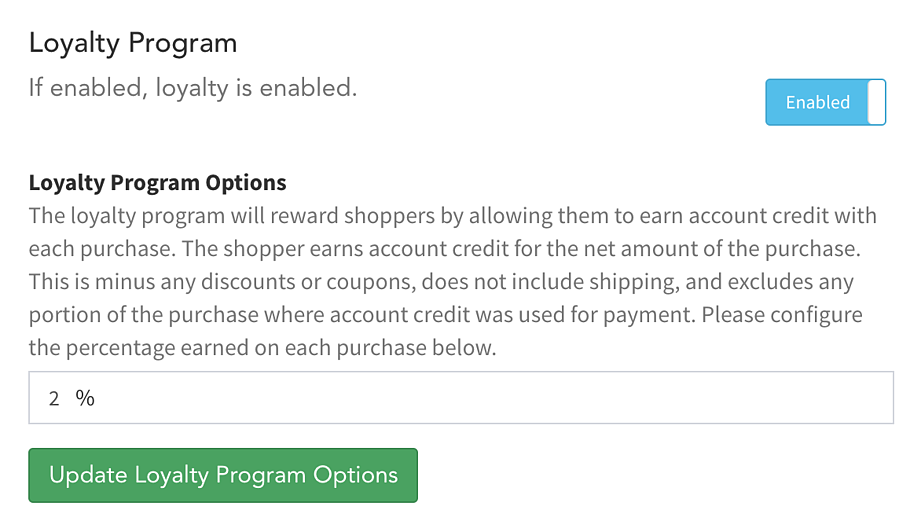 The next section is for Secondary Offer. Secondary Offer is an upsell feature designed to increase Average Order Value and improve inventory sell-through. If enabled, this feature will offer an additional product to shoppers post checkout. If you would like, you can offer this item at a discount, which you would set here.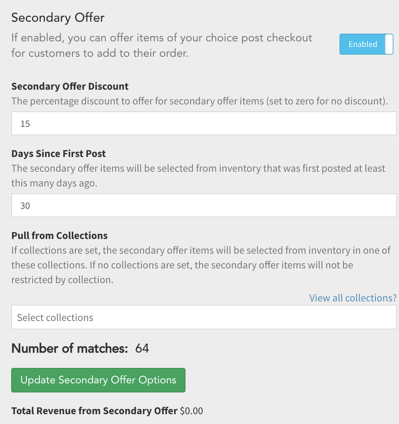 The Days Since First Post setting allows you to only offer inventory that was first posted at least a certain number of days ago. If you would like to offer items only from specific collections, you can choose those here. If you do not select collections, the Secondary Offer could be items from any collection. Number of matches will show you how many items in your inventory fall within the settings you have entered.


Once you've entered these basic settings for Secondary Offer, CommentSold will do the rest! We'll make sure shoppers are presented with items they have never before purchased, that are not currently in their cart, and that are in a size they have previously ordered (or are one size). You'll be able to view revenue generated from secondary offers in this section!
The next setting, Automatic Product Videos from Live Sales, will auto-generate product videos from snippets of your live sales if enabled. These videos are syndicated to product pages in your mobile app and webstore. You can learn more about this here.


Next, let's look at the toggles in the Account Page section. If Product List is enabled, shoppers will be able to view and purchase items from their account page. You can Hide Sold Out Products from this product list.
If Comment Charge is enabled, customers can opt in to comment charge from their account page. This will allow you to automatically charge customers for purchases when they comment "sold" (or your custom Sold Keyword!). Currently, this feature only works with Stripe as the payment gateway.
If you'd like your shoppers to be required to have a phone number on their account in order to check out, you can enable Require Phone Number. Please note that this setting is not yet available on mobile app.
There's just one more section to complete, for Shopping Cart settings. Clicking "Edit" on the Shopping Cart Expiration will allow you to select an Expiration Preference. You can choose to expire items after they have been in carts for a certain amount of time, or on a weekly schedule. Cart timers are a good way to create a sense of urgency around purchase! If desired, you can exclude items currently in shoppers' carts from expiring when you change this setting.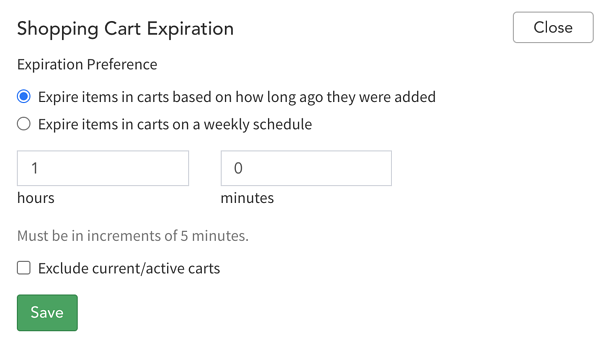 Perhaps you want to expire all shopping carts on a specific date and time. You can do this with the "One-time special cart expiration" setting. After this date passes, the setting you selected for your Expiration Preference will be reinstated. When the One-time special cart expiration is enabled, you will see text in the Shopping Cart Expiration section reminding you that normal settings are currently overridden.
If Night-time Expire is enabled, shopping carts will expire around the clock. If disabled, carts will not expire between 11 P.M. and 7 A.M. central time. Any cart that would have expired during this time will automatically expire at 7 A.M. central time.
Update Quantity allows your shoppers to increase or decrease the quantity of each item in their cart, regardless of how many they claimed.
The Waitlist Variant Limit sets a maximum number of a variant--meaning a size and color combination--that a customer can add to their waitlist. If a 0 is entered here, this will prevent shoppers from adding anything to their waitlists.
Click on "Edit" next to Allow Cart Removal to view the options for this setting. You can enable or disable this setting for the Account Page, Online Store, and Mobile App. Shoppers will be able to remove items from their cart anywhere this is enabled. If disabled for any of the cart locations, shoppers will have to contact you for an item to be removed. We recommend you enable this setting for each location.
Next up is Waitlist Authorization. This section will only display if you have Stripe set up as a payment gateway, as the features are only available with Stripe. If an item is authorized, an order will automatically be created when the item is back in stock. Allow Store Credit on Waitlist Authorizations can be enabled to apply a shopper's account credit to their waitlist authorizations. If disabled, account credit will not be used toward these orders.
Waitlist Preauth Expiration allows you to set the number of days for which a waitlist item will remain preauthorized for purchase. After the number of days set, an item will remain on a customer's waitlist when back in inventory but an order will not be created.
If you'd like to use separate expiration timer for items added to cart from a shopper's waitlists, you can do that next. This will give customers who are not actively shopping more time to receive checkout reminders and claim the waitlisted item.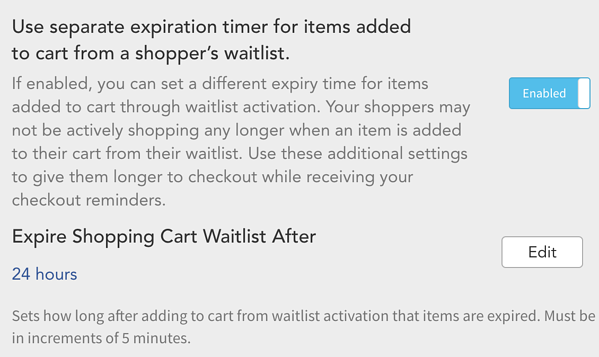 The final setting is for reminder emails. Checkout reminders will be emailed to shoppers at the frequency you enter for Send Reminder Email (To Checkout) Every # Hours.
And that's it for your Shop info!