Click on any of the images or GIFs in this article for a closer look.
What happens when a purchased label doesn't cover the cost of shipping the package? You'll be charged a shipping adjustment. Read on to learn more.
Orders shipped through CommentSold using USPS are periodically weighed and measured by USPS. If a package has insufficient postage, then USPS will charge your shop the difference via CommentSold. We call these charges shipping adjustments.
Note: Shipping adjustments are fees directly owed to USPS for incorrect postage. This is not an additional fee, and CommentSold does not make any profit from the adjustment process.
View Your Shipping Adjustments
---
If you have any pending shipping adjustments, you'll see a banner at the top of your CommentSold dashboard.

You can select Review Shipping Adjustments to jump to your Shipping Adjustment page or follow the below steps.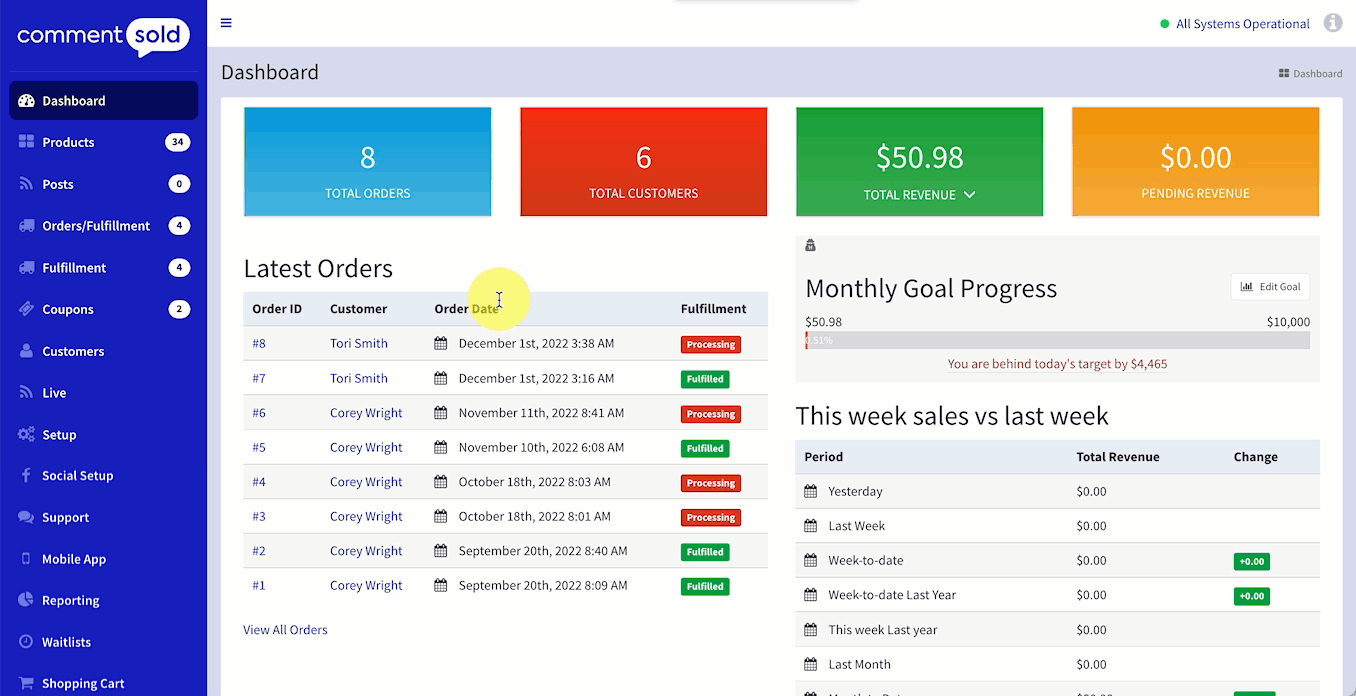 Select Setup in the side menu of your CommentSold dashboard.
Select Shipping from the options listed at the top of the page.
Select Adjustments from the Shipping submenu.
Examine Your Shipping Adjustments
---
You can examine detailed information regarding shipping adjustments in your Shipping Adjustments table.
If you wish to apply a filter, such as viewing only processed adjustments or adjustments incurred during a specific date range, select Filters in the top-right corner of the table.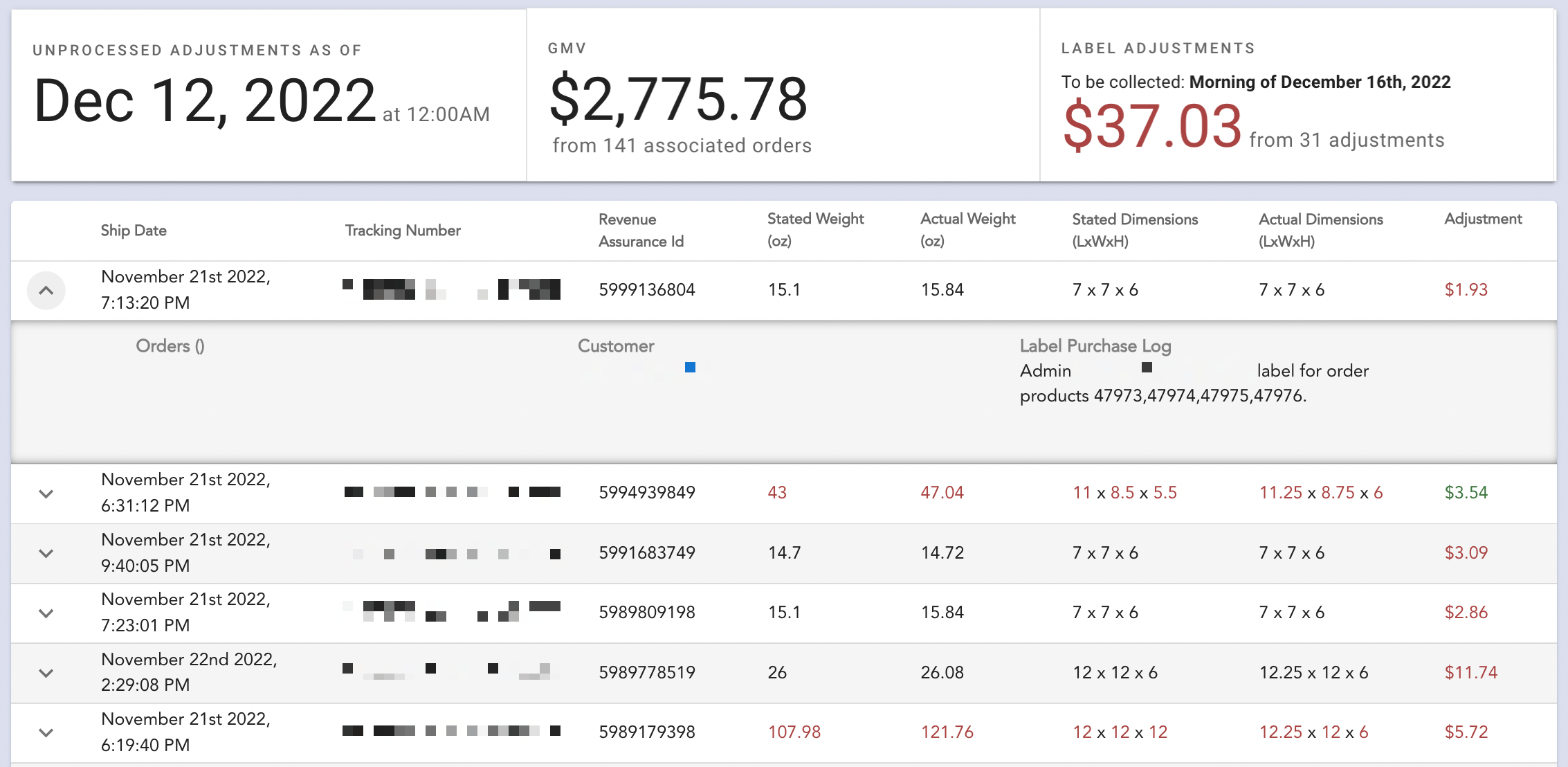 Below is a list of all the boxes and columns on your Shipping Adjustments table.
Unprocessed Adjustments As Of. Displays the time frame of the unprocessed shipping adjustments.
GMV. Displays the Gross Merchandise Value (GMV) of the orders associated with the current adjustments.
Label Adjustments. Displays the total amount to be debited or credited for the listed adjustments. CommentSold will charge your card on file. Cards will be charged on Fridays if a balance is due and no prepaid shipping credit is available.
Ship Date. Displays the ship date for the package.
Tracking Number. Displays the tracking number assigned to the label that had its postage adjusted by USPS.
Stated Weight. Displays the package weight you or your team entered in CommentSold.
Actual Weight. Displays the reported package weight after official inspection by USPS.
Stated Dimensions. Displays the package dimensions you or your team entered in CommentSold.
Actual Dimensions. Displays the reported package dimensions after official inspection by USPS.
Adjustment. Displays the amount you owe or are owed after an official USPS inspection of the package. Amounts in

RED

represent a balance you owe, and amounts in

GREEN

represent a credit CommentSold will apply to your shipping credit balance.
You can expand a specific adjustment by selecting the drop-down arrow to the left of the Ship Date. This reveals additional information:
Customer. Displays the name of the customer who is due to receive the package. Customer names appear hyperlinked, allowing you to navigate to the customer record quickly.
Label Purchase Log. Displays the name of the team member who purchased the label and the products included in the order.
Got Questions? We've Got Answers!
---
Will I be charged for shipping adjustments?

You can be charged (or credited) shipping adjustments if you purchase shipping labels directly through CommentSold. If you use ShipStation, Shippo, or send orders back to Shopify, you will see adjustments from CommentSold.

How do I pay adjustment charges?

CommentSold will automatically charge any shipping adjustments to the card you have on file on Fridays. This charge will appear as CommentSold Shipping-Adjustment on your credit card statement. Currently, there is no way to charge a different card than the one on file with CommentSold.

What if the card on file is declined?

If a payment method fails, that week's adjustment charges will roll forward to the following week.

What if I'm owed a refund?

If there is a refund from the post office due for an overpaid label, that amount will be added to your shipping credit balance on Fridays.

I'm on commercial shipping and don't usually need dimensions, but I see that measurements have been added in the "Actual Dimensions" column. Should I have entered dimensions?

Packages in boxes over 1728 cubic inches (Length x Width x Height) will qualify for Dimensional Weight Pricing and will need dimensions entered. If your package was smaller than that and you still see dimensions added, this does not necessarily mean that measurements were necessary, only that USPS entered them.
Poly mailers may also need dimensions on certain occasions. For example, a poly mailer's length and width cannot exceed 36 inches in total. The largest dimension (length or width) cannot exceed 18 inches. Any poly mailers that are larger than this will need measurements entered to purchase the correct label.
The USPS Dimensional Weight (DIM weight) formula is (Length x Width x Height)/166. You will be charged for whichever is higher—the DIM weight or the actual weight of the package.

How do I make these adjustments as low as possible?

It will be next to impossible to eliminate all adjustment charges. Follow these recommendations to help keep these charges as infrequent as possible:

Make sure you are weighing everything correctly. We recommend you weigh each size of an item for maximum accuracy.
Add package dimensions for a box larger than 1728 cubic inches (LxWxH).
Add dimensions for poly mailers when the sum of the length and width exceeds 36 inches, or when the largest dimension is more than 18 inches.
If you use poly mailers for everything, select the "Is Poly Mailer?" checkbox on your Package Preferences page to enable this option as default, then enter a "0" for each dimension.
Learn More
---