Build customizable content pages with our easy-to-use content widgets like product grids, slideshows, headers, and more.
With Site Creator, you can customize every page on your website using widgets such as Text Editor, Product Grid, and Live Replays. Create unique content that educates and engages your shoppers while simultaneously building your brand and driving conversions.
Add a New Content Page
---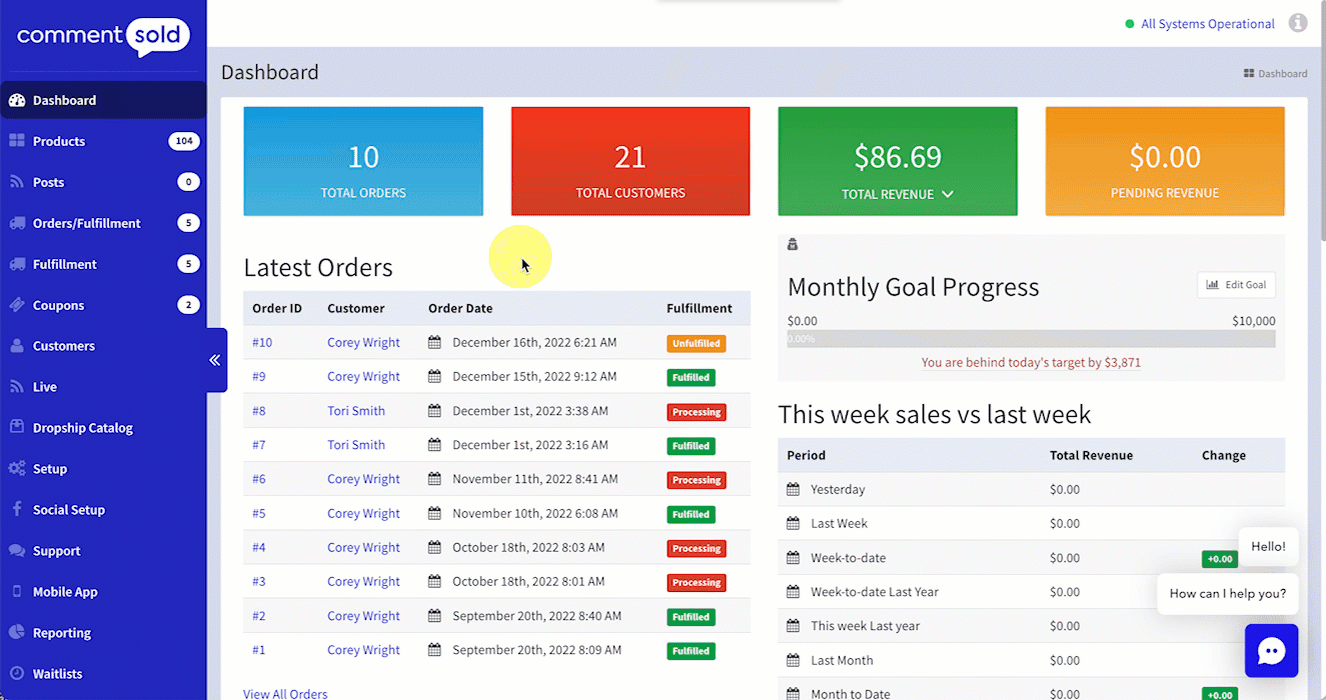 Select Site Creator in the side menu of your CommentSold dashboard.
Select Pages at the top of your Site Creator.
Select + Add New Page in the bottom-left corner of the Site Creator.
Enter page details in the requested fields. Expand each section to view fields.

Basic Settings

Page Title. Enter the title of the page, such as New Arrivals or About Us.
Page URL. CommentSold will automatically populate a URL based on your Page Title but you can make adjustments if desired. Instead of spaces, use dashes (e.g., about-us, sizing-information, etc.).

SEO

Title Tag. Enter a descriptive title for the page. Keep your titles below 70 characters.
META Description. Tell people why they should click on your page in the search results. Make your descriptions human-friendly and keep them in the 50-300 characters range. Include descriptive keywords such as women's fashion or spring sandals so users know your content is relevant to their search query.

Advanced Settings

Page Header. Enter JavaScript code for any page-specific elements you wish to add. Only team members with All Permissions access can access this field.
Page Body. Enter JavaScript code for any page-specific elements you wish to add to the body of the page. Only team members with All Permissions access can access this field.

Select Design Page at the bottom of the Add New Page flyout.
Design a Content Page
---
Once you've entered the initial page details, you can begin adding content widgets. These widgets give structure to your page and allow you to customize how your content appears to shoppers.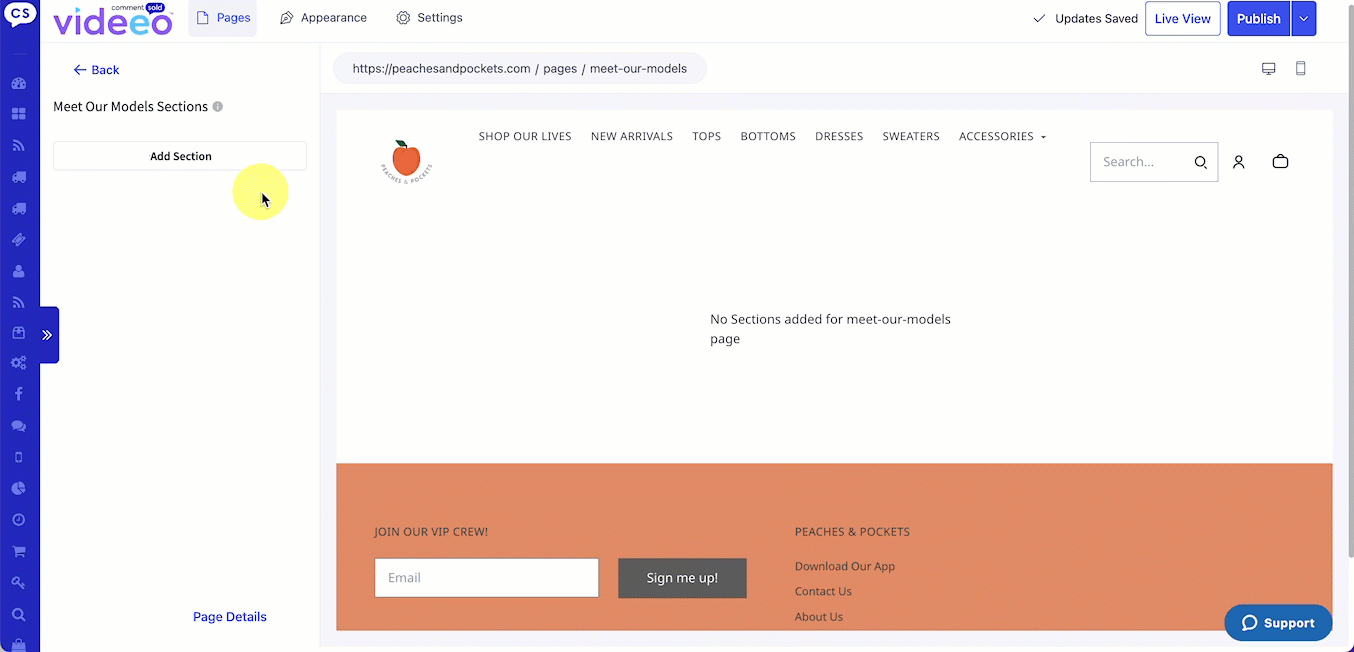 Select Add Section in the side menu to choose a content widget.
To adjust the order that content appears on the page, select the grid icon to the left of the content widget name and drag the widget to the desired location.
To edit a content widget, select the pencil icon on the right side of the widget row.
To delete a content widget, select the trashcan icon on the right side of the widget row.
To edit initial page details, such as SEO title and description, select Page Details

at the bottom of the side menu.
Explore Content Widgets
---
Site Creator offers 8 customizable content widgets. You can add as many widgets as needed for a page and can have multiple of the same content widgets (e.g., featured collection, image with text, etc.).
Image with Text
Upload a branded image or product photo, add a customized message, and insert a linked button that will direct shoppers to a collection, page, or external site (i.e., a social media account).
Content Section

Design content sections using a text editor identical to word processing programs like Word and Google Docs.

Insert links, images, and even HTML code to customize the look and feel of these blocks.

Product Grid
Control how products display on a page by specifying how many products to show per page, how many columns to show in a grid, and how the product thumbnail appears.
Advanced Slideshow
Create engaging slideshows full-width image and video panels in an order you specify. Use the different panels to feature your app, a sale, a new collection, social accounts, and more.
Slideshow
Feature full-width image panels in a specific order. Use the different panels to feature your app, a sale, a new collection, social accounts, and more.
Promotional Block
Feature branded images that link to specific collections, website pages, or external links (i.e., your social accounts or app download pages).
Live Replays Carousel
Give shoppers a way to access your live sales long after they've ended. Shoppers can browse and shop through the video replay, just as they would if they were viewing the live sale while it was actively streaming.
Header Block
Add a block of text to your page and make content easier for shoppers (and search engines like Google) to read.
Example Content Pages
---
Content widgets for every page opens up countless possibilities when it comes to the types of pages you can create. Below are two popular examples.
Content widgets let you customize collection pages in a way that helps generate more sales. In fact, any page can now showcase a collection. You simply need to add the Featured Collection or Product Grid widget to a page and specify which collection to showcase.
For collection-specific pages, you can add a Content Block that not only hypes up the collection but is also optimized for SEO (that's Search Engine Optimization)!
Include keywords that describe the types of products featured in the collection and search engines like Google will be able to read that content and offer up the collection in relevant searches. You can also link custom collection pages in paid search and targeted social ads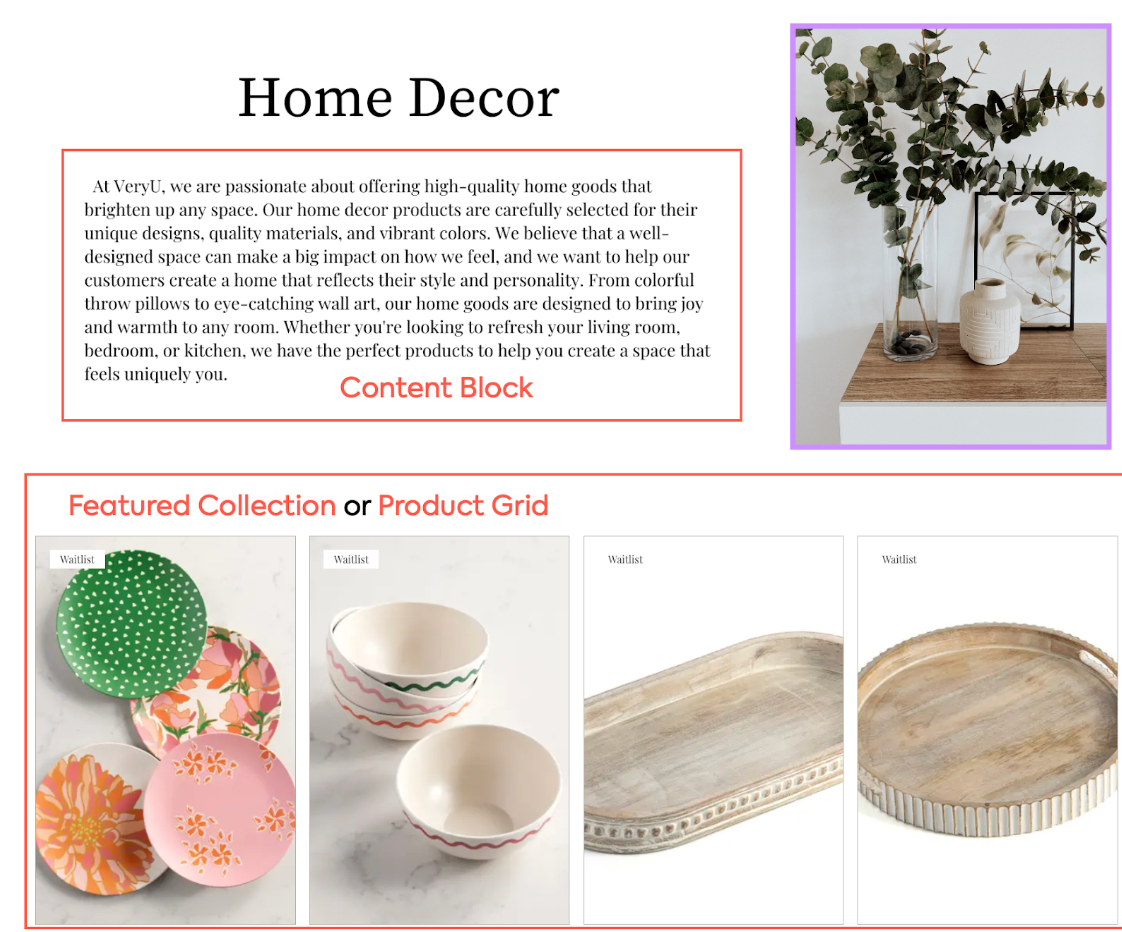 Customizable blog pages offer limitless possibilities for you to be creative and differentiate your website from other retailers. Here are some examples:
Size inclusive? Highlight your models and their measurements so shoppers can identify which fit might most reflect their body type. Include sizing charts of your most popular brands.
Charitable mission? Create a story page to share your mission and vision and inspire your customers.
Pop-up queen? Create an events page so shoppers can track where you've been (and where you'll be!)
New collection? Write a blog about why you chose to offer these new products and why you're excited for shoppers to try them out. Throw a Product Grid or Featured Collection at the bottom so shoppers can jump to the products.