Offering mystery items is a fun way to move old inventory while giving customers a good deal.
No matter how effectively you plan your inventory buying, it's likely that you'll have a few hard to move products taking up warehouse space from time to time. Take advantage of the mystery item trend to sell these products through CommentSold!
With mystery items, customers will not know what products they will receive until they unbox them at home. Shoppers love the thrill of opening a surprise item!
To create a mystery item, visit the Products tab in your CommentSold dashboard and click "Add mystery item product" at the top right of the screen.

On the next page, you'll be asked to fill out the General Info and SKU for your mystery item, just as you would when entering a new product in CommentSold.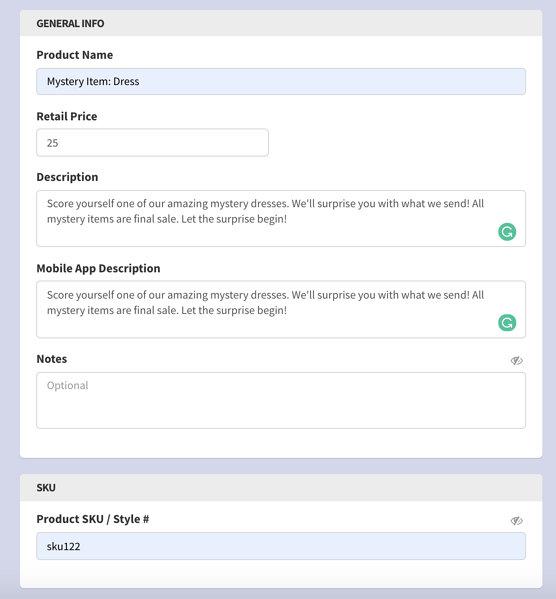 Next, you'll fill out the Mystery Item Selection Criteria. Here you will enter what sizes you will offer your mystery item in (if applicable). The values you enter here are not case-sensitive. For example, if you enter "Small" as the size for mystery items, CommentSold will flag any products in a size "small" or "S" as well.
Now set the Inventory Days Restriction. This number will tell CommentSold how many days ago an item must have first been posted for sale to qualify as a mystery item. The default setting here is 30 days but this can be changed.


Next, you may enter set a Max Price (optional). Any mystery items will be selected from products with a price point below what you enter here. If you leave this field blank, there will be no limit to the price of products offered as mystery items.
You can also enter a Min Price. Any mystery items will be selected from products that are priced at least as much as what you enter here. This prevents you from selling a mystery item that isn't a good deal for your customer. If you leave this field blank, there will be no minimum price for products offered as mystery items.
Setting a Max Cost (optional) will select products at or above the cost that you enter. This prevents you from offering a mystery item that is well below the wholesale amount you paid for it.
Next, you can select a specific Collection (or Collections) for CommentSold to choose mystery items from. If you leave this selection blank, the mystery item can be chosen from any of your collections.
By default, CommentSold matches customers to mystery items they've never purchased before. Check the checkbox next Ignore customer history? if you want to bypass this rule. This will option will allow customers to be matched with a product they have purchased before if there are no other applicable mystery options.
Once you have entered all of the Mystery Item Selection Criteria, you will see how many items in your inventory qualify.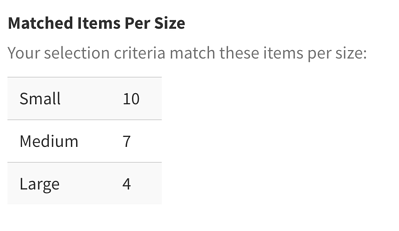 There are a few extra options remaining at this point. All are optional.
If you have Automatic Product Videos from Live Sales enabled, you can check the box to Exclude this product from Automatic Product Videos.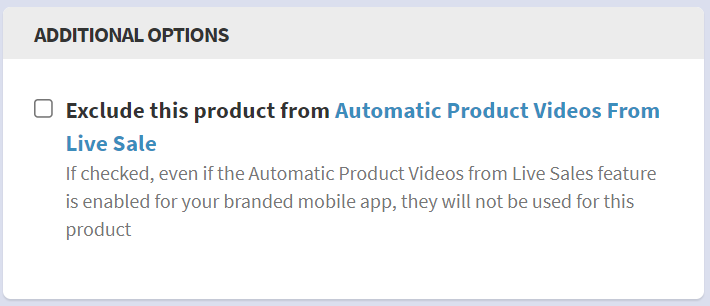 Next, you can add your mystery Item to one of your existing Collections. If you do not want to do this, leave the field blank.

Under Online Store, you can choose whether or not to publish the mystery item to your Webstore.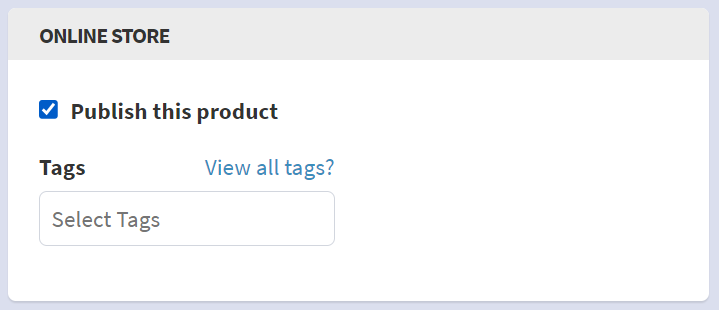 If you have a mobile app, include text for the mobile push notification that will be sent when your item is published to the app.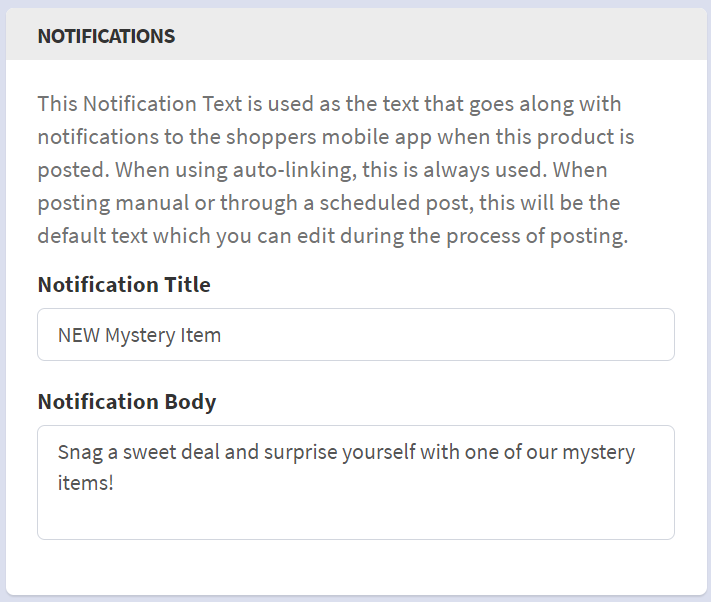 When you're finished, click Add Product from the top of the screen. This will take you to the Edit Inventory page.
When entering quantity on the Edit Inventory page, you can set the numbers as high as you would like. If there are no qualifying items in a customer's size, the system will show the mystery item as sold out in their size.
When you have finished entering product details, you are ready to begin selling your mystery items! Mystery items can be sold in the same way as any other product on CommentSold. Post to your social media, mobile app, and/or webstore and hype them on live sales to encourage purchasing!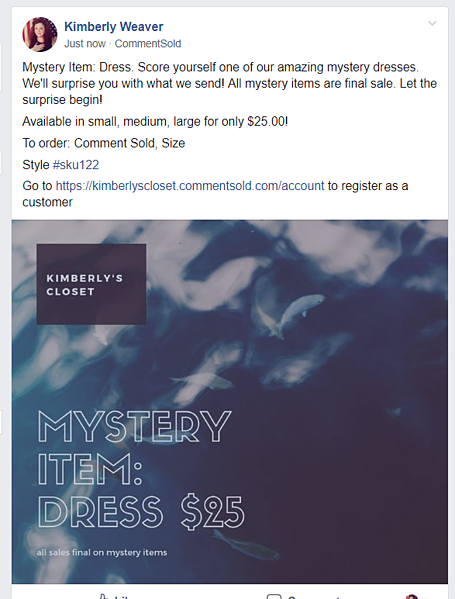 When a customer purchases a mystery item, CommentSold will automatically find the oldest item that matches your rules, verify that the customer has not purchased it in the past (unless disabled), and add the mystery item to their cart! The image will be the one you uploaded when creating the mystery product in order to keep the surprise until their package arrives!
If your customer tries to order a mystery item and there is no match (e.g. the size is already sold out), CommentSold will inform your customer that the order couldn't be created.
Ready to move old inventory? Create your first mystery item in minutes and get to clearing out those shelves!