Waitlist authorization is a win-win for both shop and customers!
Waitlists are undoubtedly one of CommentSold's most impactful features. Waitlist authorization steps it up a notch by allowing customers to authorize the payments for waitlisted items to process as soon as the item is back in stock. Authorizing for an item will promote customers to the front of the waitlist!
This Article Covers:
Setting Up Waitlist Authorization
When you are ready to enable Waitlist Authorization, you will need to enable Stripe as a payment gateway within CommentSold. If you currently use Square, you will need to disconnect it from your CommentSold account prior to connecting Stripe. Both Stripe and Square cannot be connected to CommentSold at the same time.
Once Stripe is connected to your account, visit the Setup tab and scroll down to the setting for Waitlist Authorization. Click the toggle to enable!

We recommend you promote this feature enthusiastically to your customers. Emphasize the benefits of being able to jump to the front of the line and have the item they love automatically claimed and shipped to them as soon as it's back in stock.
Authorizing from the Customer's Point of View
When a customer who has been waitlisted for an item visits their account page or cart, they will see a notification about their new waitlisted items.

When they check their waitlist on their account page, they will see the waitlisted item(s) along with a button to "Be First on Waitlist."

This button will open a form for them to complete to authorize payment for the item when restocked.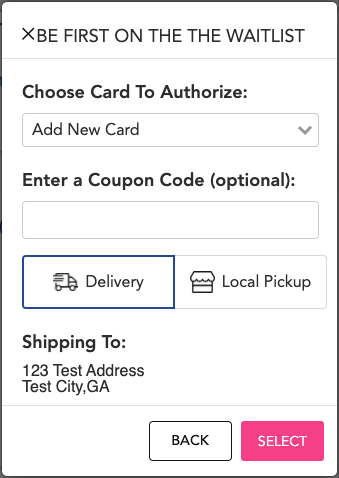 If they have a card saved to their account, they will be able to select the existing card. Otherwise, they can add a new card from this screen. Shoppers can also enter a coupon code and set their delivery preferences here.
Once the customer completes this form, their payment method is authorized to process when you restock this item! They will not need to do anything further to claim the item. Once restocked, an order will be created and it can be fulfilled as normal.
Note: If a shopper preauthorizes with a coupon and that coupon expires before the item is restocked, that the coupon discount will not apply when the order is created.
Viewing & Reordering Authorized Items
The reporting on your waitlisted items will help you determine what to reorder. Restocking authorized items from your waitlist is a no brainer—your customers have already provided their payment details for the items, so it's guaranteed revenue for your shop.
To view reports on waitlist, visit the Waitlists tab in your CommentSold dashboard. You can click on the column header titled "Pre-Authorized" to sort by the products with the most authorized waitlists.
We recommend that, whenever possible, you reorder 100% of the quantity that has been authorized by customers, and 50% of the quantity that has been waitlisted (but not authorized). Inevitably, there will be some customers who receive the notification that the item is back in stock and do not follow through with a purchase. Ordering in this way reduces the risk of excess inventory from reorders.
To learn more about how to use waitlists in your business, read our article on Managing Waitlists.