Want to target top shoppers who haven't made a purchase with your business in the last 30-60 days, and give them an incentive to do so? Send a Klaviyo campaign!
CommentSold makes it easy to identify those customers who used to be top purchasers with your business but whose activity is declining (or has stopped all together). Armed with this information, you can use Klaviyo to send a targeted email campaign to those customers with an incentive to come back to your business and make a purchase.
An effective winback email campaign should include:
A message that lets shoppers you're thinking about them and miss them.
A winback discount that incentivizes shoppers to come back and shop with you.
Featured images and links to collections (or products) that you've released in the last few weeks or months. This makes it super easy for shoppers to jump right to something that catches their eye. If you don't have new collections or products to feature, consider featuring best-seller products or popular collections.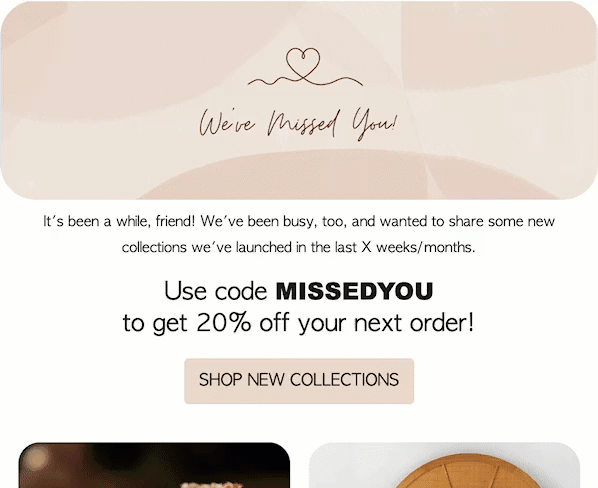 Identify At-Risk and Inactive Customers
---
You can use the At-Risk Customers and "Lost" Customers data sets on your Marketing Insights page to export a list of shoppers whose spending used to rank in the top 10% but who haven't made a purchase in the last 30 to 60 days, respectively.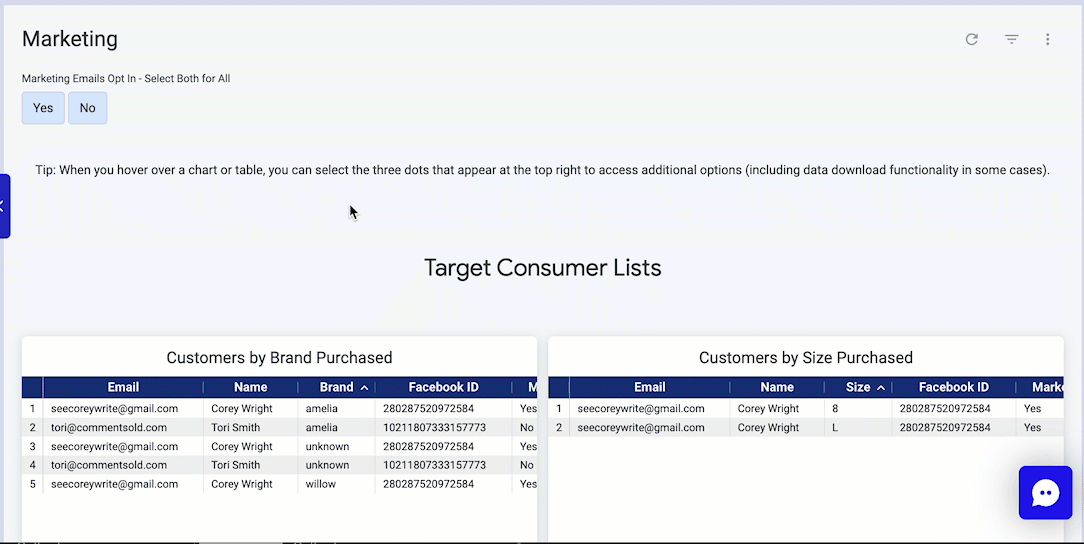 Please note that the above GIF is from a test store with limited to no data. Your Insights tab will display data.
Select Insights in the side menu of your CommentSold dashboard.
Select Marketing from the options listed at the top of the page.
Ensure you've selected the Yes option for Marketing Emails Opt-In at the top of the tab.

If you make changes to the Yes/No buttons, make sure to select the blue Refresh arrow in the top-right corner of the tab to refresh your customer list.

Scroll and locate the At-Risk Customers or "Lost" Customers data set at the bottom of the page.
Select the three-dot icon in the top-right corner of either table.
Select Download data from the options listed.
Your .CSV file will download to your device.
Prepare Your Customer List
---
Klaviyo requires that the Email column be the first column in the CSV file that you import. However, your At-Risk Customers and "Lost" Customers CSVs contain a first column that numbers customer rows. You'll need to delete this column and re-save your CSV file, then upload it to Klaviyo.s
You can delete this column using any spreadsheet software (e.g., Excel, Google Sheets, Numbers, etc.). The below steps walk through this process in Numbers, the default spreadsheet program for Apple.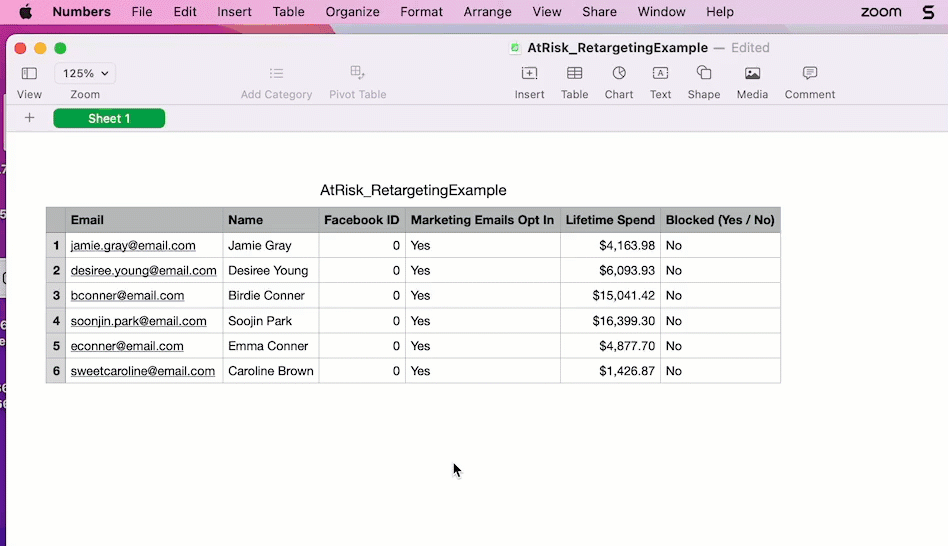 Select the Numbered column on the left side of the spreadsheet. It is the first column and does not have a column header (i.e., it doesn't have a header like Email, Name, etc.).
Once selected, the spreadsheet header bar will appear. You'll see the column is column A.
Select the A column header. You should see a small drop-down arrow appear on the left side of the header. You may need to stretch the header to see it.
Select the header drop-down and select Delete Column from the options listed.
Select File in your Numbers navigation bar at the top of the page, then select Export > CSV.
Save the file to your device.
Import Customer List into Klaviyo
---
You'll need to upload your list of customers in Klaviyo so that you can send out an email campaign to those users.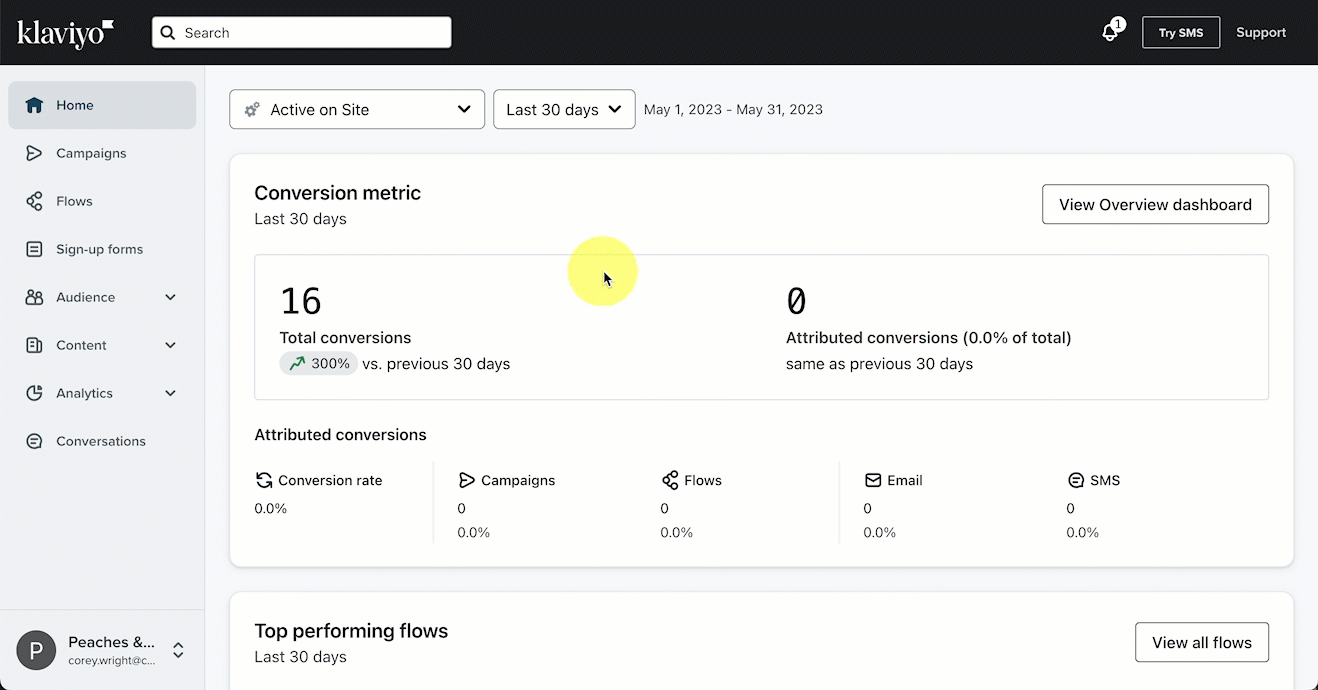 Select Audience in the side menu of your Klaviyo dashboard, then select List & Segments.
Select Create List / Segment in the top-right corner of the page.
Select List.
Enter a Name for your list, then select Create List.
Select Upload Contacts.
Either drag/drop your file into the gray field or select the file from your device.
Ensure the Email and Name fields are selected, then select Next.
Select Yes to confirm your list of customers have opted into emails, then select Import.
Create and Design a Klaviyo Campaign
---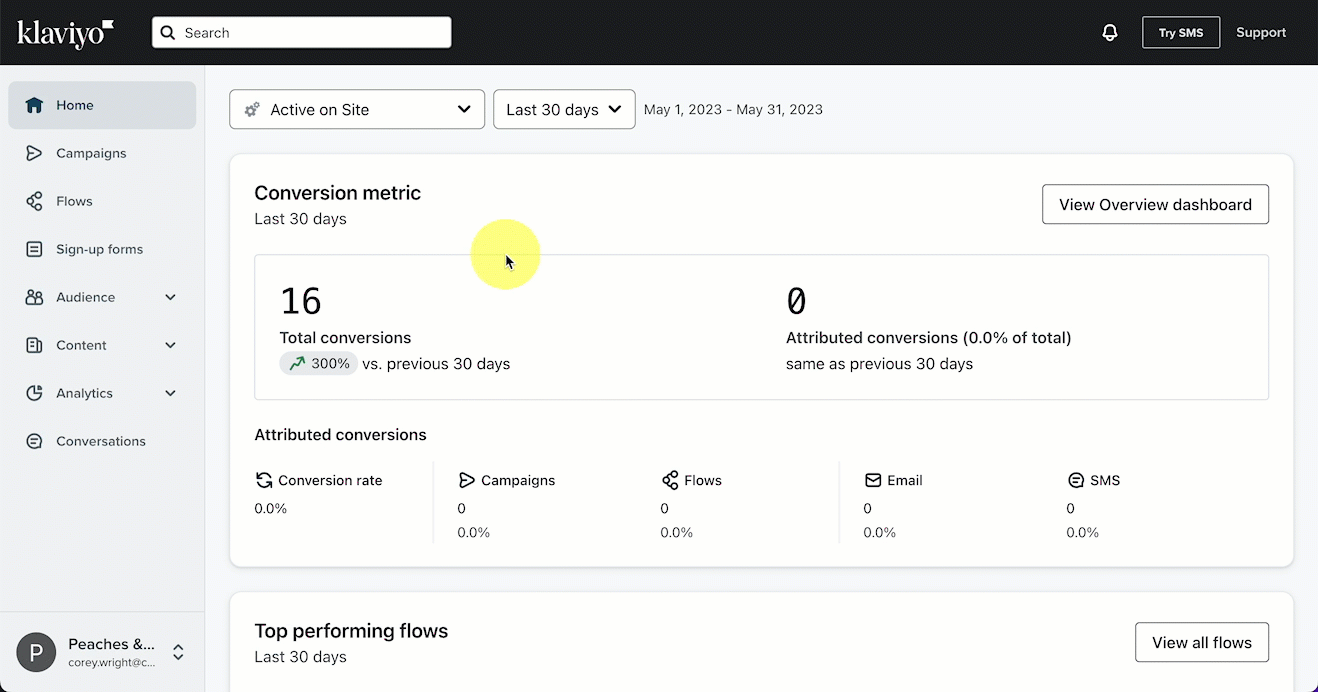 Select Campaigns in the side menu, then select Create Campaign.
On the fly-out, enter your Campaign Name and Date.
Select Email as Type, then select Save and Continue.
Select your desired list from the Send To drop-down.
Select Continue to Content.
Choose whether to use a Themed or Basic Template.

Which templates do we love? We love the simple layouts of the 1-2 Columns, 1-3 Columns, and 1 Column / Alternating templates on the Basic tab.

Confirm the template you choose by selecting Use Template.
Build out your email using the tools provided.
Finished? Once you've designed your campaign, you can choose to send it right away or Schedule it to send on a later date.