This article outlines one of the simplest ways for customers to register and confirm their account to shop with you.
In order to shop on your Facebook Page or Group, a customer must register and confirm their account. While CommentSold will prompt a shopper to register an account if they attempt to purchase from you on social media without one, there is an even simpler way to have customers pre-register to shop!
First, your customer will need to visit your Facebook business page. From there, they should send a message to your page that says "register." Be sure they know where to locate the button to contact your page by Messenger (and that this setting is enabled)!
When a customer sends the "register" message to your page, they will receive an auto-reply prompting them to confirm their account. They will need to click the button to "Log In."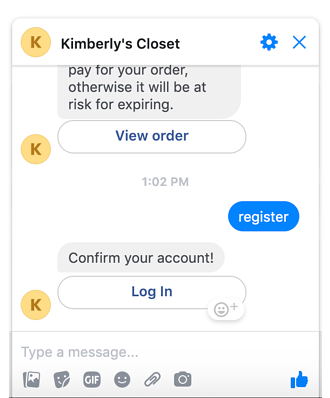 Once the customer clicks the "Log In" button, they will see that a simple registration form has been auto-populated with their information, pulled from Facebook. The customer can then click to complete the account registration process.
In the Customers tab of your CommentSold dashboard, you will see a green icon next to the newly created customer, indicating that their account has been confirmed!