Click on any of the images or GIFs in this article for a closer look.
Comment Charge is the easiest checkout option for shoppers on Facebook. If your shop uses Stripe as a payment gateway, then your shoppers can instantly claim and pay for items by commenting "SOLD" on your Facebook posts and live sales.
Once your shop has enabled Comment Charge, shoppers will need to activate Comment Charge on their account page before they can comment shop.
Note: At this time, Comment Charge does not work with Instagram posts or stories.
How Comment Charge Benefits Your Shoppers
---
Shoppers can quickly claim items without fear of missing out.
Instant checkout means shoppers avoid forgetting about items in their cart.
Shoppers skip entering in card details since their card is kept on file.
Enable Comment Charge on Shopper Account Page
---
Shoppers can enable Comment Charge on their account page.
If the shopper has placed an order with your shop in the last 90 days using Stripe or if they added a credit card by pre-authorizing a waitlisted item, then they'll be able to enable Comment Charge.
If the shopper does not have a card on file, they will be instructed to add one in order to continue.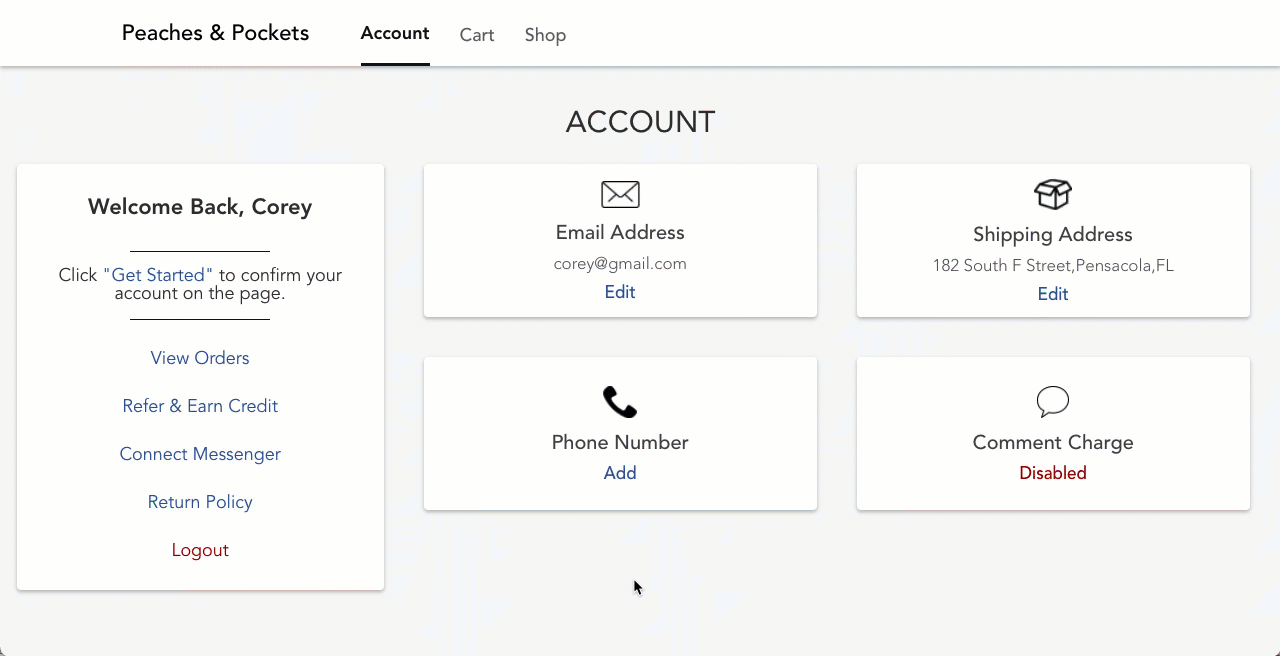 Your shopper will need to log into their account page from either your webstore URL (i.e., myshop.commentsold.com/store) or shop URL (i.e., myshop.commentsold.com).

At this time, shoppers can only enable Comment Charge via the webstore.

On their Account page, the shopper will need to locate Comment Charge on the right side of the page.
The shopper will need to select Disabled to change the status to Enabled.

If your shopper wishes to disable Comment Charge, they can either delete their card on file or select Enabled to change the status to Disabled.
Note:
Each of a shopper's "SOLD" comment purchases will be treated as a separate transaction. We recommend you review your
shipping settings
and consider enabling the
Free Shipping Window
option. This is an easy way to prevent charging shoppers flat rate shipping on each comment purchase. Additionally, since each transaction will be treated separately, this may increase payment processing fees with Stripe.
Learn More
---