Click on any of the images or GIFs in this article for a closer look.
In this article, you'll learn:

How to prioritize webstore conversion events in Facebook.
About Webstore Conversion Events
---
With the introduction of Apple's App Tracking Transparency (ATT) prompt, retailers will need to prioritize webstore conversion events within Facebook's Events Manager.
In response to Apple's iOS 14 privacy updates, Facebook released Aggregated Event Measurement. With Aggregated Event Measurement, retailers can optimize their Facebook ad campaigns while still respecting users' data privacy settings.
Retailers can have up to eight (8) conversion events per domain, but only the highest prioritized event will be reported to Facebook. For most retailers, we recommend the following prioritization order:
Purchase
AddToCart
ViewContent
Facebook will pass data from events in the order that you prioritize them. For example, using the above prioritization, only the Purchase event would pass to Facebook if a shopper visited your webstore, added a product to their cart, and purchased that product.
If the shopper visited your webstore and added a product to their cart but did not purchase that product, then Facebook would track the Add to Cart event.
Note:
In order to use Aggregated Event Measurement, your shop will need to have a custom domain verified with both CommentSold and Facebook. Learn more
here
.
How Prioritizing Webstore Conversion Events Benefits Your Business
---
Continue tracking conversion events for your webstore even with Apple's iOS 14 privacy update.
Create a structure of events to ensure Facebook tracks your most important event over your second and third most important.
Prioritize Webstore Conversion Events
---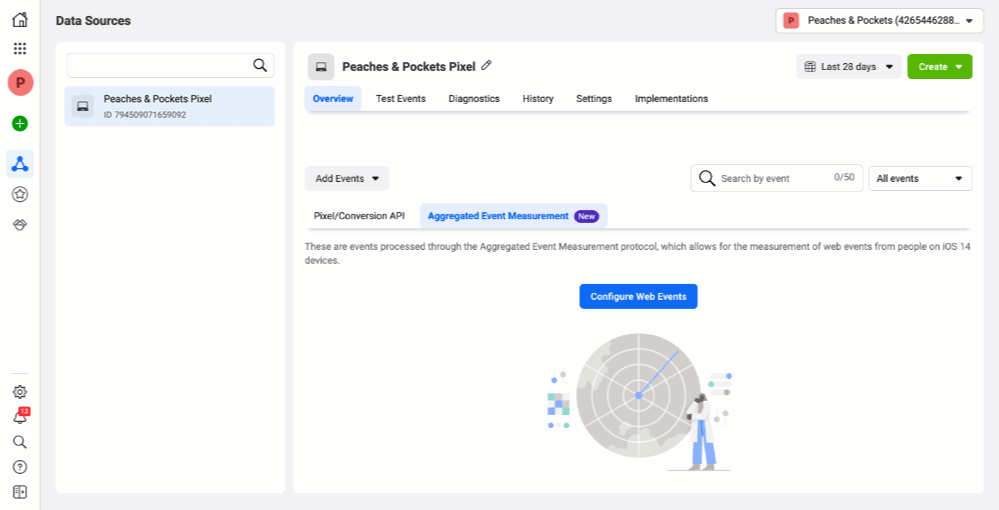 In Facebook Events Manager, select your Data Source on the left side of the page.
Select the Aggregated Event Management tab, then select Configure Web Events.
Select your Web Domain.

If you haven't verified your custom domain with Facebook, learn how to do so here.

Select Edit Events.
Drag and drop Events based on priority for your business.
Select Submit.
Learn More
---