Click on any of the images or GIFs in this article for a closer look.
In this article, you'll learn:

Why domain verification with Facebook is important.

How to verify your custom domain with Facebook.
About Domain Verification
---
Once you have connected your custom domain in CommentSold, you can proceed with verifying it in Facebook.
Verifying your custom domain with Facebook tells Facebook that your shop owns that website. It also helps Facebook know which parties (i.e., our shop's Facebook page) have permission to edit link previews and configure conversion events.
How Facebook Verification Benefits Your Shop
---
You will be able to create a Facebook product catalog, which allows you to tag products in Facebook posts or videos to allow followers to "shop the post" or "shop the video."
You will be able to make changes to the thumbnail image, article title, and link description when sharing a link on your shop's Facebook page.
You will be able to manage ad link editing permissions and control the appearance of link previews you publish to Facebook.
Enter Your Custom Domain in Facebook
---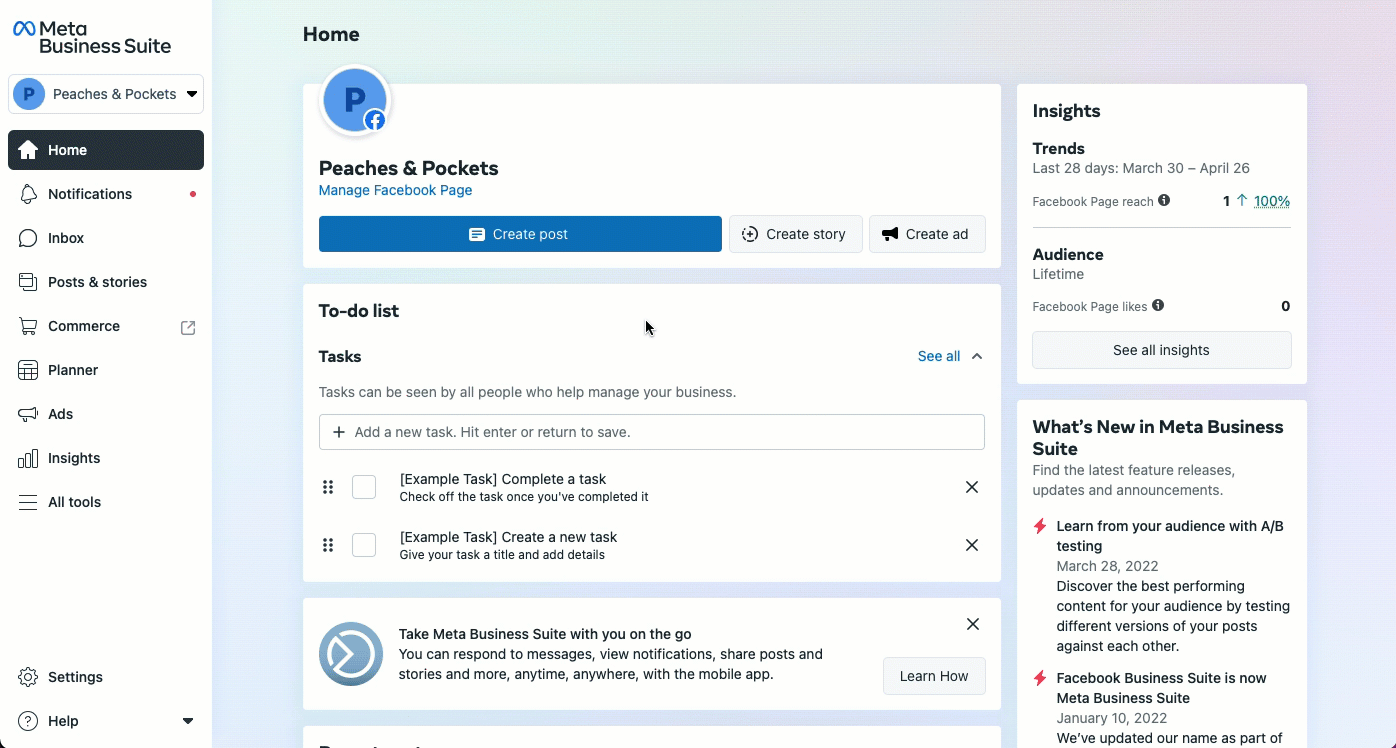 Log in to Business Manager and select the settings gear icon at the bottom of the side menu.
On the Settings page, select More Business Settings.
Select Brand Safety in the side menu, then select Domains.
Click the Add button at the center of the page.
Enter your shop's domain. You can enter this with or without the www at the beginning (i.e., myshop.com)
Select Add.
Enter Verification Code in CommentSold
---
Once you add your domain, Facebook directs you to a page where you can verify your domain. Here, you'll also need to grab a verification code that you will enter in CommentSold.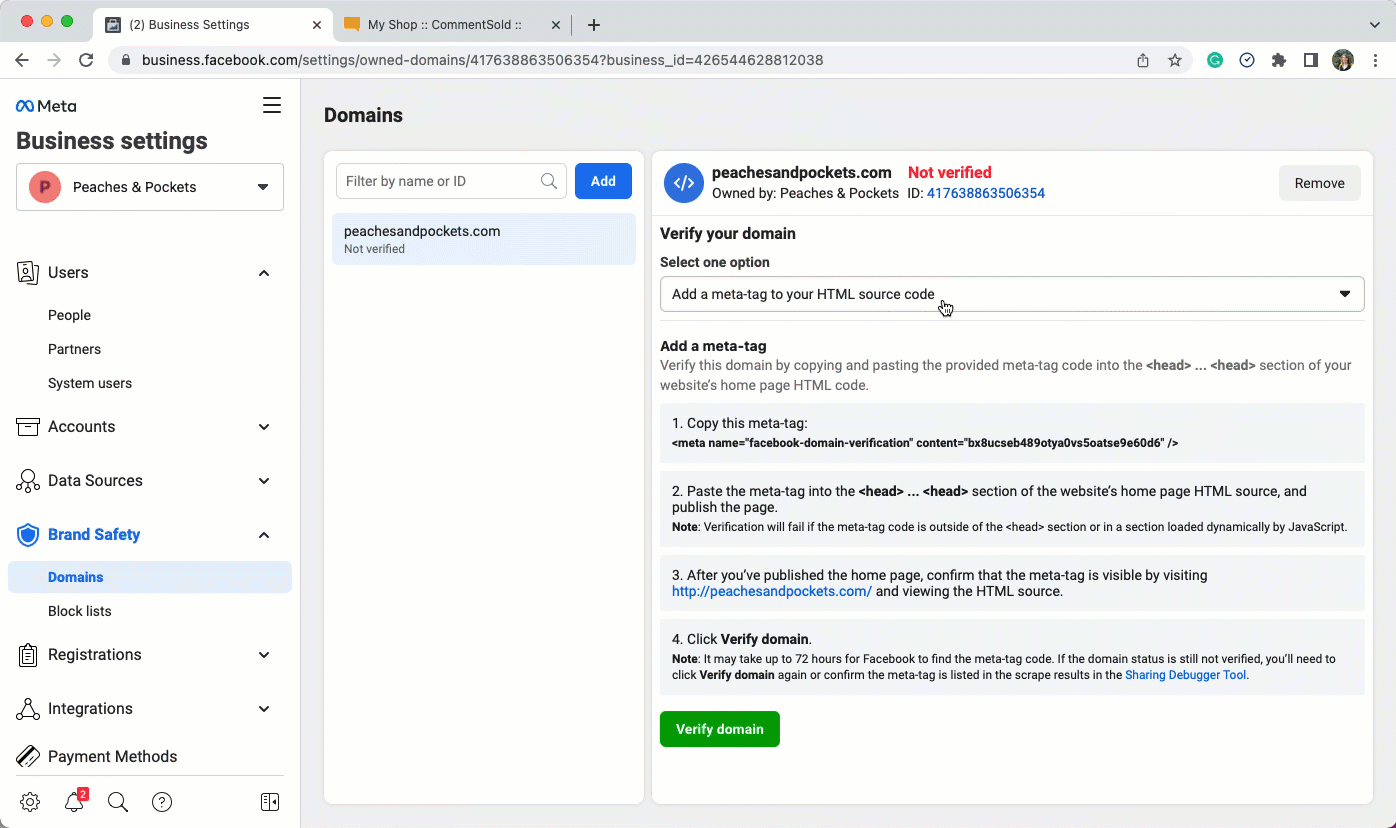 In the Verify your domain drop-down, select Add a meta-tag to your HTML source code.
Under the Add a meta-tag section, locate and copy the tag listed under 1. Copy this meta-tag.
Navigate to your CommentSold tab and paste this tag into the Facebook domain verification field.
Select Submit.
Verify Your Domain in Facebook
---
Last, you'll need to verify your domain in Facebook and connect it to your shop's Facebook page.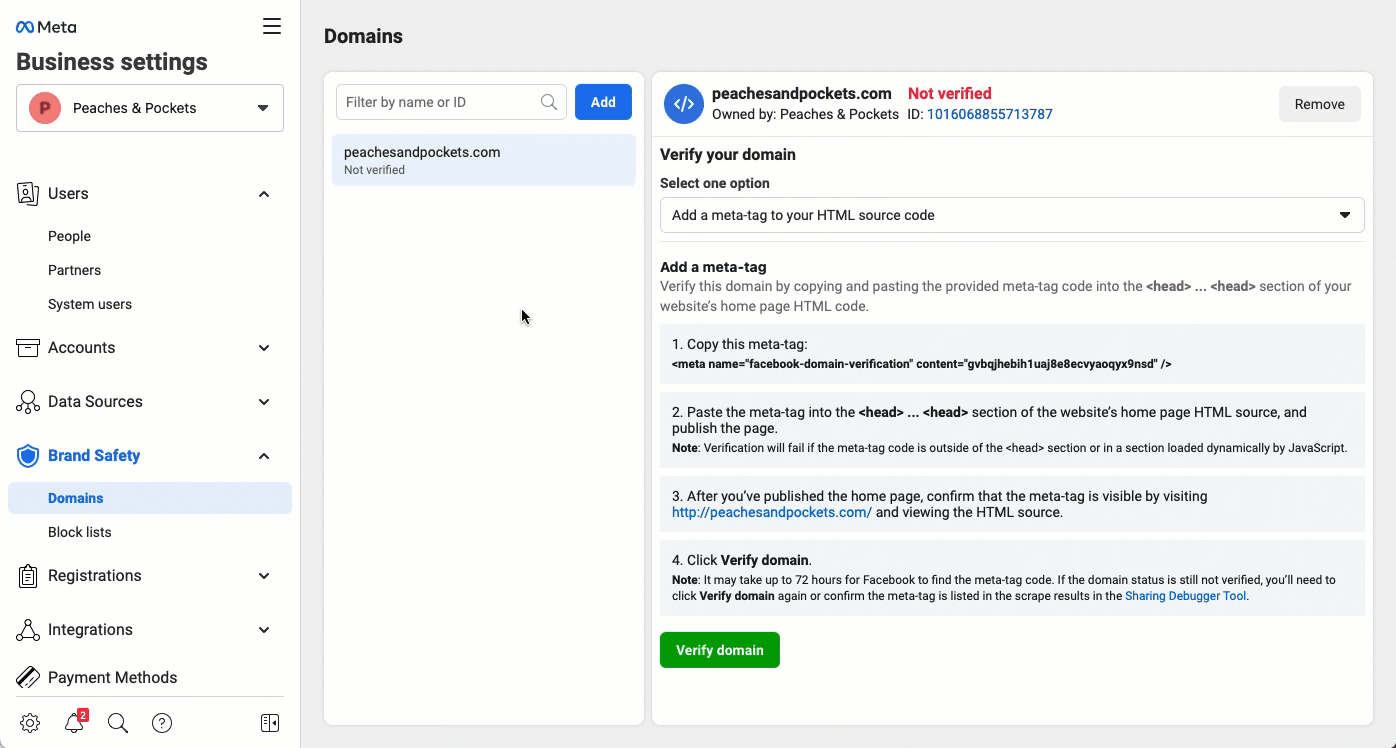 Navigate back to your Facebook Domains tab and select Verify domain.
Once your domain verifies, select Add Asset toward the top of the page.
Select Classic Page from the side menu of the pop-up, then select your shop's page.
Select Add.
You can confirm your page is connected by selecting the Connected Assets tab.
Your domain is now verified with and connected to Facebook.
Learn More
---