This master guide will walk you through everything you need to know about running Facebook Ads with CommentSold.
CommentSold has already done all the heavy lifting for the Facebook pixel integration to make running ads as simple as possible!
This Article Covers:
Running Ads to Your Webstore
Creating & Installing the Facebook Pixel into the Webstore
Before you can begin running Facebook ads to your webstore, you will need to create a Facebook pixel and embed it in CommentSold. Once set up, the pixel will allow you to serve highly targeted ads to find new customers or people who have visited a specific page or taken a desired action on your website (such as visiting a certain page, viewing a product, or adding an item to their cart).
We recommend setting up your pixel as early as possible, whether or not you intend to run ads immediately. Facebook can only begin tracking your webstore activity from the moment your pixel is embedded, and you don't want to miss out on valuable data!
Before you begin, here are a few things to keep in mind:
A custom domain will be required for Pixel verification, due to iOS 14 changes. Domain verification should be prioritized for domains with pixels used by multiple businesses or personal ad accounts. Learn how you can add a custom domain to your CommentSold Webstore here.
If you are completely new to Facebook ads, you will first need to create a Facebook Business Manager account.
Even if you already have an existing Facebook Pixel, we recommend you create a new one specific to CommentSold to keep your data distinct from other sources.
To create a new pixel:
Go to your Business Manager account and navigate to Events Manager (or click here to access this page).
From the lefthand menu, click
Connect Data Sources.
From the popup that appears, select Web and then Facebook Pixel.
On the next screen, name your pixel something descriptive (i.e. "Pixel for CommentSold") and enter your webstore URL here.
After you click the blue Continue button, Facebook will ask how you want to install the pixel code. Dismiss this prompt by exiting the popup.
After the page refreshes, you will see your newly created Pixel. Under Settings, click on the Pixel ID to copy it to your clipboard. You will need to enter this ID in CommentSold.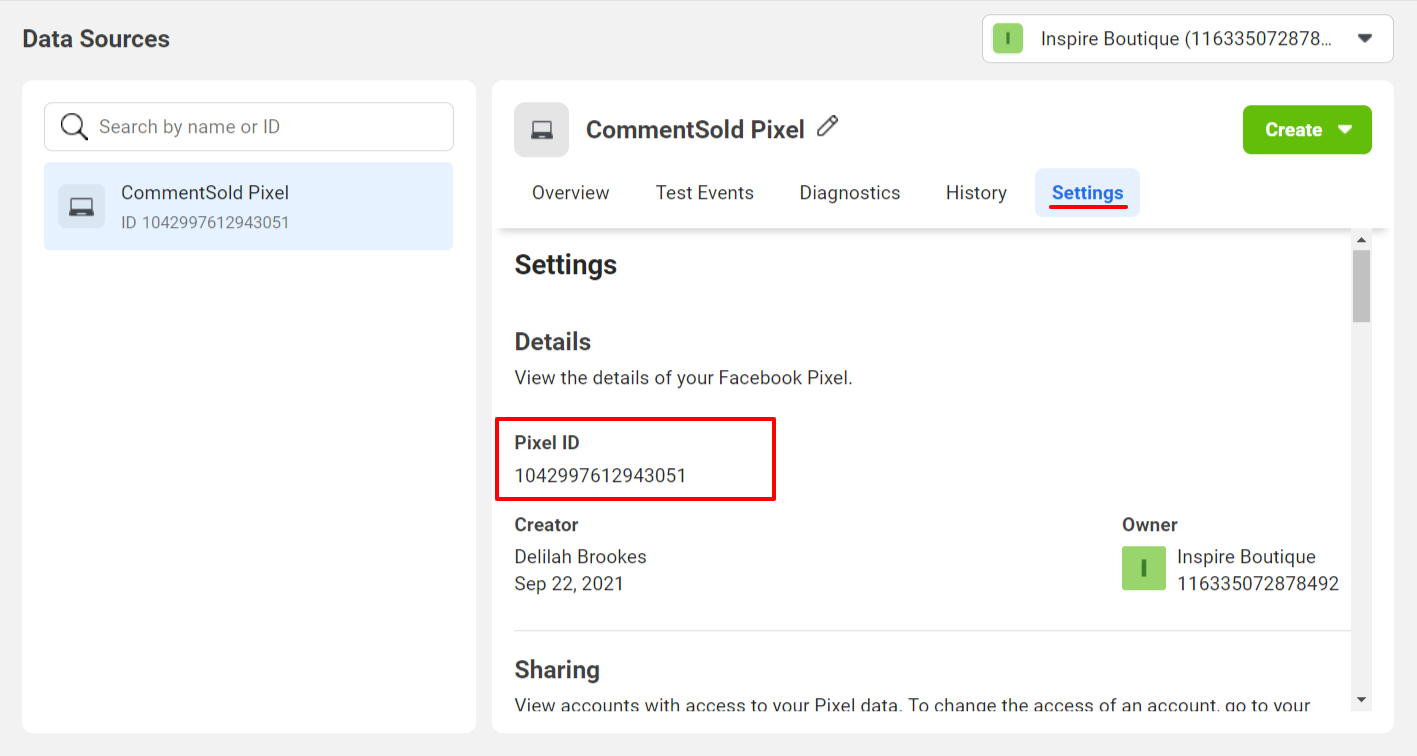 Now go to your CommentSold dashboard and navigate to Setup>Embed.
Locate the box titled Embed your Facebook Pixel on this page. Paste the Pixel ID you just copied from Facebook here. When finished, click Update Pixel.

CommentSold will now automatically track all the standard Facebook Events (View Content, Add to Cart, Purchase) on your webstore and the associated product IDs for you to be able to run Dynamic Product Ads.
Setting Up Your Facebook Product Catalog
To set up your product catalog, log into your Business Manager account and navigate to Commerce Manager. Scroll down to the Catalogs section, then click the button to Add Catalog.
Select Ecommerce as your Catalog Type and click Next.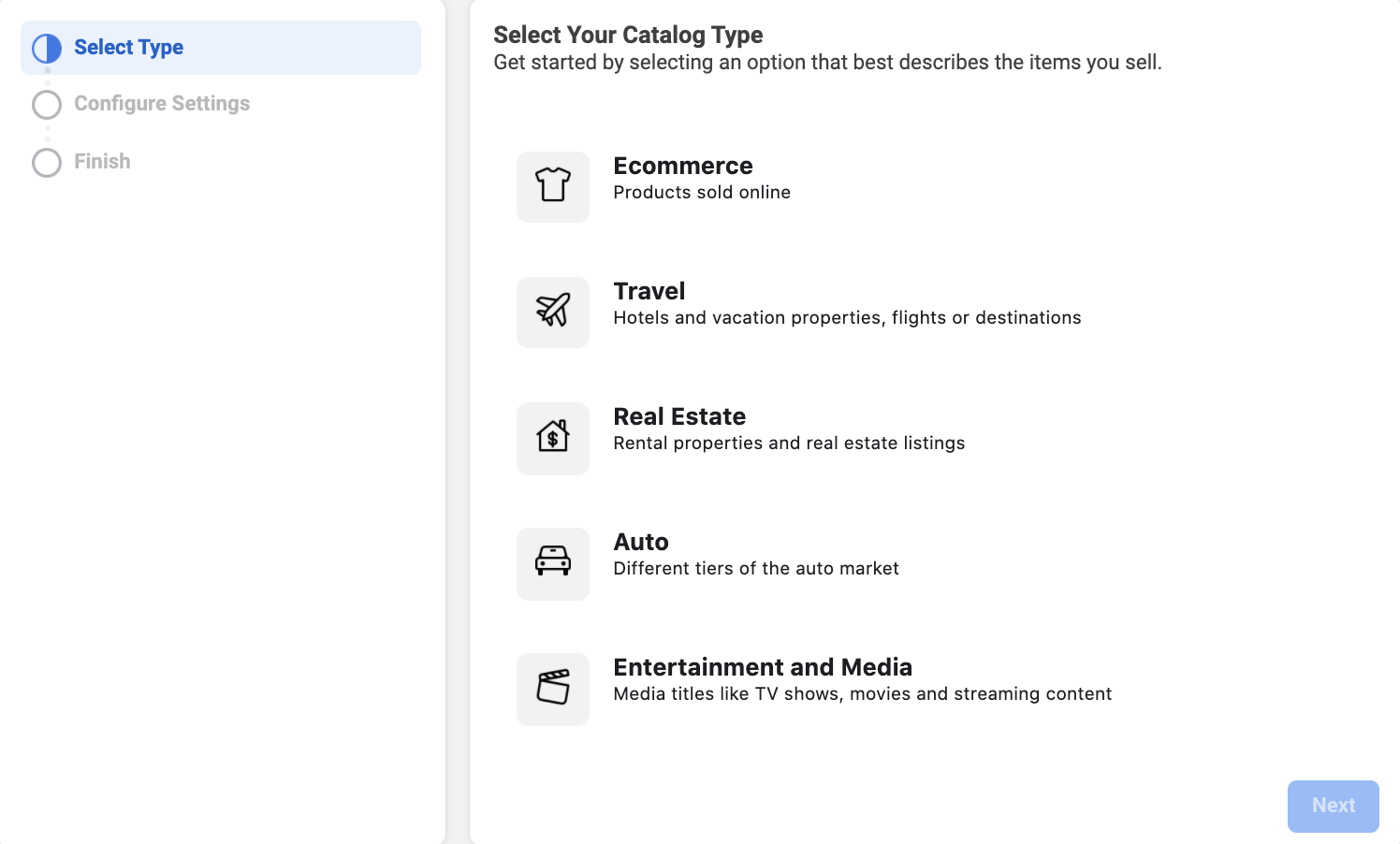 For your Upload Method, select Upload Product Info.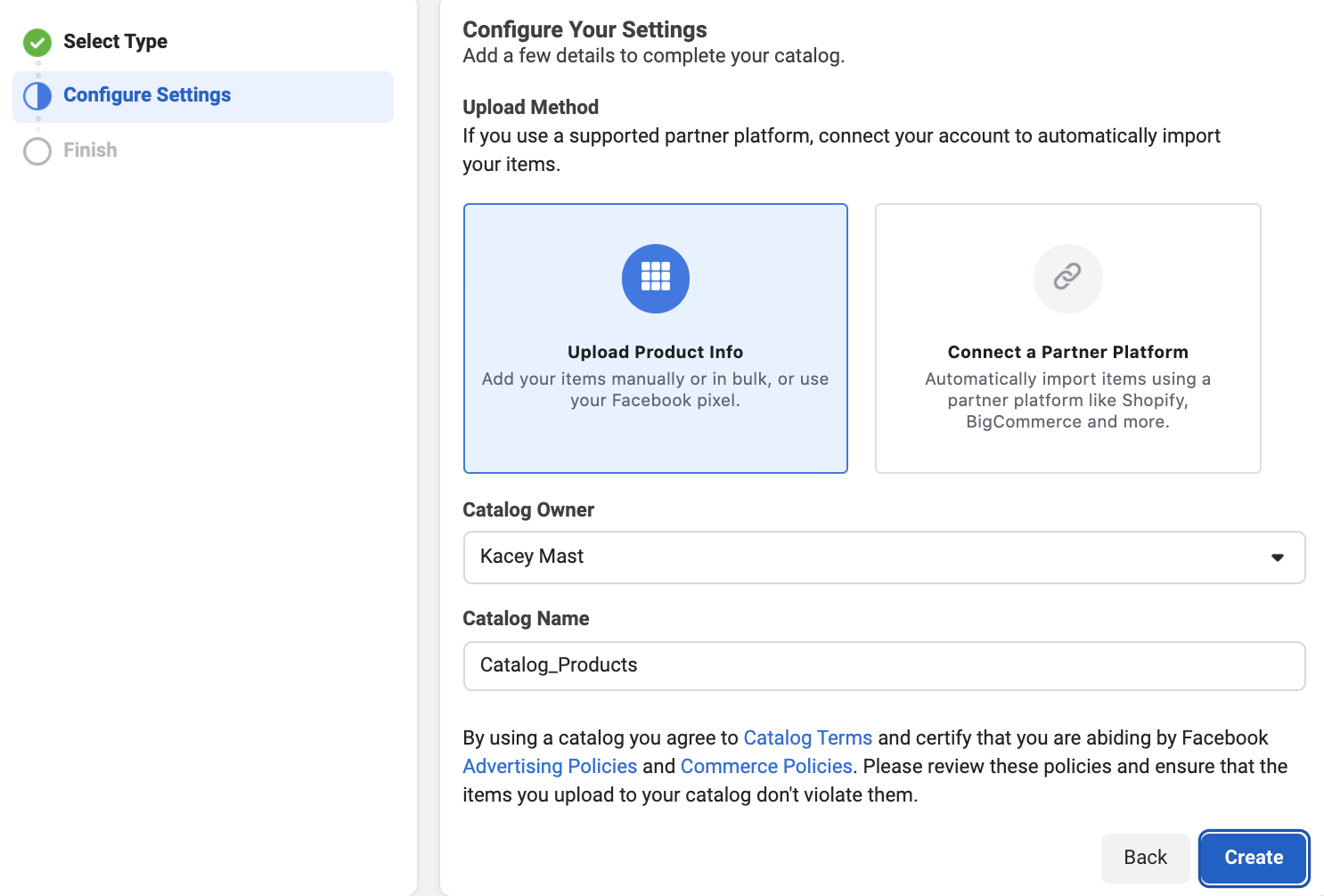 Under Catalog Owner, make sure your business account is selected and add a Catalog Name (optional)
Click Create when done, then click View Catalog to move to the next step.
Now that your catalog is created, you will need to link the CommentSold catalog URL to upload your products. Click Add Items to get started.
From the available options for adding items, select Data Feed.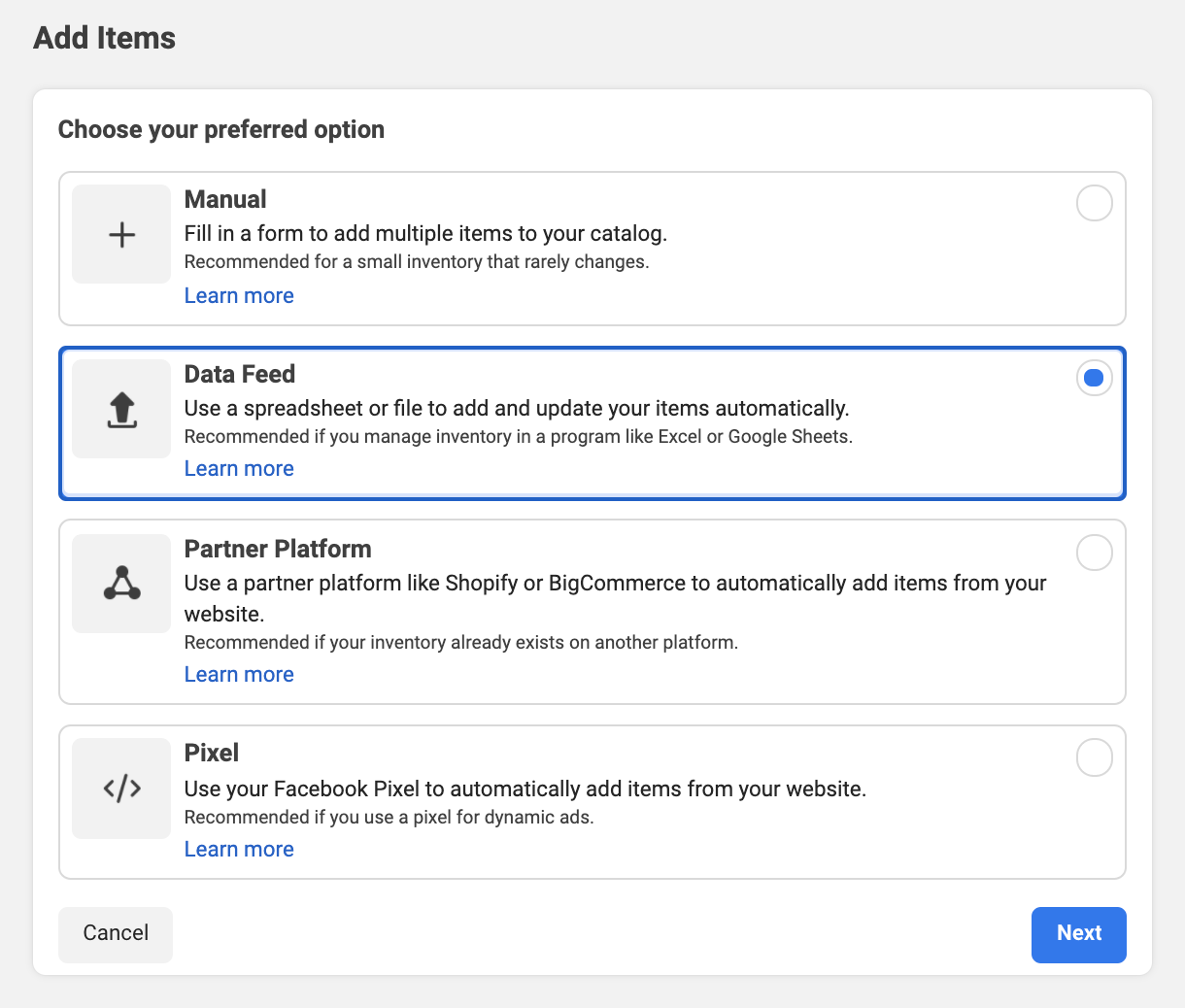 When asked to choose an Upload Option, select Scheduled feed and click Next.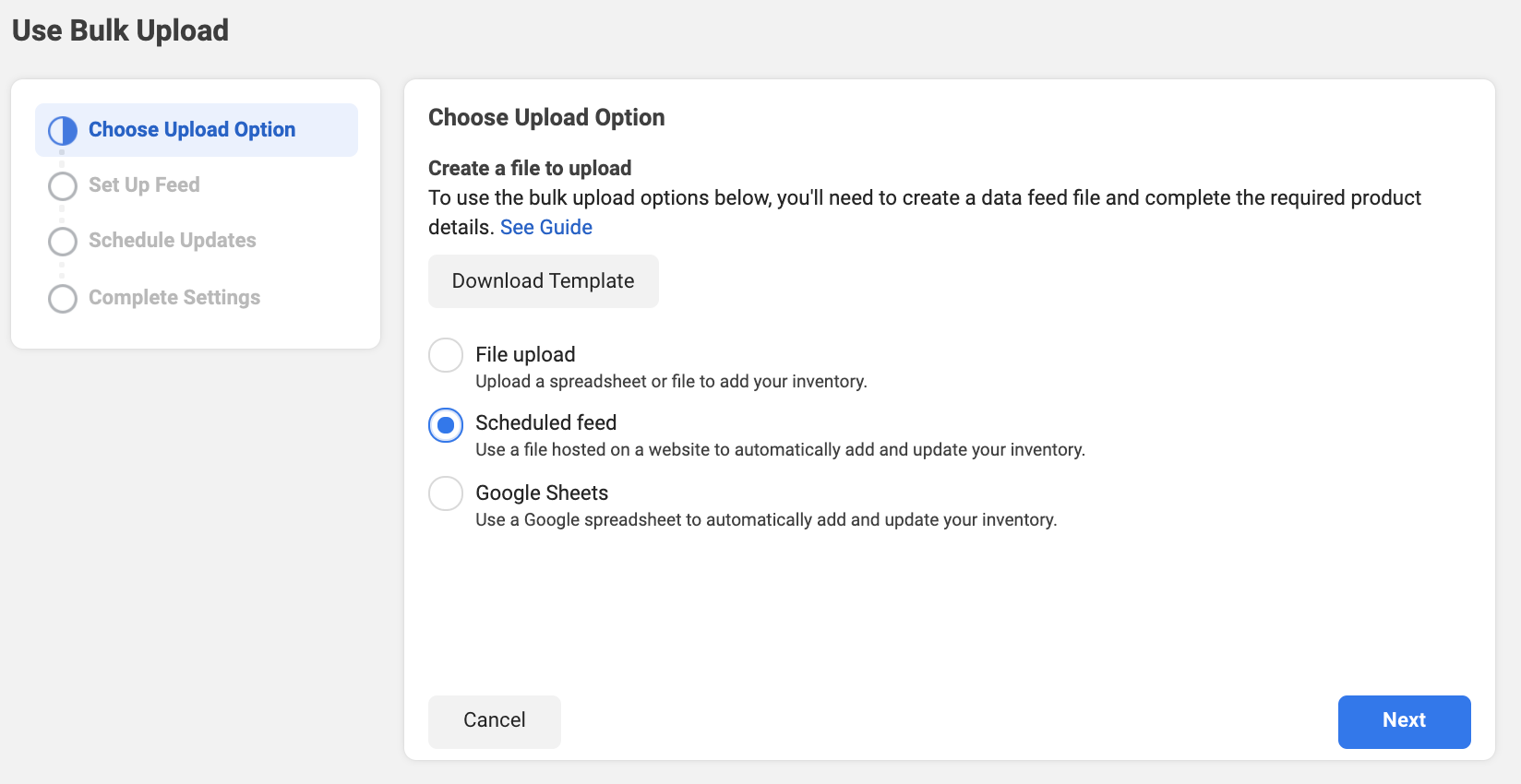 Next, you will be asked for the URL for your catalog feed. Open a new window and log into your CommentSold account to grab this.
From your CommentSold dashboard, navigate to Webstore Content > Preferences. (If you do not see the Webstore Content tab, you will need to go to Classic Webstore > Preferences.)
Scroll down to Facebook Catalog URL - Link to Webstore; copy this URL.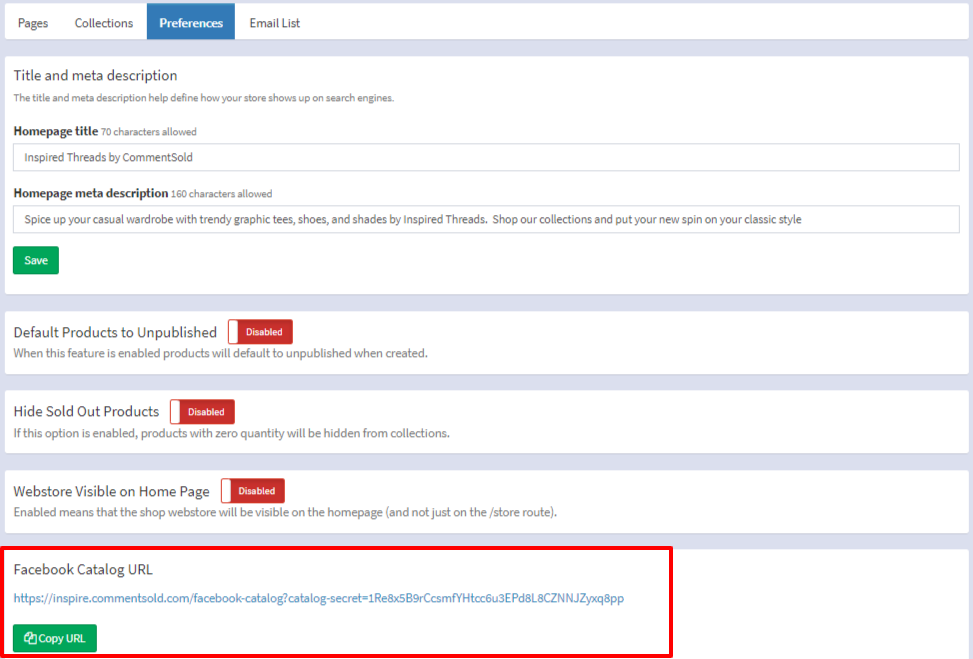 Note: If you do not have a webstore set up, you can enable it in the Setup tab of your CommentSold dashboard.
Now switch back to Facebook Commerce Manager and paste the Catalog URL here. You do not need to enter login details. Click Next.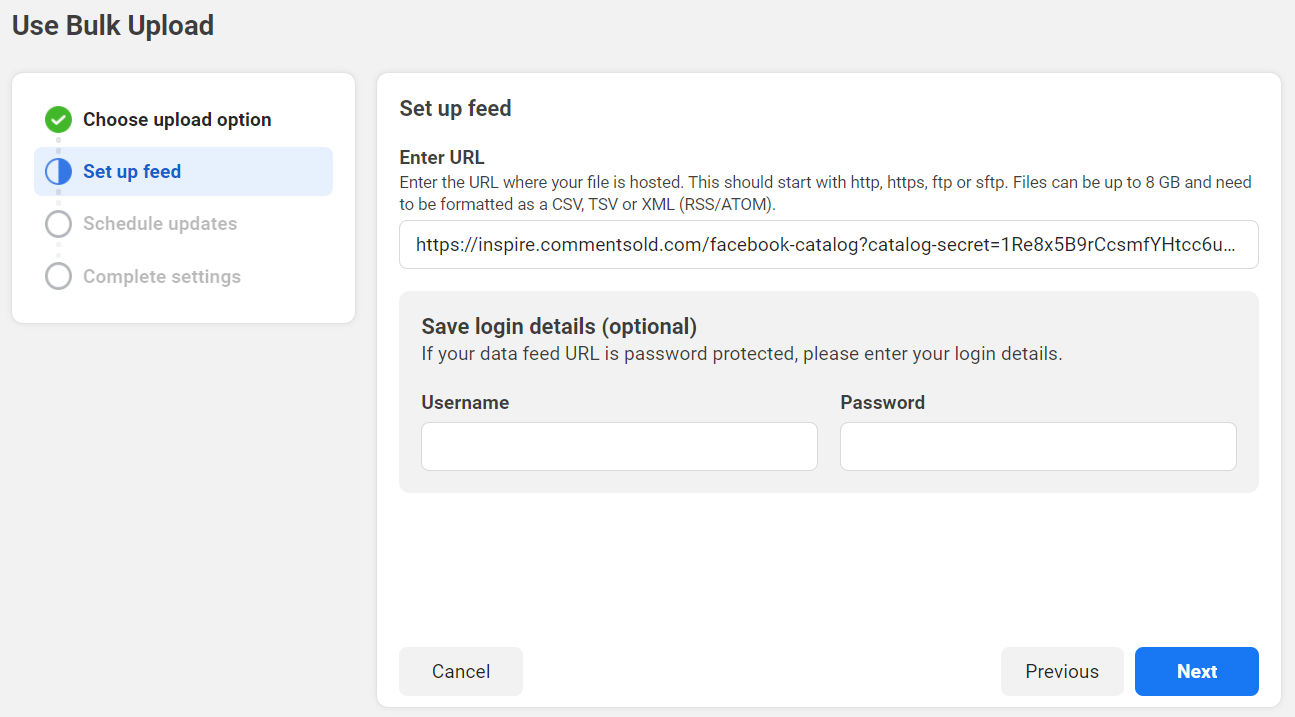 Next, you will select how often you would like your inventory to be updated in your Facebook catalog. We recommend Hourly or Daily updates. Leave Add automatic updates enabled to keep the catalog synced in real-time.
Complete settings by naming your data source and setting the default currency. Then click Upload.
Now Facebook will begin loading your catalog! You can view the upload progress from the current screen.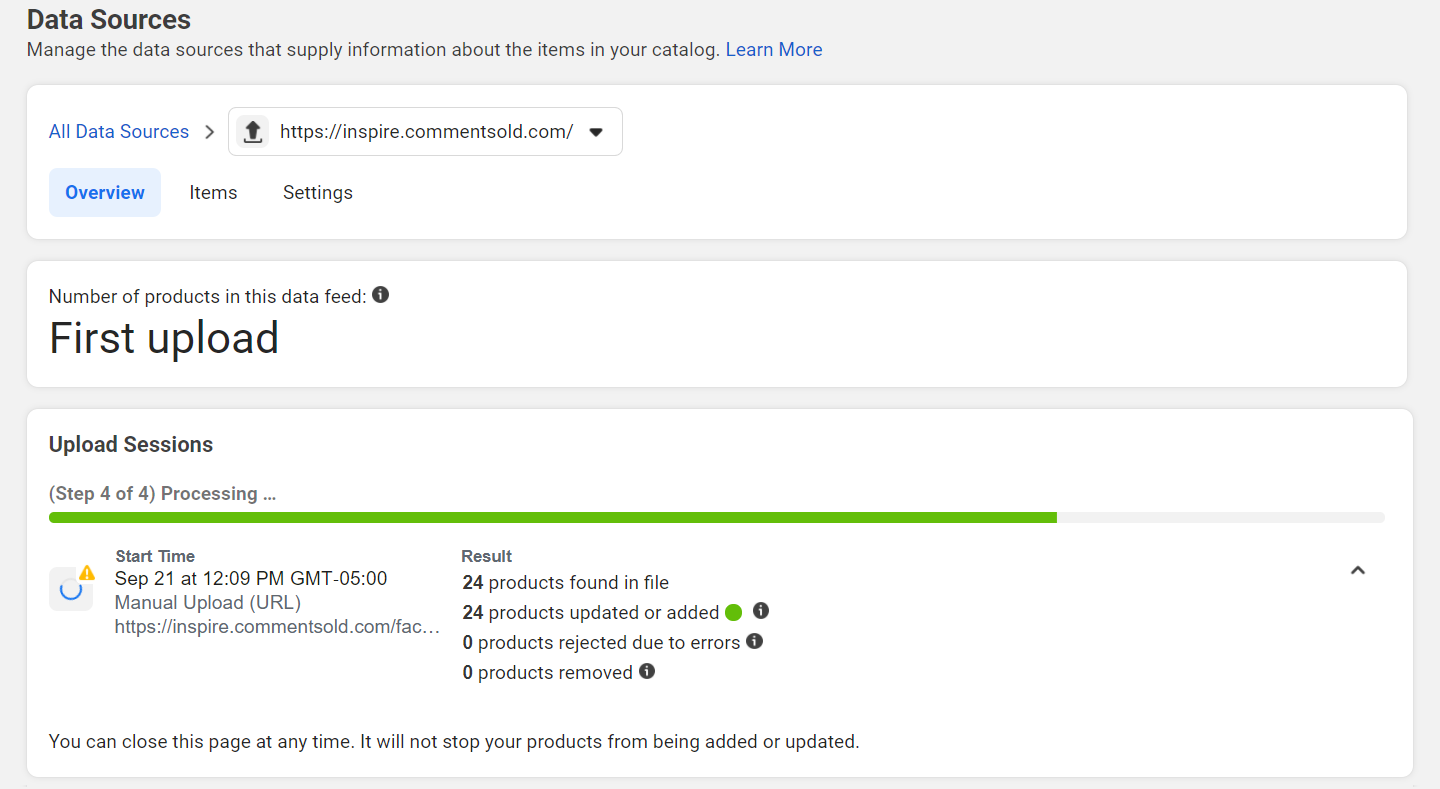 Your catalog link will be a deep link that directs users to your webstore or mobile app. If the user who clicks your ad has your mobile app installed, they will be directed to the product page in your mobile app. If they do not have your app installed, they will be directed to the product page on your webstore.
Connecting Your Pixel and Catalog
Now that you have your pixel installed and your catalog synced, you are ready to set up your first retargeting ad with Dynamic Product Ads (DPAs).
First, you will need to connect your product catalog to a tracking source (your webstore pixel).
If you're not already looking at your product catalog in Business Manager, go to Commerce Manager and click on your product catalog from the Catalogs section.
Now that you're in your product catalog, click Events (under Catalog) in the left menu.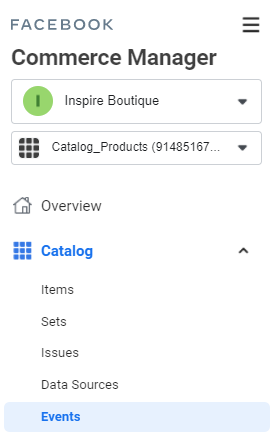 The next page will ask you to set up Item Tracking. Click Connect to Tracking to continue.
A popup will appear, asking you to select your data source. Find your pixel that's connected to your webstore, and click to toggle on the connection. Click Save.

Facebook is now connecting your webstore activity with the products in your catalog!
Setting Up a Retargeting Ad
Once the Facebook Pixel and Catalog are set up (and webstore activity begins to populate), you will be able to run retargeting ads. Visit your Facebook Ads Manager and verify that the correct ads account is showing at the top left.
When creating a new ad campaign, select Catalog sales as the objective.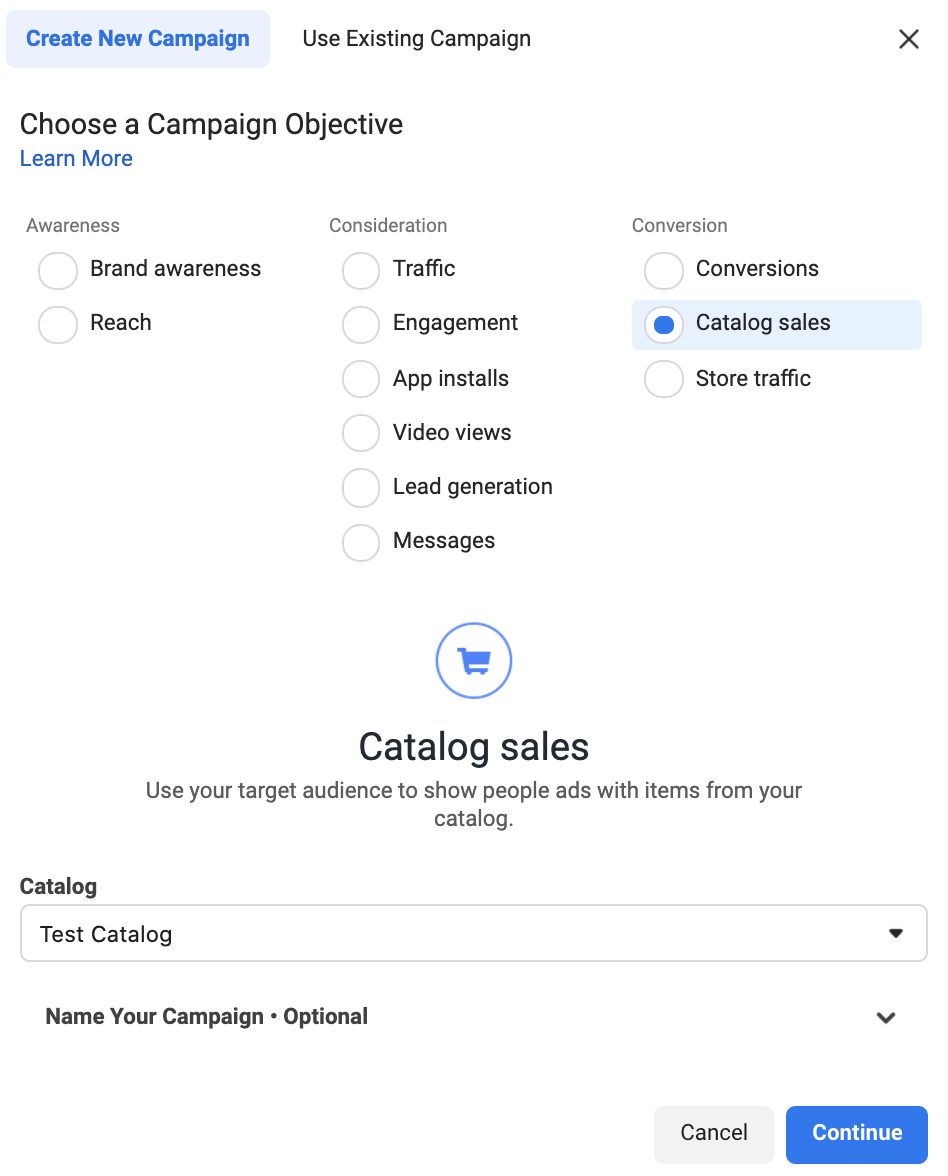 At the Ad Set level, you will be able to set your retargeting parameters. There are helpful categories pre-created for you. In the example below, the ads created will retarget those who have either viewed or added an item from the webstore to their cart but have not made a purchase from your webstore in the last 30 days.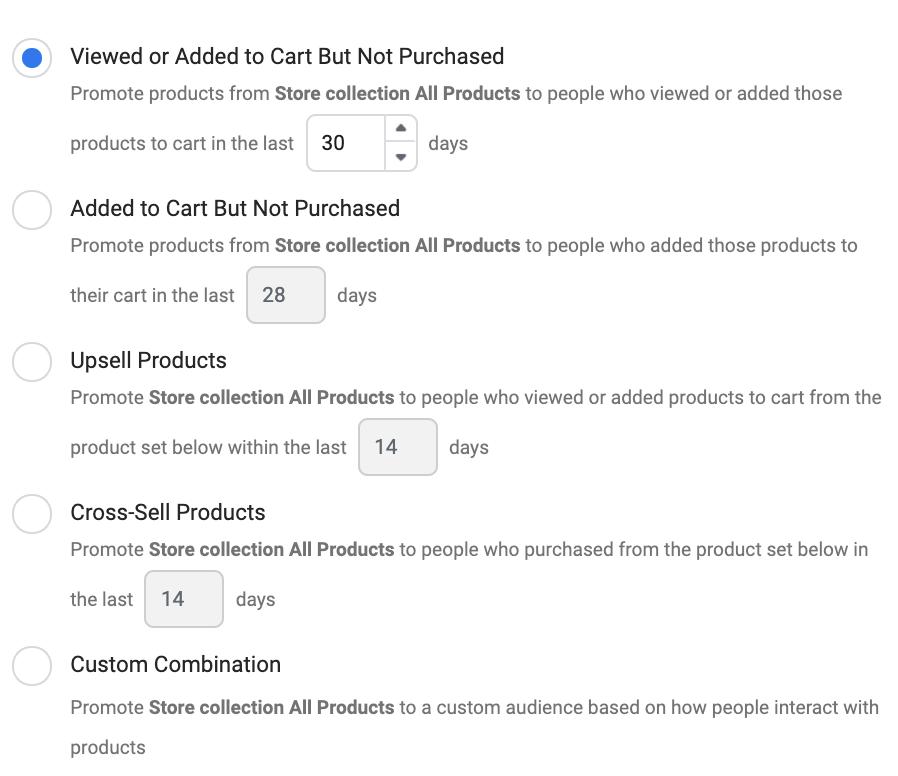 For Optimization for Ad Delivery, select that Facebook should optimize for Conversion Events. The Event Type should be Purchase if your goal is to drive more purchases through the retargeting ads. It is not recommended to use Cost Control as it can stifle the performance of the ad.
Start with a relatively low daily budget. Remember that this particular ad campaign is retargeting shoppers who have already been to your website but have NOT purchased, so the audience may be relatively small. As your webstore activity increases, you can increase this budget.
In this section, you can also expand options to change the Attribution Setting. This affects what conversions Facebook will take credit for. If you use 7-day click, as in the example below, Facebook will attribute a purchase to your ad campaign if someone clicks on your ad and then makes a purchase through your webstore within 7 days.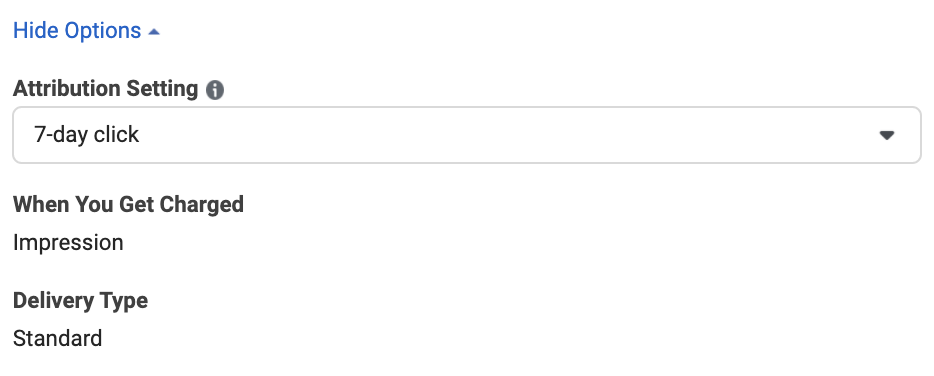 Continue the Ad Set and Ad creation process with your desired settings and content. We recommend testing different placements, formats, and messaging to see what resonates with your target audience.
Dynamic Product Ads are "evergreen," meaning they will continue to show relevant and in-stock items without requiring you to constantly update creative.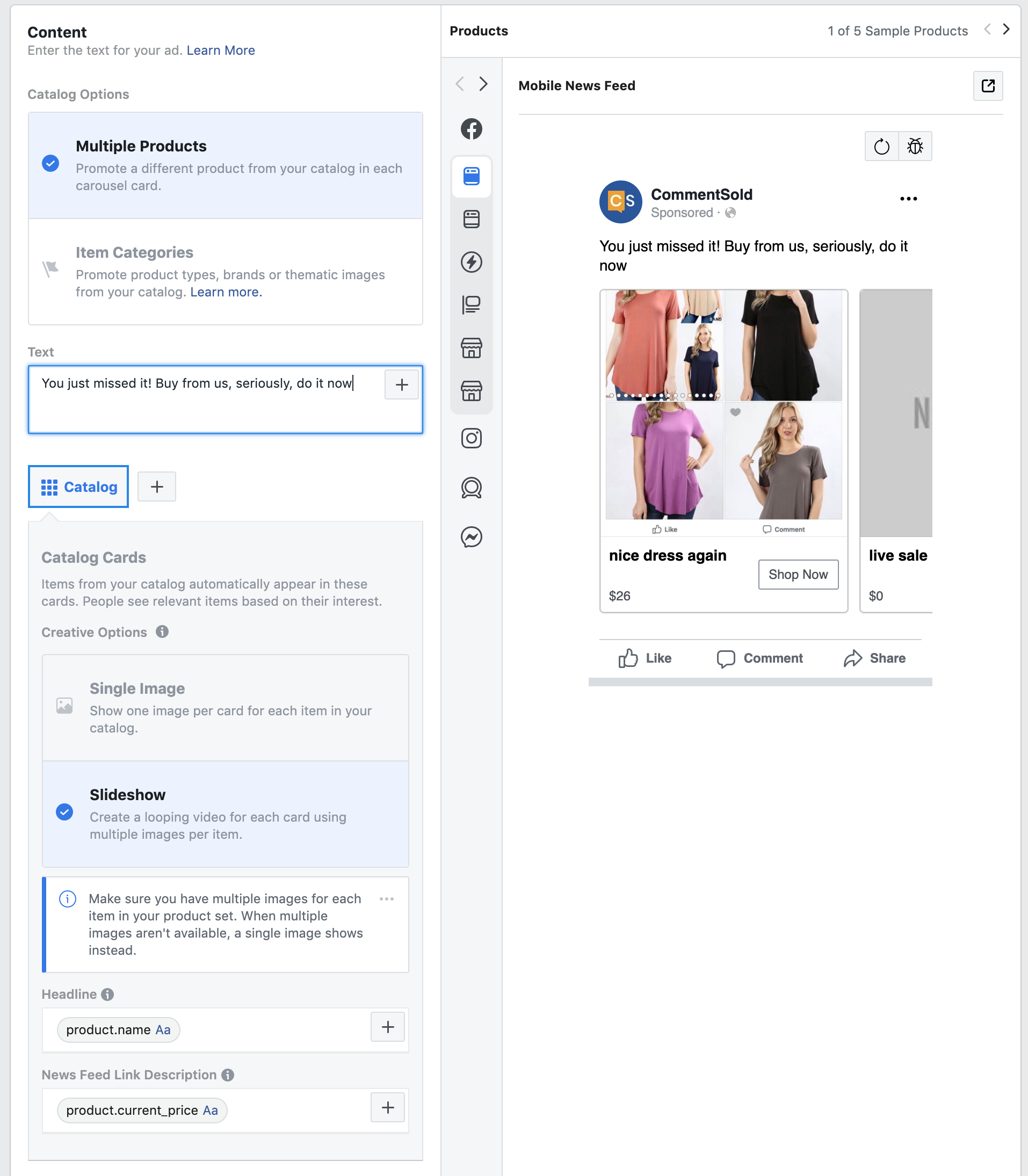 Running Ads With Your Social Posts
"Cold" audiences are those that are unfamiliar with your business and brand. Running ads to these potential customers is great to raise awareness, but you can also generate sales through comment purchases on the ads!
The options you will have for targeting within the Ads Manager are more powerful than those available by Boosting your posts. To create an ad with a product for sale, go to the Ads Manager and create a new campaign with the Engagement objective. The Engagement Type will be Post engagement.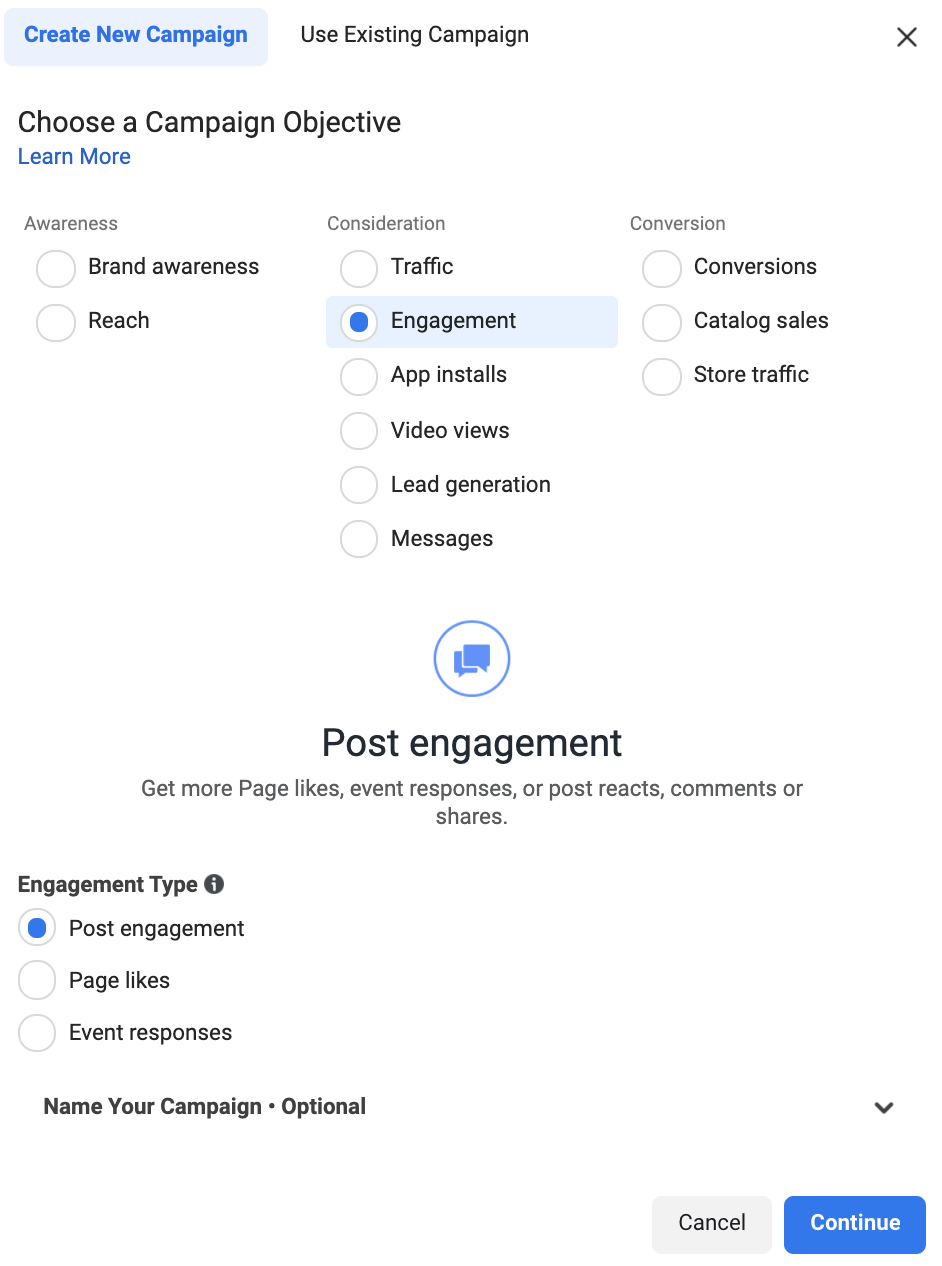 Next, define the audience that you would like to target. Lookalike audiences can be a great place to start for cold audience targeting. Facebook will use your existing customer data to find similar audiences.
For the creative, choose a previous post that you want to use as your ad. This can be a fit video, live sale, or static post that is linked to CommentSold. As long as the original post is linked, the ad created from it will be linked also! "Sold" comments will be auto-invoiced just as they would on organic social posts.
Note: We recommend using a post in which there is a lot of available quantity remaining. As this is likely the first time a shopper will be purchasing from you, you want to be sure they are not met with unavailable products!
Running Ads to Your Mobile App
Facebook allows you to run ads with specific app-related conversion goals. While the process to connect your app to Facebook isn't particularly complicated, there are quite a few steps involved.
Before You Begin
The steps outlined require that you first have the following:
A Facebook Developer account (create one here)
A Facebook Business Manager account (create one here)
A Facebook Ads account (follow the instructions here)
Once you have these accounts created, continue to the next section!
Connecting Your App to Facebook
Before you can run app ads, you will need to connect your app to Facebook, and add Android and iOS as platforms.
To add your app to your Developer account:
Log into your Facebook Developer app and click My Apps from the navigation bar at the top of the screen.
Click the Create App button.


When asked what you need your app to do, select Manage Business Integrations and continue.
Enter the App Name and App Contact Email. If these appear by default, check to be sure they are accurate.
Under App Purpose, choose Yourself or your own business.
Select your Business Manager account from the drop-down menu. While Facebook says this is optional, you should not skip this. It is necessary for you to run ads for your app.




Click Create App and complete the security check.


You will now be in the app dashboard. From the side menu, go to Settings → Basic. You will see a form, but will only need to complete the Privacy Policy URL section. Enter this URL: https://commentsold.com/privacy_policy
Scroll to the bottom of the page and click + Add Platform.
To add Android as a platform:
From the Add Platform page, select Android.
You will be asked to enter your Google Play Package Name. Do not leave this page. Open a new tab or window and log into your CommentSold account.
Visit the Mobile App tab and click Settings.
Scroll down to the Facebook Analytics/Ad Tracking section and copy the text under Android Package. Leave your CommentSold tab open for future steps in the process.




Go back to your Facebook Developer screen. Paste the text you just copied from CommentSold into the Google Play Package Name field. This is the only field that must be completed.
Make sure the Log In-App Events Automatically setting is switched to Yes.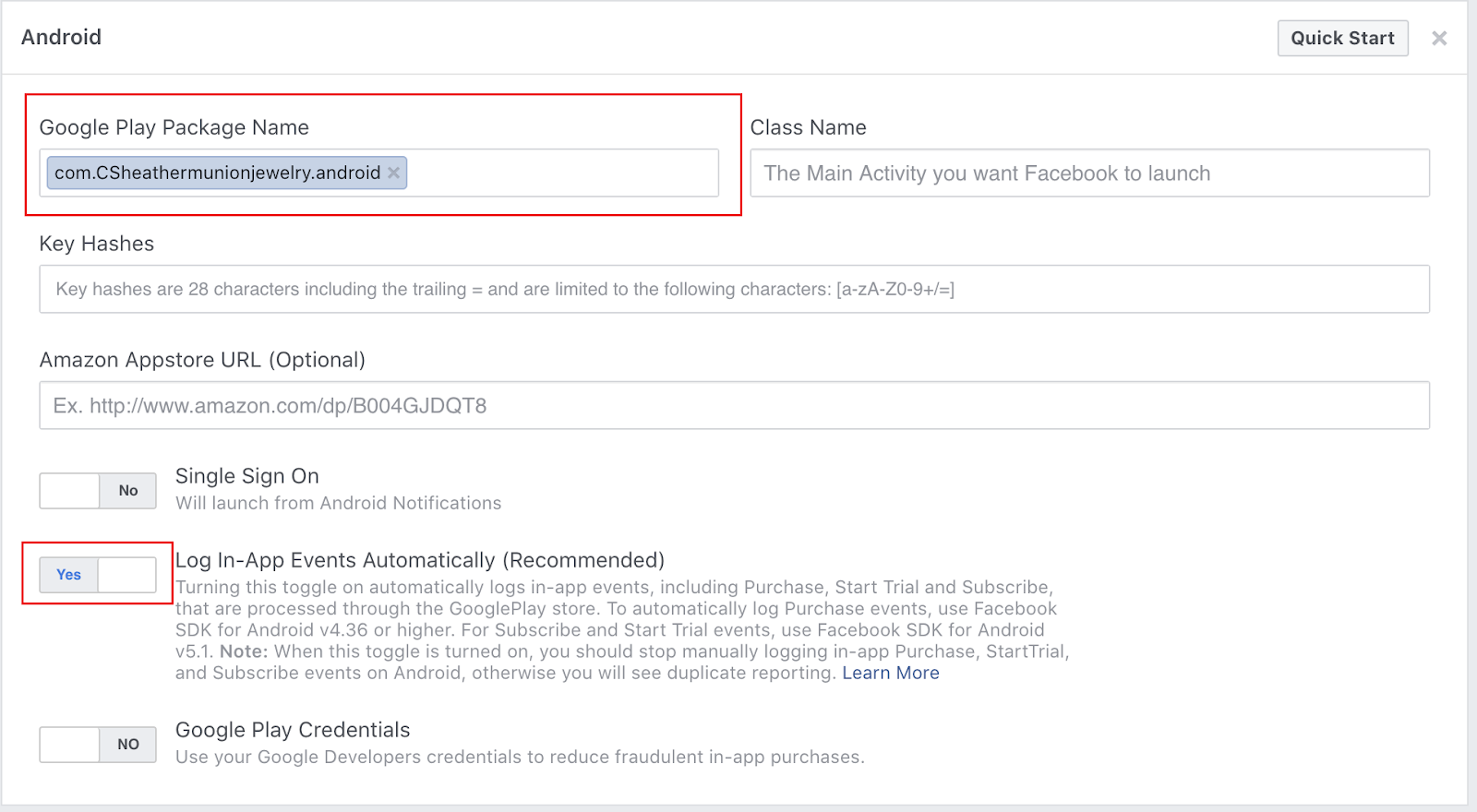 To add iOS as a platform:
At the bottom of the page, click the + Add Platform button again.
Select iOS.
You will see another large form, but you only need to fill out two fields here—Bundle ID and iPhone Store ID. Do not leave this page. Go back to the Mobile App Settings page in CommentSold.
Copy the iOS Bundle ID from CommentSold, then paste it into Facebook Developer in the Bundle ID field.


Copy the iOS Store ID in CommentSold, and paste this into Facebook Developer account in the iPhone Store ID field.
Make sure the Log In-App Events Automatically setting is switched to Yes.




Click Save Changes.
Connecting to CommentSold
Now you're going to add your Facebook app ID into CommentSold to connect to what you just set up in your Facebook Developer account!
Locate your Facebook App ID in your Facebook Developer account. Click it to copy the number.

In your CommentSold
Mobile App Settings
, paste this number under
Facebook App ID
and click
Save
.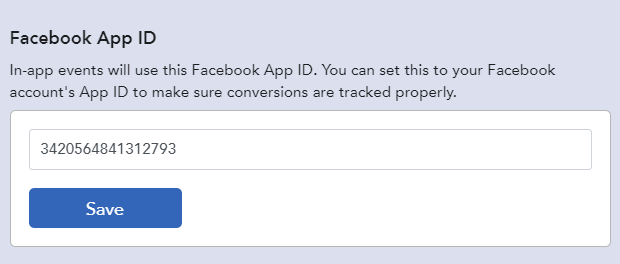 Connecting Your Product Catalog to Your App
You will need to have an existing product catalog in Facebook prior to completing this step. The steps for creating a product catalog were outlined
earlier in this article
.
Click here to enter your Facebook Business Manager settings for your product catalogs. If you have more than one business connected to Facebook, you will need to select the business account associated with your app.
Select your Catalog.

Click the button to Associate Sources.




Connect your app to the catalog by toggling on the Connection next to the app you just created in Facebook and click Save.





From the Business Settings menu on the left, go to Accounts → Apps.

Click the app you just added and select Add Assets.




Choose the ad account you'd like to connect and click Add.


A pop-up window will confirm the Assets Added. Click Done to complete the process.
You are now ready to run Facebook ads for your mobile app!
Deep links will redirect shoppers with your app downloaded on their devices to purchase from the app upon clicking your ad link. For more information on deep linking, view our Deep Links for Facebook Catalog Ads article.