Click on any of the images or GIFs in this article for a closer look.
Want to encourage shoppers to place larger orders by offering a "Buy Now, Pay Later" payment option? Read on to learn how!
With Klarna, shoppers can split their order balance into 4 interest-free payments, each two weeks apart with no credit impact.
This can help increase your overall revenue and overall customer retention. CommentSold data shows customers are 21% more likely to make repeat purchases from a shop using "buy now, pay later" options versus other payment processors.
Klarna is only available for shops on CS Payments. The standard transaction rate for Klarna is 5.5% + $0.30 per transaction.
Payouts for Klarna payments follow the same cadence as CS Payments. This means you can expect to see payouts on a rolling 2-day schedule.
Step 1: Enable CS Payments
---
You must have CS Payments enabled to activate and use Klarna. You can see if you qualify for CS Payments here.
If you need to enroll in CS Payments, follow the steps outlined below.
If you are live with CS Payments, you can proceed to the next section,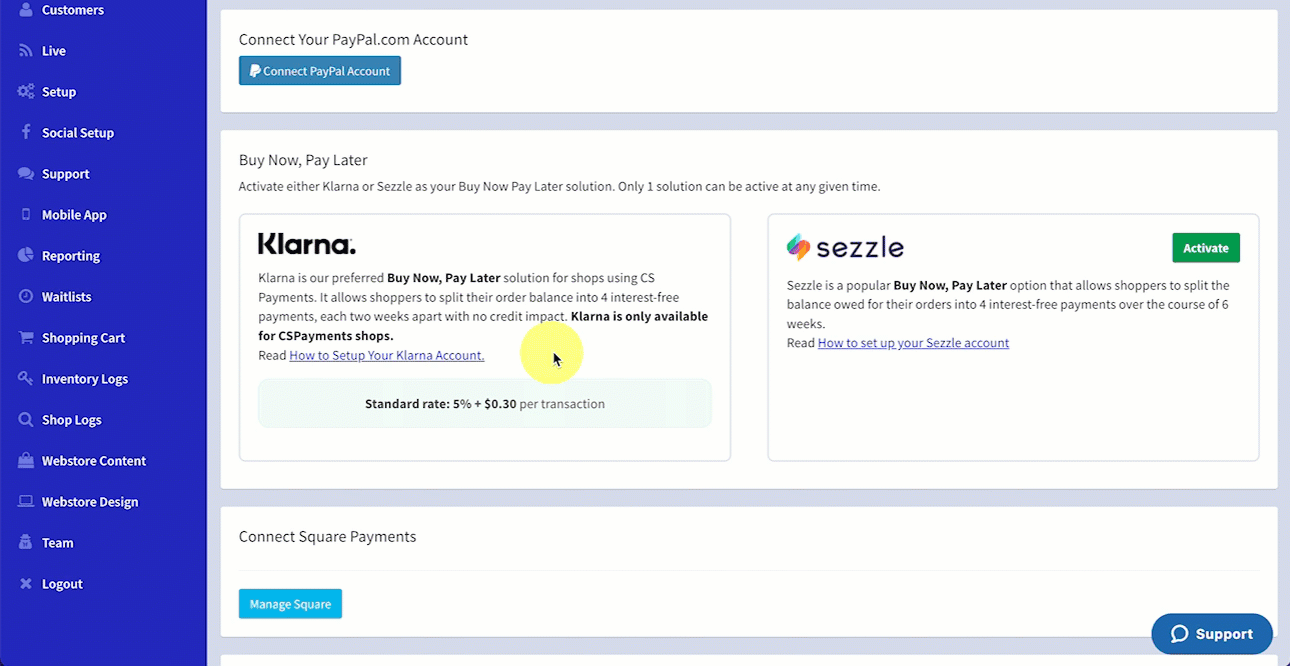 Select Support in the bottom-right corner of your CommentSold dashboard.
Select Get In Touch within the chat window.
Select Live Chat within the chat window.
Let our team know you want to enable CS Payments, then hit Enter on your keyword. We'll pass you through to a Support team member who can assist!
Step 2: Activate Klarna
---
Select Setup in the side menu of your CommentSold dashboard.
Select Payments Gateways in the menu at the top of the page.
In the Buy Now, Pay Later section, locate Klarna and select Activate.
You will need to confirm your decision to activate Klarna in the following pop-up. Select Activate.
Once you successfully activate Klarna, you'll see a green checkmark beside Klarna along with an Activated status. Enable the Display on Product Page toggle to show Klarna as an option to your customers.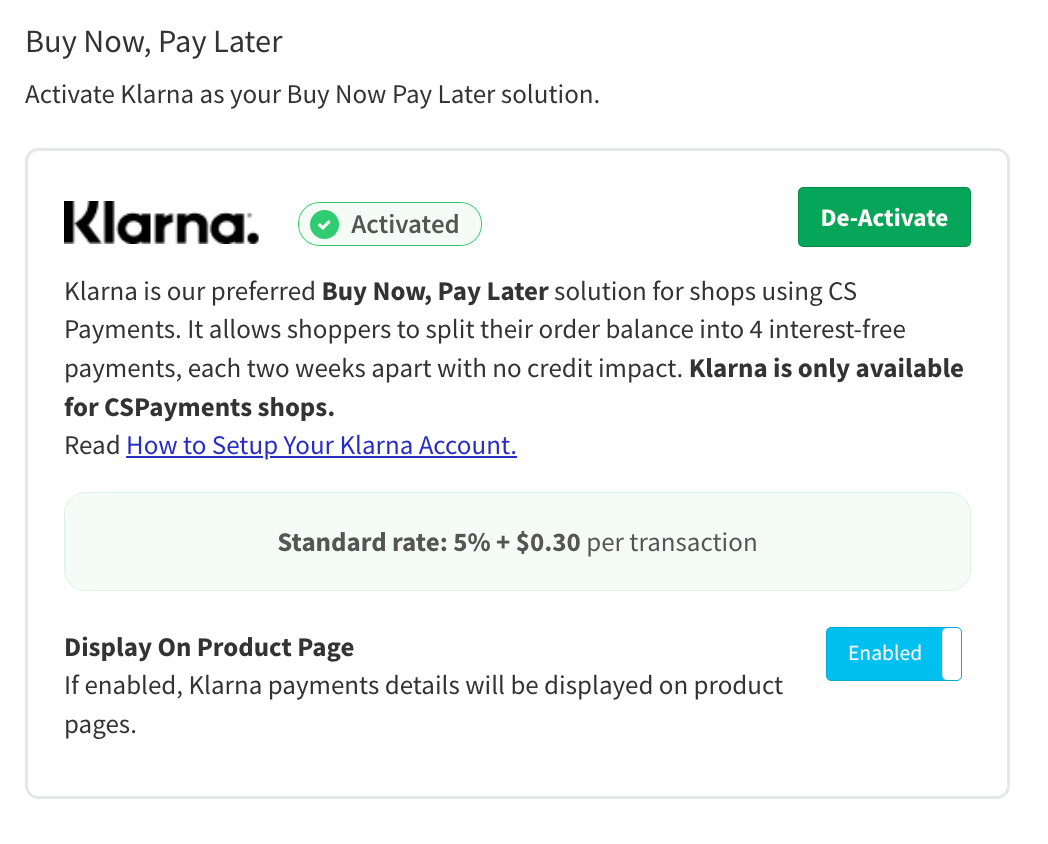 Got Questions? We've Got Answers
---
What are the requirements for using Klarna as our Buy Now, Pay Later solution?
Is Klarna available for mobile app purchases?

Absolutely! You may need to encourage your shoppers to update their app in order to use Klarna. Announce it on your socials, live sales, and more to get the word out!
Learn More
---