Ready to crush your Instagram Sales?
CommentSold offers a few methods for creating shoppable Instagram posts and Stories. As a quick reminder, you will need to complete an initial setup in order to sell with CommentSold and Instagram.
If you were selling on Instagram with CommentSold prior to 8/27/2021, you will still be required to complete the steps in the initial setup to use CommentSold's new and improved Instagram features.
This Article Covers:
For information on creating shoppable Stories, see Selling Through Instagram Stories.
Creating Shoppable Instagram Posts
Submitting or Scheduling Instagram Posts through CommentSold
The first method of posting products to Instagram is creating your post from your CommentSold dashboard. This method will allow you to compose the post description, preview the image, and publish the post immediately or schedule it for a later time.
If you would like to use the direct posting option, follow these steps:
Visit the

Products tab in your CommentSold dashboard.


Click the three dots to the right of the product you would like to post for sale, then click Post to Instagram.





Enter the

Caption you would like to display on the post. By default, the product description and comment purchasing instructions will appear here, but you can edit the caption to say whatever you'd like.

Additionally, you can tag up to 20 Instagram users and include up to 30 hashtags. Tagged users will receive an Instagram notification when the post is published.




Next, take a look at the image preview. Here, you can use the cropping tool crop your image, adjust the aspect ratio, and choose which product image to use if there are multiple to choose from.



Cropping the image from this page will only affect the image on your Instagram post, it will not change the product image elsewhere.

Note: If after you crop your image, you are still receiving a warning message that your photo does not meet the image requirements OR you are unsatisfied with the way it looks cropped, you may need to edit your product image in a separate program and reupload it through the Edit Inventory page. Then you can reattempt to create an Instagram post in CommentSold and select the new and improved image from there.


Under Schedule Timing, choose between posting immediately or scheduling the post for a future date and time.





Note:

As a friendly reminder, scheduled post times are based on the Shop Time Zone that you've set in the

Setup

tab.




If you have

Post to App on Autolink enabled under Social Setup > Instagram, you will need to review the next few options.



Under the App Notification Title

and

App Notification Body sections, you can customize the push notification that will be sent to app users once the product is posted to the app.



If you do not want to send out a push notification, uncheck the

Send the notification? option.

I

f you do not want the product to appear in your app's main feed when published, check the

Hide from your app's main feed? checkbox.



Click the

Submit post to Instagram

button when you're ready to publish or schedule your post.




Once you've published or scheduled posts, you can view them by clicking Posts and then clicking Instagram Posts from the top. This page will tell you the date and time any post was or will be published.
Manually Linking Instagram Posts to CommentSold
Manual linking allows you to publish your post and then connect it to your inventory in CommentSold. Usually this method is used if you prefer to create posts directly through Instagram. However, there are some instances where manually linking posts is required.
It is necessary to use manual linking if:
You plan to create a post with video content.

You need to attach multiple photos to a single post.

You are creating and publishing posts through Facebook Business Suite or other third party social media scheduling tools.
To use the manual linking method, follow these steps:
Once you have the description, image(s) or video you want to share drafted in Instagram, publish the post.



Don't forget to include purchasing instructions in your post description so your customers know how to comment.




After the post is published, go to the Products tab of your CommentSold dashboard. Click the three dots next to the item you posted and select Link to Post.





A popup will appear showing published posts from all the social accounts you have connected to CommentSold.

Click the Instagram tab from the top.





Find the

post you want to link your product to, then click the Link button next to it. The product name will appear at the top of this popup to remind you which product you're linking to the post.

Once this is successful, you will be returned to the Products

tab and see a blue banner confirming that the post has been linked.

Autolinking Instagram Posts to CommentSold
Autolinking will automatically connect any post you've made to Instagram to a product in CommentSold as long the caption includes a hashtag, followed by the product's SKU.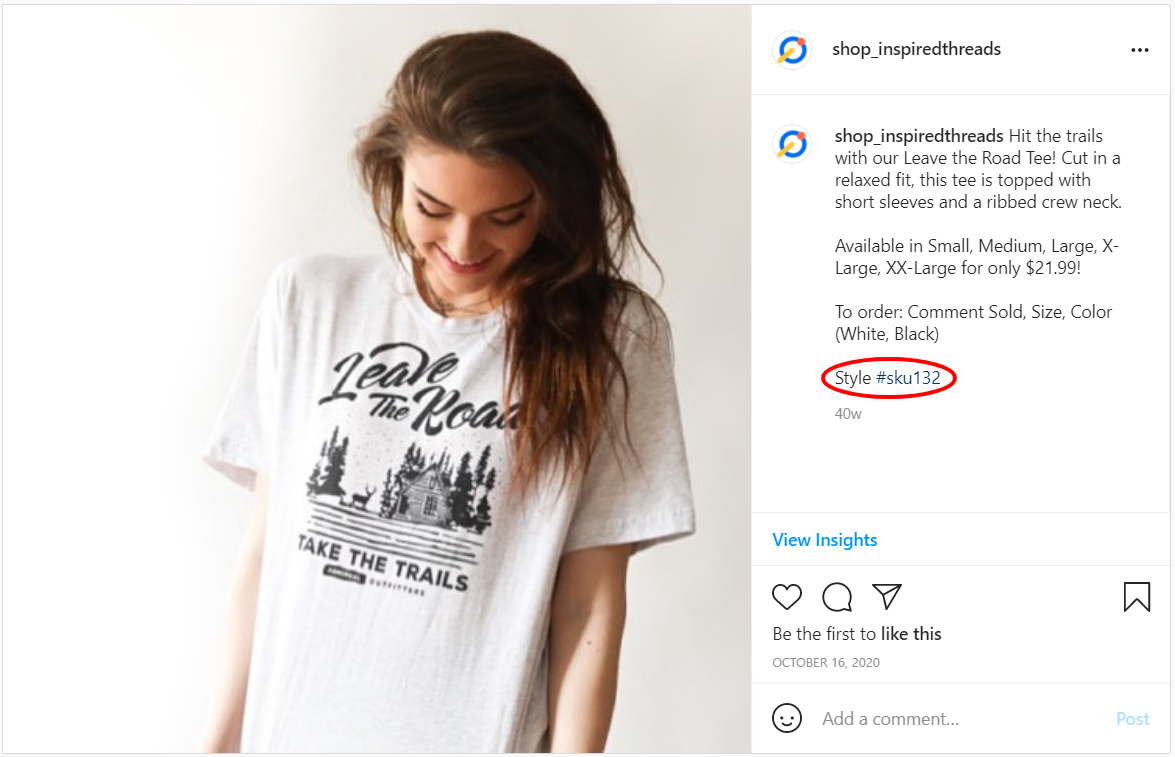 If you would like to use the autolinking option, follow these steps:
Open Instagram and create a new post by clicking the plus icon at the top of the screen.



Upload your video or images, and include a caption.

You must include #SKU (with the appropriate product SKU) for the autolinking to be successful.
If you would like, you can copy the product's SKU, description, and other details from the Products tab in CommentSold. Click the three dots next to the product and select Copy Text. Then click the blue Copy Text button on the popup. The product description is now copied to your clipboard and can be pasted into your Instagram caption! You can choose to rewrite or create a totally new post if you do not want to use the product description. Just make certain the #SKU remains in the caption.
Once you have the description and image(s) or video you want to share drafted in Instagram, publish the post. Shoppers can then comment "Sold" to add the item to their cart.
You can confirm that the post is linked by visiting the Posts tab in your CommentSold dashboard. Click the Instagram tab at the top and confirm that you see it listed under your Instagram Posts.
How to Verify if Your Instagram Post is Linked
To view all published and scheduled posts in CommentSold, click the Posts tab then click Instagram Posts. Here you can view all of your posts' details, including time posted or scheduled to post, and whether or not they are linked.
To check linked status, look at the Product SKU column. If a SKU appears, the post is linked. If not, a red button will appear showing "Not Linked".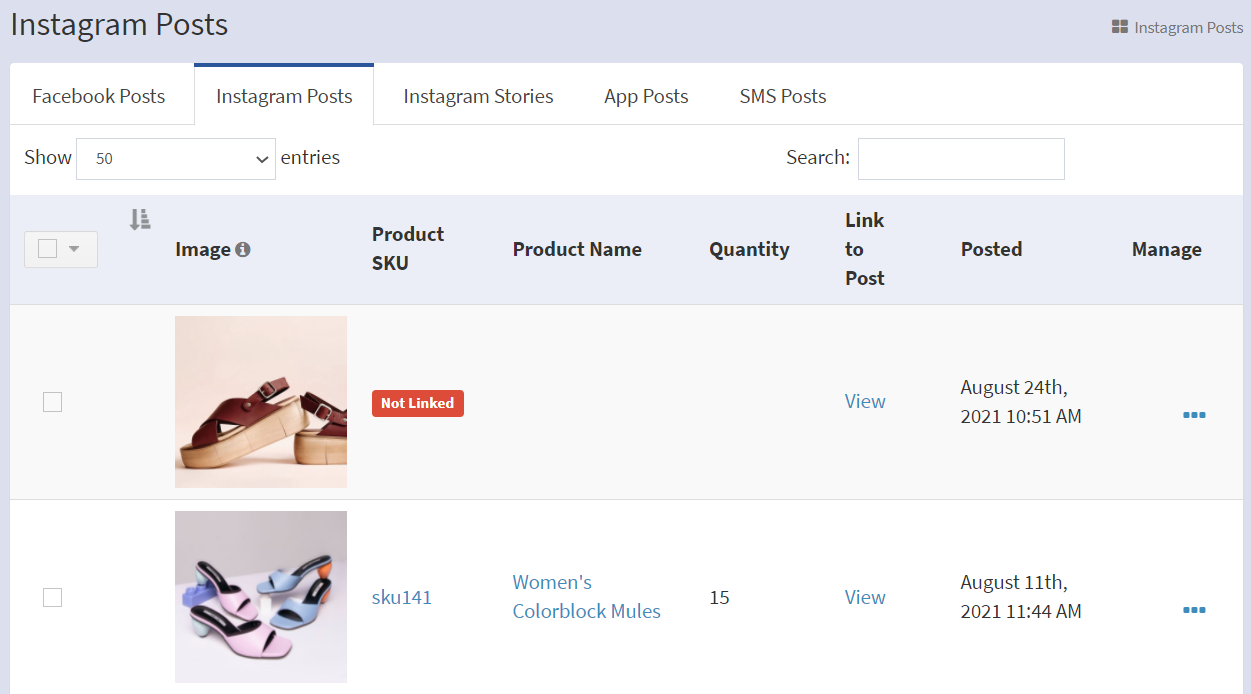 If any new Instagram posts or Stories have been made since the last time you've visited this page, a banner will appear to remind you to link it.

CommentSold will also send you an email alert if a shopper comments "Sold" on a post that is not yet linked. This gives you an opportunity to correct this quickly so you don't miss out on any potential sales!



This email reminder will only be sent out a maximum of one time per post or Story for a 24 hour period.
Checkout Flow for Instagram
Want to see what your shopper sees? Click here to "be the shopper" on our Instagram demo account!
When the shopper comments "Sold" to create an order on a shoppable post or Story, they will instantly receive a direct message in their inbox prompting them to "Pay Now".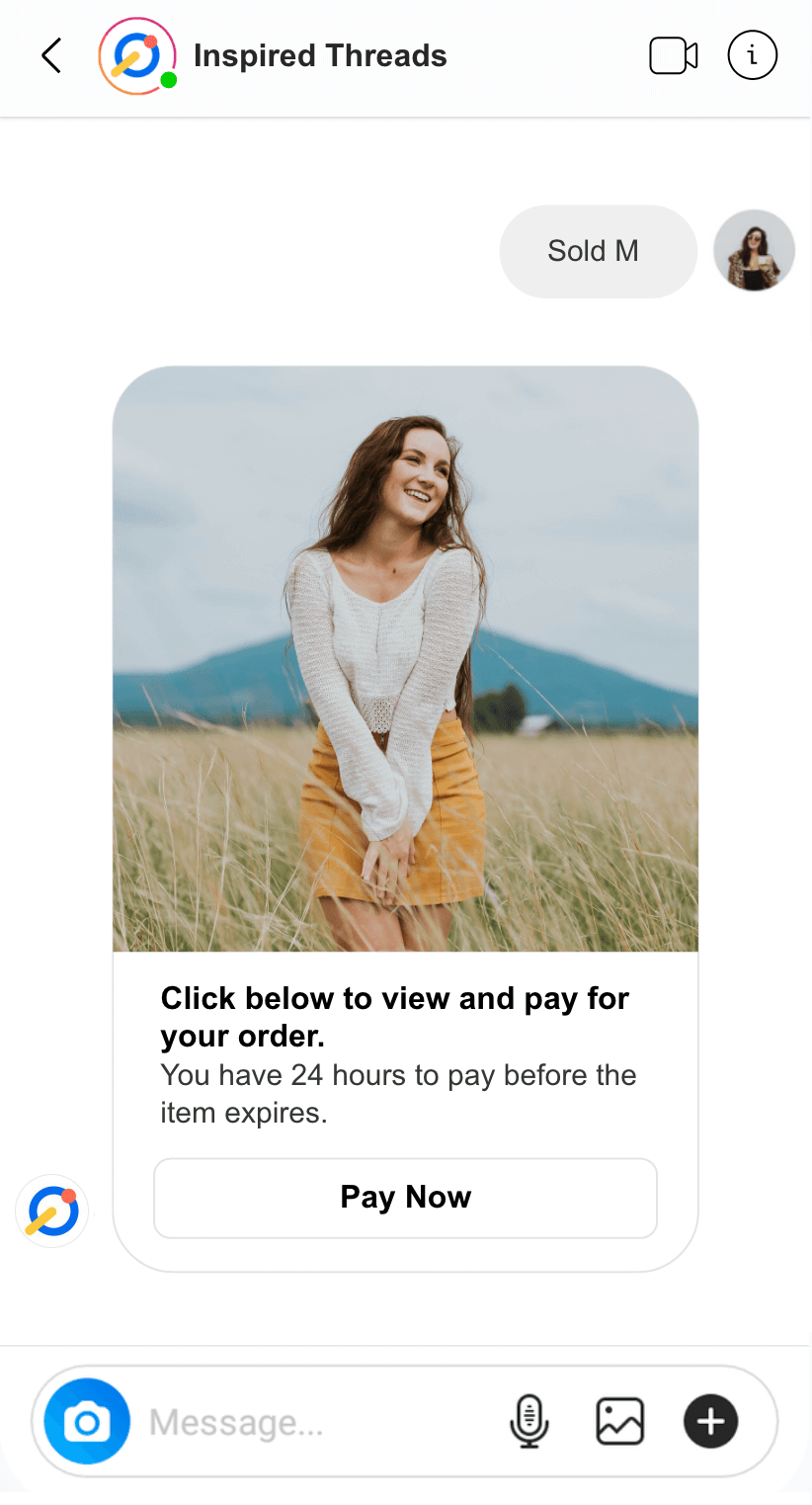 Upon clicking the Pay Now button, shoppers will be directed to a page where they can complete their purchase.

If the customer has shopped with your store on Instagram before, CommentSold will recognize them as an existing customer. Upon checkout, they will be auto-logged into their account, and their address and payment information will auto-fill.

If the shopper is new to shopping with your store through Instagram, the system will invite them to create their account with a password once they've completed checkout.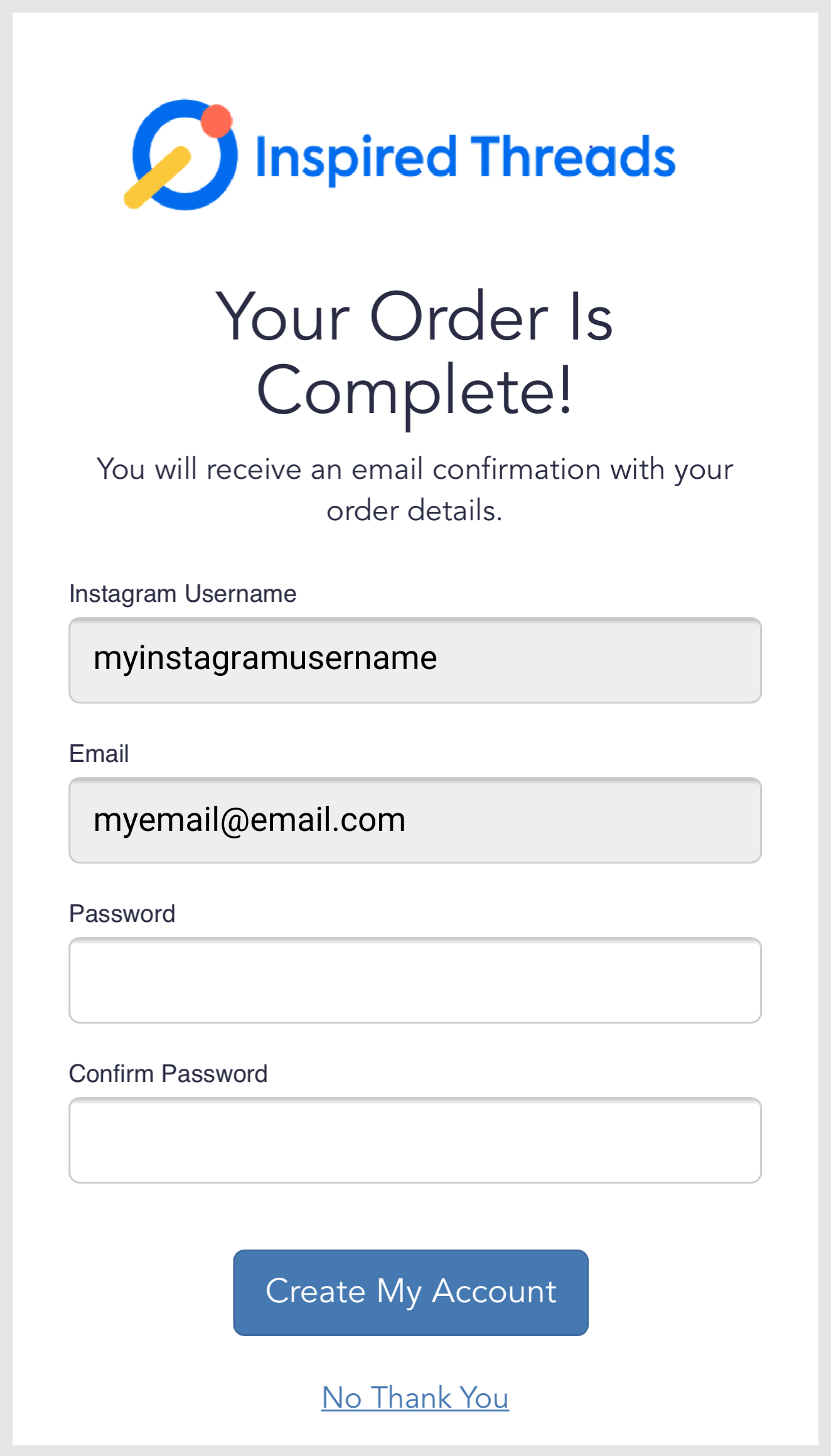 The next time the customer shops with you through Instagram, the system will not ask for this again. It will automatically recognize their account.

In your CommentSold dashboard, customers shopping your Instagram will show up on the Customers tab.
Registered Instagram shoppers will show the Instagram icon next to their name, and below that, their Instagram username.

Customers may show up as an Instagram Guest if they have commented "Sold" on a Story or post but have not yet created a password to complete their account after checkout.