Click on any of the images or GIFs in this article for a closer look.
In this article, you'll learn:

How to enable auto-replies for Facebook comments.

How to customize a Facebook comment auto-reply.
About Facebook Comment Auto-Replies
---
Facebook comment auto-replies allow you to send automatic responses to shoppers who have commented on a product post, shop the look post, or live sale.
How Facebook Comment Auto-Replies Benefit Your Shop
---
Create a positive shopper experience by immediately acknowledging a shopper's comment.
Let your behind-the-scenes team focus on questions and concerns in the comments while auto-replies tackle more common questions or actions.
Proactively help customers who comment incorrectly on a product post, live sale, or shop the look post (i.e., a shopper forgets to include the size or color of an item they're trying to purchase).
Enable Facebook Comment Auto-Replies
---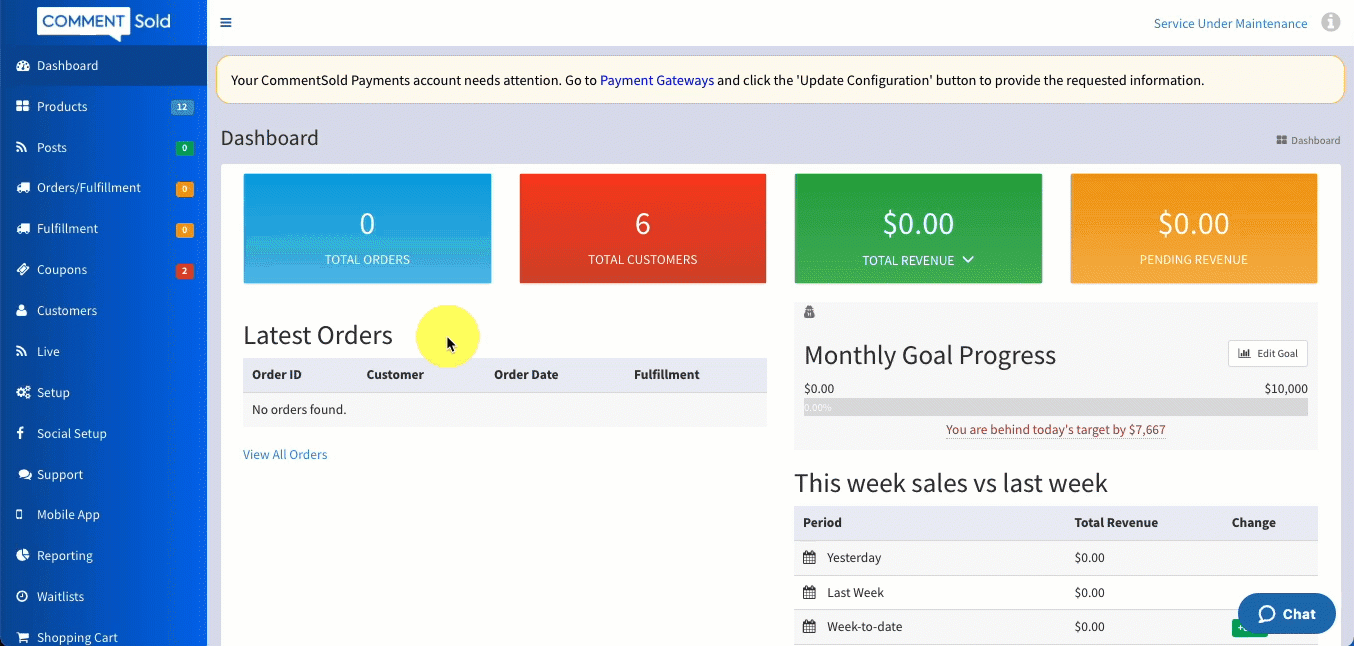 Select Setup in the side menu of your CommentSold dashboard.
Select Templates from the menu at the top of the page, then select Facebook Comments.
Locate the auto-reply you wish to enable and select the toggle so it appears as Enabled.
If customizing an auto-reply, enter your desired message and then select Update Template.
You can reset an auto-reply to its default message by selecting Reset Template in the bottom-right corner of the auto-reply section.
Note: Enabling Facebook auto-replies may result in a temporary restriction from Facebook. If this occurs, disable auto-replies until the issue is resolved.
Expand to view a description of available Facebook comment auto-replies.
Invalid Comment. If a shopper does not properly format a SOLD comment (e.g., missing a variant), then this auto-reply prompts the shopper to repost their comment with the correct variant.
Item Waitlisted. If an item is sold out when a shopper attempts to purchase it, then this auto-reply notifies them that they've been added to the waitlist.
Waitlist Item Activated. This auto-reply notifies shoppers when a waitlisted item is back in stock and informs them how to pay and when their cart expires.
New Customer (no email on file). This auto-reply prompts new customers without an email address on their account to log in and add their email address.
New Order. When a registered shopper comments "SOLD" on an item, then this auto-reply confirms their order and links to the customer's account page for the shopper to check out.
New Order (First Paid, First Served). If you enabled First Paid, First Served and a registered shopper comments "SOLD", this auto-reply confirms their order, links the shopper to their account page for checkout, and reminds the shopper that carted items are not reserved until your shop receives payment.
What's Available. This auto-reply lets shoppers know which variants (e.g., size, color, etc.) of an item are still available.
Comment Charge. If a shopper enabled comment charge on their account page and comments "SOLD" on an item, then this auto-reply confirms their paid order.
Waitlist Authorized. If a shopper preauthorizes an item on their waitlist, then this auto-reply informs the shopper that their item was successfully preauthorized.
Missing Group Permission. If a shopper's account does not have the appropriate Facebook permissions, then this auto-reply links them to their Facebook account page to update permissions.
Learn More
---