The Customers tab in CommentSold is where you can view and manage all of your customer data.
From within the Customers tab of your CommentSold admin dashboard, you can add, manage, and remove customers from your shop.
This Article Covers:
Manually Adding a New Customer
Customers will be able to register to shop with you at your shop URL. But it is also possible for you to create a customer record yourself! This is particularly useful when you are wanting to track in person purchases from customers who are not already in your system.
Click on the Customers tab of your CommentSold dashboard. Click the green "Add Customer" button at the top of the page.
A popup will appear, prompting you to enter the new customer's Name, Email, and Phone. Name and Email are required for all customer records. Enter this information and then click "Add."
You will then see the newly created customer, with the contact information you entered in the popup box.

If you would like to add additional contact/shipping information at this time, click the Edit button to the far right of the name and email address.
Your customer has now been added to CommentSold! However, as they were manually added with only their contact information, they will not be able to shop from your channels without registering with their Facebook or Instagram account.
Understanding Customers Tab Icons
The icons on the Customers tab are intended to give you a quick overview of a customer's status with your shop.
The first icon you will see is just to the left of a customer's name and picture. If the icon is green, this means that they have fully registered and confirmed their account. They're ready to shop!

If this icon is red, the customer will need to visit their account page and complete registration. They will need to enter any missing information and confirm their account with Facebook.

The rest of the icons will appear to the right of a customer's name. Customers may have more than one or more icons to their name.

The camera icon indicates that they are registered to shop with your business on Instagram.

The blue circle icon indicates that Facebook Messenger is connected, and that the customer has enabled messages from your shop.

The telephone icon indicates that a customer has given your shop permission to contact them with SMS messages.

The speech bubble with dollar sign icon indicates that a shopper has enabled comment charge.

The smartphone icon indicates that this customer shops using your mobile app.

This uncommon icon will appear if a customer needs to visit your shop URL and re-sign in with Facebook to accept Facebook group permissions. The icon was associated with a previous Facebook group update, and will disappear once the customer signs back into their account.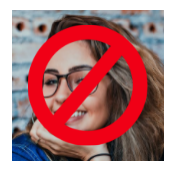 This icon will appear over the profile picture of a customer who you have blocked from your shop.
Viewing & Managing Customer Details
From the Customers Tab
If you would like to change details on a customer's account, you can do so by visiting the Customers tab in your CommentSold dashboard.
Click the three dots to the far right of any customer's name.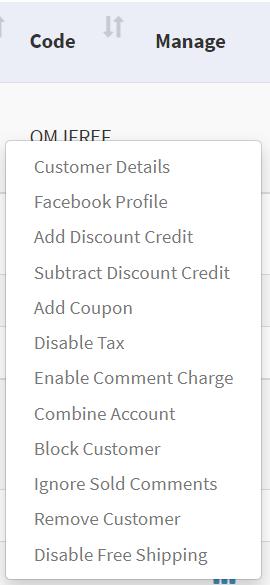 You will see multiple options for managing the customer. This menu will help you perform common actions without leaving this page. However, most of these actions can also be done from the Customer Detail page, where can view their history and details. Click Customer Details if you want to access this.
Facebook Profile will open a new tab to the customer's Facebook profile.
Add Discount Credit will open a popup for you to add store credit to the customer's balance.
Subtract Discount Credit will open a popup from you to subtract store credit from the customer's balance. From here, select Payment Credit to subtract taxable amounts such as gift cards, and select Discount Credit to subtract non taxable amounts such as credit from loyalty bonuses.
Add Coupon will allow you to create a coupon that can only be used by this customer.
You can click to Disable Tax if you do not want to charge sales tax to this customer.
Enable Comment Charge should only be activated with permission of the customer as it will automatically charge their payment method on file when they comment to claim an item.
Combine Account will let you combine multiple customer accounts into one. This is handy in the event that the customer has registered under more than one profile or email. Learn more about merging duplicate accounts here.
Block Customer will block the customer from your shop. Learn more about blocking customers here.
Ignore Sold Comments will keep the customer from carting items when they comment "Sold". This tells the system to skip ignore these comments.
Remove Customer will delete the customer record from your shop.
Nearing the last options, the drop-down will show as either Enable Free Shipping or Disable Free Shipping, depending on the customer's current setting. You can use this to offer free shipping to specific customers, regardless of their order amount.


Opt Out of Marketing Emails will stop the customer from receiving marketing emails.
From the Customer Detail Page
From the Customer tab, click the three dots across from any customer's name. From the drop-down menu, click Customer Details. On this screen, you will be able to view all of a customer's information and their history with your shop.
Across the top of the page, you will see buttons to allow you to Add Store Credit or Subtract Store Credit, or Set Password for your customer.

The next sections show give a summary of the customer's profile, displaying the date they became a customer, email permissions, current payment & discount credits, the total amount they've spent, and more.

Under Referral Code, you can view the current referral code for the customer, View Orders that have used this referral code, and Change Code if you would like to generate a new code for the customer.
To add or edit a customer's contact information, click the Edit button under the Action column. All fields can be edited to a customer's preferred information.
Note: When a customer's email or mailing address is updated, they will receive an email notification to the let them know. If it is an email update, it will send to both the old email and the new one.
Next, you can view a customer's Shopping Cart. You will see any items they currently have carted in this section. The Shopping cart section is where you can manually add items to a customer's cart and create orders for them.
The next sections show details about a customer's Paid Orders, Fulfilled Orders, Abandoned Items, Favorites, Waitlist, and Expired Items. These sections paint a picture of a customer's activity with your shop and the types of products they typically engage with.


Pro-tip: Your Customer Service team can use the search bar in the Paid Orders and Fulfilled Orders sections to search orders by SKU, Brand Style, Product Name, or ID. This makes it easy to locate items within orders that a customer wants to cancel, return or exchange.
The Store Credit Balance Movement will show a customer's currently available store credit along with the history of when store credit was added or spent.
Lastly, you will be able to view a customer's previous Facebook and Instagram comments on your sales posts.
Blocking or Removing a Customer
An unfortunate reality of operating your business at scale is that you'll inevitably have problematic customers. CommentSold makes it easy to block or remove these customers from shopping with you.
Blocking a Customer
To block a customer, locate them in the Customers tab of your CommentSold dashboard. Click the three dots to the far right of the customer's name. Select Block Customer.
A popup will appear to confirm that you would like to block the customer.
Once you click "Confirm," the customer will be blocked. An icon will appear above their profile picture in your CommentSold dashboard indicating that they are blocked. You will also see a "Yes' in the Customers table column "Blocked?"
When blocked, a customer will not be able to:
Add items to their cart
Check out from your shop
Join new live sales from within your app
If you block a customer during a live sale in your app, they will be removed from it immediately. Once this is done, they will not be able to join new live sales.
It is possible for a blocked user to sign up for a new account with your shop from a new device. You would need to block the newly created account as well if this occurs.
Note: If a customer watching your live sale on Facebook is creating problems for you, you will need to block them on Facebook directly. Blocking a customer on CommentSold will not prevent them from leaving Facebook comments. Make sure your Page Moderation and Profanity Filter settings in Facebook are set to prevent unwanted language from being posted in the comments!
If you do not want to totally block a customer, you can select Ignore Sold Comments from the drop down rather than Block Customer. The customer would still be able to purchase from your mobile app and webstore, but would not be able to claim items in comments. This is useful if you are not using First Paid First Served and have a customer who frequently claims items from posts and live sales but does not complete the checkout process.
Removing a Customer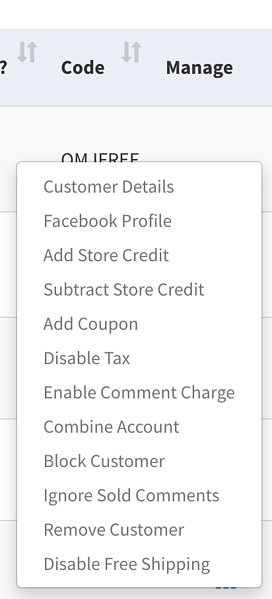 If you need to totally remove a customer from CommentSold, you can do so from the same drop down that allows you to block or ignore sold comments. Click the three dots to the far right of any customer's name.
When you select Remove Customer, a popup will appear to confirm that you want to completely delete the customer record from CommentSold. This action does not block a customer, but removes all history associated with the customer and their orders. This is never recommended unless a customer explicitly requests account deletion. If a customer is causing problems with your shop, but does not request a deletion, you should block them from both CommentSold and Facebook.
Handling Duplicate Customer Accounts
Occasionally, you may notice that there is more than one account for the same shopper in your customer records. Duplicate customer accounts usually result from a shopper creating an account via their email, then later creating an account via Facebook or Instagram.
Consolidating these duplicate accounts will provide a better shopping experience for your customers and a better customer management experience for you. CommentSold will help with this process in two ways:
1. The system will prompt the customer to verify and combine duplicate accounts that it detects under the same email address they provide at checkout.
2. From the Customers tab, CommentSold can provide suggestions for accounts to combine based on matching data. Accounts can be manually combined from there.
You can learn more about both of these options and how they work by reading Merging Duplicate Customer Accounts.
Adding Items to a Customer's Cart
Whether you are adding items to a customer's cart for in-person checkout, to process an exchange, or to reserve an item for a customer, you will first go to the Customers tab in your dashboard.
Search for the customer. Once located, click the three dots to the right of the row and select Customer Details.
Scroll down and you will see a section titled Shopping Cart. To the right is a green button marked Add Product To Cart.

Click this button and a popup will appear, allowing you to search for a product to add to the cart. Here you can scan the item (if you are using CommentSold barcodes) or type the SKU or product name to locate it.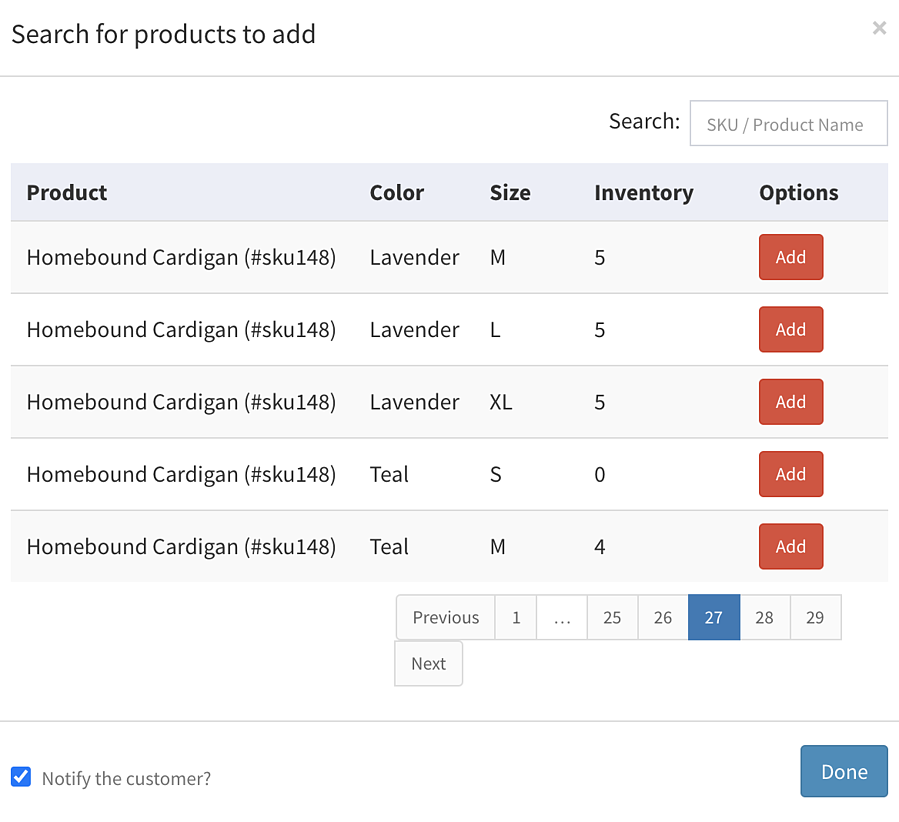 Keep the Notify the customer? box checked if you would like your customer to receive a message that an item has been added to their cart!
Once the items are added, click Done and you will see the item appear in the customer's Shopping Cart. You will see the blue "Admin" label under the Source column, indicating that the item was added to the cart by a shop admin.

If you would like to allow the customer more time to check out the item you have just added to their cart, you can click the blue Extend Expire Hours button to extend the cart expiration timer for this cart.
Creating an Order for a Customer
From the Customer Details page in the Customers tab of your dashboard, you can create an order for a customer with carted items.

First, be sure the information shown in the Shopping Cart section is accurate. You will be able to switch between shipping and local pickup (if enabled). If desired, you can manually enter a coupon code with the Add Coupon Code button.
To create an order for the customer, click the red Confirm & Create this order button. You should only do this if you have already received payment for the order from the customer.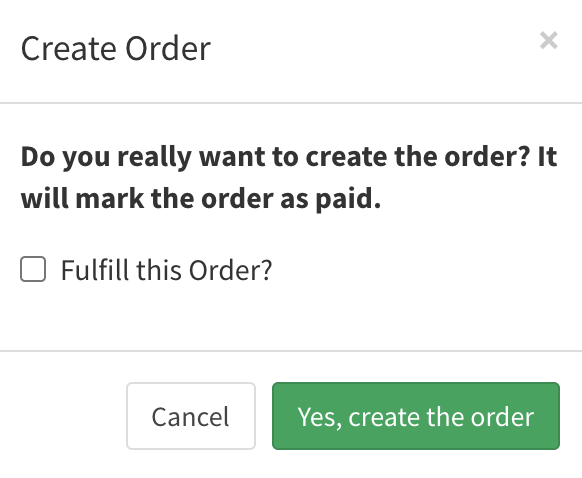 If the order has already been fulfilled, you can check the box to Fulfill this Order? By clicking to create the order, you confirm that the customer has paid for the order.
The order will now appear under in your Orders/Fulfillment tab, with #ADMIN showing as the payment method and a label marking the order as Unfulfilled or Fulfilled (depending on whether or not you checked the box to fulfill the order).

Clearing a Customer's Waitlist
While waitlists are exceptionally handy for shoppers, at times you may find that a customer is abusing them in an attempt to hoard products. You can remedy the problem by clearing waitlists associated with their account.


From the Customers tab, click on the name of the customer in question. This will take you to their Customer Details page.

Scroll down to the Waitlist section, and click the button to Remove All Items From Waitlists.



A popup will ask if you are sure you want to clear the items from that customer's waitlist. Click Delete Record to confirm.